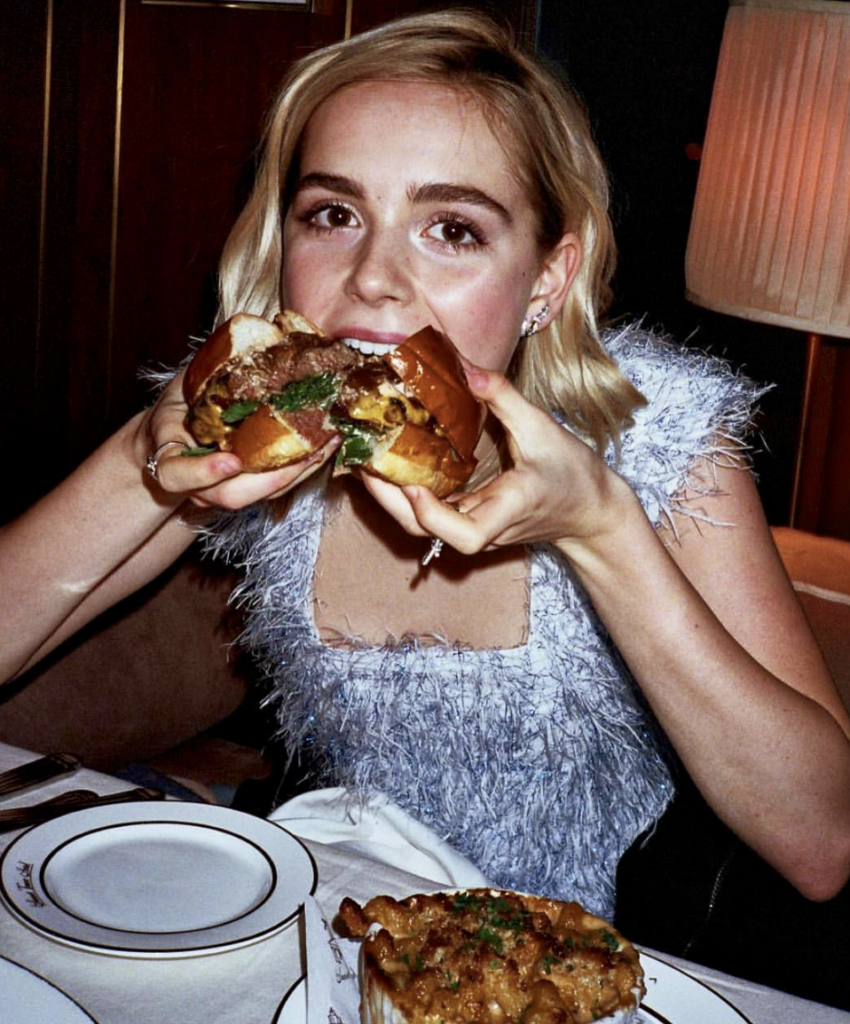 Ga je wel eens door fase's waarin je constant honger hebt? De hele dag door? Niet dat je je verveelt ofzo, maar je voelt gewoon dat je trek hebt en niets lijkt je écht te vullen.
Ik had veel van deze dagen in Amerika en gek genoeg had mijn broer hetzelfde. Niets vulde ons en het was allemaal net niet, een beetje mweh.
Het kan een interne strijd zijn, wel of niet eten? 
Of het nu komt door hormonale schommelingen, de verandering in het seizoen, andere microbacteriën in je darmen of een bewuste poging om minder te eten/snacken – het is voor veel mensen super herkenbaar om door een fase te gaan waarin je constant honger hebt. Con-stant.
Als je de discussie met jezelf aangaat over het wel of niet eten vraag je je misschien enerzijds af of het 'ingeven' iets zwaks is en anderzijds of je lichaam gewoon écht voedsel nodig heeft.
Het is naar mijn mening nooit een goed idee om jezelf restricties op te leggen, vooral omdat dit bingen en eetbuien tot gevolg kan hebben. Maar het kan ook lastig zijn om in te zien wat er nou echt aan de hand is met deze onverzadigde honger. Waarom voel je je niet verzadigd?
Diëten werken meestal niet en uiteindelijk zijn er veel betere manieren om jezelf te voeden en tegelijkertijd te afvallen. Dus, als je al een gezonde maaltijd op hebt en je wilt nog steeds richting de kast lopen voor meer eten, probeer dan eens een paar van deze tips:
Zoek naar eiwitbronnen waar je van geniet
Uit meerdere onderzoeken komt (en blijft komen) dat een eiwitbron je een verzadigd gevoel geeft (1). Zoek een eiwitbron van hoge kwaliteit, deze zijn zowel vegan als niet-vegan te vinden. In dit artikel begrijp je welke eiwitbronnen van hoge kwaliteit zijn en welke niet:
Wat te eten om alle essentiële aminozuren (eiwitten) binnen te krijgen? | VEGAN & DIERLIJK
Hoe gezond je ook eet, als je niet voldoende eiwit binnen krijgt, blijft je brein hongersignalen uitsturen – je lichaam heeft gewoon keihard eiwitten nodig! Als je dan in ieder geval wat tijd steekt in het zoeken naar eiwit waar jij van kan genieten, kun je dit best tussendoor of na die gezonde maaltijd nog eten om je lichaam te voeden.
Granen zijn helemaal niet fout!
Bij granen denk je misschien meteen aan brood en brood leek wel een hele tijd een verboden product als je een platte buik wilde. Sowieso vind ik de term 'platte buik' heel vreemd, maar in principe heeft brood daar niet zoveel mee te maken.
Tenzij je tarwe- of speltbrood eet en je hebt een glutenintolerantie (Coeliakie). Als je dit niet hebt, dan zijn granen ontzettend goed voor je lijf, echter is het ook hier belangrijk dat je de juiste kiest.
Granen met zoveel mogelijk vezels, oftewel: granen waarbij het liefst de hele korrel is verwerkt – in brood, rijst, pasta's etc. Dat komt neer op volkoren brood, zilvervliesrijst en volkoren pasta. Maar denk ook aan granen zoals havermout en boekweit, ook deze geven je een lekker vol gevoel blijkt uit onderzoek (2).
Pak alle groente die je pakken kan!
Volgens in ieder geval dit onderzoek, heeft het eten van lekker wat groente vlak voor een maaltijd een positief effect op je verzadiging (3). Vooral groene bladgroenten verlagen juist je hongergevoel, dus lekker aan de boerenkool en spinazie!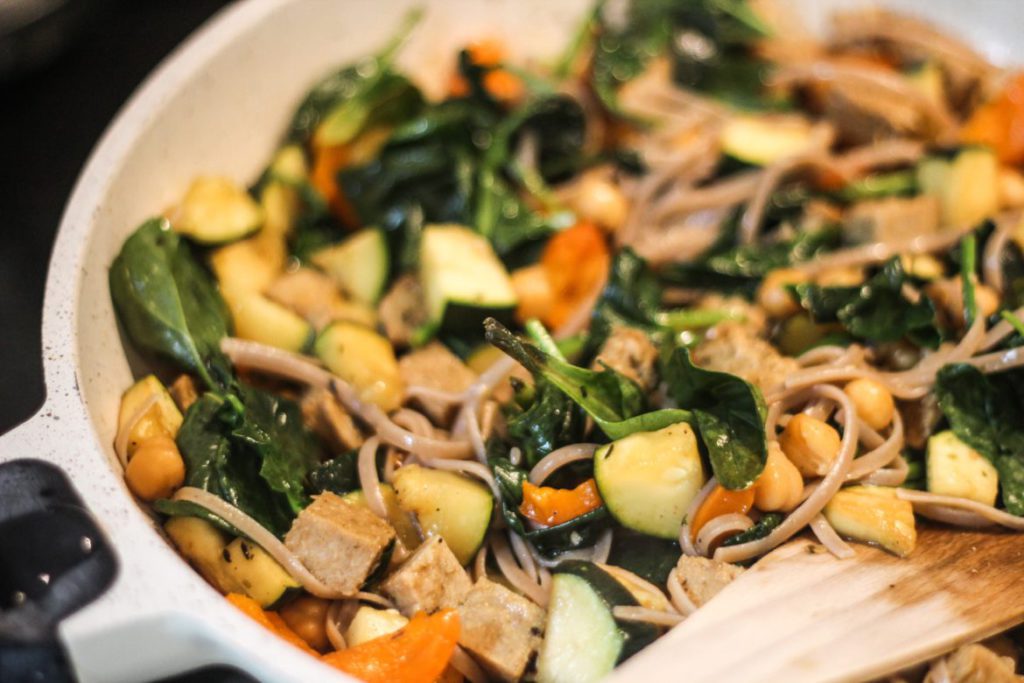 Vet is vet
Het kan verleidelijk zijn om vet juist te vermijden omdat je denkt dat je anders teveel calorieën binnen krijgt. Maar misschien is het vermijden van vet juist wel het probleem. Tussen de drie macronutriënten; koolhydraten, eiwitten en vetten is het vet juist hetgeen dat je het langste een vol gevoel geeft tussen die drie. Dus vermijd ze vooral niet!
En dan heb ik het natuurlijk wel over de gezondere vetten; olijfolie, avocado, noten, zaden, etc.
Alleen al door een avocado aan je maaltijd toe te voegen (ik zou gaan voor 1/4 avocado per persoon) verhoogd je verzadigingsgevoel significant volgens onderzoek (4).
Eet uit een kleiner bord
Ik heb het gevoel dat deze tip al jaren rond gaat maar het is absoluut de moeite waard om hem te herhalen. Soms moeten we nou eenmaal ons brein een beetje voor de gek houden, want andersom gebeurt het ook vaak zat.
Het eten uit een kleiner bord kan je brein stimuleren om eerder verzadigingshormonen aan te maken omdat het bord voller lijkt met dezelfde hoeveelheid voedsel als wanneer het op een groter bord wordt geserveerd. Uit onderzoek blijkt dat velen van ons  voornamelijk calorieën tellen met ons brein – onbewust – en niet met onze maag (5).
Eet mindful
Het heeft geen zin om alle tips op te volgen als je constant met andere dingen bezig bent tijdens het eten. Dus neem de tijd om te eten, geniet van de kleuren, geuren en de smaak. Voel hoe de textuur aanvoelt in je mond en kauw langzaam, geniet van de ervaring.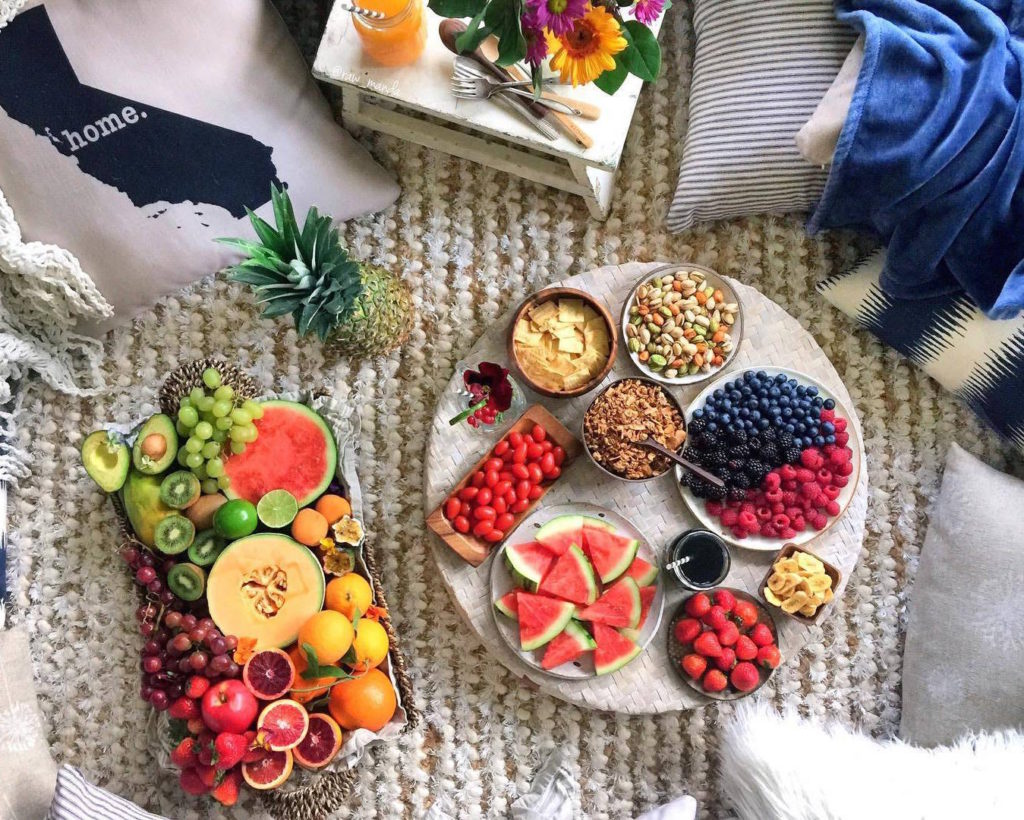 Oké, en nu iets minder zweverig; eet wat vaker bewust. Je hoeft het niet bij elke appel te doen die je onderweg eet, maar wel wanneer je merkt dat je keer op keer teveel op een dag eet dan je nodig hebt én dit ook nog eens niet zulke voedende dingen zijn. Zoals een zak M&M's tijdens het werken achter de computer/laptop. Of chips tijdens het studeren. Je snapt wat ik bedoel. Om er ook nog even een onderzoek tegenaan te gooien: het blijkt dat mindful eten enorm kan bijdragen aan mensen die dwangmatige eetgewoontes hebben (regels, restricties) (6) en gezondere eetgewoontes kan helpen creëeren (7).
Hoera!