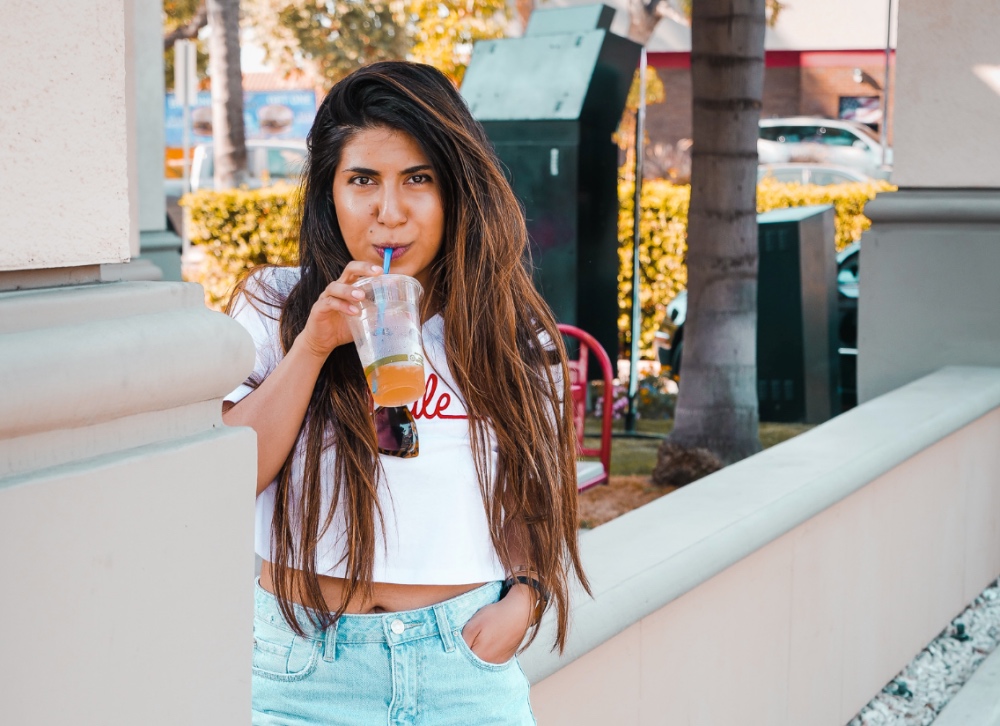 Ik ben fan van kombucha! Het ietwat aparte gefermenteerde koolzuurhoudende drankje vol met probiotica. Goed voor mijn darmen, lekker in mijn mond.
Zo, was dat niet even een flinke reclame voor kombucha? Ik drink het graag, maar wel met mate. Waarom? Omdat al goede ervan ook nogal negatief kan werken als je er teveel van binnen krijgt. Vandaag vertel ik je in geur en kleur wat er gebeurt als je teveel kombucha drinkt.
Meer calorieën dan nodig
Er zijn verschillende merken kombucha op de markt en elk merk brengt zijn eigen smaakjes en toevoegingen met zich mee. Aangezien het best een 'gezond drankje' is, kun je je wel eens verkijken op de voedingswaarde en ingrediëntenlijst, want er zijn talloze bedrijven die hier graag op inspelen en hun eigen lekkerste variant maken. Met een hoop toevoegingen.
Zo kan een kombucha die enkel de basis ingrediënten heeft met misschien een klein beetje een smaakje beginnen bij 13 kcal per 100 ml en een super hippe variant die erg zoet is al oplopen tot de 40 kcal per 100 ml. Dat is evenveel als een glas cola, ik bedoel maar.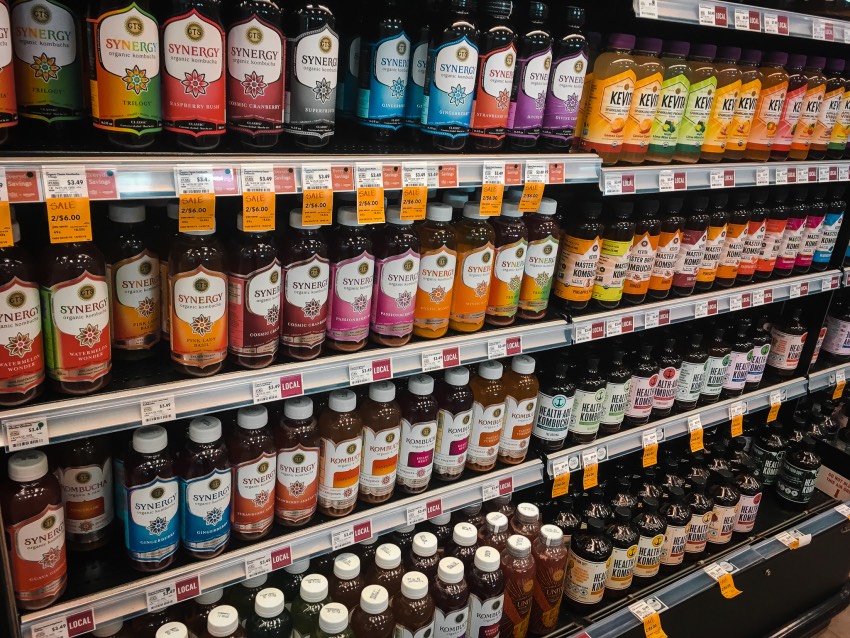 Af en toe een lekker kombucha'tje drinken zal verder geen direct effect hebben op je gewicht, het zal juist helpen bij de spijsvertering. Maar wanneer het meerdere malen per dag gedronken wordt plus een variant die lekker aantikt in calorieën bovenop alles wat je eet, ja dan is het gezonde er wel een beetje vanaf.
Opgeblazen gevoel en spijsverteringsproblemen
Ehh, hielp het niet juist tégen spijsverteringsproblemen? Of, zorgde het niet voor een betere spijsvertering?
Zeker. Maar dit is waar het woord 'balans' weer om de hoek komt kijken. Teveel probiotica vanuit een externe bron (supplement, eten, drinken) binnen krijgen kan juist voor een opgeblazen gevoel zorgen en je spijsvertering een beetje opfokken, als je snapt wat ik bedoel (1).
Aangezien kombucha ook nog eens koolzuurhoudend is, kan teveel ervan ook bijdragen aan een opgeblazen gevoel (2).
Mensen met PDS (Prikkelbaar Darm Syndroom of IBS) opgelet, als je bezig bent met FODMAPs (bepaalde koolhydraten, lees er hier meer over), dan is kombucha ook geen goede optie voor je aangezien het juist bij mensen met PDS de spijsvertering op hol laat slaan (3). En oja, als je kiest voor een kombucha merk met veel toegevoegd suiker, dan kan de combinatie van probiotica met koolzuur en suiker best wat diarree veroorzaken (4)(5). Sorry, dit woord moest op een gegeven moment geschreven worden.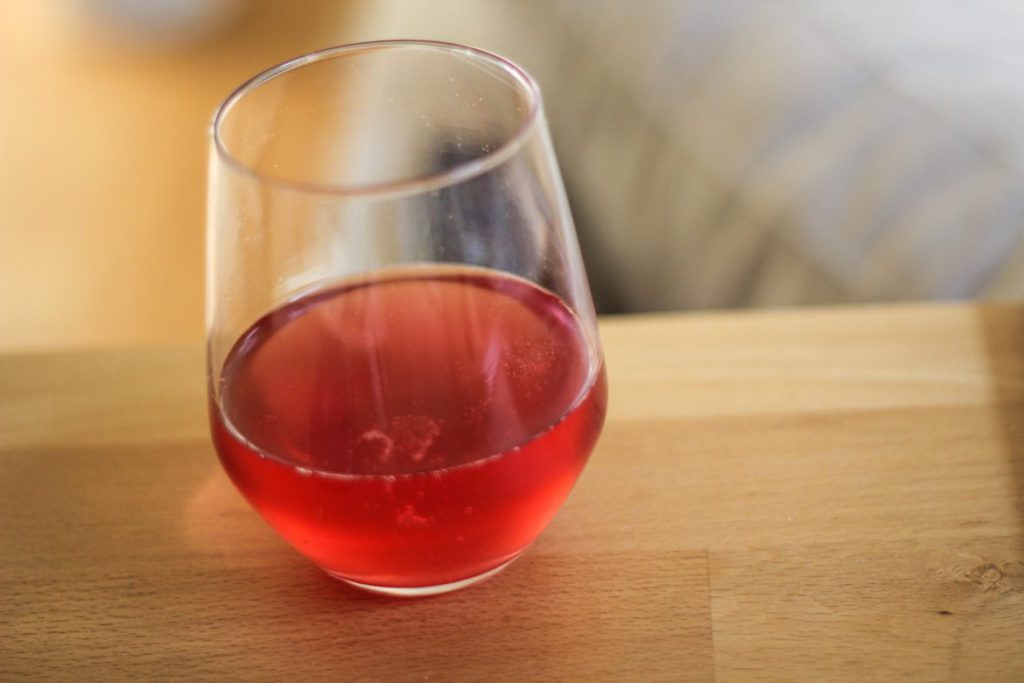 Om deze reden kunnen mensen nog wel eens last krijgen van een opgeblazen gevoel, winderigheid en diarree wanneer ze teveel kombucha drinken.
Gevaarlijk voor sommige mensen
Kombucha is ongepasteuriseerd en bevat verschillende soorten bacteriën en gisten. Het kan de groei van goede bacteriën in je darmen stimuleren en hoewel dit allemaal positief klinkt, is het niet voor iedereen positief. Voor mensen met een zwak immuunsysteem bijvoorbeeld mensen met een leverziekte of HIV kunnen serieuze complicaties ontwikkelen door kombucha te drinken (6).
En aangezien kombucha een kleine hoeveelheid cafeïne en alcohol bevat, is het verstandig dat zwangere vrouwen en vrouwen die borstvoeding geven dit drankje ook vermijden (7).
Teveel cafeïne
Kombucha is meestal gemaakt met zwarte of groene thee, beide bevatten cafeïne. Hoewel dit drankje véél minder cafeïne bevat dan 'gewone thee' en al helemaal minder dan koffie, is het bijna onmogelijk (zou je kunnen zeggen) om teveel cafeïne binnen te krijgen hierdoor.
Maar als je kijkt naar wat je verdeeld over de dag nog meer drinkt aan cafeïne, draagt kombucha daar ook gewoon aan bij met zijn 8 tot 14mg cafeïne per glas (240ml) (8).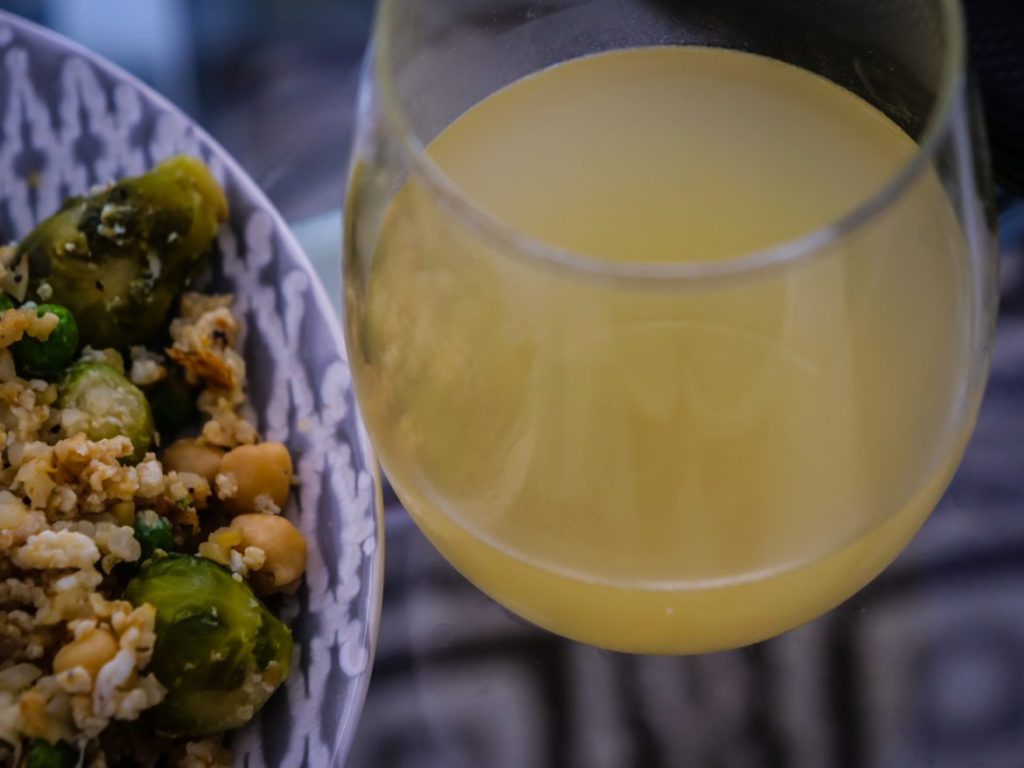 Dat is nog steeds een kleine hoeveelheid natuurlijk, maar wanneer je overgevoelig bent voor cafeïne is het niet handig om teveel kombucha te drinken, daarnaast kan het ook je slaap verstoren als je het in de avond drinkt (9).
Dus wat is teveel?
Voordat we over gaan op hoeveelheden wil ik als advies geven om een kombucha te kiezen die niet meer dan 50 kcal bevat per glas (dat komt meestal neer op 20-25 kcal per 100 ml). Hierdoor drink je het in ieder geval voor de gezonde redenen en wordt het niet een te zoet drankje onder het mom van 'gezond', zoals Vitamin Water.
Dus, wat is een gezonde hoeveelheid? Als je niet binnen de bovenstaande risicogroepen valt, dan kan kombucha een hoop goeds voor je doen (lees hier hoe geweldig het is!), dit artikel gaat natuurlijk enkel in op de vervelende kant ervan en die heeft vooral te maken met:
Binnen (één van) de risicogroepen vallen
Teveel ervan drinken als 'gezond individu'
En teveel komt neer op meer dan 2 glazen (240-250ml) per dag. Dus je kunt het gerust dagelijks drinken als je dat wilt! Al moet ik zeggen dat het een vrij prijzig drankje is, dus elke week door tientallen flesjes gaan is niet per se goed voor de portemonnee 😉
Mijn advies? Varieer door de week met verschillende soorten gefermenteerd voedsel en drankjes zoals onder andere tempeh, kimchi, zuurkool en kefir en je darmen zullen op en top gezond blijven!