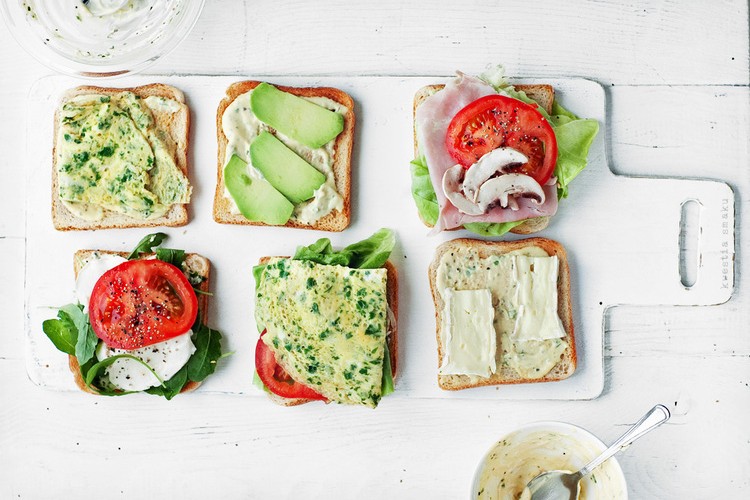 Ik heb het vaak over afvallen op mijn blog. Dit omdat 41% (!!) van de Nederlandse bevolking overgewicht heeft (CBS) en maar 2% ondergewicht. Toch zijn er een hoop mensen die, wel of geen ondergewicht, graag wat zouden willen aankomen. Maar daar is niet zoveel informatie over te vinden lijkt het, en om je nu vol te gaan proppen met junkfood en snacks is al helemaal geen goed idee. Wat nu? In dit artikel een aantal tips om op een gezonde manier aan te komen.
Het kan best frustrerend zijn als je zo hard je best doet om aan te komen, maar het telkens niet lukt. Voor sommigen klinkt dit als een droom, je best doen om aan te komen en maar gelijk blijven met je gewicht. Maar er zijn wel degelijk mensen die hier moeite mee hebben.
Als je te kampen hebt met ondergewicht kan dit een onderliggende oorzaak hebben, dit hoeft niet zo te zijn, maar kan wel. Het kan te maken hebben met een hyperactieve schildklier of een aandoening waarbij je voedingsstoffen niet goed opneemt zoals Coeliakie, of de ziekte van Crohn. De eerste stap is om te checken of je een van deze aandoeningen hebt.  Mocht dit het geval zijn, dan kun je doorverwezen worden naar een diëtist die samen met jou aan de slag gaat om jouw voedingspatroon optimaal te krijgen.
Geen aandoeningen? Dan kijken we verder:
Zoals ik al zei, probeer je aan te komen? Eet dan niet te vaak ijs, cheeseburgers en donuts. Dit zorgt namelijk voor chaos in je lichaam, een tekort aan vitamines en mineralen en voornamelijk vetopslag rond je middel.
TIP 1: EET REGELMATIG
Een belangrijke tip die vaak wordt gegeven bij het afvallen maar die ook werkt bij het aankomen is: eet regelmatig. Eet ongeveer om de 3 uur, dit zorgt ervoor dat je spiermassa voorzien wordt van voedsel. Sla je een maaltijd over? Dan daalt je metabolisme en kan dat resulteren in spieren die gaan afbreken om je lichaam van energie te voorzien.
Het verschil bij deze tip bij mensen die afvallen zit hem in de hoeveelheid voedsel je om de 3 uur eet. Voor mensen die willen afvallen is het belangrijk om kleine porties te eten zodat je lichaam geen honger heeft en je telkens net genoeg binnen krijgt om je verzadigd te voelen, je energie op peil te houden en toch af te vallen.
Mensen die willen aankomen kunnen deze tip overnemen maar in plaats van kleine maaltijden, wat grotere maaltijden eten. In het begin zal dit wat lastig zijn omdat je al gauw het gevoel hebt dat je bomvol zit. Stop  met eten wanneer je dat gevoel hebt, dat is niet iets wat we namelijk willen voortzetten. Probeer beetje bij beetje meer toe te voegen aan je maaltijden zodat je geleidelijk meer eet (gezond!) maar niet het gevoel hebt dat je te vol zit.
TIP 2: begin met 200 calorieën extra per dag
Begin niet te groot, 200 calorieën extra per dag toevoegen aan je voeding is prima om mee te beginnen. Hoe zien 200 calorieën er ongeveer uit?
* Een flink handje noten
* Een bakje volle yoghurt met muesli
* Twee volkoren sneetjes brood met pindakaas (dit is iets meer dan 200 kcal)
* Een gebakken ei met een halve avocado
* Twee plakjes oude kaas
TIP 3: KWALITEIT BOVEN KWANTITEIT
Ook al is het de bedoeling dat je meer eet, het belangrijkste is wát je eet. Zorg ervoor dat dit kwaliteitsvoeding is. Wat bedoel ik daarmee? Voeding zoals groente, fruit, noten, vlees en zuivel. En geen chips, ijs, snickers en energydrink.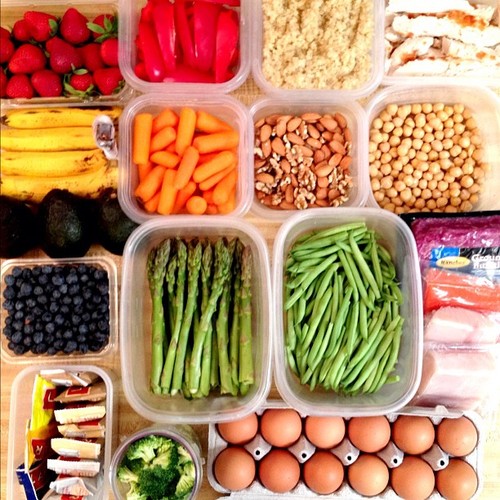 Ik hoop dat je met deze tips aan de slag kunt om op een gezonde manier aan te komen! Omdat dit op een geleidelijke manier gaat, blijf je in de gaten houden hoeveel je aankomt en kun je stoppen wanneer je het genoeg vindt.
Nog een allerlaatste tip: probeer niet teveel cardio te doen tijdens het sporten en vooral geen interval trainingen. Dit helpt bij het afbreken van vet. Een warming up van 5 – 10 minuten is prima maar doe wel aan krachttraining! Of je nu wilt afvallen of aankomen.