YEAAAAH Let's do this! Een HIIT challenge voor de komende 6 weken! Vlak voor kerst zal de challenge eindigen waarna we lekker alles er weer aan kunnen eten! Haha, grapje. Denk eerder: Ons metabolisme is supersnel, we verbranden veel calorieën, we zijn energiek én we voelen ons helemaal top in de glinsterende kerst en oud-en-nieuw jurkjes! Dat lijkt me voor mij wel een mooi vooruitstreven 🙂 Ik heb hard gewerkt aan een leuke challenge en hopelijk vinden jullie hem ook prettig zodat we elkaar kunnen motiveren, stimuleren, tips geven etc! 
De Challenge
De challenge mag je uiteraard helemaal zelf invullen zoals je wilt. Niets is verplicht en wat mij betreft plan je zelf HIIT workouts in die jij misschien prettiger vindt dan ik heb uitgekozen: "it doesn't matter!", zolang je lekker je hartslag omhoog krijgt en het leuk vind (vaak pas achteraf, haha).
De challenge is voor 6 weken, met 3 workouts per week. Je mag zelf invullen welke dagen je de workouts doet. Ik heb in totaal 8 workouts uitgekozen die ik 2 keer voorbij laat komen waarbij er in de laatste week 3 keer "favoriet" overblijft; hier mag ik dan zelf bepalen welke favoriete HIIT workouts ik ga doen.
De workouts heb ik allemaal een symbooltje met een kleur gegeven, deze symbooltjes worden meegenomen in het workout schema: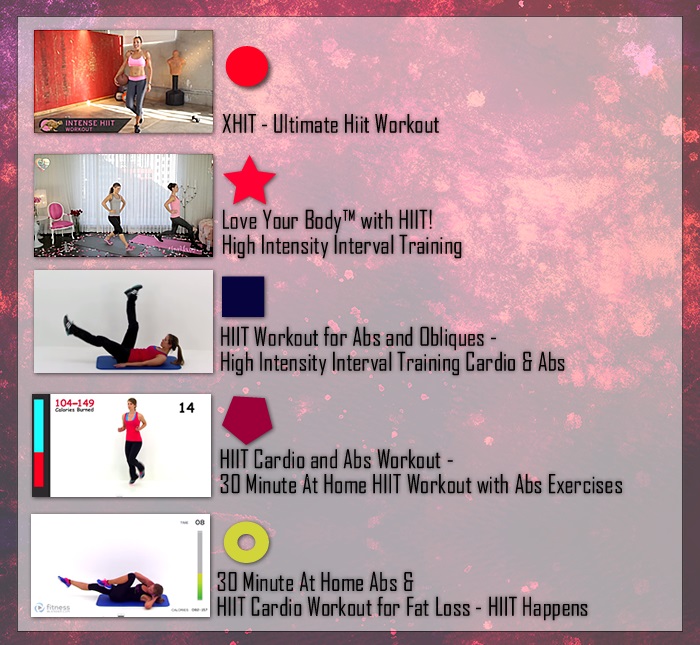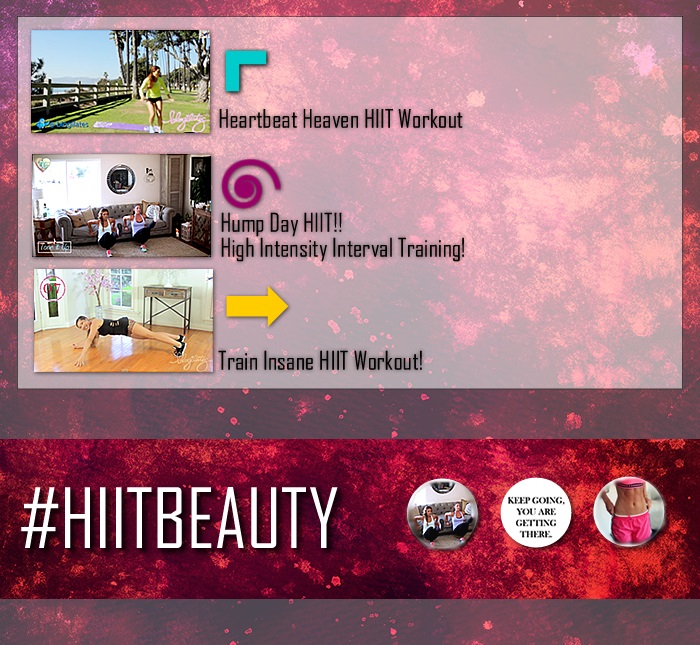 Het schema voor 6 weken:
Het lijkt me handig om lekker op maandag te beginnen 10 november te beginnen (als week 1, je hoeft natuurlijk niet per se die dag de workout te doen, kan ook later in de week).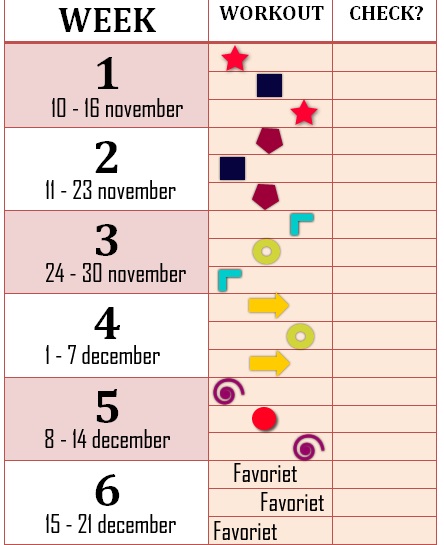 #HIITBEAUTY
Het lijkt me leuk om af en toe een update artikel te plaatsen en daarin ook jullie foto's voorbij te laten komen die jullie via Instagram hebben getagd met #HIITBEAUTY
WORKOUT VIDEOS
Dit zijn de links naar de workout videos:
Heartbeat Heaven HIIT Workout

Love Your Body™ with HIIT! High Intensity Interval Training

HIIT Cardio and Abs Workout – 30 Minute At Home HIIT Workout with Abs Exercises

30 Minute At Home Abs & HIIT Cardio Workout for Fat Loss – HIIT Happens

HIIT Workout for Abs and Obliques – High Intensity Interval Training Cardio & Abs

Train Insane HIIT Workout!

XHIT – Ultimate Hiit Workout

Hump Day HIIT!! High Intensity Interval Training!

Uitprinten
Lekker gemakkelijk, uitprinten en ergens ophangen! Daarom heb ik het allemaal ook in een .pdf bestand gezet die je hier kunt downloaden.
LET'S DO THIS! IK HEB ER ZIN IN! WIE DOET MEE?!