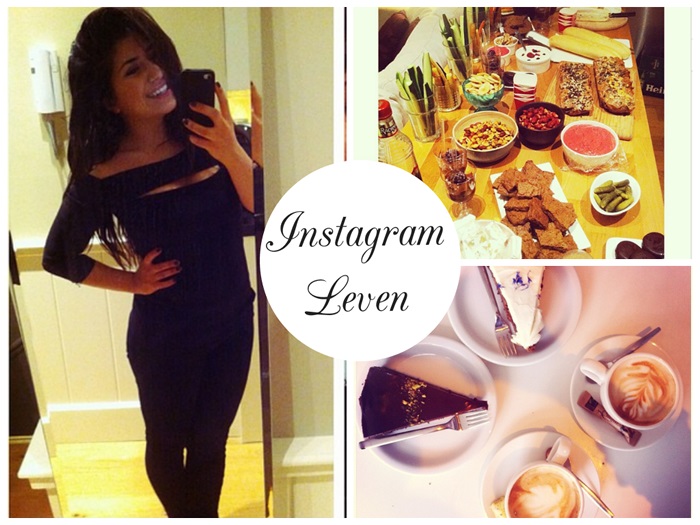 Waarom gaat de tijd zo snel. Zeg ik dat niet elke keer bij een Instagram leven post? Ik denk het wel, maar ik word gewoon geforceerd om even terug te blikken en dan merk je dat er echt veel gebeurt in een korte tijd. Belangrijk om daar stil bij te staan wat mij betreft!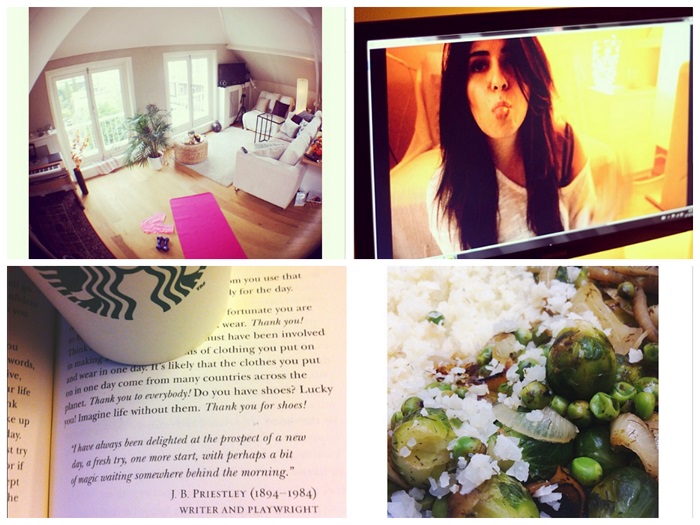 1. Mn huisje met een fish eye lens! Stond op het punt een workout te doen. 2. YouTube video aan het editten! 3. In de trein richting werk, aan het lezen met een koffietje erbij. Ik kwam een mooi stukje tegen: "I have always been delighted at the prospect of a new day, a fresh try, one more start, with perhaps a bit of magic waiting somewhere behind the morning". Ah, hoopvol 🙂 4. Bloemkoolrijst met spruitjes, doperwten, ui en champignons. Een bord vol groente! Heerlijk!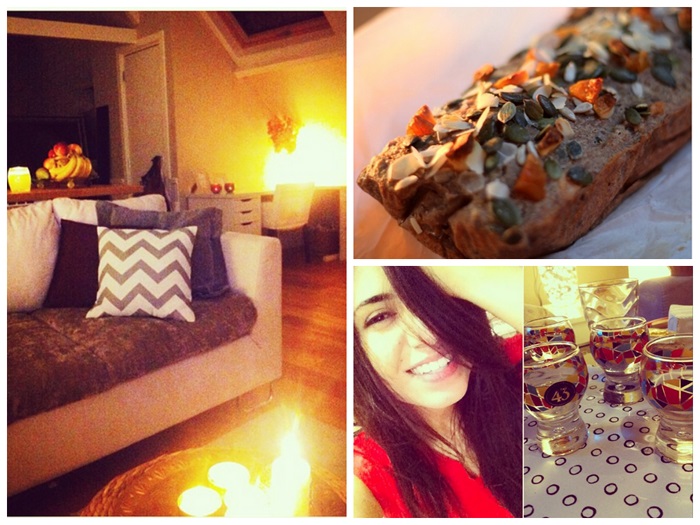 1. Het huis weer eens gezellig gemaakt, hah. 2. Bananenbrood!!! 3. Avondje met vriendinnen 🙂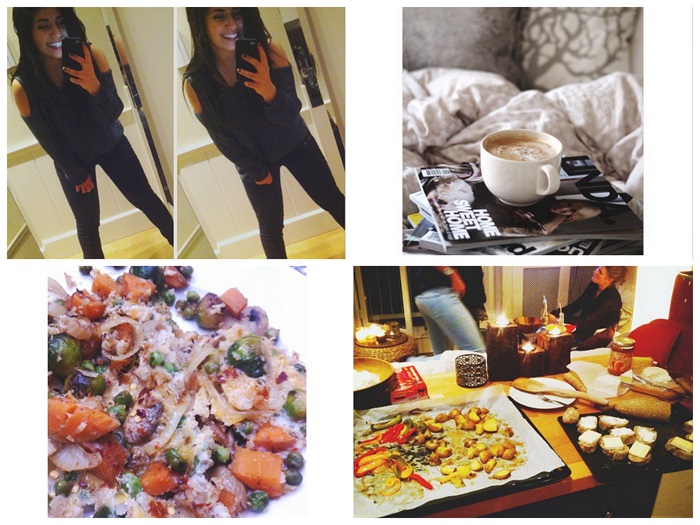 1. Lange drukke dag gehad, nog even een paar foto's en daarna in mn pyjama, make up eraf, haar in een knot en SLAPEN! haha. 2. Relaxen op de zondag, tijdschriften en een grote kop koffie. 3. Lunch! Alles bij elkaar gegooid met een gebakken ei erbij. 4. Ik vind het leuk om visite te krijgen en hapjes klaar te maken, haha. Dit was vlak voor het uitgaan met mn vriendinnetjes.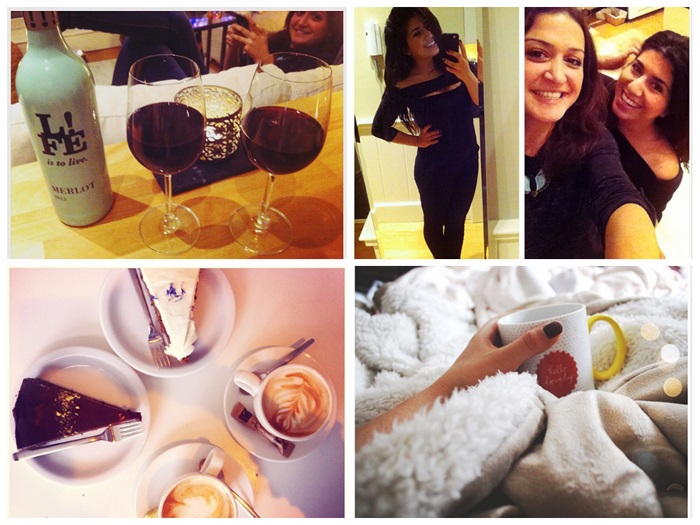 1. Met mn nichtje uitgaan! (jeetje, wat ga ik vaak uit?). Het was een bijzondere dag, dus daar dronken we eerst even mooi op! 2. Ready? Den Haag in! 3. De volgende dag, half brak, samen met een andere vriendin even wat meidenpraat onder het genot van cappuccino en taart. 4. Ik was niet zo heel lekker, bleef wat langer in bed met thee.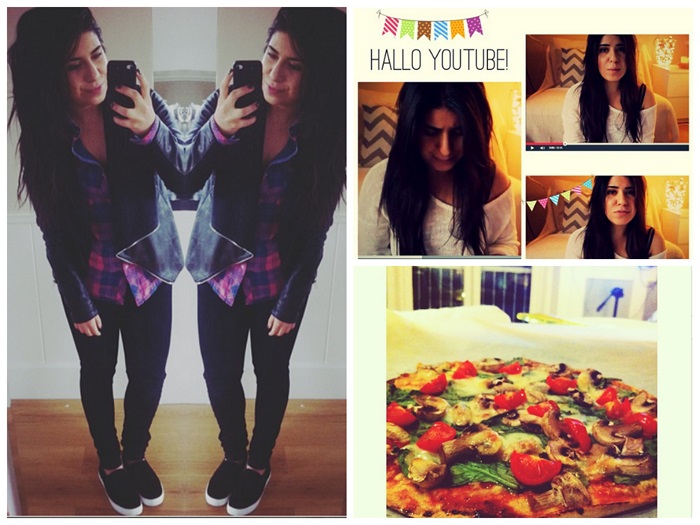 1. Zo ging ik brak de stad in op zaterdag ochtend. En eventjes geëxperimenteerd met een mirror-app. 2. Wat kijk ik toch vaak serieus in de video! haha. 3. PIZZA!!! Op een bodem van 1 wrap.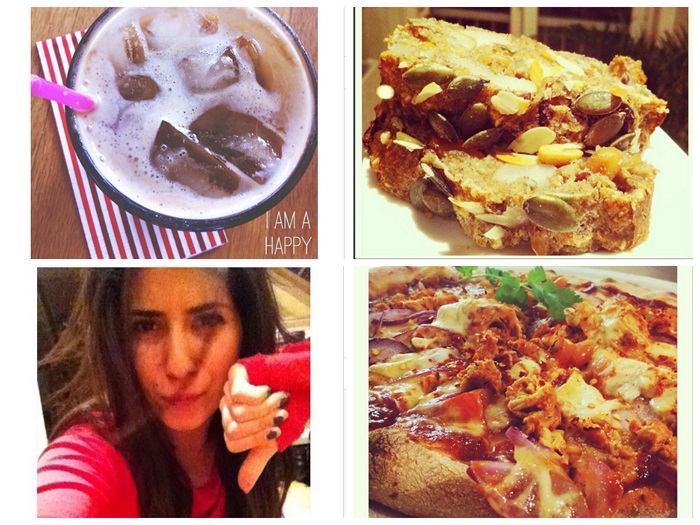 1. Heel blij met alle lieve reacties op mn YouTube video, dit was de volgende ochtend toen ik alles ging lezen 🙂 Heel happy en dankbaar voor jullie! 2. Het is bananenbrood maand denk ik zo! 3. Meh, enkele dagen niet goed gegeten en ook teveel gegeten. Ik voelde me niet heel tof. 4. Uit eten met twee collega's/vriendinnen, ons maandelijks dingetje 🙂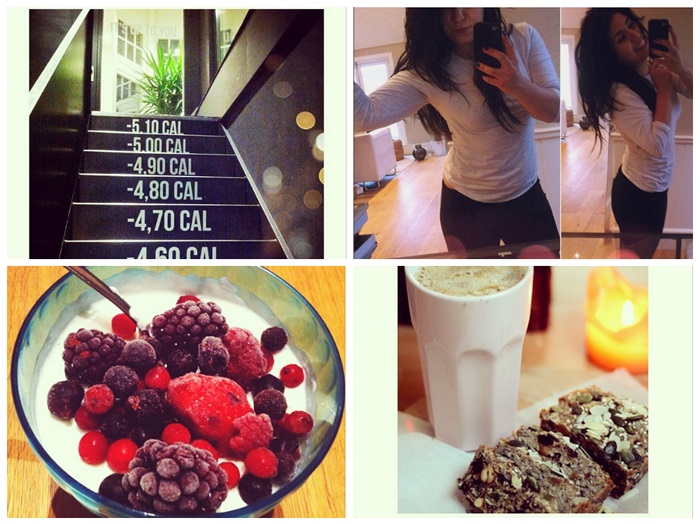 1. Mezelf naar de sportschool gesleurd en eventjes hard gesport! 2. Zo heb je wat "downs" met eten en sport, en zo heb je weer wat "ups". Ik zat lekker in mn vel, deed meerdere workouts op die dag en ergens tussendoor maakte ik wat foto's, haha. 3. Kwark met fruit! bevroren inderdaad. Maar als je dit een tijdje laat staan is het prima te eten. Het leuke is als je het dan even doorroert, dan krijgt je kwark een leuk kleurtje 🙂 4. Moet ik het nog zeggen? Bananenbrood! Haha.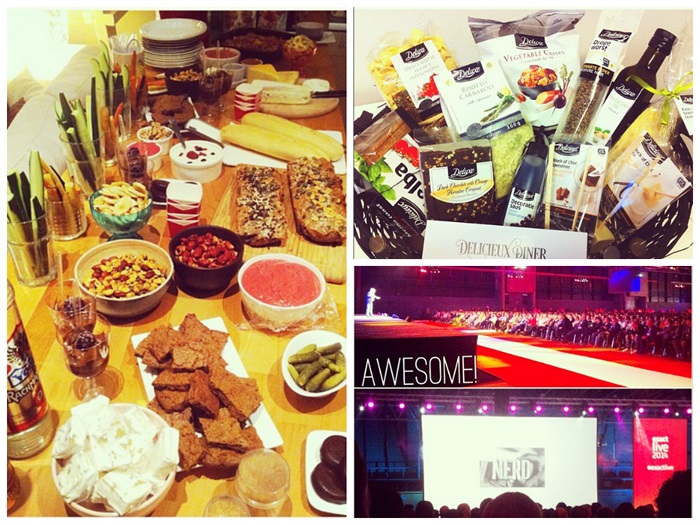 1. Eindelijk eens tijd voor een housewarming! Al is nog steeds niet alles "af", ik vond het wel een mooi moment om een housewarming te geven. En natuurlijk maak ik dan veeeeeeel eten (niet alles is zelfgemaakt 🙂 ). 2. Ik ben uitgenodigd voor een Lidl etentje en dat deden ze door middel van twee dames naar mijn kantoor te sturen met deze mand vol lekkers! Dat is nog eens een uitnodiging zeg! 3. Met mijn collega was ik naar de jaarbeurs in Utrecht voor Exact Live (boekhouddingen, haha), maar het was alles wat ik NIET had verwacht. Heel veel inspirerende sprekers! Onder andere Nalden! Kennen jullie hem? Blogger en de co-founder van WeTransfer. Gewoon een toffe, down to earth, jonge jongen die echt humor heeft. Zijn stuk was mijn favoriet, ik vond hem geniaal 🙂
Dat waren weer wat toffe weken zeg! Mocht je me willen volgen: @Tenitje