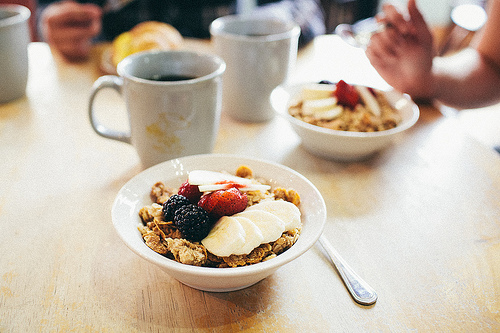 Gezond eten hoeft niet per se te betekenen dat het je meer tijd kost. Tuurlijk, als we dingen moeten schillen, pellen, wassen en snijden kost het ons tijd en kopen we het liever kant en klaar. Maar er zijn wel degelijk snelle opties voor een gezond ontbijt!
Laat ik voorop stellen dat het sowieso belangrijk is om te ontbijten, elke dag, wat er ook op je planning staat: sla nooit je ontbijt over!
Je ontbijt is niet altijd de maaltijd tussen 7 en 9. Nee, je ontbijt is je maaltijd die je als eerste eet binnen de eerste twee uur dat je wakker bent. Dus sta je om 10 uur op? Dan kan je ontbijt om half 12 zijn.
Een aantal tips voor een snel ontbijt wanneer je haast hebt, je hebt verslapen of geen zin hebt om wat klaar te maken:
Eet een banaan! een banaan bevat vezels, en natuurlijke suikers die je meteen energie geven om de dag te starten.  Het is heel makkelijk om een banaan te pellen en je kunt het zelfs op de fiets, in de auto of in de trein opeten; ideaal!
Doe wat yoghurt en (bevroren) fruit in de blender en drink je ontbijt thuis of onderweg op uit een meeneembeker. Ik heb eens eerder een artikel geschreven over juicen (blenden), waarin ik vertel dat ik er geen voorstander van ben omdat de suikers heel snel opgenomen worden in je bloed. Wanneer je yoghurt in je blender erbij doet, werkt dit heel positief; het remt namelijk de snelheid waarmee de suiker wordt opgenomen in het bloed.
Eet de etensresten van de avond ervoor. Sowieso is het handig om het teveel aan avondeten niet weg te gooien maar te bewaren. Heb je nog wat aardappels over? Eet ze 's ochtends op! Het is misschien je verstand die zegt dat dit niet kan ,je lichaam zal er niet vreemd van opkijken: eten is namelijk gewoon eten.
En dan nog een hele belangrijke tip: begin je ochtend echt met een glas water!
Je verliest namelijk flink wat vocht in je slaap en het is belangrijk om je weer te hydrateren in de ochtend. Dit kun je ook zien aan je urine; deze mag in de ochtend een appelsap kleur hebben. In de loop van de dag moet het een lichte limonade kleur hebben, dan ben je goed gehydrateerd.

Probeer zoveel mogelijk weg te blijven van "ontbijtyoghurt drink met granen in een pakje/flesje" etc. Deze zitten serieus bómvol suiker!