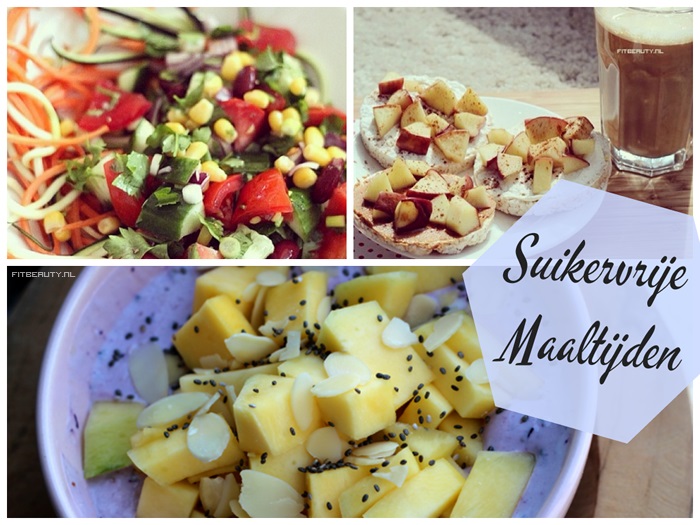 Er wordt me veel gevraagd naar wat ik nou eet tijdens een suikervrije challenge. Wat voor maaltijden? Wat voor tussendoortjes? Ik zal in dit artikel een aantal voorbeeld maaltijden en snacks laten zien zodat je een idee hebt hoe je je eetpatroon kunt aanpassen om wat meer suikervrij te eten! Als je wilt, tenminste.

Ik zal in dit artikel door al mijn mappen met foto's van eten zoeken, dus je zult een hoop "oude" foto's zien van mijn oude huisje. 🙂
Ontbijt/Lunch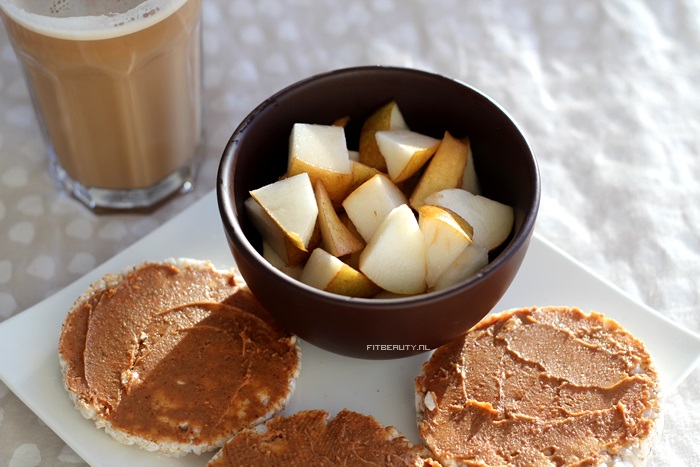 Rijstwafels met pindakaas doen het bij mij áltijd goed. Wel of geen suikervrije challenge. Fruit kan ook altijd (in mijn challenge wel, ook al bevat fruit natuurlijke suikers). Daarnaast koffie met een suikervrije variant van plantaardig melk, zoals deze.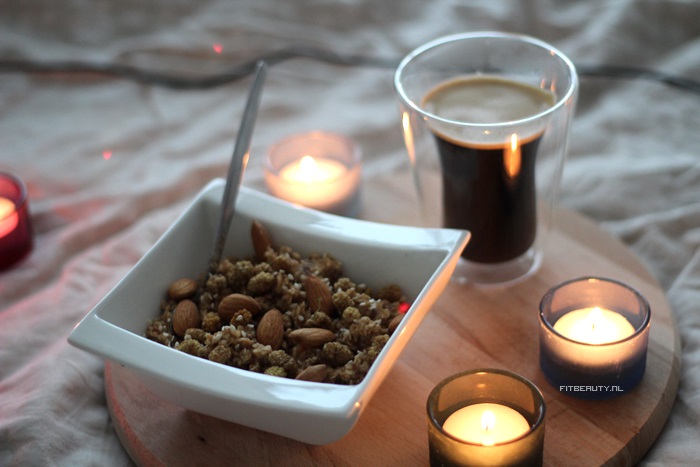 Havermout met plantaardig melk en een beetje honing als basis. Je kunt er vervolgens van alles op doen zoals amandelen, sesamzaadjes, moerbessen etc. Zo maak ik mijn havermout. En een kopje espresso ernaast!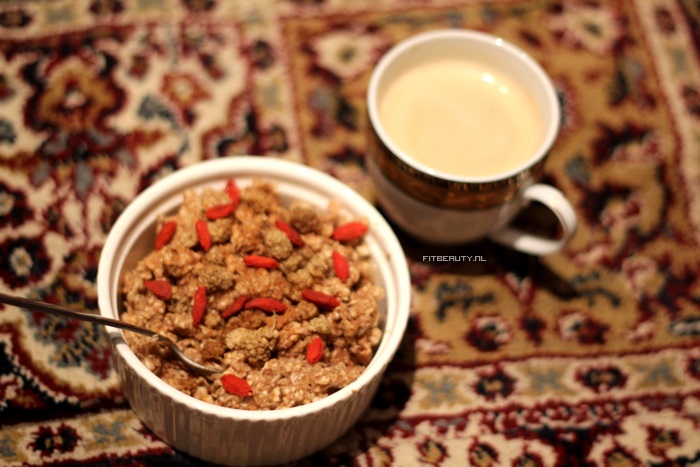 Nogmaals havermout, deze keer met goji bessen en moerbessen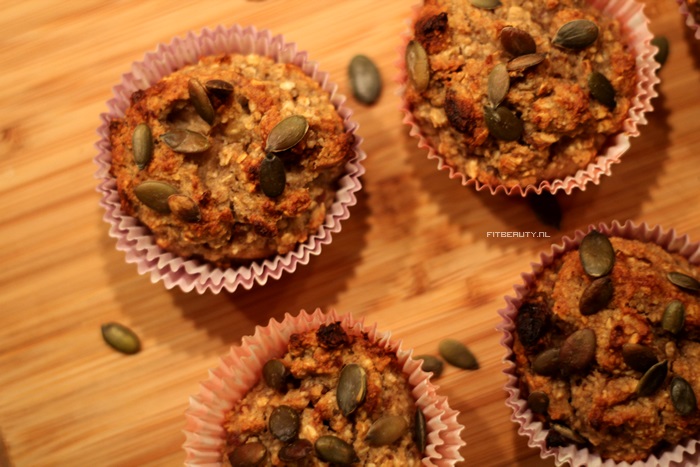 Ontbijtmuffins, die je een dag van te voren bijvoorbeeld al kan maken. 🙂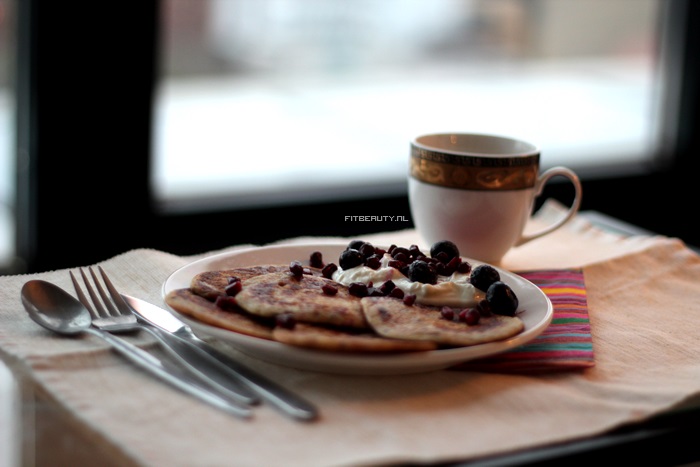 Banaan-ei pannekoeken! Daarmee sla je nooit de plank mis, haha. Met wat kwark/yoghurt en fruit ernaast.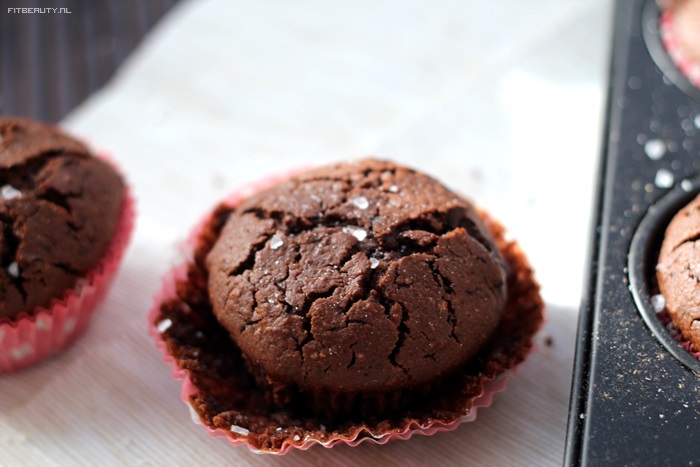 Chocolademuffins! Ohhhhhh…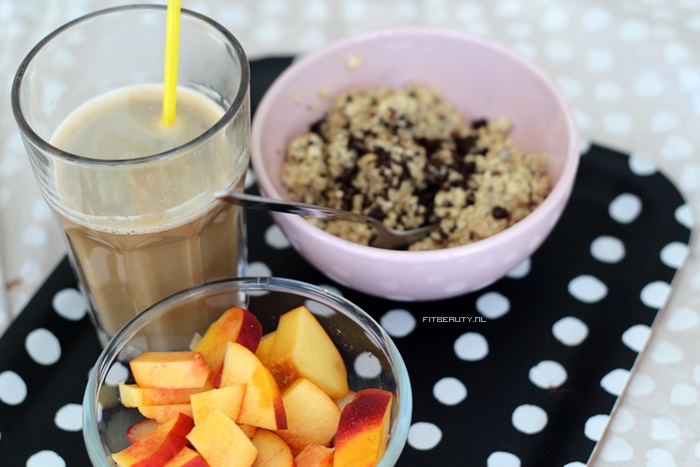 Cacao nibs met havermout kunnen af en toe net die chocolade "kick" geven die je nodig hebt. Al werkt het niet altijd bij mij, soms wil ik gewoon echt chocolade haha.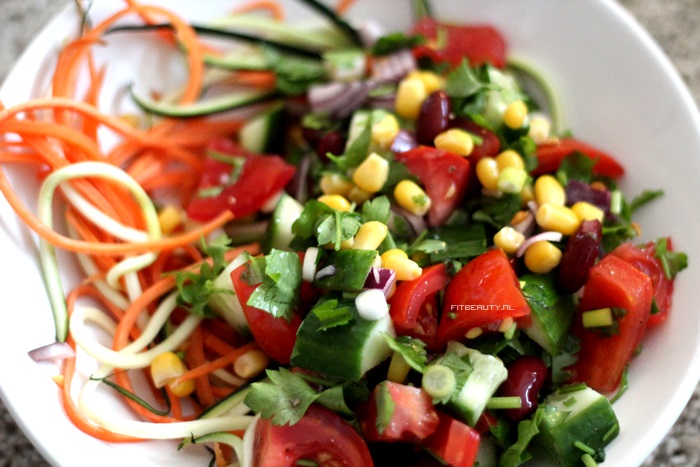 Mooi als lunch: wortel en courgette spaghetti met allerlei groentes. De mais en kidney bonen komen uit blik, er bestaan varianten waar geen suiker aan is toegevoegd, kwestie van het etiket even lezen.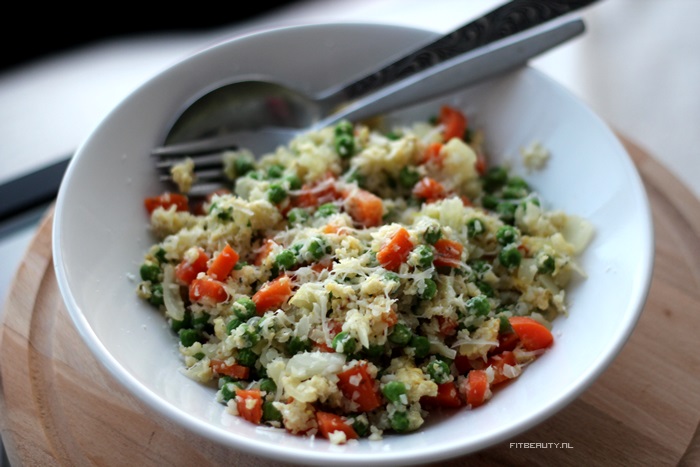 Lekker en voedend, gemalen bloemkool bakken met wortel, doperwten en een uitje. Vervolgens 1 ei eroverheen en goed doorroeren. Als laatste kun je er wat parmezaanse kaas overheen doen als je wilt. Heerlijk!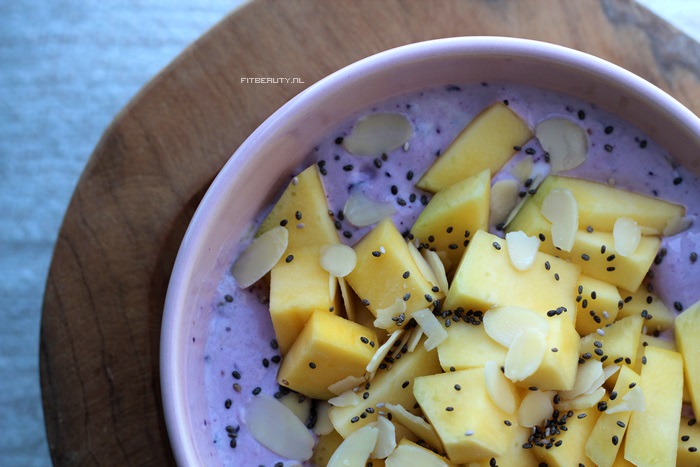 Kwark met bevroren bosbessen erin. Dit laat je eventjes 5 tot 10 minutjes staan waarna je de bosbessen goed door de kwark heen gaat roeren. De kwark wordt dan vanzelf paars! Daarna wat ananas, chia zaadjes en amandelschaafjes toegevoegd. Lekker voedend!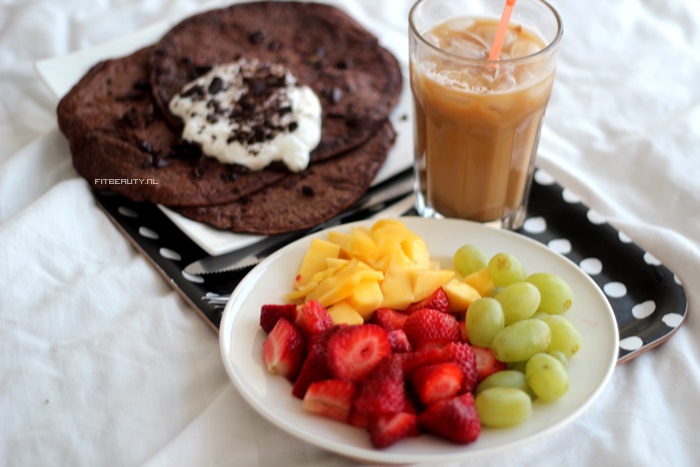 Ik kan wel stellen dat dit een van mijn favoriete ontbijtjes is: banaan-ei pannekoeken waar cacao doorheen zit, met kwark en chocolade (in geval van suikervrij gebruik je dus cacao nibs), met een bord fruit en koffie met plantaardig melk. Jum!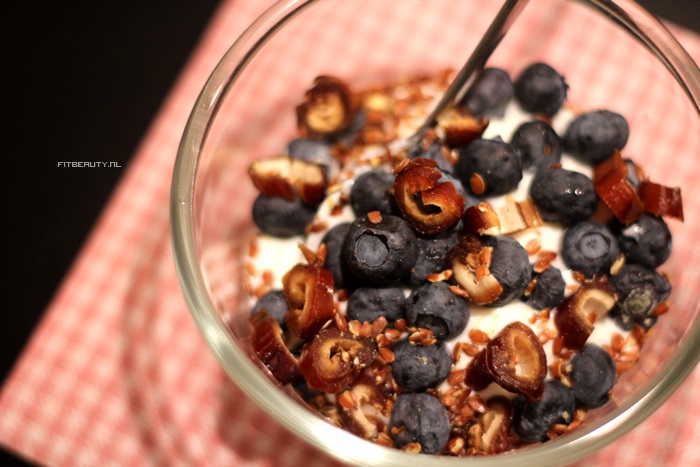 Kwark, bosbessen, dadels en lijnzaad!
Snacks/Tussendoortjes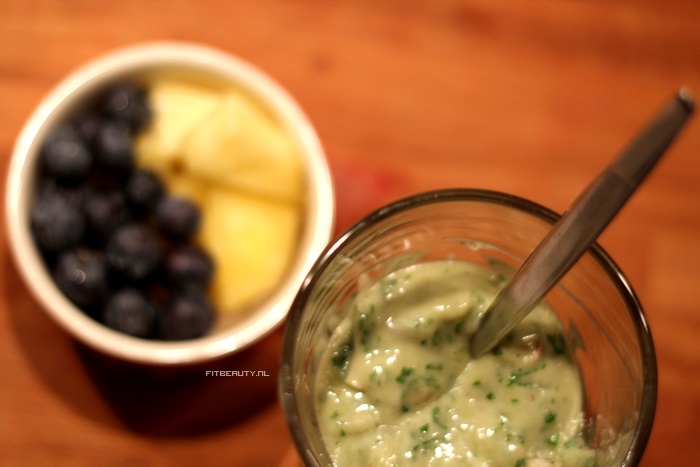 Tussendoor kun je altijd wat fruit eten, en ook een smoothie bijvoorbeeld. Deze is van bevroren banaan, spinazie en wat plantaardig melk.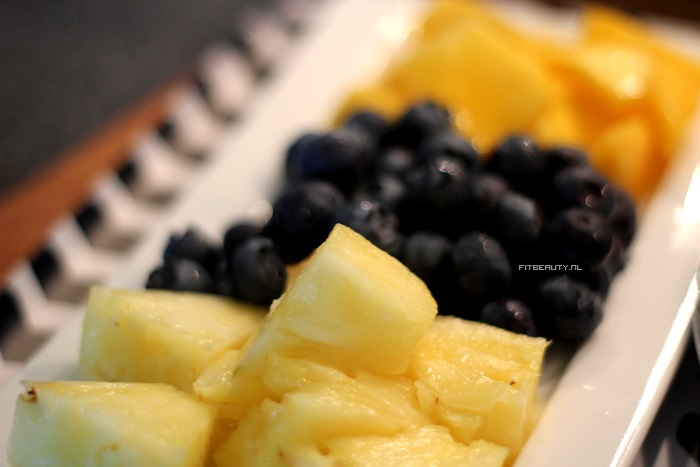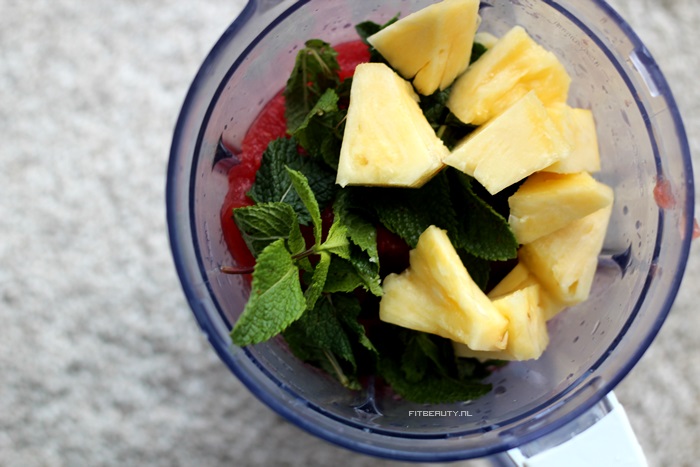 Frisse smoothie met watermeloen, munt, ananas en yoghurt of water of plantaardig melk.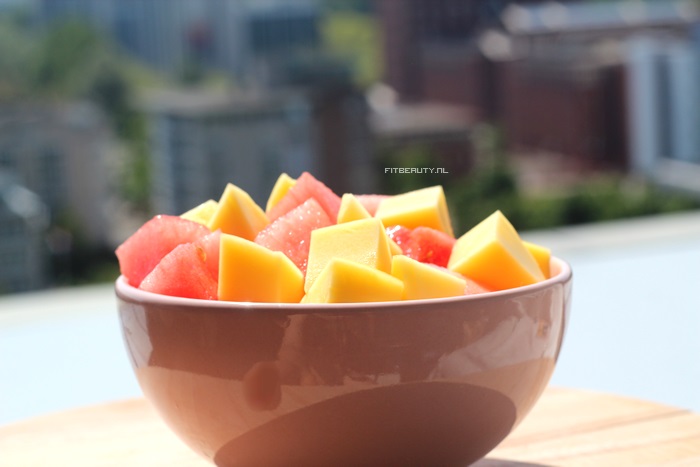 Fruit!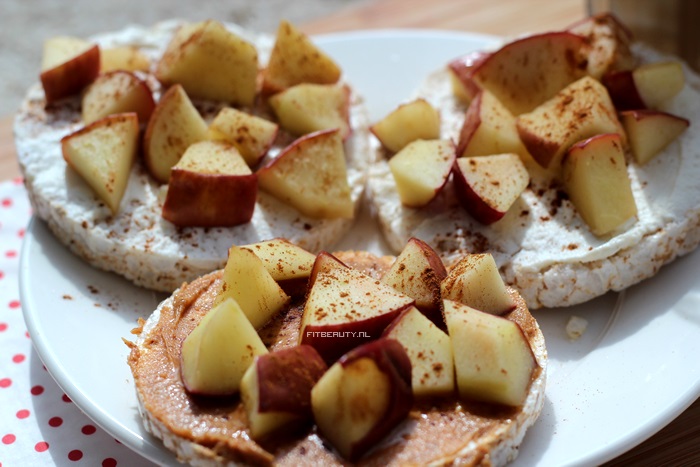 Dit kan natuurlijk ook als ontbijt: rijstwafels met pindakaas of zuivelspread. Daarbovenop stukjes appel die ik in een pannetje met wat water heb opgewarmd. Als je het warm op je rijstwafel met pindakaas doet, dan smelt je pindakaas een beetje (HEMELS!) en daar dan wat kaneel overheen doen. Ohhhh dit is zo lekker!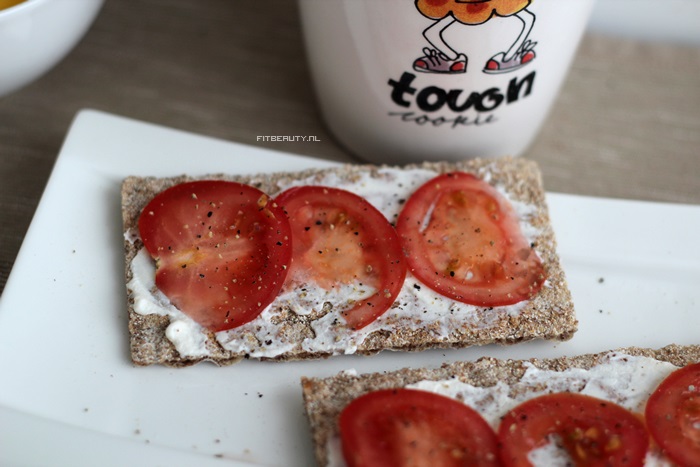 Cracker met een beetje zuivelspread, tomaat plakjes en wat peper en zout.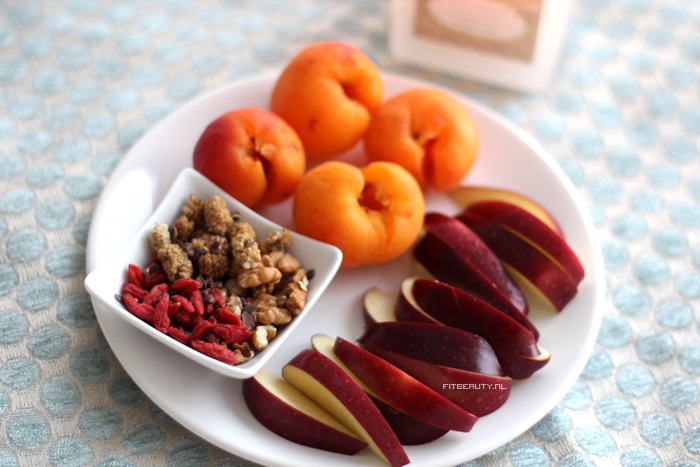 Fruit, en een schaaltje met noten, bessen, cacao nibs etc.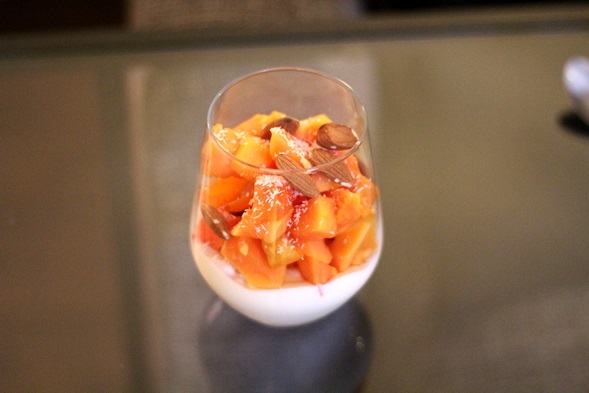 Yoghurt met fruit, amandelen en wat geraspte kokos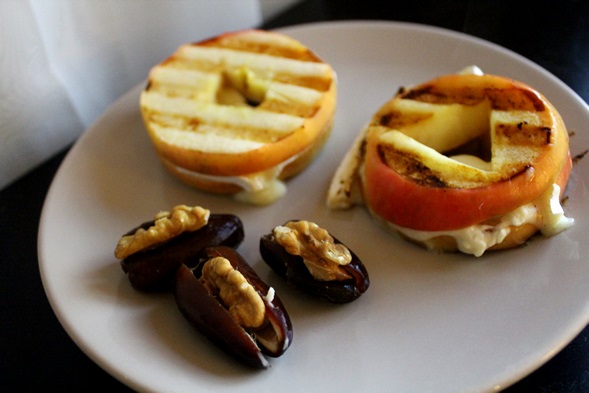 Appel plakken met brie ertussen op de gril! En dadels met een walnoot erin.
Avondmaaltijd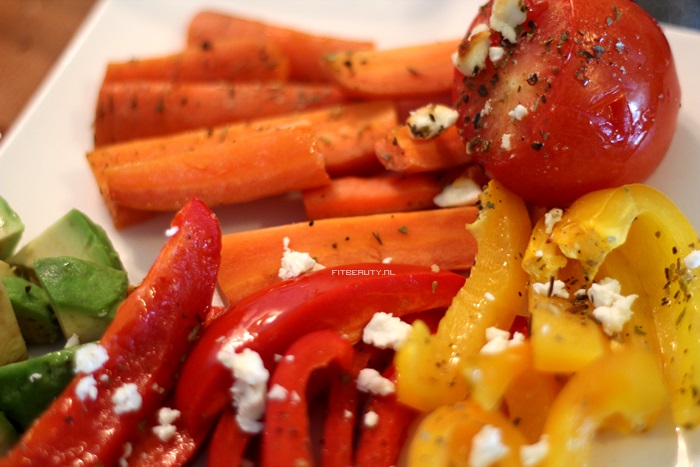 Niet heel veel trek? Dan zijn groentes uit de oven altijd heerlijk. Je kunt er flink wat kruiden overheen doen, een beetje olijfolie en als je wilt wat kaas. Ik heb er een beetje geitenkaas overheen gedaan.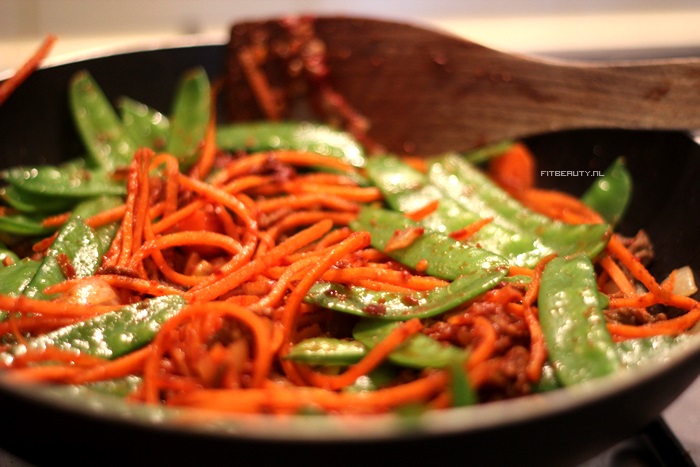 Wortel spaghetti met peultjes, gehakt (suikervrije variant vind je vaak bij biologische winkels) en tomatenpuree uit blik (zijn bijna allemaal suikervrij, ze bevatten vaak alleen tomaten en zout).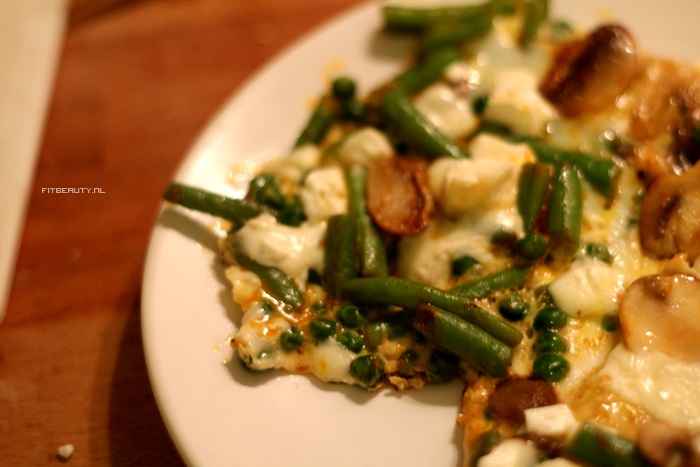 Een omelet (kan ook voor lunch) met sperziebonen, champignons, doperwten en feta kaas.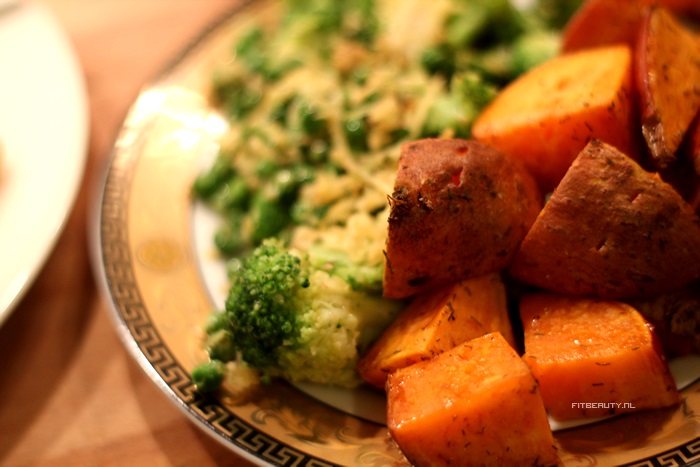 Zoete aardappel uit de oven met groente ernaast. Volgens mij is er ook een omelet met wat kaas op deze foto te zien.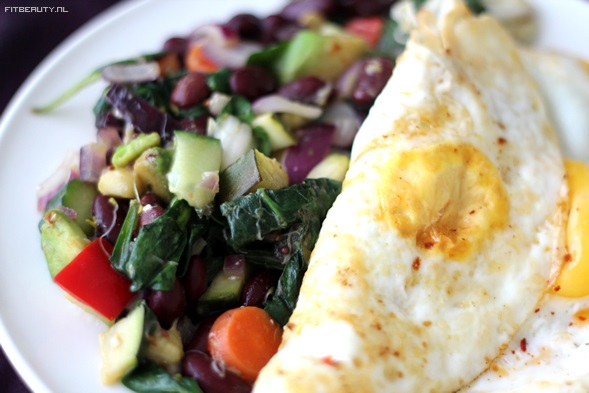 Ei en gewokte groente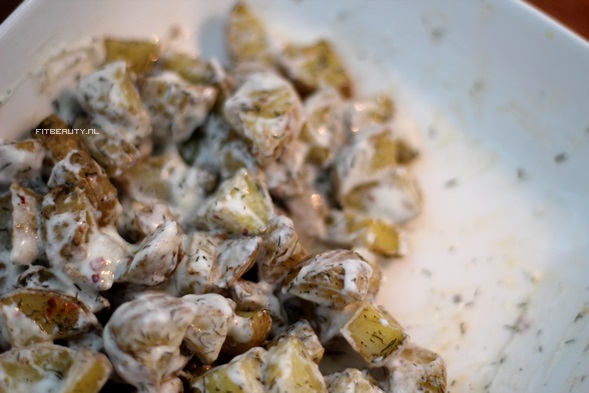 Aardappelen uit de oven, mengen met wat yoghurt en kruiden (dille, peper, zout).
Mix en match
Deze post is puur voor wat inspiratie of ideeën. Het verschilt per persoon wat je als ontbijt/lunch/avondeten/tussendoortje lekker vind. Waar de een gebakken eieren eet als ontbijt, eet de andere fruit met yoghurt. Dus neem de kopjes "ontbijt/lunch" etc. niet al te serieus en kijk vooral naar de maaltijden waar je hopelijk wat mee kunt!