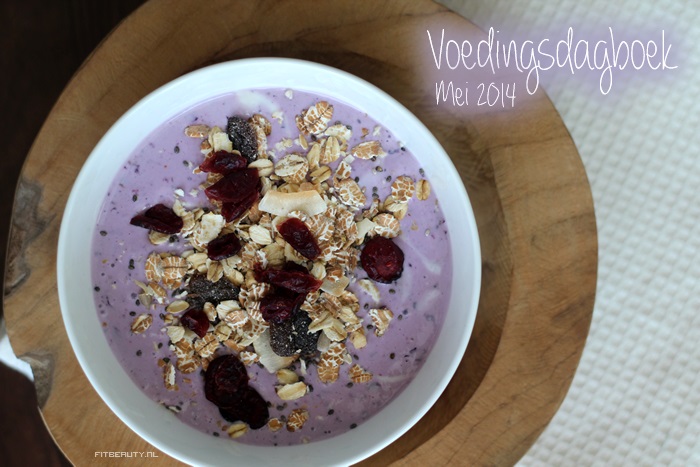 Jeeej! Voedingsdagboek tijd! Lekker wat kleurrijke maaltijden deze keer!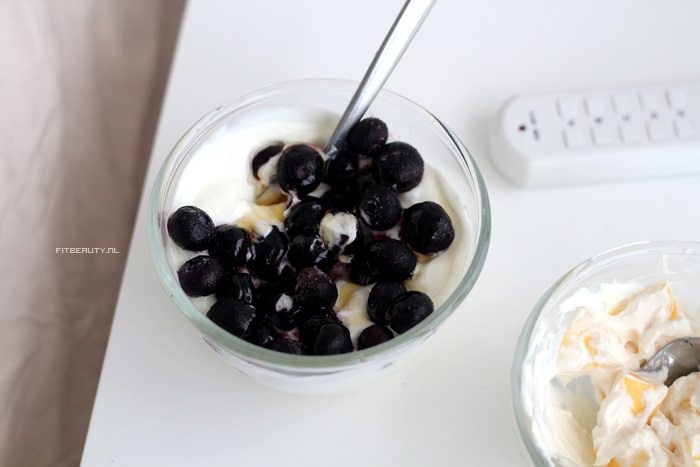 Ik ben de laatste weken een enorme fan van kwark met bevroren bosbessen. Of ik doe ze gezamenlijk in de keukenmachine, of ik laat de bosbessen ontdooien in de kwark (eventueel ook met wat honing) en roer het na ongeveer 15 minuten goed door. De kwark krijgt dan een paarse kleur, echt super! Rechts heb ik wat ricotta met mango.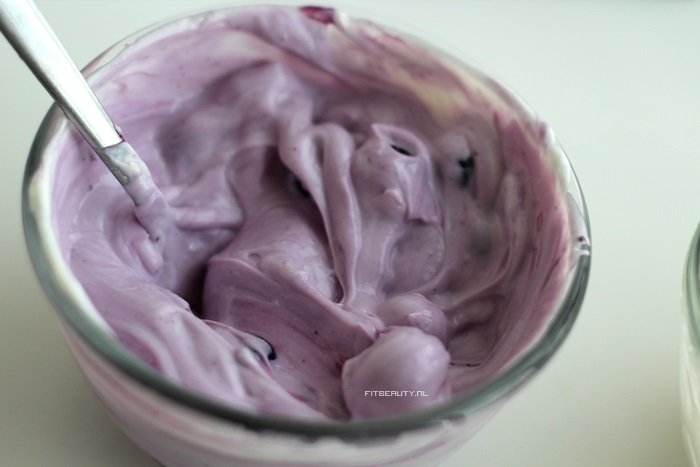 Dat ziet er toch super lekker uit?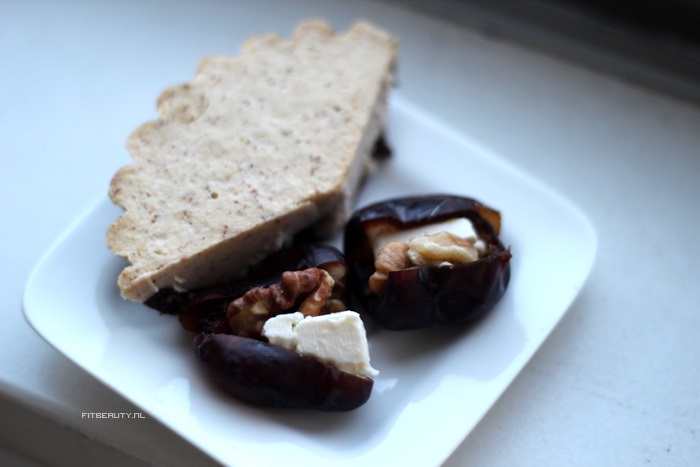 Toetje! En gedeelte van de cheesecake die ik een hele tijd geleden had gemaakt en twee dadels met walnoten en geitenkaas. Jummie!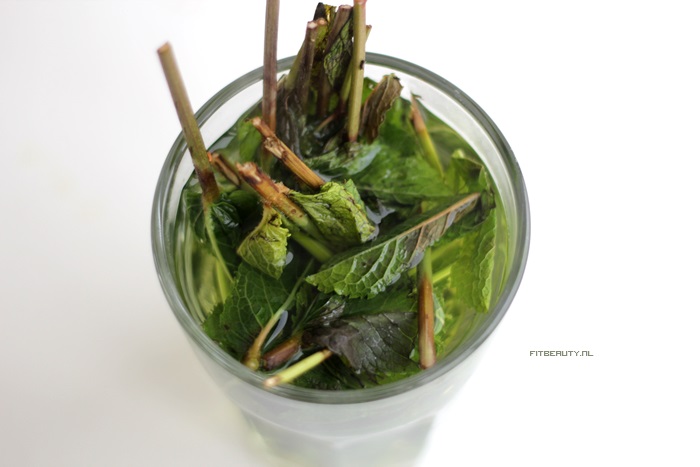 Verse munt thee. Blijkbaar gebruik ik veel munt? Ik vind het heerlijk!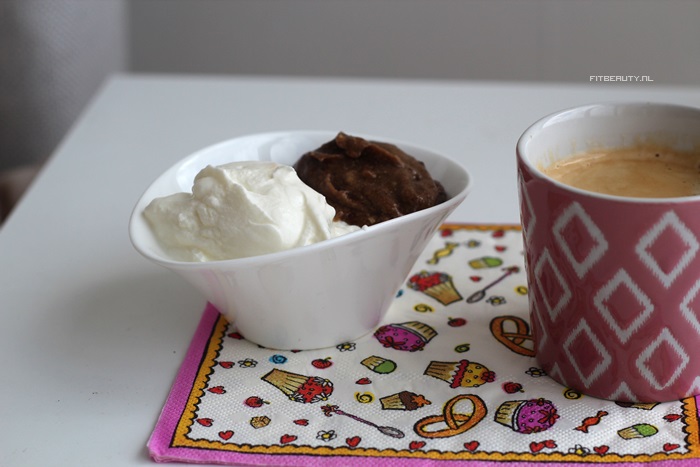 Vreemde combi maar ik had er zo'n zin in! Zelfgemaakte chocolademousse met volle kwark en een kopje koffie, whuuut?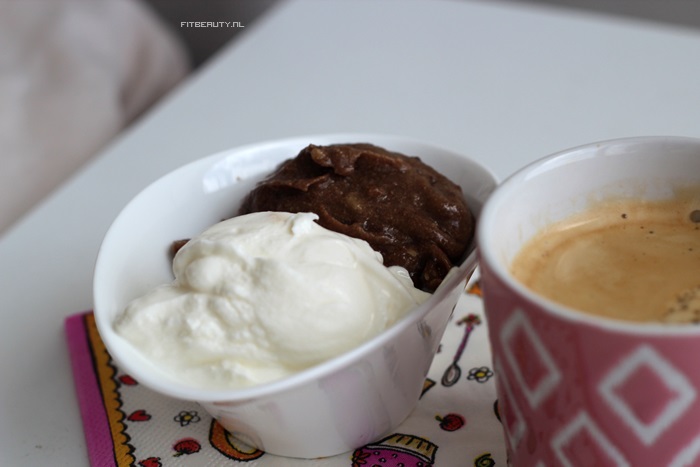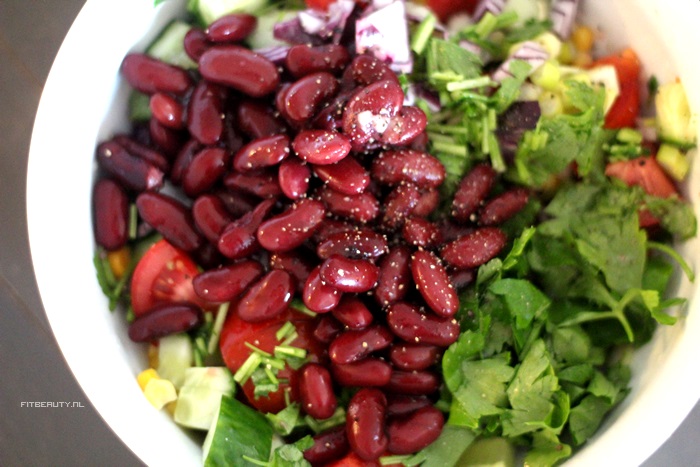 Bonensalade! Een van mijn favoriete salades voor als het zonnetje schijnt. Een vergelijkbaar recept maar dan met kikkererwten vind je hier.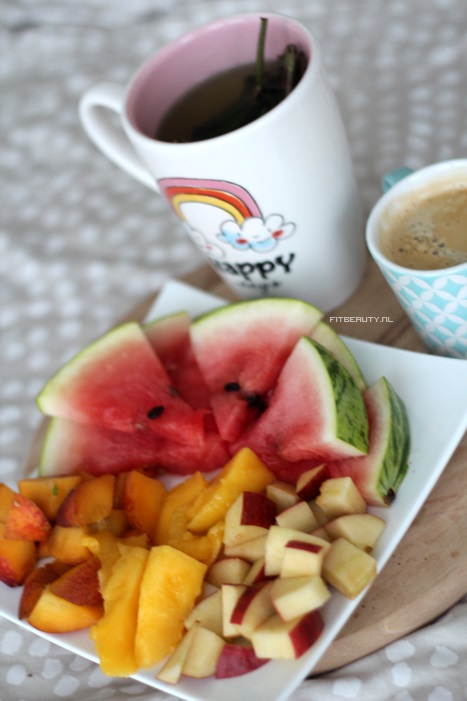 Fruitontbijt!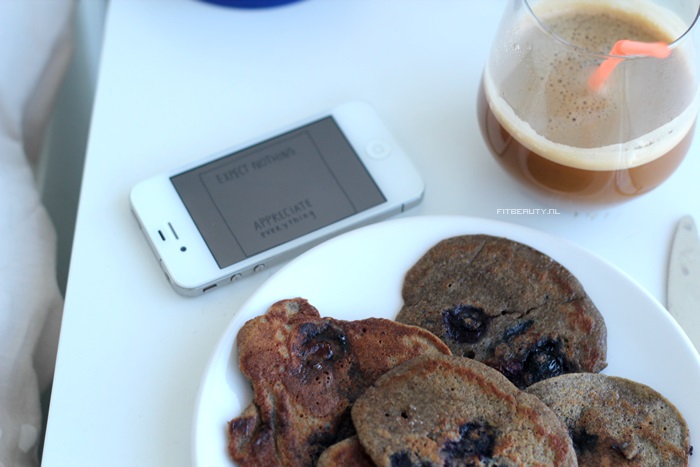 Pannekoeken ontbijt, zonder banaan deze keer, hoera! haha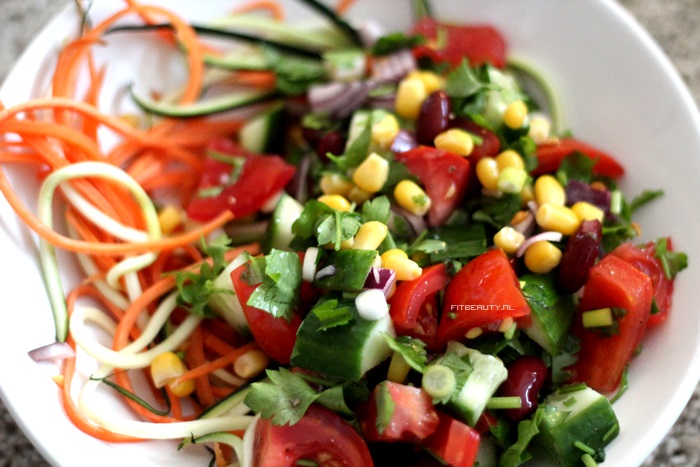 De bonensalade bovenop wortel en courgette spaghetti! De spaghetti heb ik even kort gebakken (zonder olie).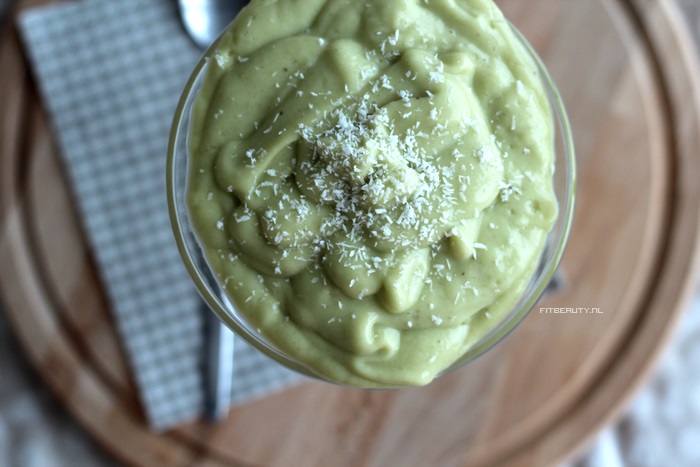 Dit is echt verukkelijk! Een halve avocado + 1 banaan + kokosmelk = heerlijke mousse!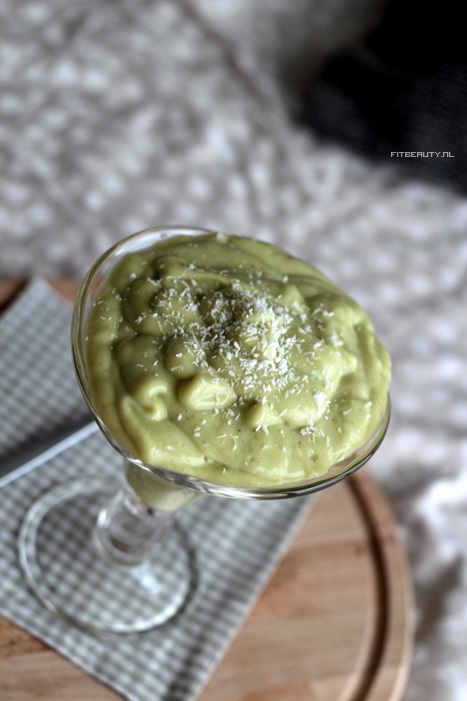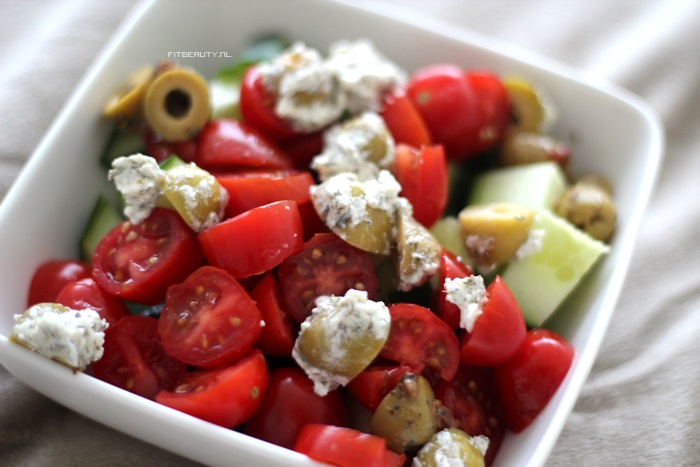 Snelle salade tussendoor. Feta olijven, tomaatjes en komkommer.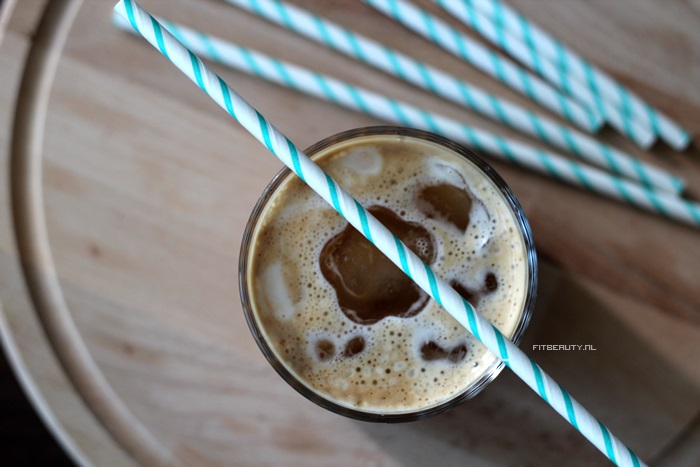 IJskoffie!!!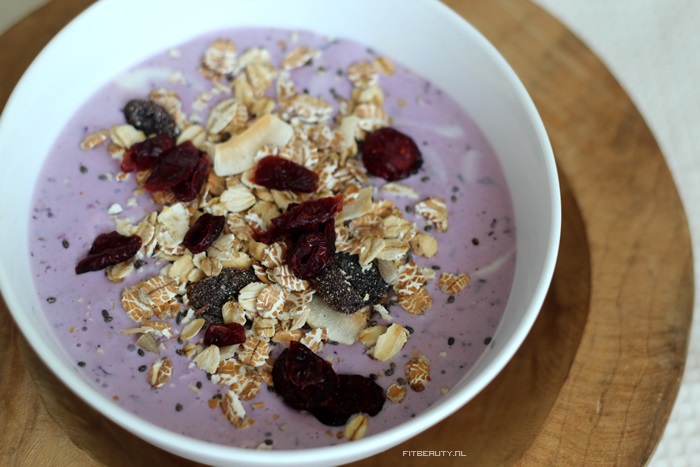 Magere kwark met bosbessen deze keer in de keukenmachine gedaan (kan ook in een blender) en wat chia, muesli mix + cranberries bovenop.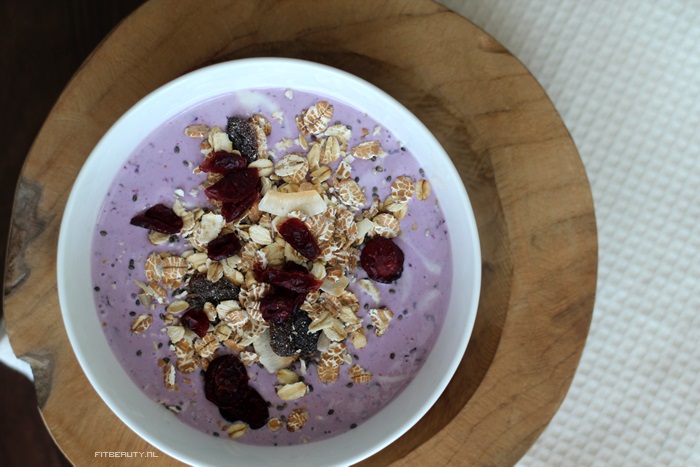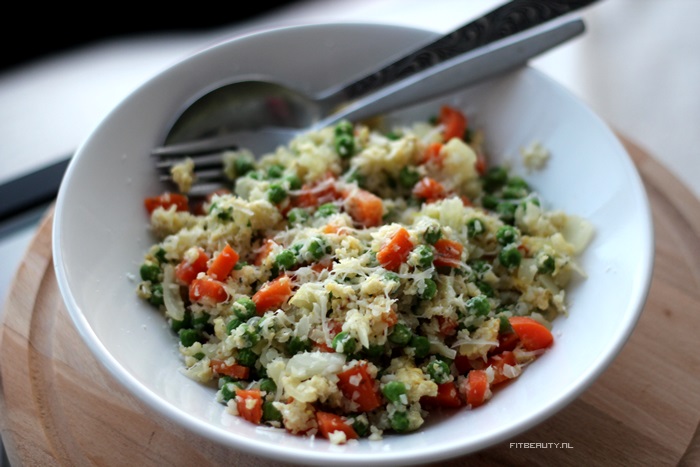 Bloemkool gemalen alsof het "rijst" is met wortel, doperwten, ui, een gebakken ei en wat kaas. Eigenlijk een soort "nasi".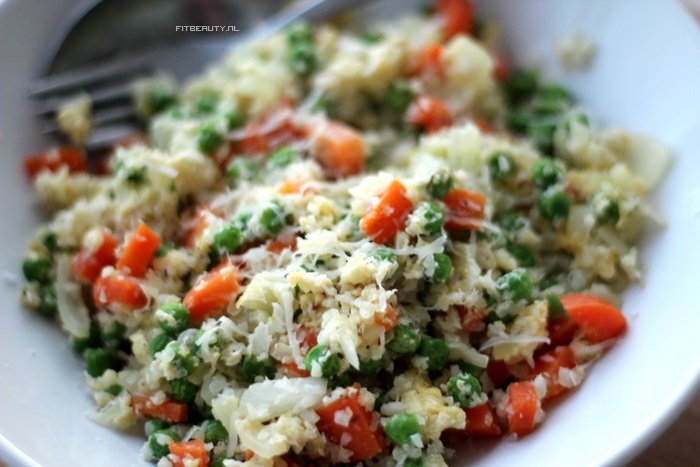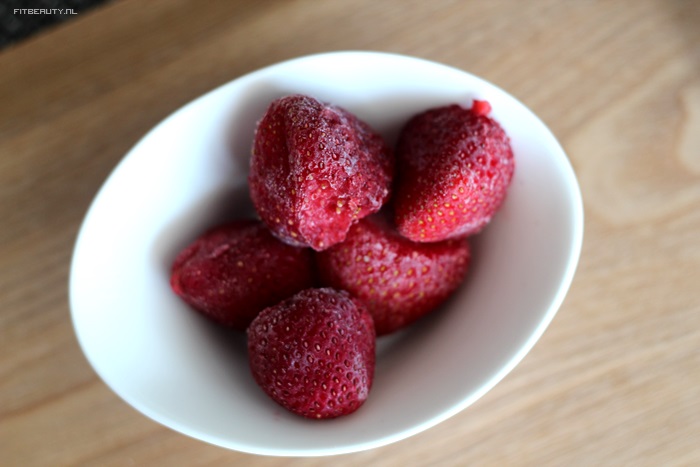 Bevroren aardbeien als snack. Het voordeel van snacken op bevroren fruit is dat je er veel langer over doet. En het is erg lekker!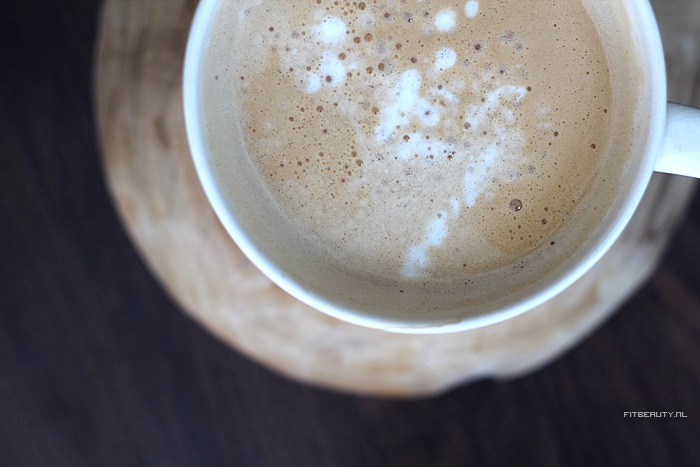 Cappuccino! Geprobeerd mijn net geleerde kunsten van het Vapinao's bloggers event in de praktijk te brengen. De "bloem" tekenen is nog niet echt gelukt in de koffie, haha. Maar hij was wel héérlijk!