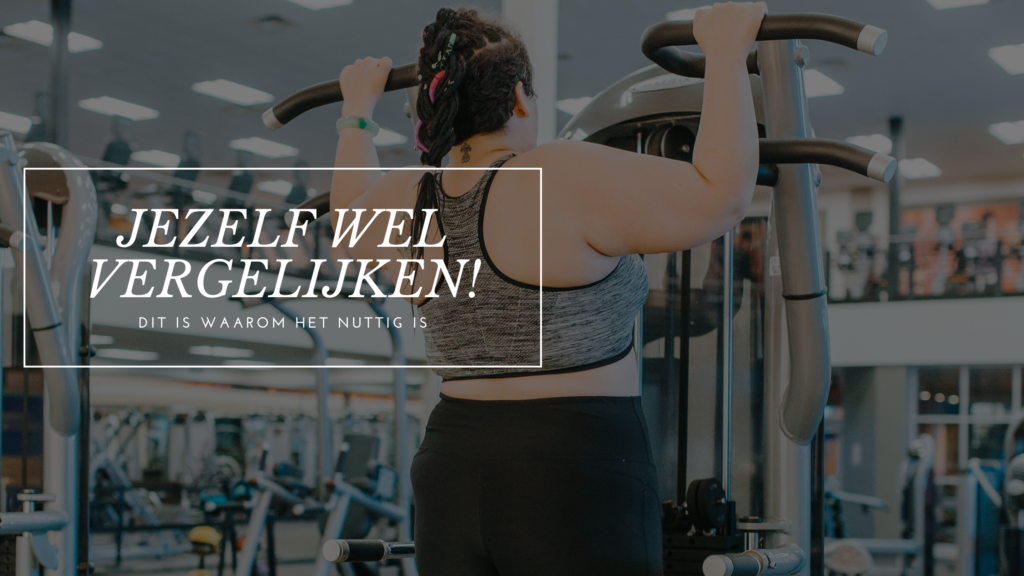 Ja, weer zo'n tegenstrijdige titel. Om gek van te worden. Wel vergelijken? Niet vergelijken? Wat moeten we nou toch allemaal doen?
Ik vertel je vandaag graag waarom jezelf vergelijken wél nuttig kan zijn en ja, er zit natuurlijk weer een addertje onder het gras..
Weet je nog?
Zoals toen je tijdens je verjaardag, of kerstmis of een ander -eens-per-jaar-event- jezelf volpropte met alles wat geserveerd werd tijdens het diner en daarna ook nog besloot om van elk toetje een volle portie te 'proeven'. Je zat zo vol dat je je misschien wel misselijk voelde als je teveel bewoog.
Een fitness gerelateerd voorbeeld is voor velen herkenbaar; jezelf zo hard haten dat je vanzelf wel gaat werken aan een 'beter uiterlijk'. Goede strategie, toch?
Ik voel je, ik ken dit maar al te goed: ik had ZO geen zin om 'van mezelf te leren houden' op het moment dat al mijn kleding zo strak zat dat ik er amper in kon bewegen. Ik wilde geen tijd verspillen aan zelfliefde, die tijd kon ik beter besteden op een cardio apparaat in de sportschool.
Vergelijkbaar, denken we dat wanneer we ons lichaam vergelijken met dat van een ander het ons gaat helpen om onze doelen te behalen. Maar wat het eigenlijk is, is een enkele reis naar ellende en een negatief lichaamsbeeld. Bijvoorbeeld:
Als ik me zwak wil voelen, kan ik mezelf vergelijken met sterke vrouwen in de sportschool die meer uithoudingsvermogen hebben dan ik.
Als ik me dik wil voelen, kan ik mezelf vergelijken met (fitness)modellen.
Als ik mezelf minder ontwikkeld, saai, of niet-succesvol wil voelen, kan ik mezelf vergelijken met duizenden mensen op social media die er niet alleen geweldig uit zien, maar ook nog eens uren de tijd nemen om die ene foto er zo perfect mogelijk uit te laten zien. 
Het is allemaal mogelijk. Het is allemaal ook zo voor de hand liggend. Herken je dit? Heb je jezelf recentelijk nog vergeleken met iemand anders? Dit is de snelste manier om jezelf minderwaardig en niet goed genoeg te voelen op een bepaald level.
Juist ja, stop daarmee.
Kan de vergelijking ooit wél nuttig zijn?
Jezelf vergelijken met anderen is meestal nutteloos om er zelf positiever van te worden. Maar, kan het ooit wél nuttig zijn?
Misschien wel. Niet wanneer je je lichaam of prestaties vergelijkt met een andere man/vrouw. Maar je huidige staat vergelijken met het proces dat ervoor nodig is om je naar de plek te brengen waar je naartoe wilt, objectief en zonder emotie, kan wel degelijk nuttig zijn.
Bijvoorbeeld: je wilt 5 kg afvallen. Je vergelijkt je huidige leefstijl met de leefstijl die ervoor nodig is om die 5 kg af te vallen. Vraag jezelf af: Hoe kom ik daar? 
Iets veranderen in je leven, of het nu aan je lichaam is of iets anders, vergt een ander proces in je leven dan wat je nu doet en hebt gedaan.
"If you want something you've never had before, you've gotta do something you've never done before"
of:
"If you want a different result, make different choices"
Het vergelijken van je huidige manier van doen en dat van de persoon die je wilt worden is een vergelijking waar je iets mee kunt. Op deze manier zul je het inzicht krijgen in welke dingen je dient te veranderen om daar te komen.
In plaats van je lichaam te vergelijken met een ander die wél dat resultaat heeft dat jij ook wilt, is dit een veel nuttigere manier om na te denken over wat je wilt en wat je ervoor over dient te hebben.
Wees geïnspireerd, niet ontmoedigd
Ik geloof ook dat de vergelijking met een ander zijn/haar lichaam positief of negatief kan uitvallen afhankelijk van jouw mentale staat. Als je al niet zo lekker in je vel zit, kan het niet helpen om naar de 'perfecte' Instagram modellen te kijken. Als je wél lekker in je vel zit en je bent in staat om objectief en zonder emotie te kijken naar een ander met succes, kan je daar alleen maar inspiratie uit halen.
Het succes in een ander zien kan nuttig zijn om jezelf te inspireren je eigen potentie te ontdekken.
Dit wil niet zeggen dat je exact hetzelfde moet willen als wat een ander heeft. Dit laat enkel zien wat de menselijke potentie kan zijn als je bereid bent ervoor te gaan. Kijk naar binnen, niet naar buiten. Doe waar jij plezier uit haalt. Wees beter dan gister en stop met jezelf naar beneden halen omdat je denkt dat je hierdoor positieve verandering teweeg gaat brengen.
Begrijp dat je lichaam je lichaam is en ook al kun je er veel aan veranderen, er zijn meer dingen die je niet kunt veranderen. Zoals de lengte van je botten, de vorm van je bekken, je leeftijd, waar jouw lichaam vet opslaat en waar het het eerste af gaat.
Wat je wél kunt veranderen is hoe je naar deze 'vastgestelde' aspecten kijkt. Het zal een wereld van verschil maken.