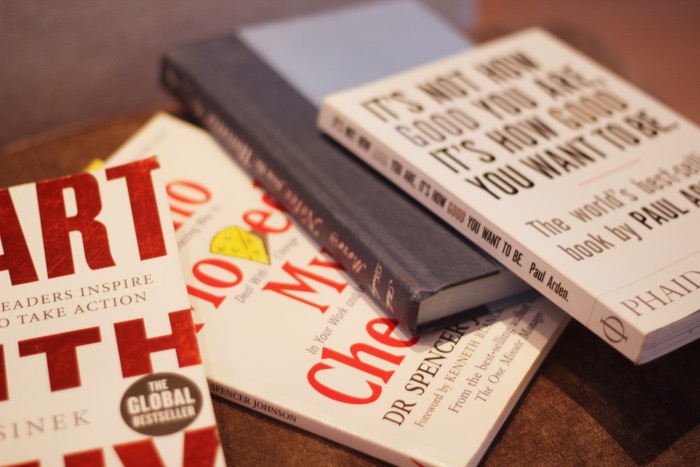 Vandaag deel ik een stuk over mijn favoriete boeken van dit moment. Als je mijn hometour video hebt gezien weet je dat ik in meerdere boeken "tegelijk" lees. Ik lees een boek niet per se van begin tot eind uit, maar het ligt er compleet aan in welke "fase" ik ben en tot welke boeken ik me aangetrokken voel. Op dit moment zijn het er wel echt 4 die zich afwisselen.
Ik lees het liefste non-fictie boeken, ik wil iets leren, iets begrijpen. Ik wil op dingen gewezen worden waar ik nooit eerder bij heb stil gestaan. Nu weet ik dat er ook heel veel te leren valt uit fictie, maar mijn voorkeur gaat altijd naar non-fictie. 
Who Moved My Cheese
Dit boek is geweldig. Maar echt, zó geweldig. Het lijkt in eerste instantie een ontzettend suf boek; ik bedoel, de naam alleen al? En dan is het ook nog eens een heel dun boekje.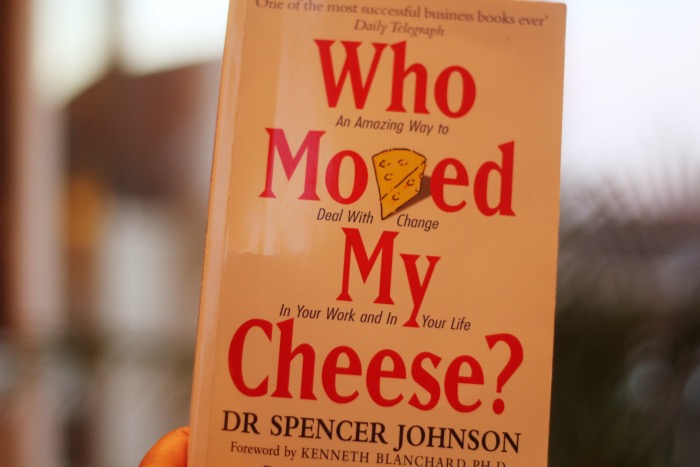 Maar dit dunne boekje bevat waardevolle informatie. Haha. Nu moet ik zeggen dat dit wel een fictief verhaal is, maar de kern zit hem in leren omgaan met veranderingen. Of eigenlijk; leren begrijpen hoe jij op dit moment omgaat met verandering en je een wijze les te leren. Er zijn vier karakters in het boek "Sniff" (muis), "Scurry" (muis), "Hem" (klein mensje) en "Haw" (klein mensje). Je kunt stellen dat van alle 4 de karakters we deels de eigenschappen van bezitten. En dat maakt dit boek zo herkenbaar en leuk.
Het gaat erover dat na de ontdekking van heerlijke kaas een aantal dagen later ineens de kaas niet meer ligt op de plek waar hij altijd heeft gelegen. En dit brengt natuurlijk frustratie met zich mee. Op 4 verschillende manieren wordt er om gegaan met het feit dat hun kaas, verplaatst of misschien wel weg is. Dit vind ik ontzettend mooi (ik kort het een beetje in zodat het geen lange quote wordt):
One morning they arrived at Cheese Station C and discovered there was no cheese. The mice did not overanalyze things. To the mice, te problem and answer were both simple. The situation at Cheese Station C had changed. So, Sniff and Scurry decided to change. They were quickly off in search of New Cheese.

Later that same day, Hem and Haw arrived at Cheese Station C. "What! No Cheese?" Hem yelled. He continued yelling, "No Cheese? No Cheese?" as though if he shouted loud enough someone would put it back. "Who moved my Cheese?" he hollered. Finally, he put his hands on his hips, his face turned red, and he screamed at the top of his voice, "It's not fair!" Haw stood there for a long time, frozen with shock. He was just not ready for this.
En dit is nog maar een heel simpel voorbeeld dat weergeeft hoe verschillende mensen verschillend omgaan met verandering. Het is zo grappig hoe het de 4 karakters in de rest van het boek vergaat. De kleine mensjes gaan dagenlang zitten piekeren, vergaderen, plannen maken om het weer terug te krijgen zoals het was. En de muizen rennen erop los, op zoek naar nieuwe kaas, hoopvol maar ook vol vertrouwen. Oh, ik vind het een top boek, heel herkenbaar! De eerst volgende keer dat er een situatie onverwacht verandert, zul je aan het boek denken als je het hebt gelezen 🙂
It's nog how good you are, it's how good you want to be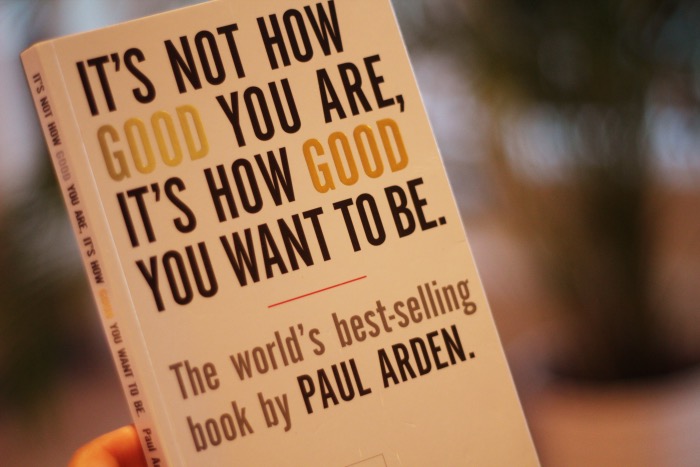 Deze heb ik dan wel uit gelezen omdat hij heel relaxt is vormgegeven. Je hoeft er niet helemaal in te duiken om te begrijpen wat er verteld wordt. Ik laat hierbij alleen wat foto's zien, deze zeggen genoeg!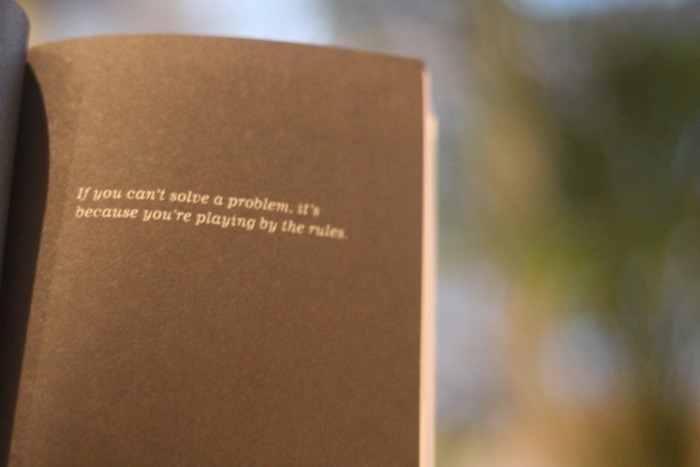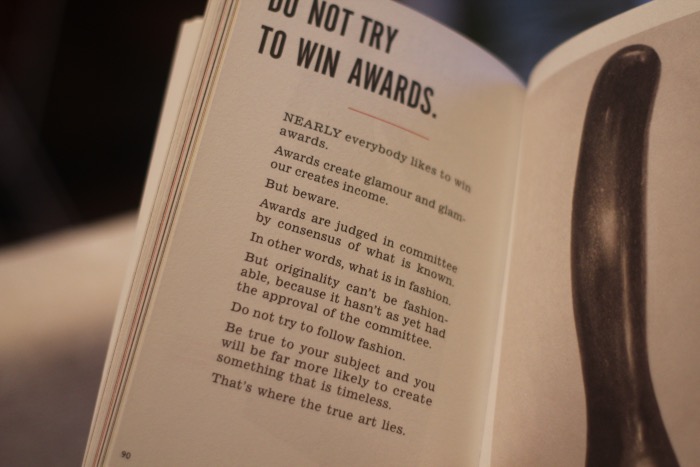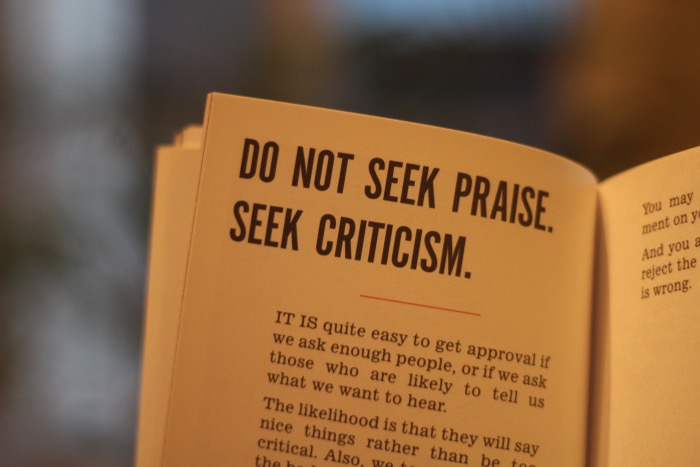 Start With Why
Dit is wel een wat pittiger boek waar je toch echt de tijd voor moet nemen om het te lezen en te begrijpen wat er staat. Concentratie dus. Maar dat maakt het niet minder waardevol, sterker nog, dit boek bevat naar mijn mening ontzettend veel waardevolle informatie hoe inspirerende mensen succesvolle bedrijven startten. Maar ook heel veel voorbeelden uit de praktijk, bijvoorbeeld dat de mensen die gedreven zijn door inspiratie, behulpzaamheid en passie, het uiteindelijk echt voor elkaar krijgen in tegenstelling tot mensen die gedreven zijn door geld.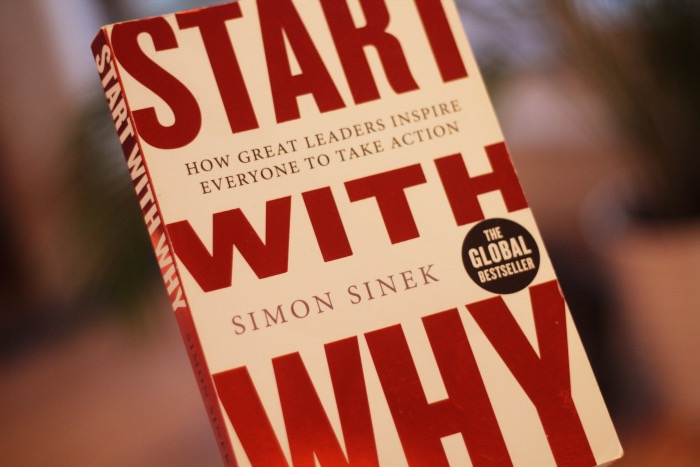 En dat is nog maar een super klein stukje van wat dit boek je allemaal te vertellen heeft. Het vertelt je hoe een wereld eruit zou zien als we ons niet stuk voor stuk zouden afvragen "waarom?", en weet je welke wereld hij beschrijft? De wereld toen Adolf Hitler aan de macht was. Het vertelt je hoe je eventueel gemanipuleerd wordt door grote bedrijven door je het gevoel te geven dat je iets mist als je niet hun product koopt. Dure schoenen, dure kleren bijvoorbeeld. En dat daar namen als Michael Jordan en Tiger Woods aan gekoppeld werden waardoor de verkoop (of manipulatie) nóg harder gaat. Ik zeg het je, geniaal. Echt geniaal.
More Notes from the Universe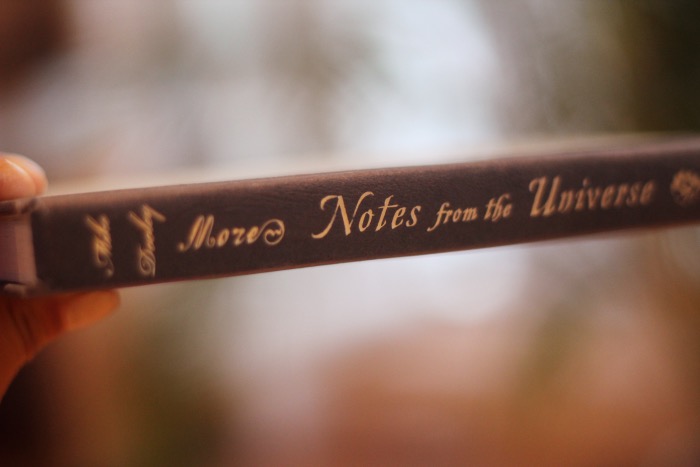 Dit is het tweede deel van "Notes from the universe", misschien wat zweverig voor sommige mensen, maar ik haal zóveel "aha-momenten" en inspiratie uit sommige stukken tekst. Elke bladzijde is eigenlijk even een nieuwe quote, een nieuwe energie booster. Dus ook hierbij deel ik wat foto's uit het boek! Ik heb wel wat simpele quotes uitgezocht, er zitten genoeg "diepere" stukken in hoor 😉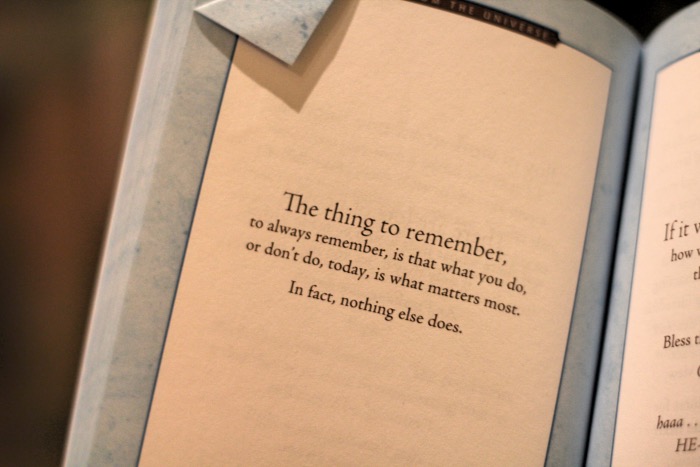 Huppa, en ik heb weer perspectief op de dag.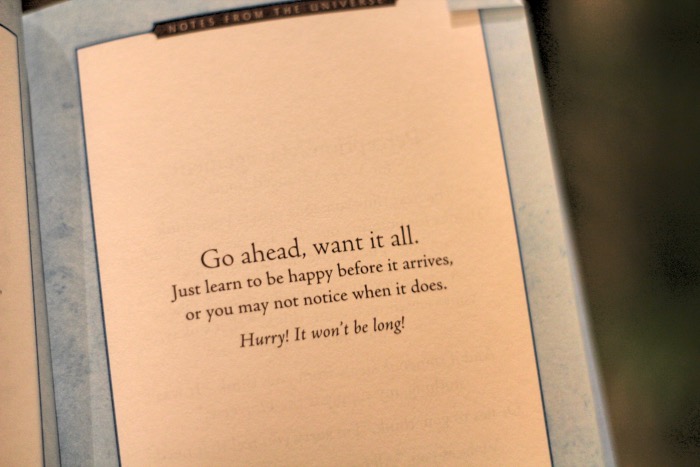 Ha, in zo weinig woorden exact verwoord waar het om draait.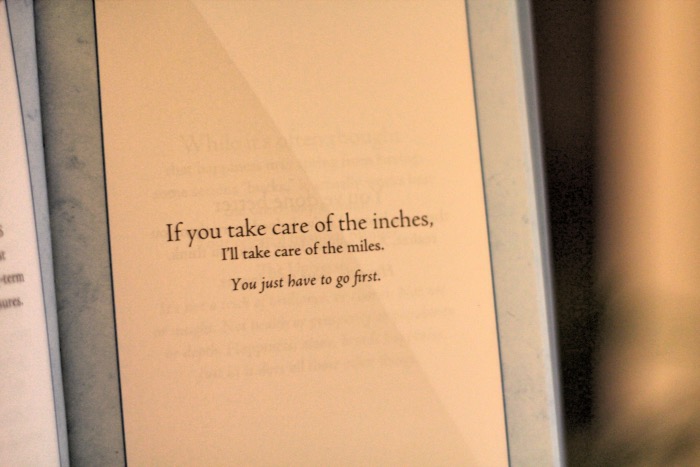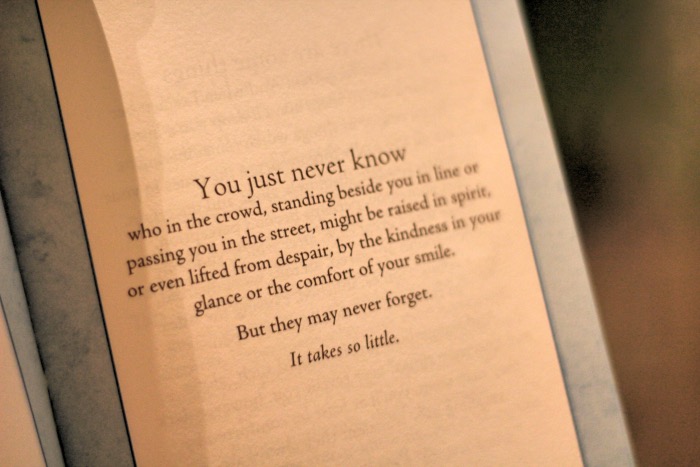 En deze vind ik mooi om dit artikel mee af te sluiten 🙂 Vooral om niet te vergeten welke invloed je uit kunt oefenen op anderen, positief dan he.
Fijne woensdag! 
x – Teni