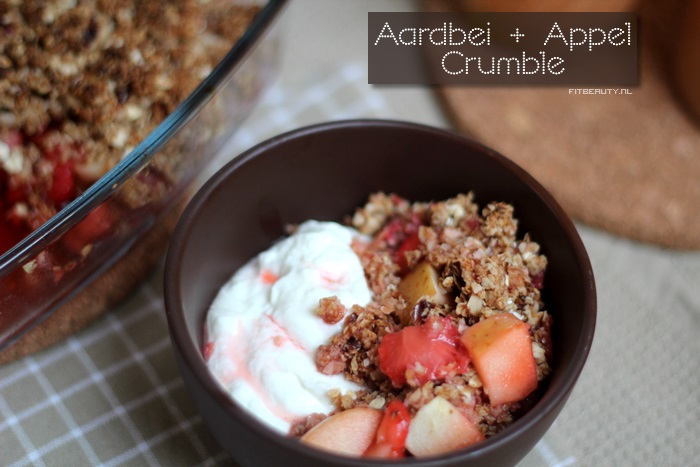 Crumble met wat kwark/yoghurt of zelfs met wat ijs is wat mij betreft een perfect toetje of ontbijt 🙂 Hier een gezondere versie zonder toegevoegd suiker (uitleg volgt in artikel), zonder gluten en ook zonder boter. Je kunt gemakkelijk het fruit vervangen met welk soort fruit je maar wilt! 
Wat heb je nodig voor een halve ovenschaal (het lijkt op de foto een grote, maar het is een kleine van circa 20 cm in de breedte):
110 gram havermout*
3 eetlepels kokosvet
7 dadels
250 gram aardbeien
1 appel
halve citroen
1-2 eetlepels agave siroop/honing/palm(kokos)suiker/ahoornsiroop**
* Havermout uit de supermarkt bevat vaak sporen van gluten, als je een glutenallergie hebt dien je dus je havermout bij een biologische winkel/molen of ergens anders te halen waar geen sporen van gluten in kunnen zitten
** Met suikervrij bedoel ik toegevoegd geraffineerd suiker. De producten die ik benoem komen in de natuur, in deze vorm voor en nemen extra voordelen met zich mee (minder grote stijging suikerspiegel, onstekingsremmend etc.) in tegenstelling tot geraffineerd suiker.
Verwarm de oven vast voor op 175 graden Celcius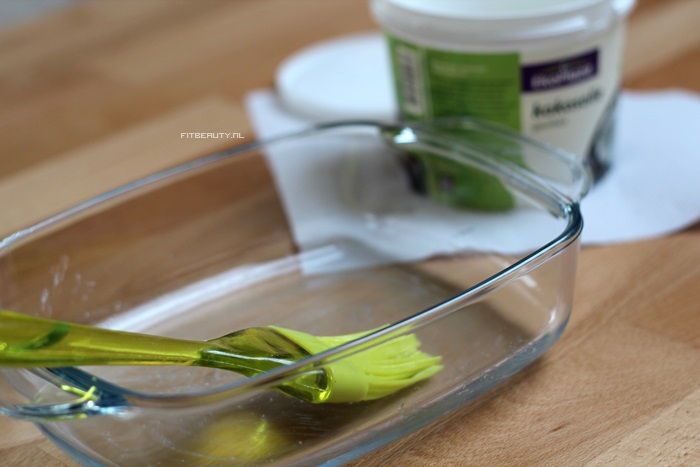 Gebruik een klein beetje van het kokosvet om de ovenschotel in te vetten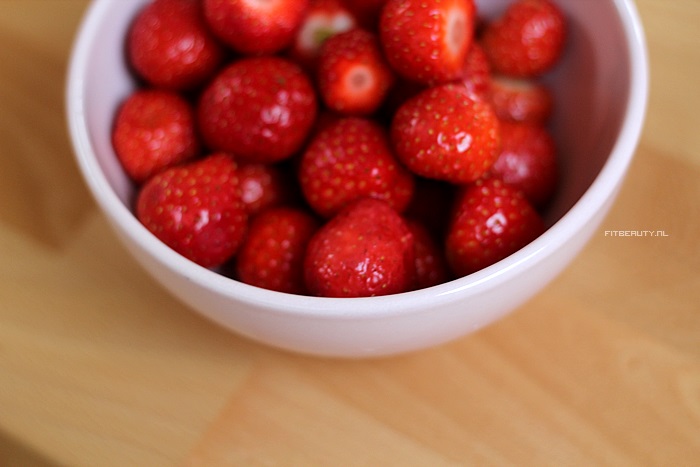 was het fruit en snijd deze in kleine blokjes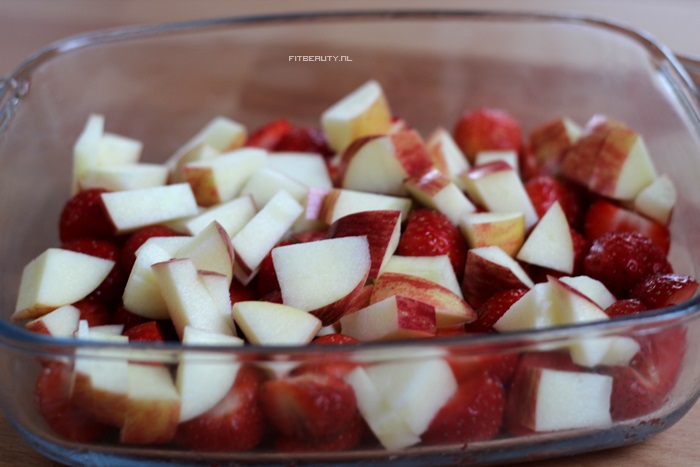 Bij elkaar in de ovenschaal! Gezellig!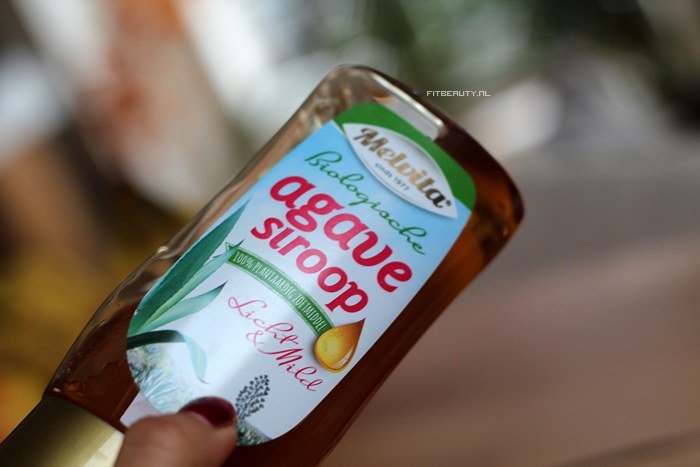 Dan kan de zoetigheid er overheen! Ik heb hier agave siroop gebruikt.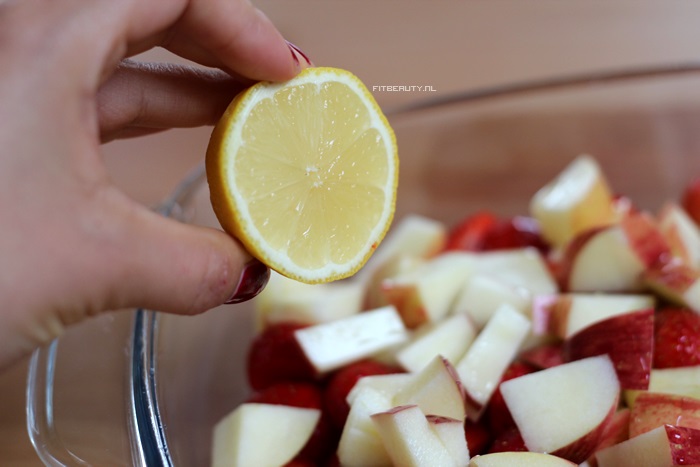 Sap van een halve citroen erbij en dan even goed door elkaar husselen zodat al het fruit bedekt is met de agave siroop en de citroensap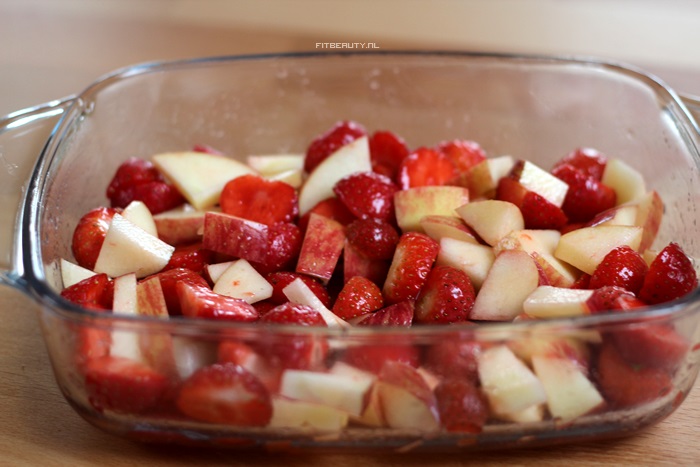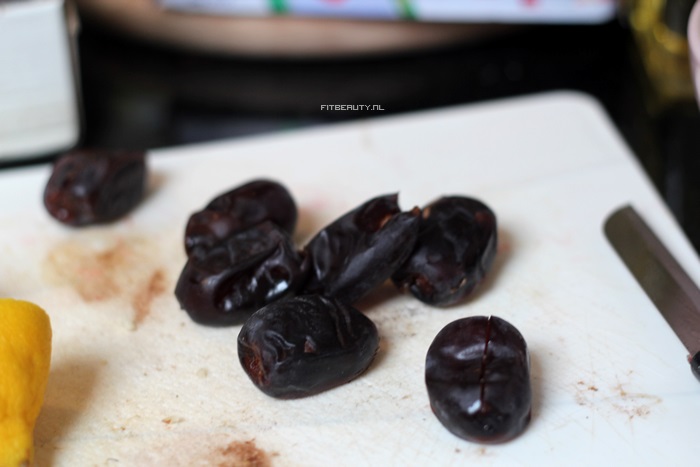 Tijd om de crumble te maken! Ontpit eerst de dadels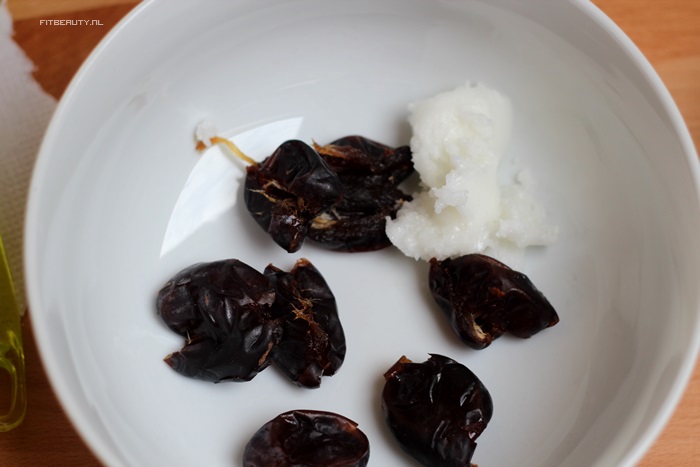 Doe ze in een kom met de 3 eetlepels kokosvet en ga dit door elkaar prakken met een vork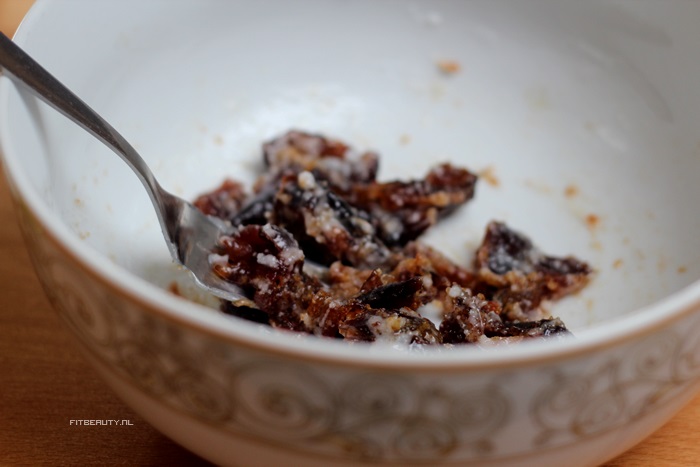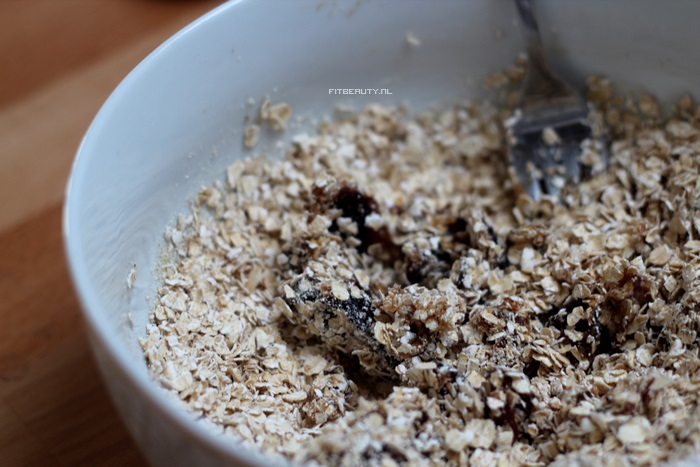 Als het een lekker kleverig en platgedrukt mengsel is doe je de havermout erbij en ga je dit met je handen kneden tot er een soort "crumble" ontstaat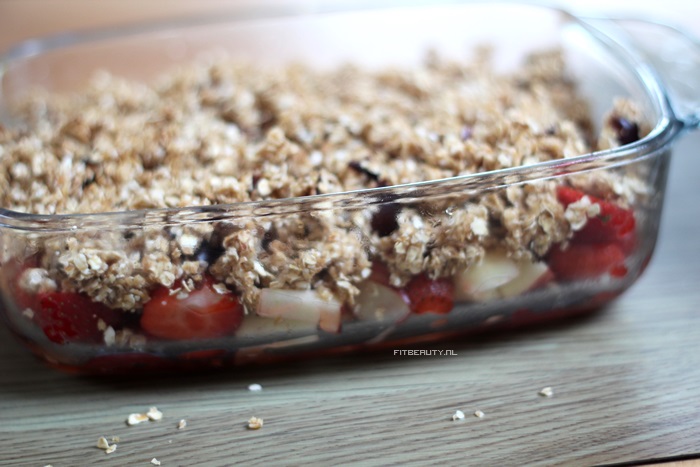 Verspreid de crumble over het fruit in de ovenschaal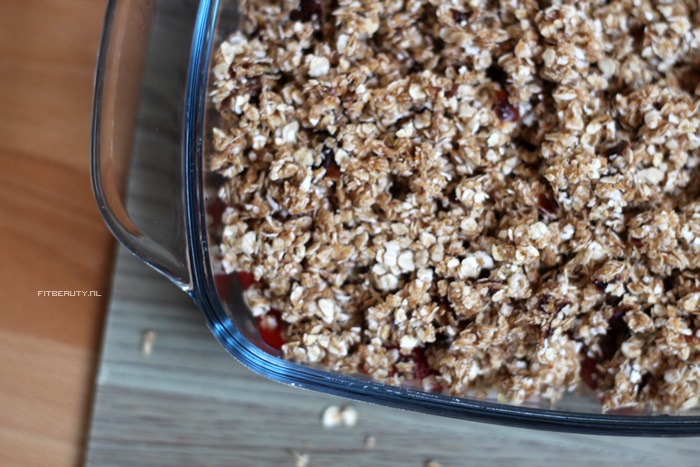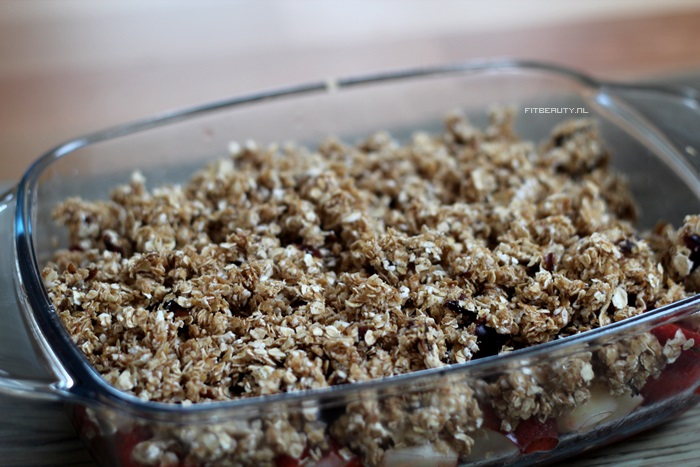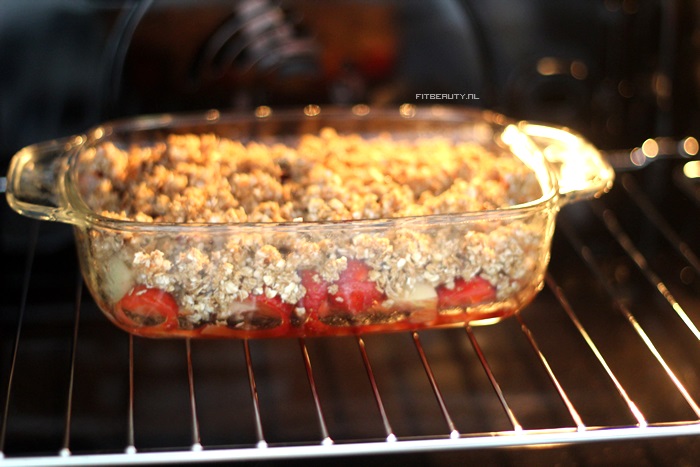 En dan mag het voor 30 minuten de oven in! Let goed op je crumble, ik was nét op tijd voor het helemaal verbrandt was, haha.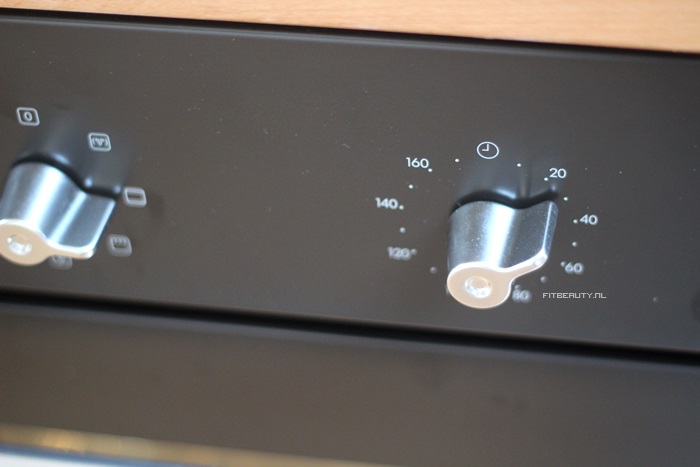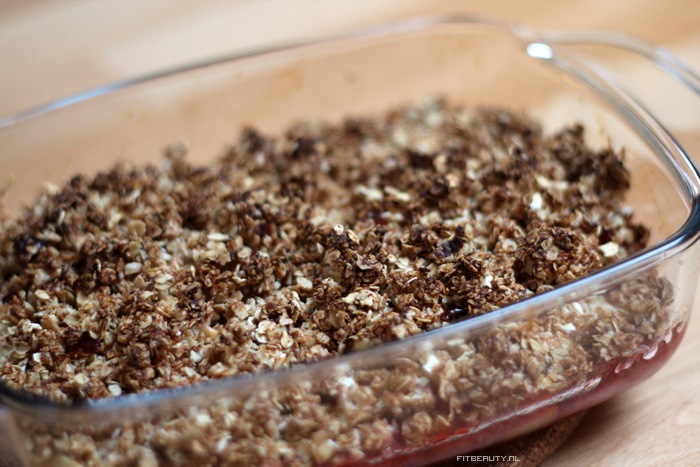 Het kan zijn dat die van jou wat langer of korter nodig heeft, check elke 5-10 minuten eventjes.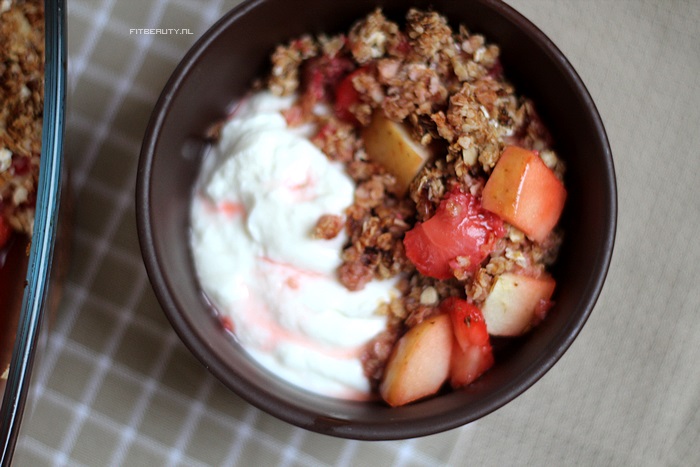 Aaaah het is zo lekker! Perfect met een bakje kwark moet ik zeggen, om je vingers bij af te likken!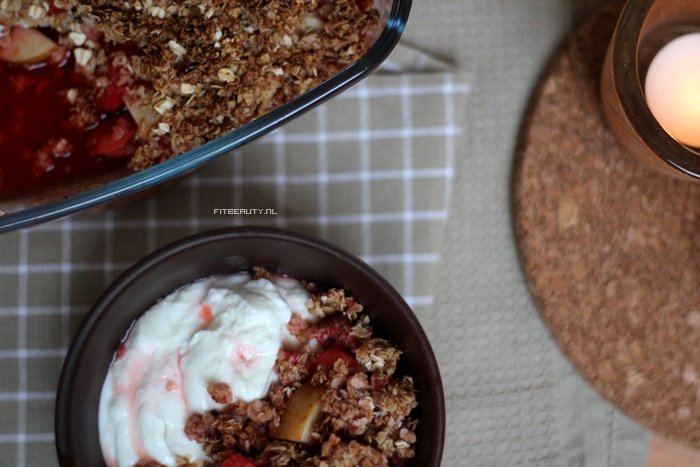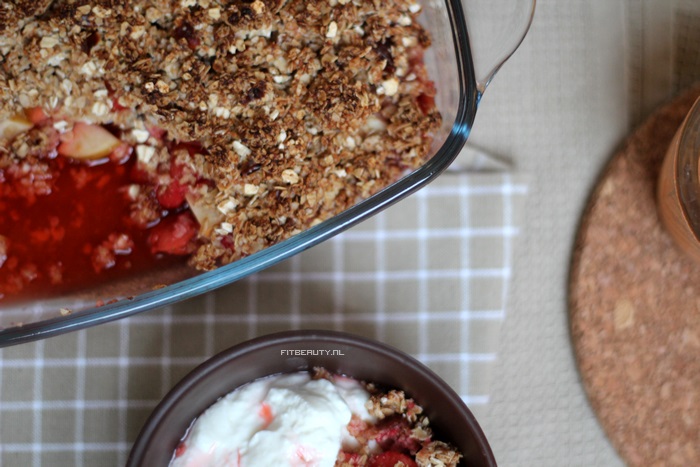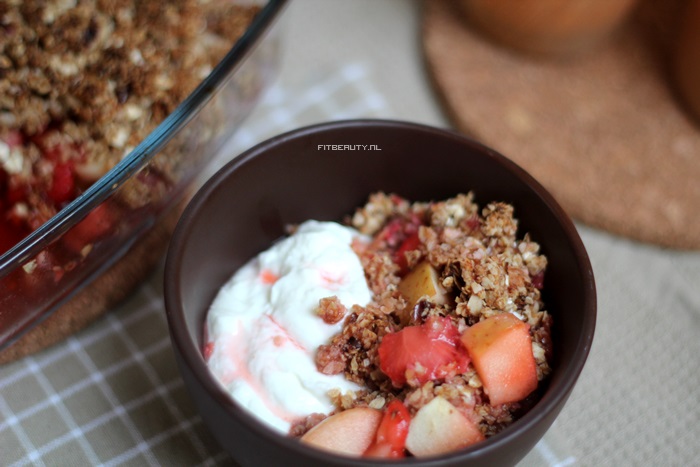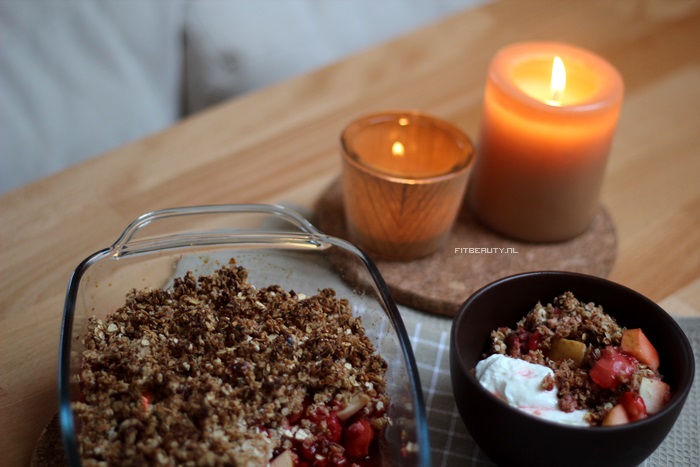 Ik heb dit nu 3 dagen in de koelkast bewaard, het knapperige gaat er natuurlijk wel van af, maar het blijft héérlijk (havermout dat niet knapperig is, kennen we en vinden we vaak heerlijk 🙂 ). Je kunt het gemakkelijk in de vriezer bewaren voor een week of twee. Het is bij mij sinds vandaag op, oeps.