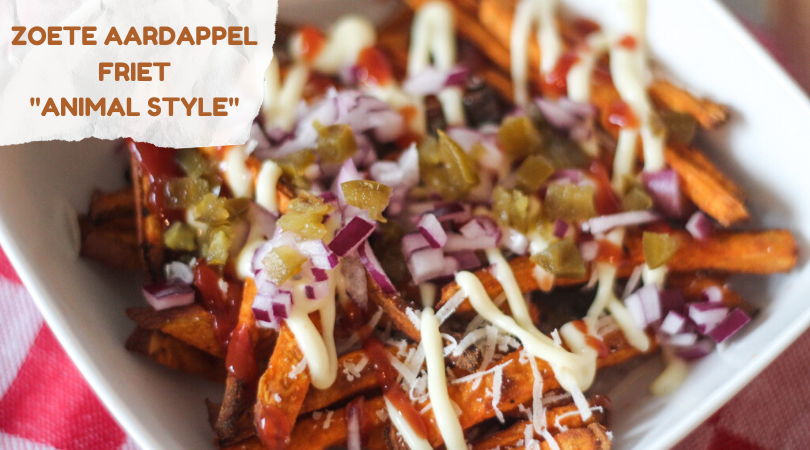 Heb je ooit gehoord van "Animal Style" frietjes? Het is iets wat ik ontdekte in de In-n-out in Amerika maar het is zo goed als vergelijkbaar met een patatje speciaal en waanzinnig lekker om thuis zelf klaar te maken zoals jij dat wilt!
In dit recept ga ik voor zoete aardappelfrietjes, een favoriet hier in huis!
Wat heb je nodig voor 2 personen?
400 gram zoete aardappel, in dunne frietjes of dikkere frieten gesneden
3-4 eetlepels olijfolie
1-2 theelepels paprikapoeder
1/4 theelepel chili vlokken
1 theelepel knoflookpoeder
peper en zout naar smaak
Toppings, allemaal optioneel:
Lenteui, in dunne ringen gesneden
Rode ui, in dunne stukjes gesneden
Jalapeño, fijngesneden
Yogonaise
Mayonaise
Mosterd
Ketchup
Chilisaus
Sriracha
Parmezaanse kaas
Cheddar kaas
Etc.
Zoals je ziet kun je helemaal los gaan met je toppings. Ik heb gekozen voor ketchup, mayonaise, jalapeño, rode ui en parmezaanse kaas.
Verwarm de oven voor op 220 graden Celsius. Doe de zoete aardappel friet in een kom en meng dit met de olijfolie en kruiden. Leg een velletje bakpapier op de bakplaat en plaats de frietjes naast elkaar. Ik weet het, het kost even wat werk, maar hierdoor zullen ze in ieder geval niet zacht en sompig worden maar iets knapperiger.
Zet dit in de voorverwarmde oven voor 30 minuten. Mocht je er zin in hebben en tijd voor hebben, draai de frietjes na 30 minuten allemaal om en zet dit voor nog 10-15 minuten in de oven tot ze een mooi knapperig randje hebben.
Je kunt de frietjes ook gewoon op één kant laten voor 40-45 minuten – afhankelijk van hoe sterk je oven is.
Haal de frietjes eruit als ze gaar zijn (ze zullen tijdens het afkoelen iets knapperiger worden). Doe ze in een schaal of leg ze op een bord en ga dan los met de toppings! Ik zou eerst de saus doen en daarna de andere gewenste toppings.
Je kunt het met een vork opeten, maar what's the fun in that? 😉 Enjoy!