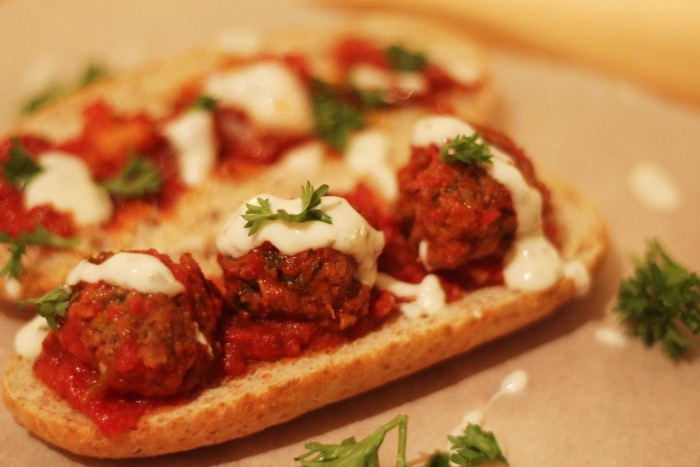 Ja, deze gehaktballetjes zijn zo lekker dat ik het recept ernaar heb vernoemd; "De Lekkerste Gehaktballetjes". Ik heb een aantal combinaties van ingrediënten die heel goed werken voor burgers en gehaktballen dus laat ik vandaag beginnen met de eerste variant, om je vingers bij af te likken!
Wat heb je nodig voor zo'n 30 gehaktballetjes?
400 gram rundergehakt
1 ei
4 teentjes knoflook
parmezaanse kaas
25-g0 gram broodkruimens/cracker kruimels/paneermeel
handje peterselie
blikje tomatenpuree (klein)
blik blokjes tomaat in tomatensap (groot)
gedroogde oregano
peper en zout
olijfolie om in te bakken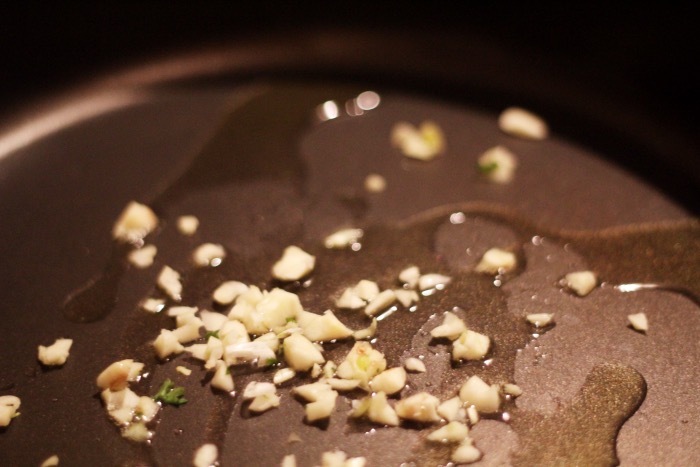 Verhit wat olijfolie in een pan en doe daar twee teentjes knoflook in die je in stukjes hebt gehakt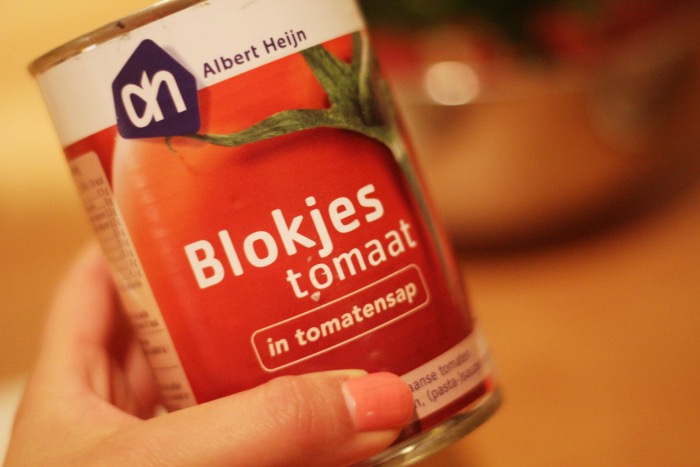 Als de knoflook goed begint te ruiken doe je de twee blikken met tomaten blokjes en tomatenpuree in de pan met wat gedroogde oregano en laat je dit rustig opwarmen.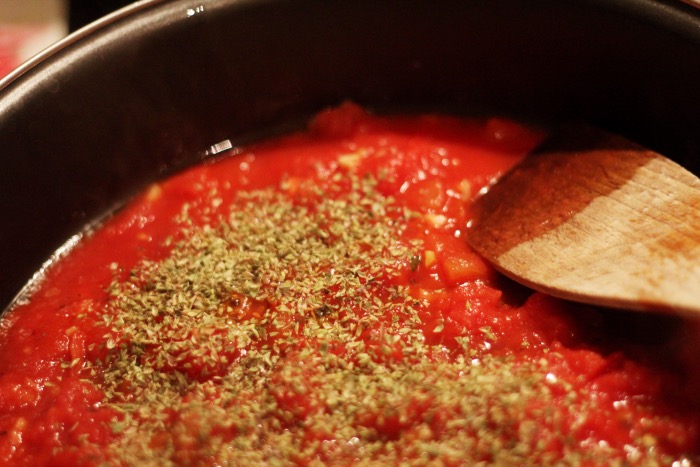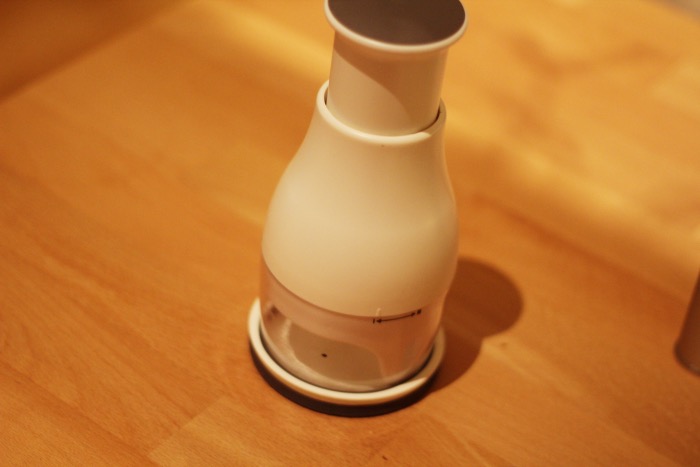 Ik weet niet hoe dit apparaat heet, maar ik heb het bij de Ikea gekocht en het is super handig voor het fijnhakken van kruiden of knoflook of kaas etc.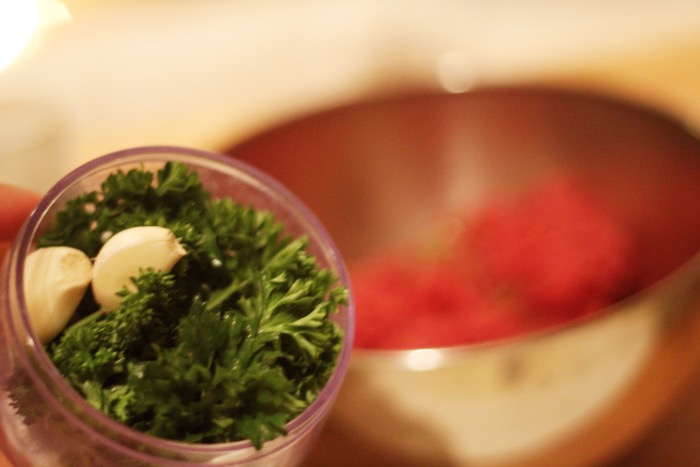 Ik doe hier dus ook de teentjes knoflook en de peterselie in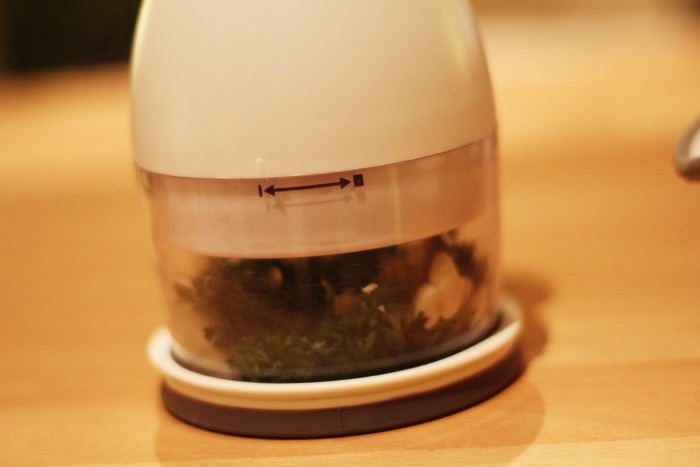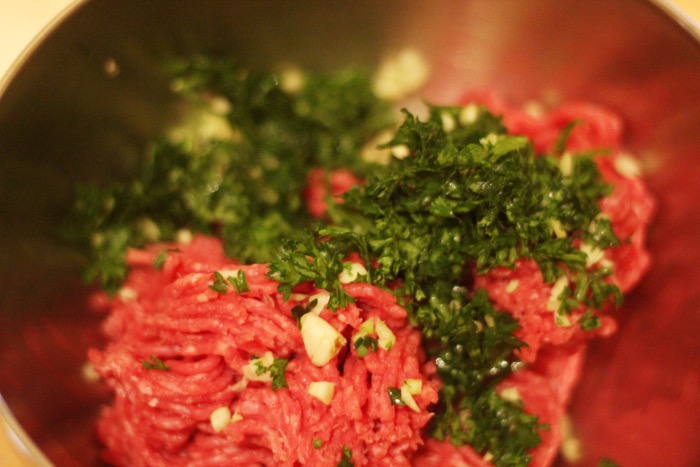 In een kom doe je het gehakt, knoflook, peterselie, parmezaanse kaas (geraspt), gedroogde oregano, peper, zout, ei en broodkruimels bij elkaar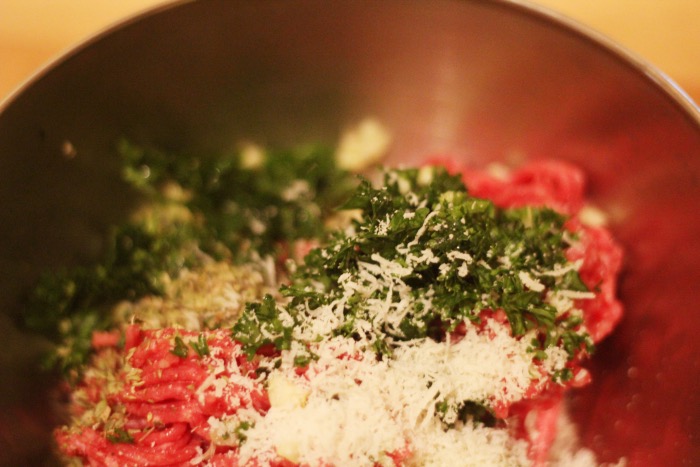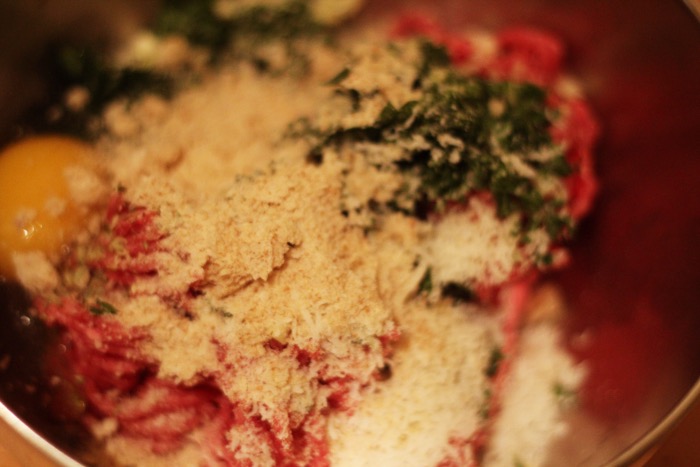 Ik heb volkoren crackers van LU verkruimeld en erbij gedaan. Dit kneed je lekker door elkaar met je handen en daar draai je vervolgens balletjes van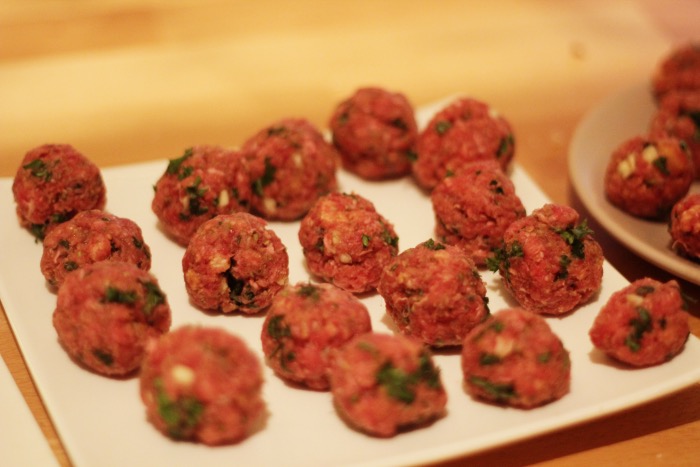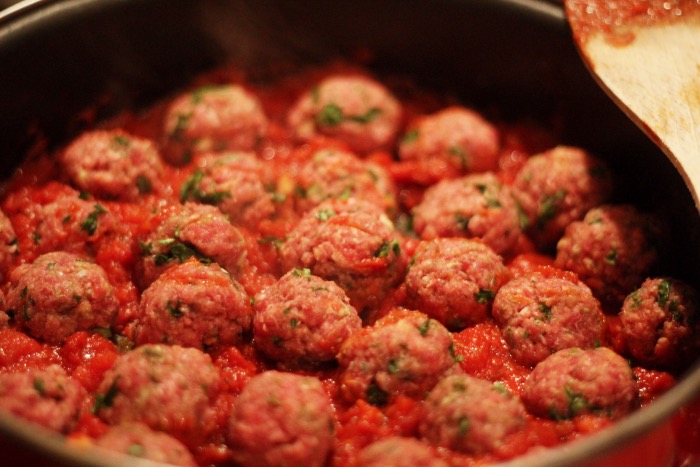 Verplaatst de balletjes naar de pan waar de saus inmiddels lekker warm is geworden. Zorg ervoor dat de balletjes de pan raken en niet op de saus komen. Dus je zult steeds een beetje van de saus "aan de kant" moeten schuiven.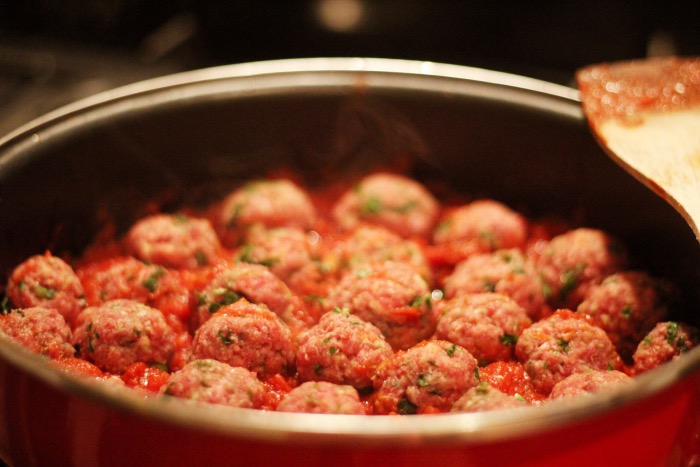 Doe de deksel op de pan en laat dit op een laag vuurtje staan voor zo'n 5 minuten.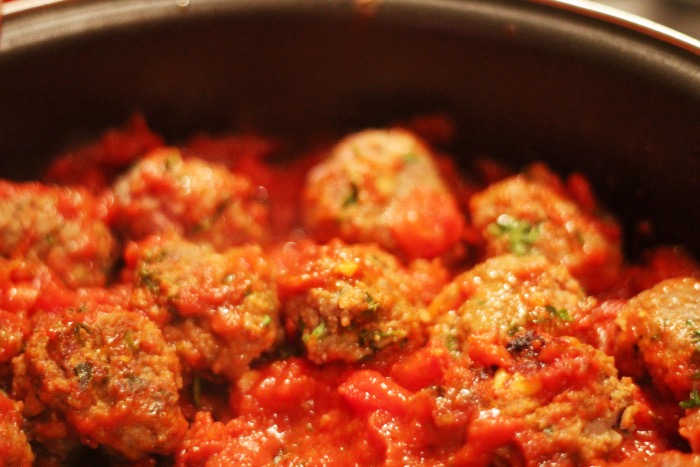 Na 5 minuten kun je de balletjes een voor een omdraaien. Het kan ook handig zijn om af en toe wat water toe te voegen in de pan zodat de balletjes niet verbranden maar lekker bakken en koken tegelijk.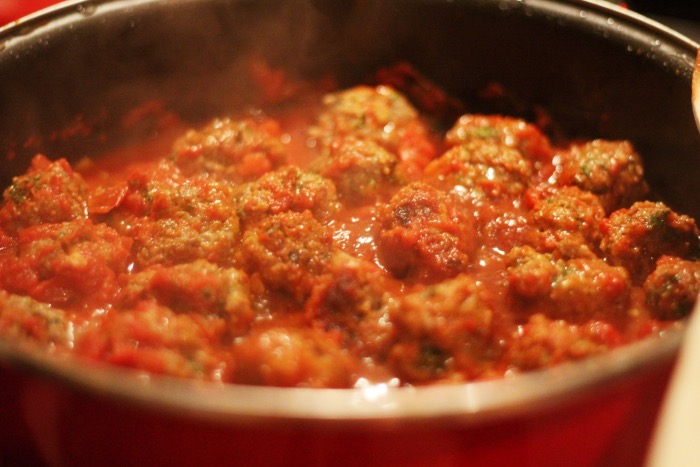 Zet de deksel er weer op en kijk na 10 minuten hoe het ervoor staat, misschien dat je nog even wat water moet toevoegen en de balletjes voor 5 minuten moet laten simmeren.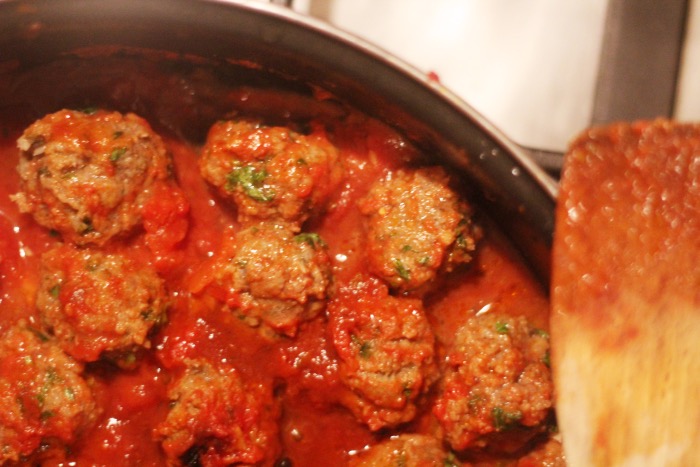 Ik vind ze nu klaar om opgegeten te worden! En hoe ik ze het liefste eet? Op een broodje!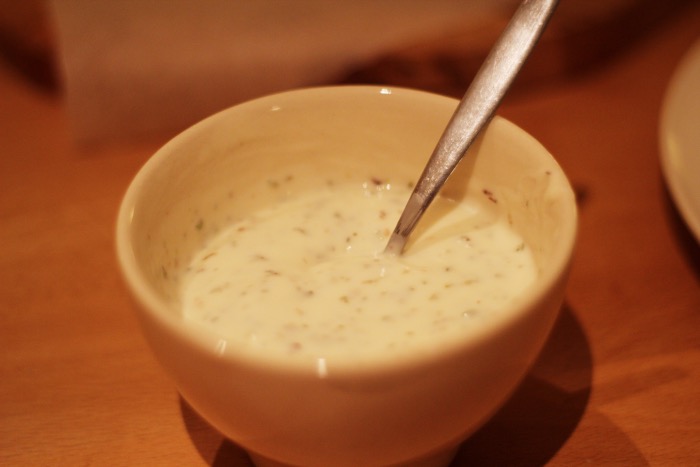 Ik maak er een snelle saus bij van magere yoghurt met twee eetlepels halvanaise (light mayonaise), gedroogde oregano, een beetje citroensap en een snufje zout. Lekker fris voor bij de gehaktballetjes.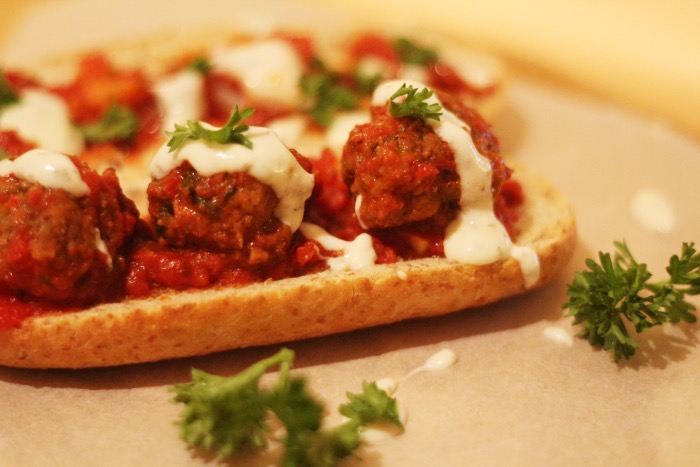 Ik verdeel de balletjes over het pistoletje, wat saus eroverheen, peterselie voor de sier en aanvallen!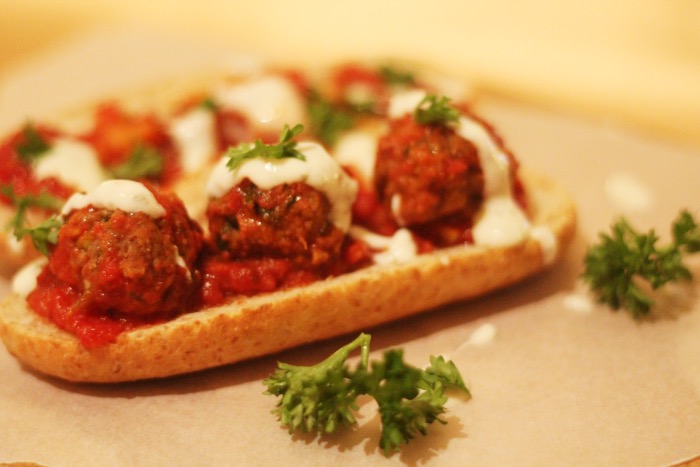 Oke dit is puur voor de foto, toen ik mocht aanvallen heb ik er nog twee ballen tussen geperst en flink wat saus er overheen gedaan. Alles droop naar beneden toen ik het at, maar daar geniet ik stiekem alleen maar van.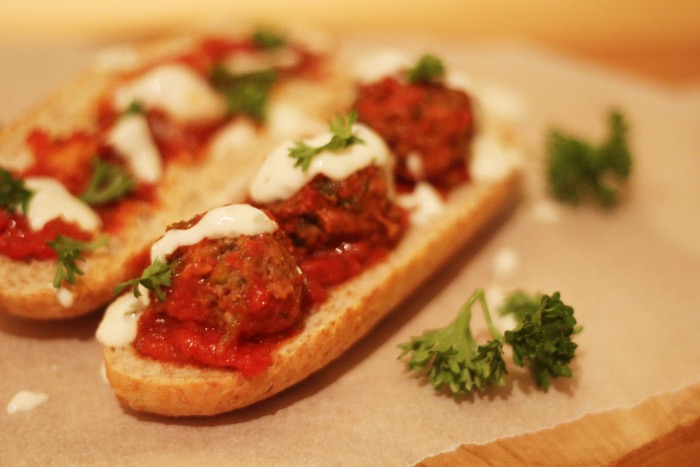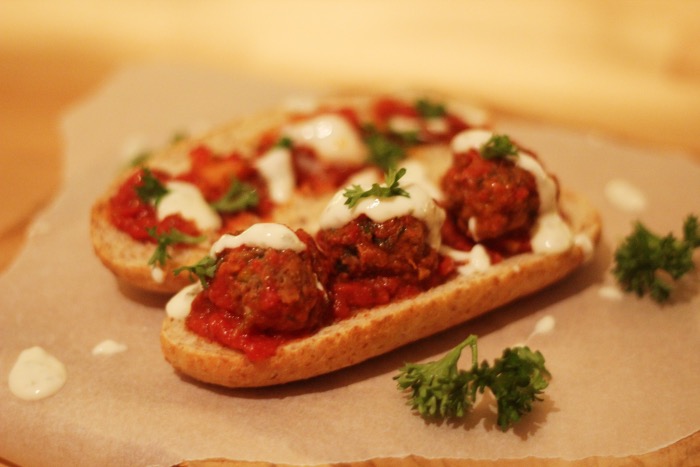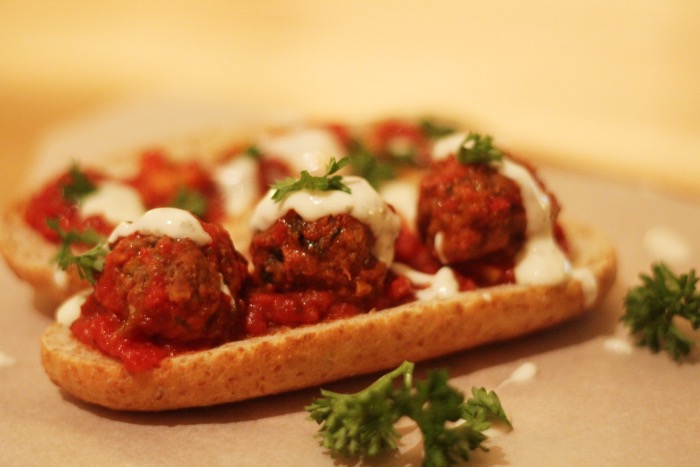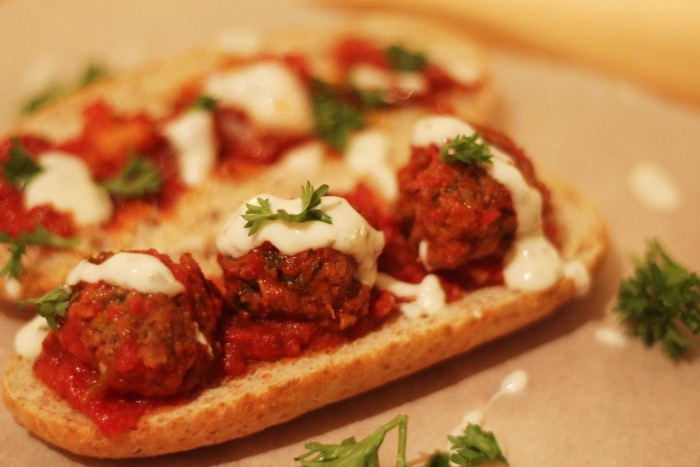 Eetsmakelijk!