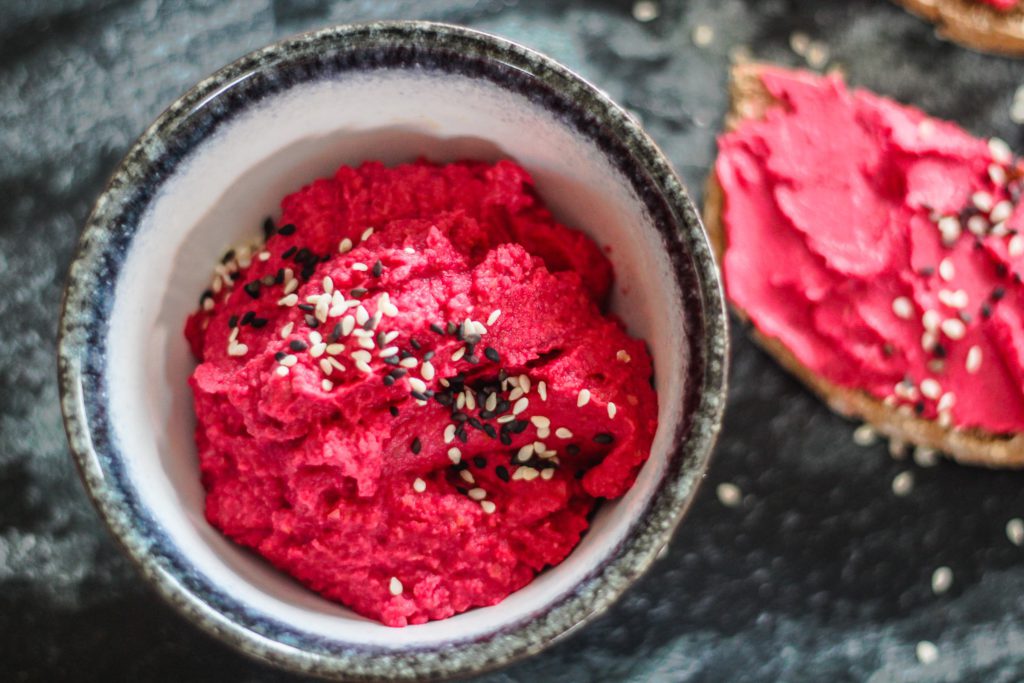 Als je ooit hebt geëxperimenteerd met het maken van je eigen hummus, dan weet je wat voor potentie deze heeft. Wat ik ermee bedoel: Ineens zie je daar alle mogelijkheden om jouw favoriete hummus te maken:
Met pompoen? Met sesamzaad? Met bieten? Met bonen én kikkererwten? De mogelijkheden zijn eindeloos en dat tegelijkertijd met het voeden van je lichaam. Heerlijk beleg voor op brood, maar ook op wraps, salades en bij talloze andere maaltijden! Vandaag deel ik graag een recept die voor het oog óók wat betekent:
Rode bieten hummus met geroosterde kikkererwten.
KEIROZE.
In alle eerlijkheid, deze was binnen één dag op (en ik woon dus alleen he). 
Wat heb je nodig?
1 blik kikkererwten, uitgelekt
1/2 – 1 citroen, uitgeperst
2 rode bieten (voorgekookt, in stukjes gesneden)
3 teentjes knoflook en/of 1/4 theelepel knoflookpoeder
1-2 eetlepels olijfolie
1-2 theelepels komijnzaad (poeder)
peper, zout
Voor de garnering:
sesamzaad, zwart en/of wit
Verwarm de oven voor op 180 graden Celsius. Plaats de uitgelekte kikkererwten op een bakplaat, bedekt met een velletje bakpapier. Doe hier 1 eetlepel olijfolie, komijn, peper, zout en knoflookpoeder naar smaak overheen en meng het geheel (met een lepel of je handen) tot alle kikkererwten lekker bedekt zijn.
Druk de knoflook plat en leg ze ook tussen de kikkererwten op de bakplaat. Zet het geheel voor 10 minuten in de voorverwarmde oven.
Als de je de kikkererwten en de knoflook weer uit de oven haalt, laat ze dan even afkoelen voor je verder gaat met de hummus.
Het vervolg is heel simpel, doe alles in een keukenmachine of blender en mix het geheel tot er een lekkere gladde massa ontstaat. Proef even of je de verhouding in smaken lekker vindt en voeg waar nodig wat citroensap, peper, zout en/of knoflookpoeder toe. Zelf houd ik wel van lekker veel knoflook een goede scheut citroensap.
En dan is het tijd om te smullen, op een warm sneetje brood bijvoorbeeld of op wat crackers! Maar je kunt hem ook gebruiken als dip voor groente, crackers en chips. De mogelijkheden zijn eindeloos!
Door de aangename roze kleur trekt het veel aandacht, vooral bij kinderen, ik zou er dus gebruik van maken als je kids hebt 😉 Eetsmakelijk!
PS: Ik heb het op zelfgebakken brood gesmeerd, zó lekker!