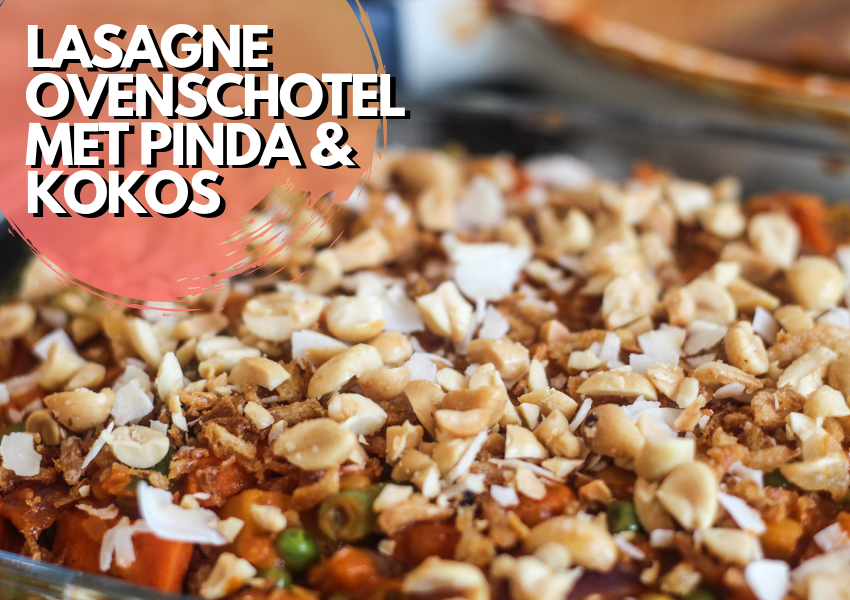 Dit recept ontstond tijdens een last minute kooksessie omdat Boy bijna thuis zou komen en we niet veel tijd hadden voor we gezamenlijk door zouden moeten naar een event. Ik greep van alles wat we in huis hadden en speelde ook in op Boy zn smaak papillen; Indiaas, pinda's, kokos, etc. Daaruit ontstond deze heerlijke lasagne ovenschotel met pinda en kokos!
Helemaal vegetarisch en bomvol groente.
Wat heb je nodig voor een kleine ovenschotel voor 2-3 (hooguit 4) personen?
1 ui, gesnipperd
1-2 wortels, in halve cirkels gesneden
3 aardappelen, in kleine blokjes gesneden
150 gram diepvries doperwten
150 gram diepvries sperziebonen
120 gram gedroogde rode linzen
1/2 blokje groente bouillon, opgelost in 1/2 liter kokend water
1/2 blik kokosmelk
1 klein blikje tomatenpuree
4-5 lasagne bladeren
handje geroosterde pinda's
handje geroosterde kokosvlokken
olijfolie om in te bakken en te marineren
Peper, zout, komijn, kurkuma, paprika poeder
Tip: je kunt in plaats van zelf je kruiden samen te stellen ook de kruidenmix "Tajine" gebruiken van de Lidl of "Thai Green Curry" van Jonnie Boer. Deze gaan heerlijk samen met dit gerecht!
Het lijken best wat ingrediënten op het eerste zicht maar maak je geen zorgen, je mag alle soorten groente gebruiken die jij wilt. De basis draait om het creëeren van een soort 'curry' die je vervolgens als lasagne saus gebruikt en dat topt met pinda en kokos. Zo simpel! Op naar het recept:
Verwarm de oven voor op 220 graden Celsius. Leg een velletje bakpapier op een ovenplaat en verdeel hierop de wortel en aardappel. Besprenkel ze met wat olijfolie (1-2 theelepels) en voeg alle kruiden toe die jij lekker vindt. Ik ben gegaan voor de kruiden die hierboven weergegeven zijn, marineer het geheel met je handen en zet de ovenplaat in de voorverwarmde oven voor 25 minuten.
Begin nu aan de curry, verwarm wat olie in een koekenpan en bak hierin de ui tot hij glazig is. Voeg een flinke portie kruiden toe en laat het even meebakken met de kruiden. Voeg vervolgens de linzen en tomatenpuree toe – bak dit een halve minuut en voeg de bouillon toe om alles af te blussen en de linzen te laten koken. Als de tomatenpuree goed opgelost is voeg je de kokosmelk toe en breng je het geheel aan de kook om daarna het vuur weer zacht te zetten en alles te laten sudderen. Voeg na 3-4 minuten de doperwten en sperziebonen toe, zorg dat er voldoende vocht in de pan zit zodat alles lekker kan koken – voeg waar nodig wat kokosmelk of water toe.
Als de doperwten en sperziebonen een paar minuten mee hebben gekookt kun je de aardappel en wortel uit de oven (die je na 25 minuten eruit hebt gehaald) toevoegen aan het geheel. Je mag de oven aanlaten aangezien de ovenschotel er zo in gaat, zet hem echter wel iets lager: 180 graden Celsius.
Zorg dat alles lekker gemengd is en een minuutje of 2 samen kookt. Zet het vuur uit en ga dan aan de slag met het vullen van je ovenschaal met de saus/curry en lasagnebladen. Ik heb een kleine ovenschaal gebruikt (ongeveer 1/2 van een reguliere schaal), begin met een laagje saus dan lasagnebladen en eindig met een laagje saus. Bestrooi het geheel met een handje pinda's en kokos en zet het voor zo'n 15 minuten in de voorverwarmde oven. Laat de ovenschoten even afkoelen voor je erin duikt maar daarna mag je losgaan en genieten! Een interessante variatie op de reguliere lasagne met wat Indiase smaken en de kokos en pinda bovenop in plaats van kaas! Hoop dat je hem net zo lekker vindt als dat wij hem vonden 🙂