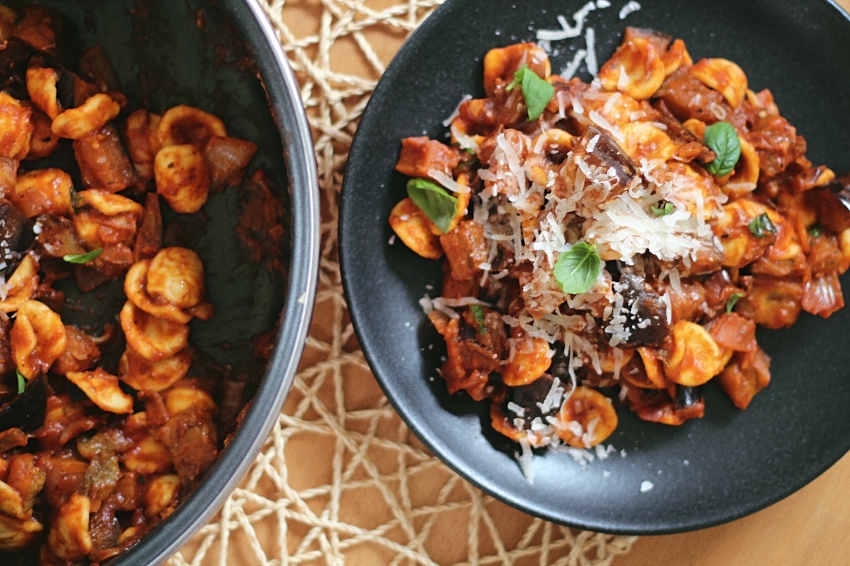 Mijn hart vroeg om pasta en mijn hart vraagt niet vaak om pasta, daarom luister ik er met liefde naar als dit gebeurt. Mijn hart vraagt meestal voor frietjes en pizza, maar deze keer niet.
Ik besloot om een heerlijke pasta te maken met rode saus, zonder vlees. Aangezien er nog een enorme aubergine op het aanrecht lag was het een teken om deze twee te gaan combineren: Pasta met aubergine it is! 
Wat heb je nodig voor 2 porties?
1 rode ui
100-150 gram pasta (ongekookt)
1 aubergine
4 eetlepels pastasaus of 1 blikje tomatenpuree
gedroogde oregano, basilicum, paprika poeder, peper en zout
olie om in te bakken
Parmezaanse kaas*
Verse basilicum*
*Dit is als topping aan het eind om het geheel 'af te maken'.
Gebruik gerust de hoeveelheid pasta die jij graag wilt, je hoeft echt niet deze hoeveelheid aan te houden. Hetzelfde geldt voor extra groente die je wilt toevoegen zoals courgette en doperwten, deze gaan ook goed samen met dit recept! En als je een niet-vegetarische versie wilt, voeg je er gewoon wat vlees aan toe. It's all up to you!
Breng water aan de kook in een pan en bereid hier de pasta in zoals op de verpakking staat aangegeven. Verhit wat olie in een pan en bak hier de ui die in stukjes is gesneden. Als de ui glazig begint te worden voeg je de kruiden toe naar eigen smaak. Snijd de aubergine in blokjes en voeg dit toe aan je pan met ui en kruiden. Meng het lekker door elkaar zodat de aubergine goed bedekt raakt met de kruiden. Aubergine zuigt aardig wat vet op, dus zorg ervoor dat je wat olie toevoegt aan de pan als je merkt dat het te 'droog' is. Een klein scheutje toevoegen kan al voldoende zijn.
Als de aubergine aardig mee begint te bakken voeg je de pastasaus toe. Ik heb er random een gekocht bij de Lidl die ik he-le-maal top vond qua ingrediënten: 99,5% tomaten en zout. That's it!
Voeg eventueel wat water toe om het geheel zachtjes te laten sudderen zodat de aubergine echt goed gaar wordt. Let ondertussen ook op je pasta, als deze gekookt is, giet je hem af en laat je hem even rusten tot je hem toe kunt voegen aan je pan met aubergine. Als de aubergine zacht is geworden en het geheel goed is ingedikt voeg je de pasta toe zodat dit samen nog even een minuut opgewarmd kan worden.
Rasp er wat parmezaanse kaas op en klaar is je maaltijd! Je kunt de parmezaanse kaas ook pas toevoegen op het moment dat je de pasta hebt opgediend. Een paar blaadjes basilicum erbij en klaar om op te eten! Enjoy!