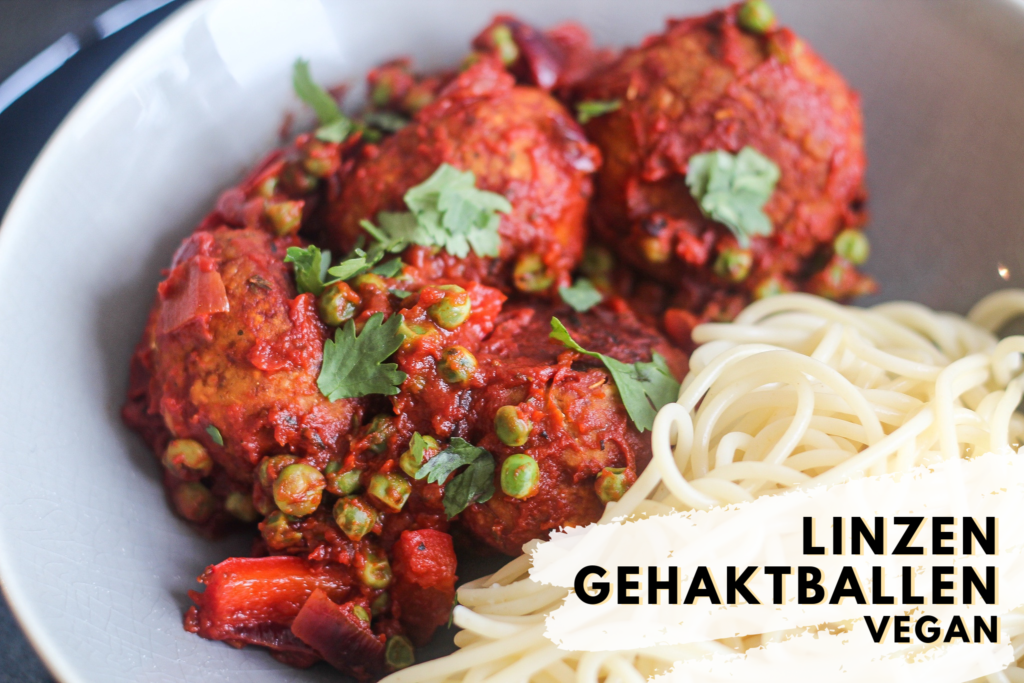 Deze gehaktballen van linzen zijn perfect als plantaardig alternatief bij je spaghetti! Maar je kunt ze ook bovenop een buddha bowl doen of zoals ik het liefste heb: Op een broodje met saus! Op vele manieren te combineren en voor een hoop leefstijlen (vegetarisch, veganistisch) goedgekeurd. Op naar het recept!
Wat heb je nodig voor 2 personen?
100 gram droge linzen
1/2 blokje groentebouillon
1 rode ui, gesnipperd
5-6 zongedroogde tomaten
1 lenteui
2 eetlepels lijnzaad + 6 eetlepels water (ter vervanging van het ei)
italiaanse (gedroogde) kruiden
1/2 theelepel paprika poeder
peper en zout naar smaak
handje verse koriander (optioneel)
1/2 citroen, sap
50-100 gram broodkruimels/paneermeel (afhankelijk van hoe nat/droog je gehaktballen zijn)
olie om in te bakken
Doe de lijnzaad en het water in een kommetje, meng dit met een vork en leg het dan opzij zodat het dik kan worden. Dit is ter vervanging van het ei in een gehaktbal.
Verwarm de oven vast voor op 180 graden Celsius.
Kook de linzen in een pan met water met het bouillonblokje voor zo'n 10-12 minuten. Giet de linzen vervolgens af en zet ze even opzij voor ze weer aan de beurt zijn voor de volgende stap 😉
Verhit wat olie in een koekenpan en bak hier de rode ui en de zongedroogde tomaat tot de ui glazig is en alles lekker begint te geuren. Voeg de Italiaanse kruiden, paprika poeder, peper en zout toe naar smaak.
Doe de gekookte linzen samen met alle overige ingrediënten in een keukenmachine en mix dit tot alles gehakt en gemengd is. Als je deeg te nat is, doe er dan wat paneermeel bij – is je deeg te droog, doe er dan een theelepel water bij (een theelepel kan al veel verschil maken!).
Ga net zolang door tot je gehaktballen kunt draaien van het deeg. Je kunt op een gegeven moment de keukenmachine uit zetten, het geheel verplaatsen naar een kom en met je handen kneden.
Plaats een velletje bakpapier op de ovenplaat en plaats hier je linzen gehaktballen op. Plaats dit in de oven voor zo'n 15-20 minuten. Als ze uit de oven komen kun je ze direct toevoegen aan jouw favoriete maaltijd. Bijvoorbeeld aan je pastasaus (heb ik gedaan bij dit recept) met wat ui en doperwten, of bovenop je buddha bowl, of lekker op een broodje met wat ketchup en augurken, hmm!
Je kunt ze ook laten afkoelen en in de vriezer bewaren voor een paar weken! Enjoy!
Voor een lekkere tomatensaus kun je dit recept gebruiken: