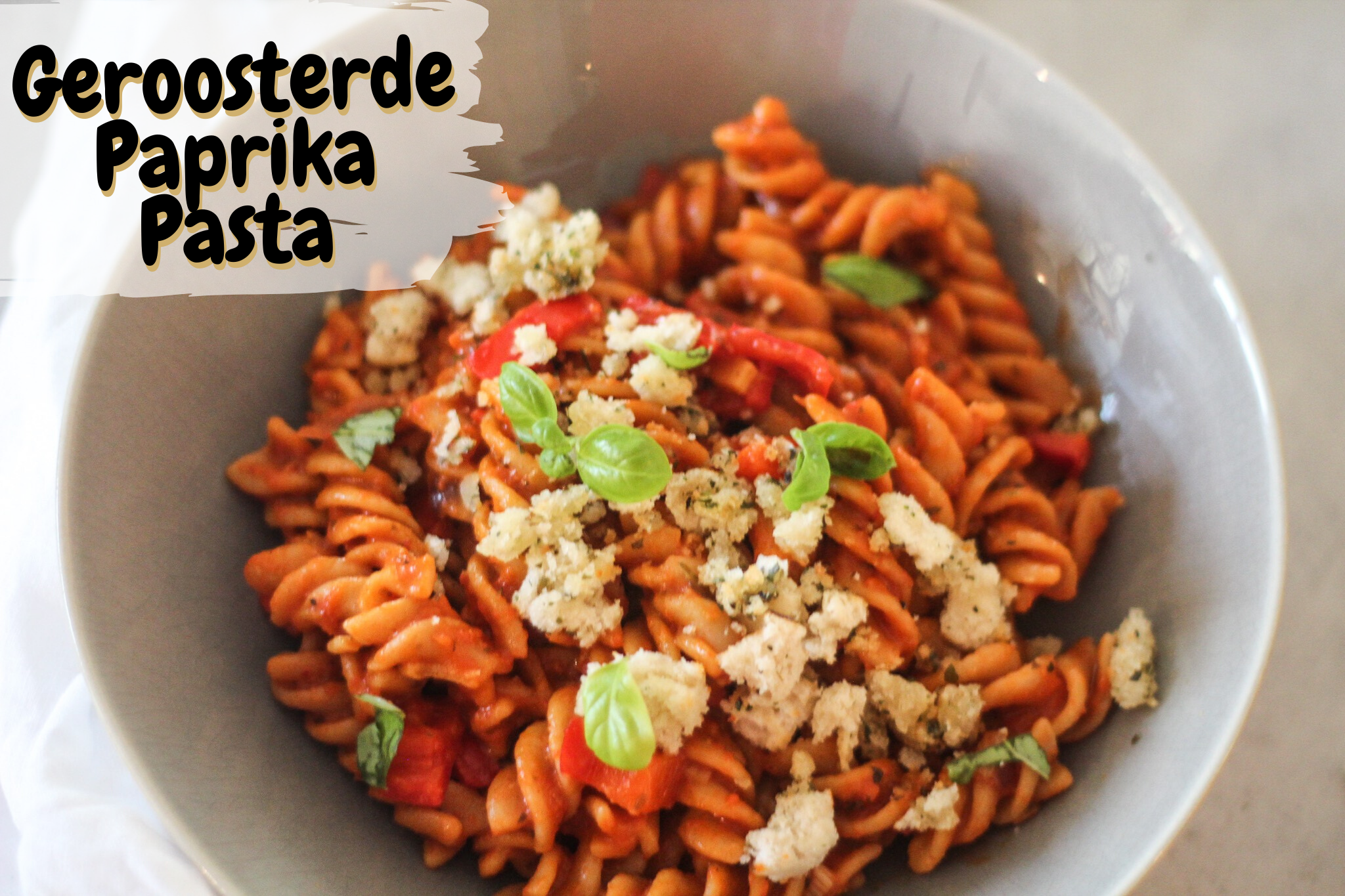 Oh mijn god. Als ik maar één maaltijd mocht eten voor de rest van mijn leven, dan is het deze wel. Maar echt. Echt.
Een experiment met het maken van pastasaus werd onverwachts een heerlijke maaltijd met meerdere lagen van smaken en ik gun het iedereen om deze pasta eens te maken/proeven!
De parmezaanse kaas croutons (of broodkruimels) maken het helemaal af! Op naar het recept.
Wat heb je nodig voor 2 personen?
Voor de croutons:
2 eetlepels olijfolie
50 gram oud brood, verkruimeld
2 eetlepels oregano
1/2 eetlepel knoflookpoeder
50 gram geraspte parmezaanse kaas (of manchego of een andere soort kaas naar smaak)
Voor de pasta:
100 gram pasta naar keuze
3 geroosterde paprika's uit een pot
4 zongedroogde tomaten
1-2 eetlepel(s) zongedroogde tomaat hummus
1 rode paprika, in stukjes gesneden
2 uien, gesnipperd
3 teentjes knoflook, gesnipperd of geperst
1 eetlepel oregano
1/2 theelepel venkelzaad
120 ml bouillon (bouillonblokje in heet water)
5 eetlepels tomatenpuree
1/2 blikje kokosmelk
1/2 eetlepel balsamico azijn
verse basilicum
Kook de pasta volgens de verpakking
Verhit wat olie in een koekenpan en voeg hier de de oregano en knoflookpoeder aan toe voor 1-2 minuten tot de geuren vrij komen
Voeg vervolgens het brood en de kaas toe, meng het geheel tot de kaas er lekker doorheen is gesmolten.
Haal het uit de pan en laat het op een bord afkoelen.
In dezelfde pan, bak je de ui en knoflook voor 1-2 minuten
Voeg daarna de paprika toe
Na 1-2 minuten kan de oregano en het venkelzaad erbij
Na zo'n 5 minuten voeg je de tomatenpuree en balsamico azijn toe, meng dit er goed door en laat het zachtjes sudderen.
Doe de paprika's uit pot, zongedroogde tomaat en hummus in een keukenmachine en mix dit tot er een gladde massa is ontstaan.
Giet de pasta af als deze gaar is, voeg hem toe aan de koekenpan met het mixje uit de keukenmachine tezamen met de boullon en kokosmelk.
Meng alles goed door en laat het zo'n 20-30 minuten sudderen. Als het te droog wordt kan er wat water of kokosmelk bij, wat jij wilt!
Proef af en toe even of je de smaak goed vindt – je kunt er altijd wat zout of zuur (balsamico) aan toevoegen om het te balanceren.
Wanneer de saus goed is ingedikt is het klaar om de pasta op te dienen! Met de kaaskruimels en verse basilicum bovenop is je maaltijd klaar!
ENJOY!!