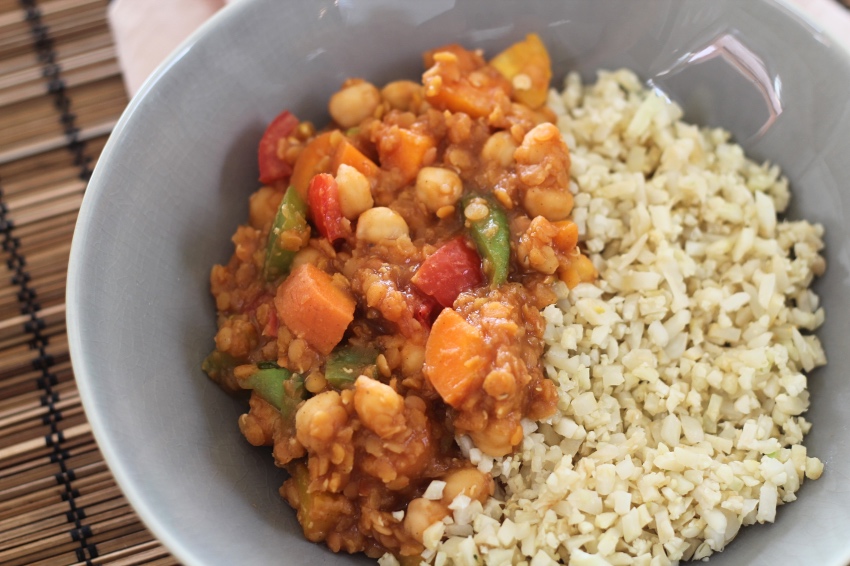 Welk seizoen het ook is, soms heb je een verwarmend gerecht nodig. In de categorie 'comfort food' maar dan wel voedend. En ja, in sommige gevallen gewoon diehard comfort food omdat je daar mentaal aan toe bent.
Vandaag ga ik voor de eerste categorie: voedend. Een heerlijk gerecht met linzen, kikkererwten, groente en bloemkoolrijst. Vervang deze gerust met gewone rijst als je dat graag wilt! 
Wat heb je nodig voor 4 personen?
150 gram ongekookte rode linzen
1 blik kikkererwten (350 gram), uitgelekt
4 wortels, in stukjes gesneden
1/2 blokje bouillon
groente naar keuze: groene/gele/rode paprika, courgette, bloemkool etc.
1 tomaat of 3-4 cherry tomaten, ik stukjes gesneden
1 blikje tomatenpuree (70 gram) of 5 eetlepels vloeibare tomatenpuree/saus
1 theelepel gember poeder
1 theelepel komijn poeder
1 theelepel kaneel poeder
peper en zout naar smaak
Kook de rijst volgens de verpakking als je rijst gebruikt. Als je voor bloemkoolrijst gaat, dan kun je deze halverwege het recept gaan bakken.
Doe de linzen in een koekenpan en voeg hier water aan toe tot ze 'kopje onder' staan. Voeg hier het bouillon blokje toe en breng het geheel aan de kook zodat het bouillon blokje oplost.
Zodra de bouillon is opgelost doe je de wortels er ook bij, deze kosten de meeste tijd om gaar te worden. Doe nu ook de kruiden en de tomatenpuree erbij en meng het goed door.
Vervolgens is het een spel van; roeren, eventueel water toevoegen en de andere ingrediënten toevoegen. Na enkele minuten kun je de gesneden groente naar keuze erbij doen (ik ben voor gele en groene paprika gegaan). Als dit zo'n 7-8 minuten mee aan het garen is (let op dat er voldoende vocht in de pan aanwezig is, zie de foto's voor wat richtlijnen) kun je de
kikkererwten erbij doen en na een minuut of 2 de cherry tomaten. Deze dienen namelijk alleen mee opgewarmd te worden!
Dit is ook het moment om de bloemkoolrijst te bereiden als je hiervoor gaat; gewoon in een pan met een beetje olie en 3-4 minuten bakken.
Voeg peper en zout toe naar smaak en je maaltijd is klaar! Bomvol lekkers en hartverwarmend, als je het mij vraagt. Ik doe er nog een eetlepel yoghurt of kwark bij (je kunt ook voor zure room gaan) om ook een fris aspect te hebben. En genieten maar!