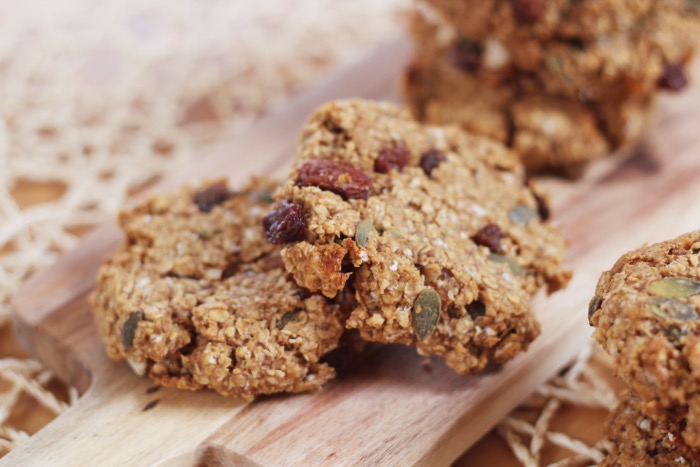 Deze oerkoeken zijn ZO ontzettend lekker.
Beste intro tekst ooit, vind je niet? Maar er zit ook nog eens een geheim ingrediënt in waardoor het extra eiwitten en vezels bevat. Het is géén eiwitpoeder, het is geen kwark of yoghurt, sterker nog, het hele recept is vegan! .. Wat zou het zijn?
Ik zal het verklappen, het zijn witte bonen! Ja, deze zitten in de koeken en je proeft ze niet. Ik zeg: SCORE!
Wat heb je nodig voor zo'n 12 grote koeken:
325 gram havermout
250 gram witte bonen (uit blik)
1 theelepel bakpoeder
1 theelepel vanille extract
2 theelepels kaneelpoeder
snufje zout
1 eetlepel chia zaad
60 ml honing / ahornsiroop (vegan)
60 ml kokosvet, gesmolten
60 ml appelstroop
30 gram gedroogde abrikozen
60 gram rozijnen
35 gram pompoenpitten
30 gram cornflakes*
*optioneel
Verwarm de oven vast voor op 180 graden Celsius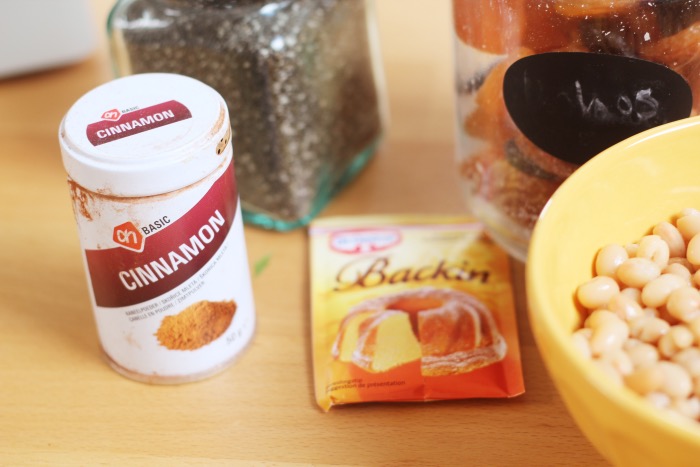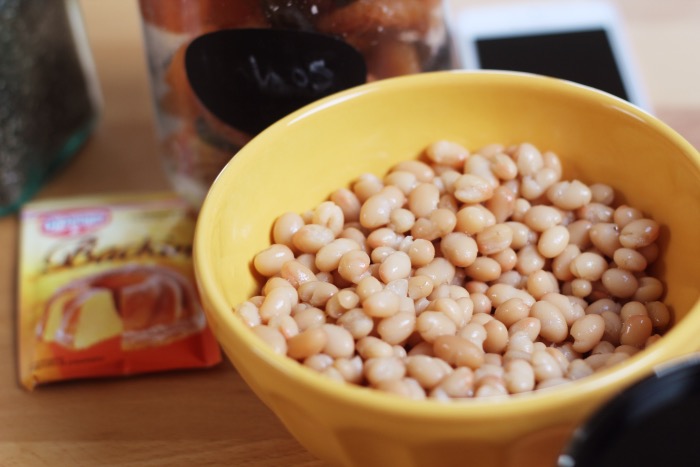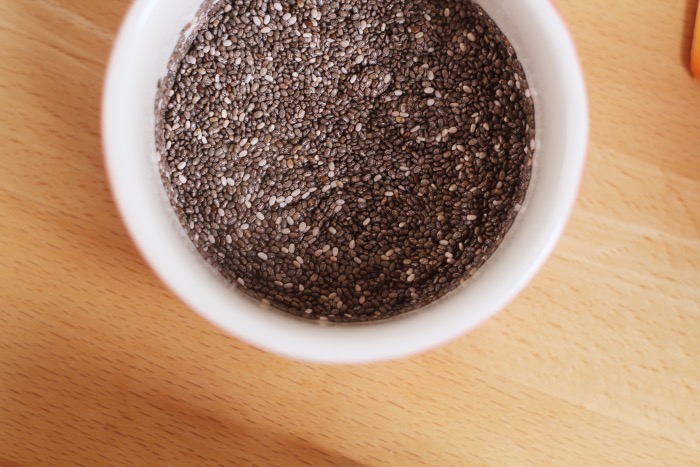 Doe het chiazaad in een kommetje met 3 eetlepels water, laat dit 15 minuten inwerken zodat het een gel wordt.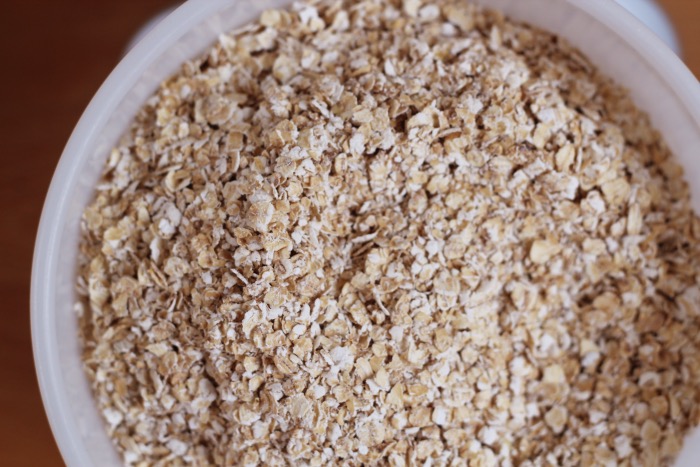 Van de 350 gram havermout, haal je 125 gram apart en maal je dit in een keukenmachine of blender tot een bloem. Het hoeft niet helemaal glad te zijn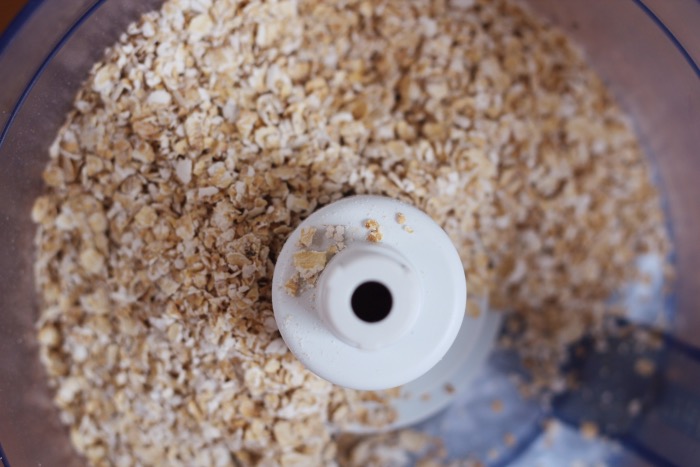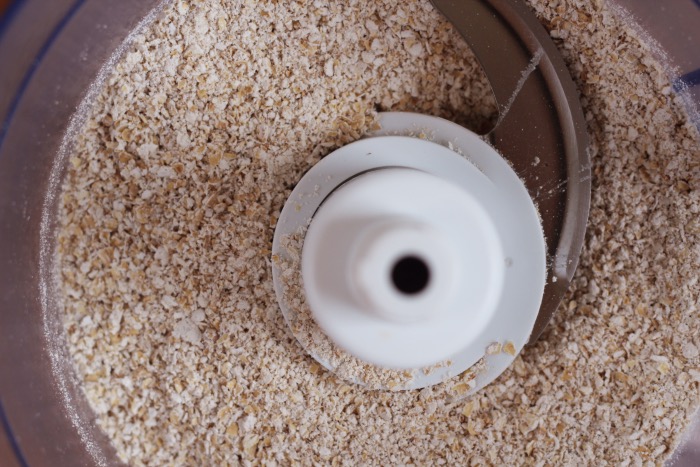 Dit is voldoende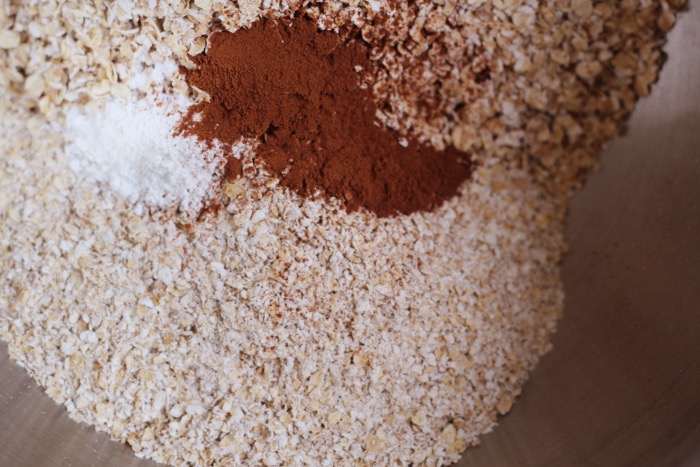 Doe de havermout (alles) met de bakpoeder, kaneel en het snufje zout bij elkaar en meng dit met een vork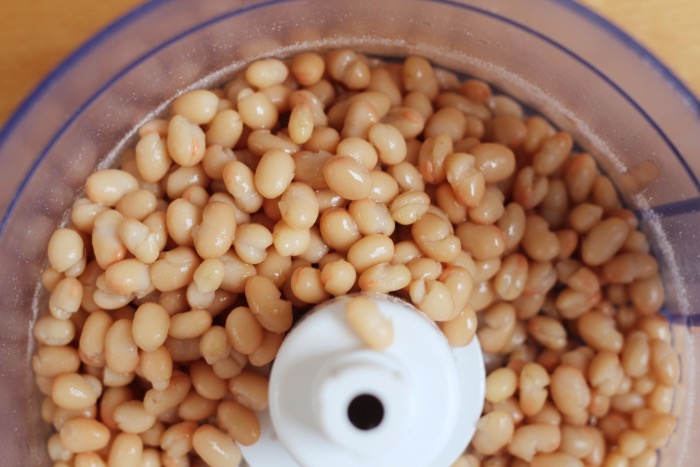 De bonen samen met het kokosvet in de keukenmachine en mixen tot het een gladde massa is geworden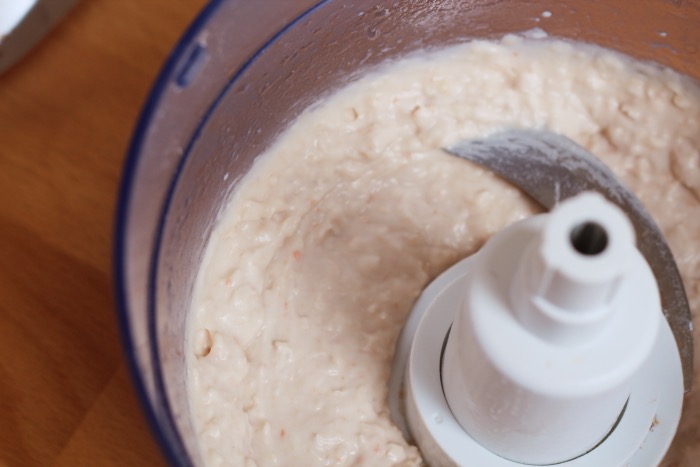 Zoiets, nu kun je de honing, appelstroop, chiazaad (pudding) en vanille extract toevoegen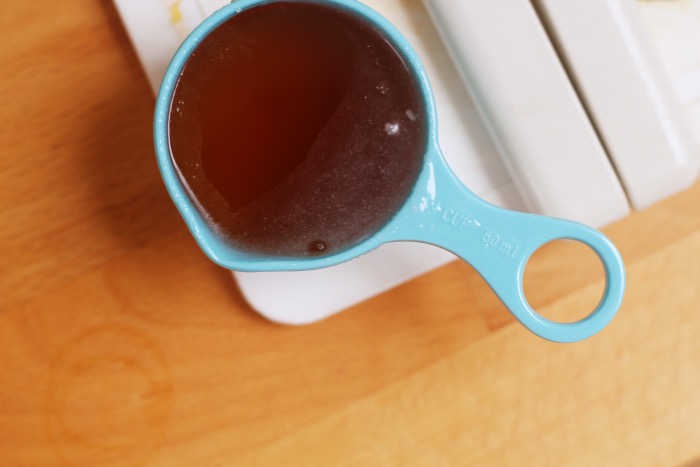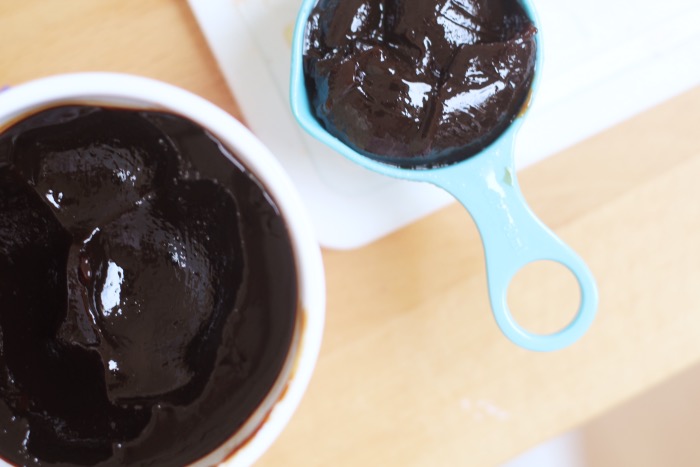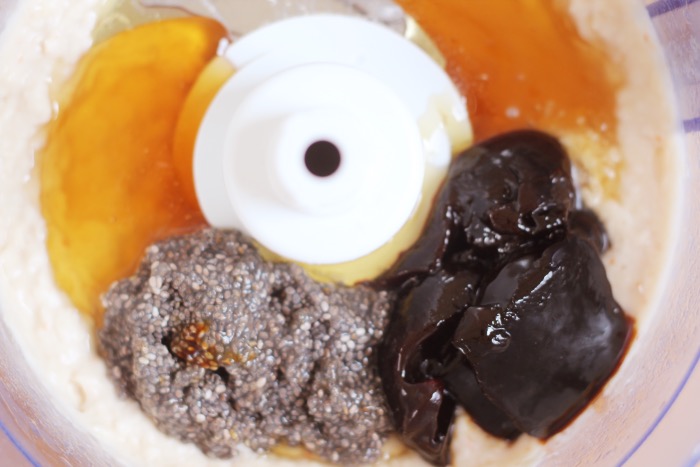 Nogmaals mixen!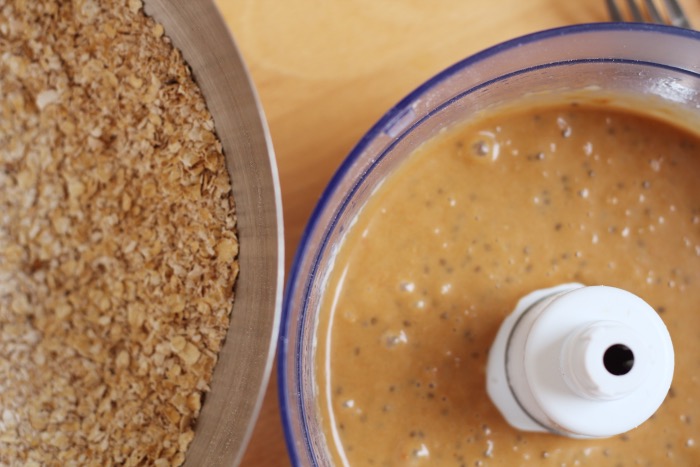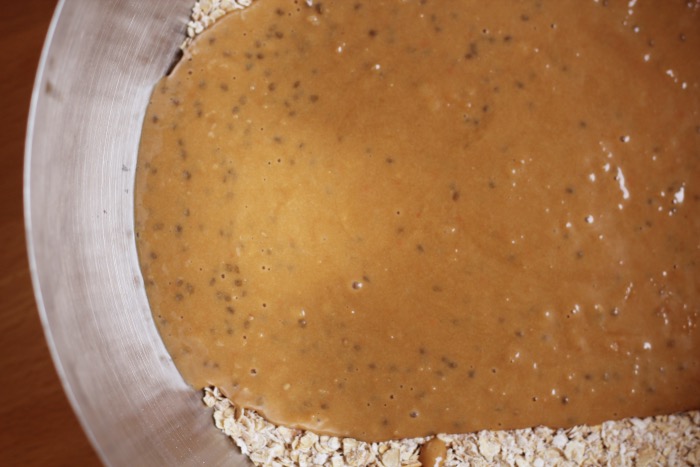 Doe deze twee mengsels bij elkaar en meng dit met een vork goed door.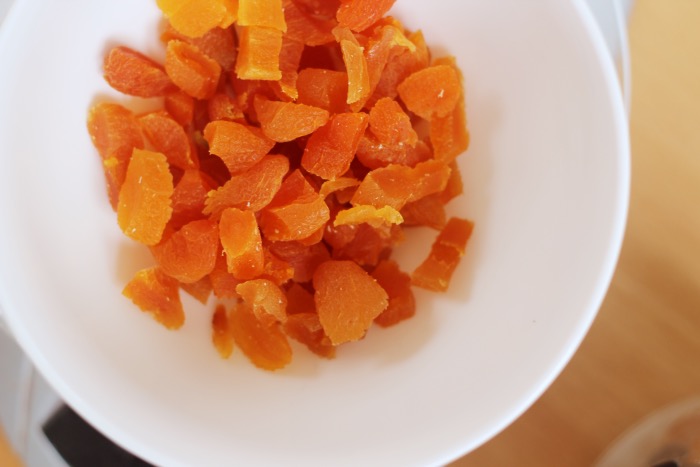 Snijd de gedroogde abrikozen in kleine stukjes en doe ze samen met de rozijnen en pompoenpitten bij het mengsel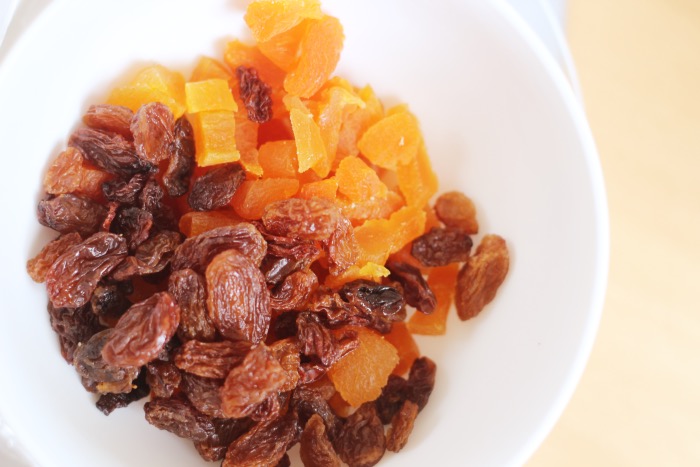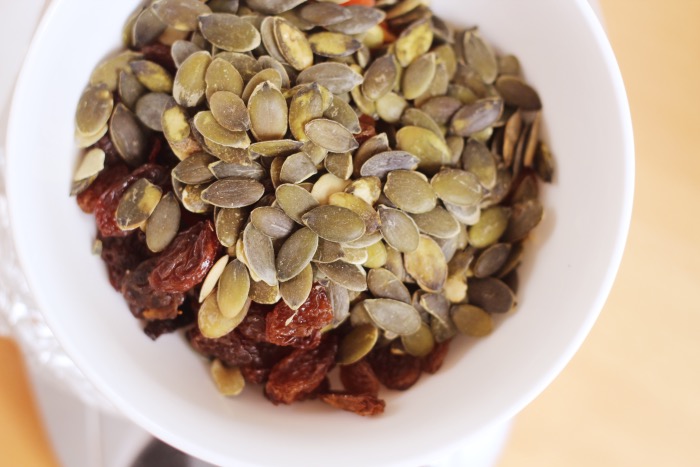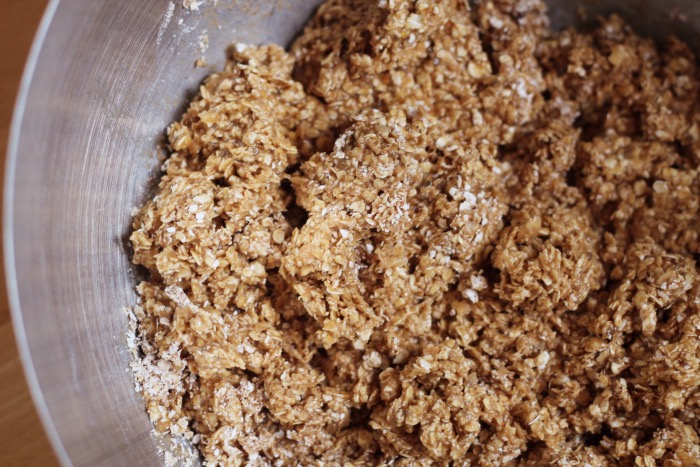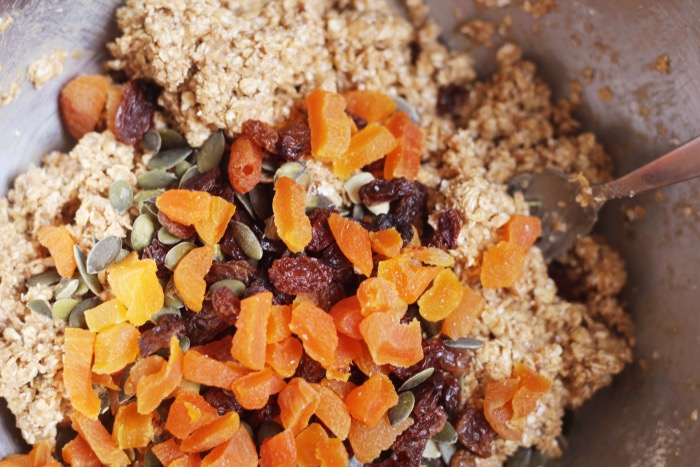 Goed met een vork erdoor mengen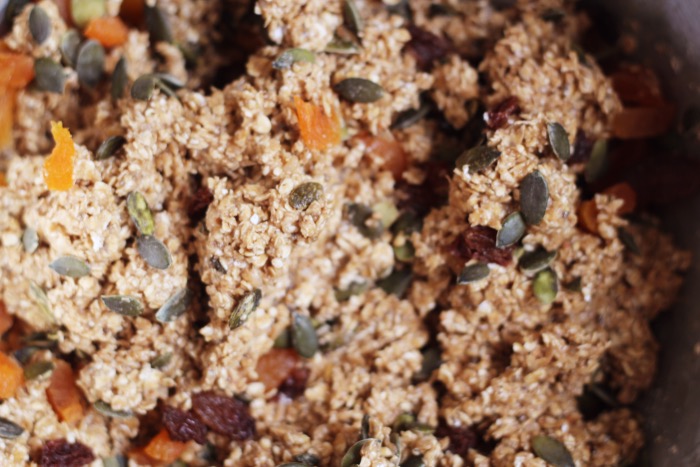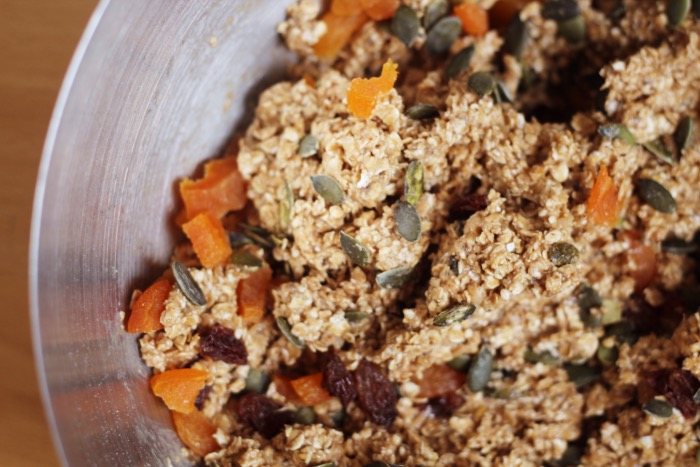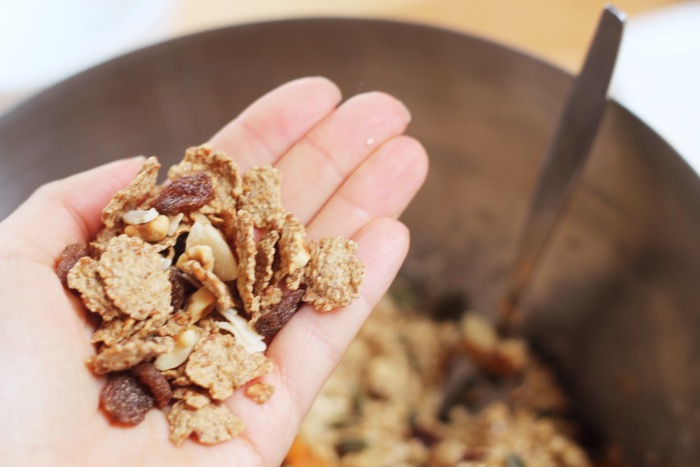 Hier kun je nog wat cornflakes bij doen, dan krijg je wat knapperige stukjes door je koek. Je kunt in plaats van cornflakes ook chocolade of iets anders naar keuze erdoor doen. Niet teveel, anders vallen de koeken uit elkaar! (30 gram ongeveer)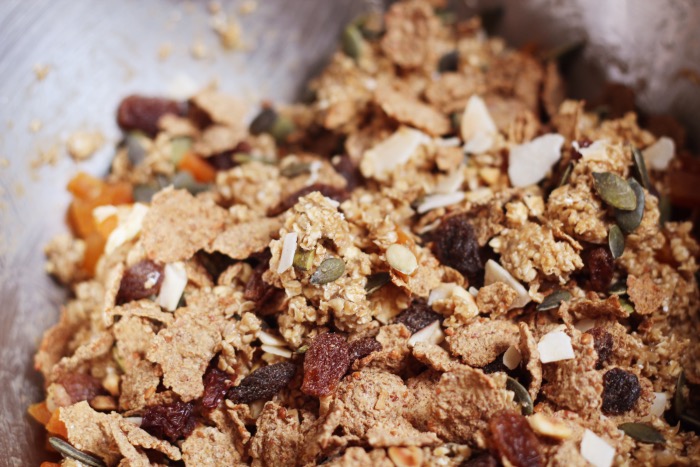 Het kan zijn dat je op dit punt je handen nodig hebt om te mengen, het zal een beetje een plakboel worden. Probeer er ballen uit te halen, dit kun je eventueel ook met een lepel doen. De ballen leg je naast elkaar op de bakplaat bedekt met een laagje bakpapier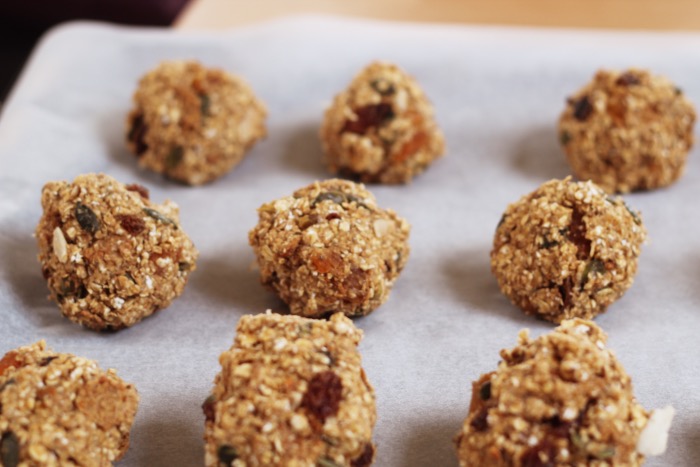 Als je er zo'n 12 ballen uit hebt gehaald ga je ze platdrukken met een lepel zodat het grote koeken vormen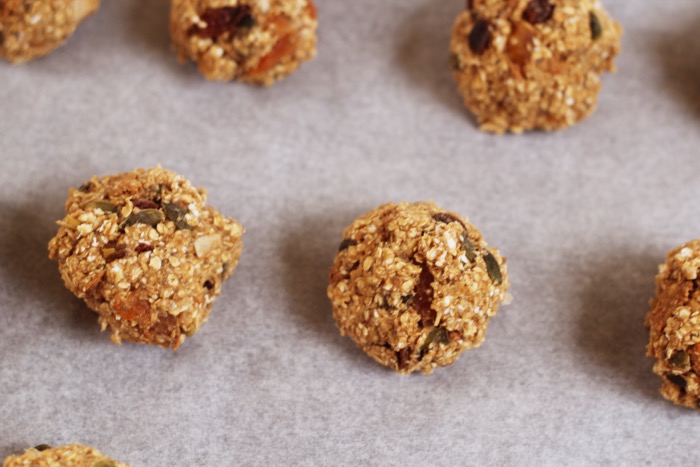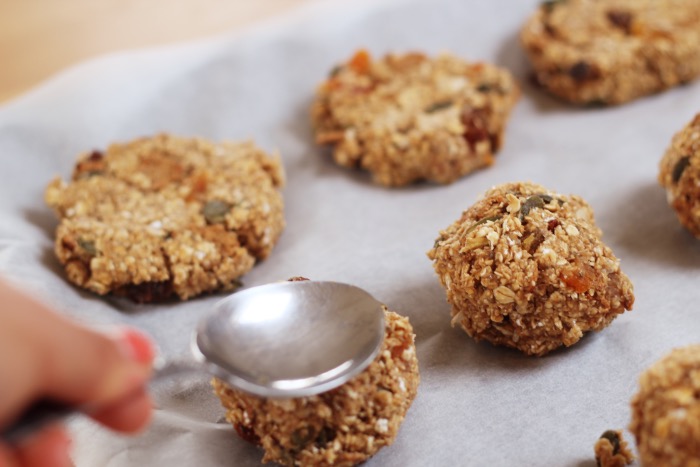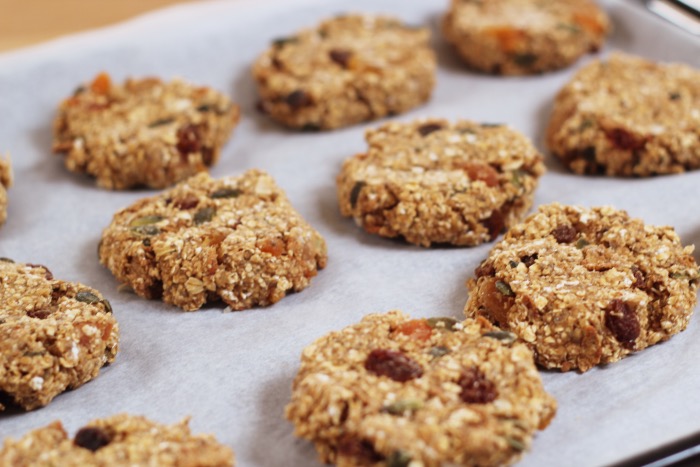 Dit gaat voor 15 tot 18 minuten in de voorverwarmde oven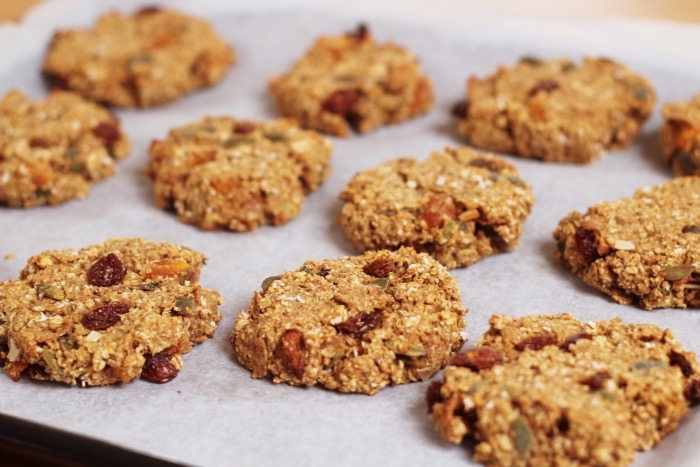 Het resultaat als ze uit de oven komen! Laat ze rustig afkoelen voor je ze oppakt.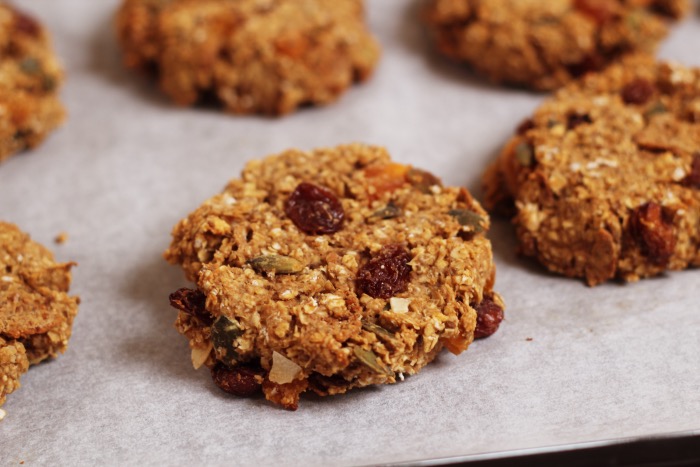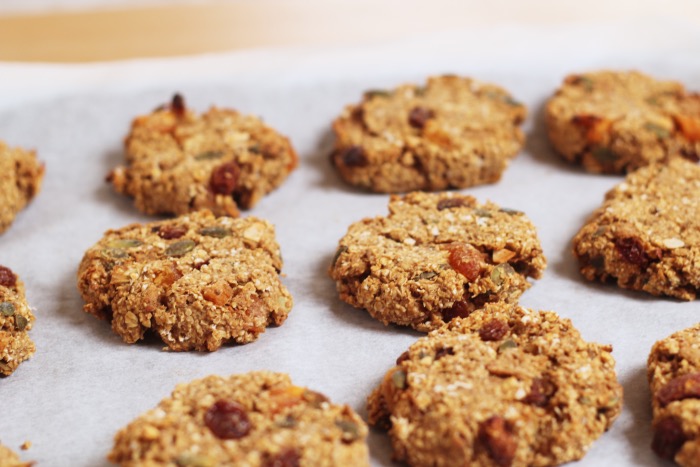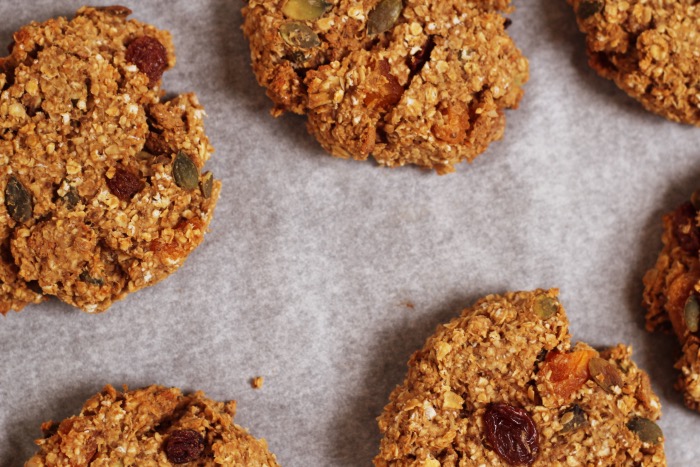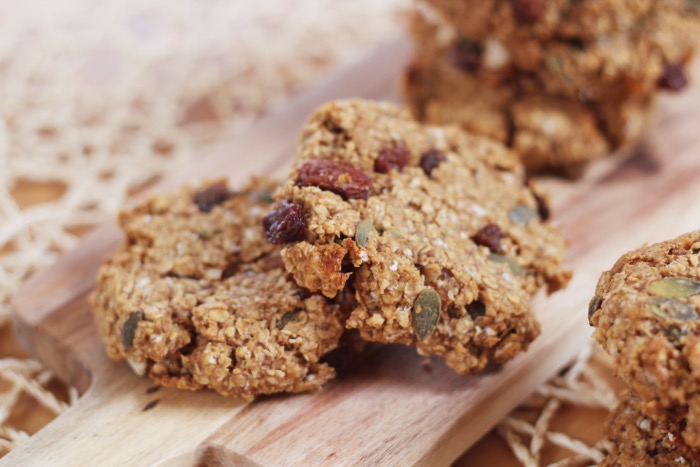 Hmmmmm 🙂 Ze vullen goed, vanwege de bonen en de havermout en ze zijn heerlijk!
Het originele recept komt hier vandaan.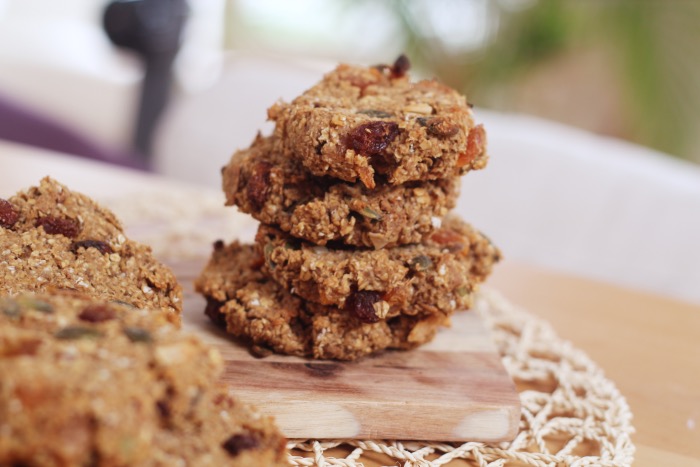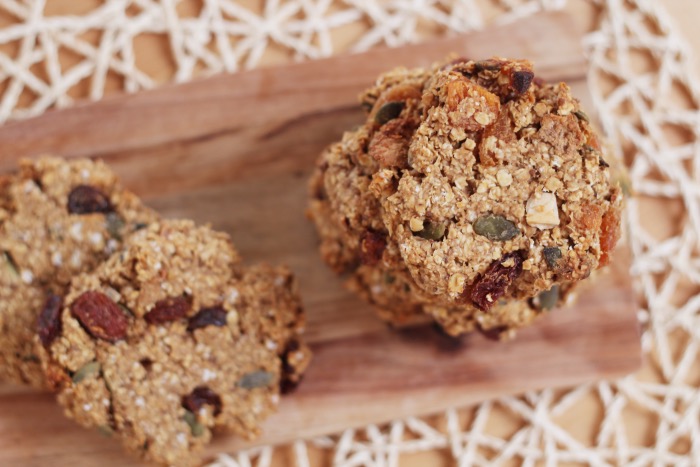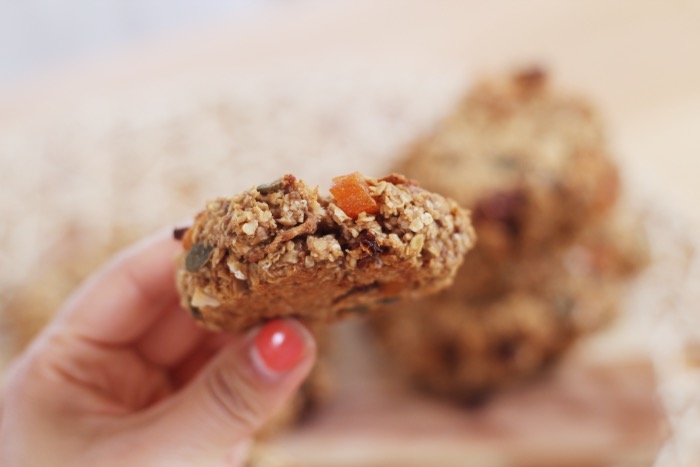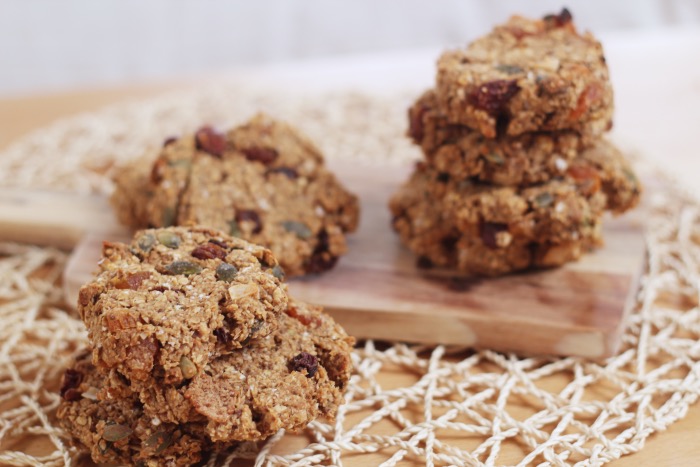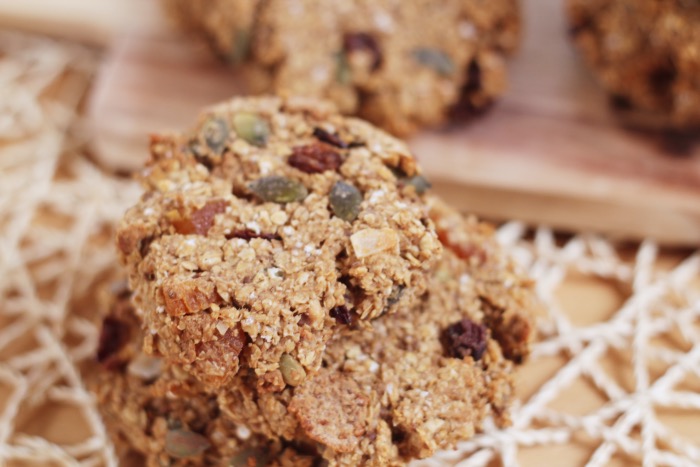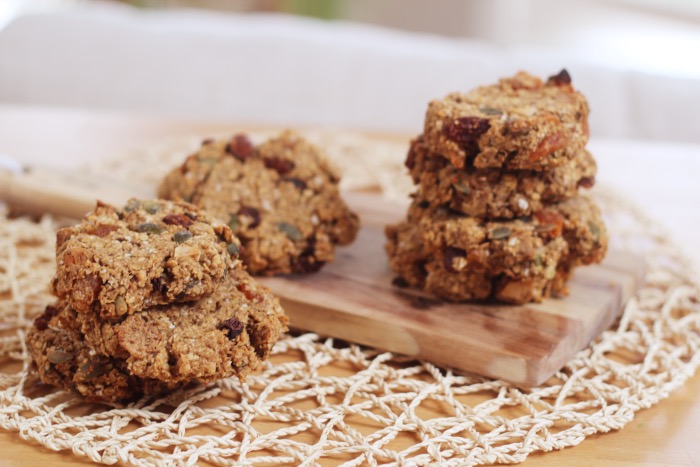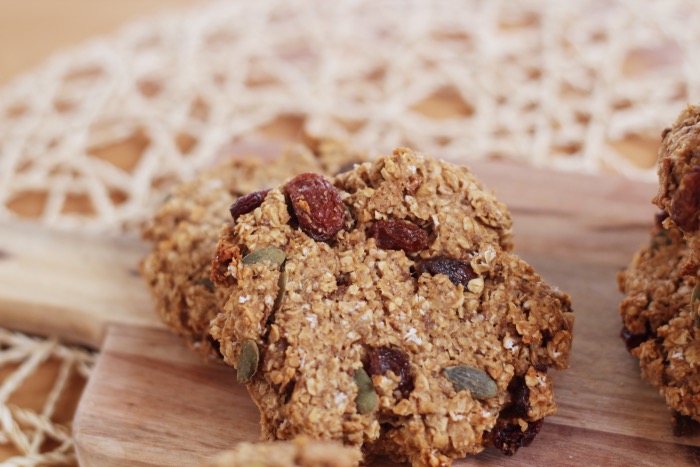 En niemand die door zal hebben dat er bonen in zitten 😉 Eetsmakelijk!