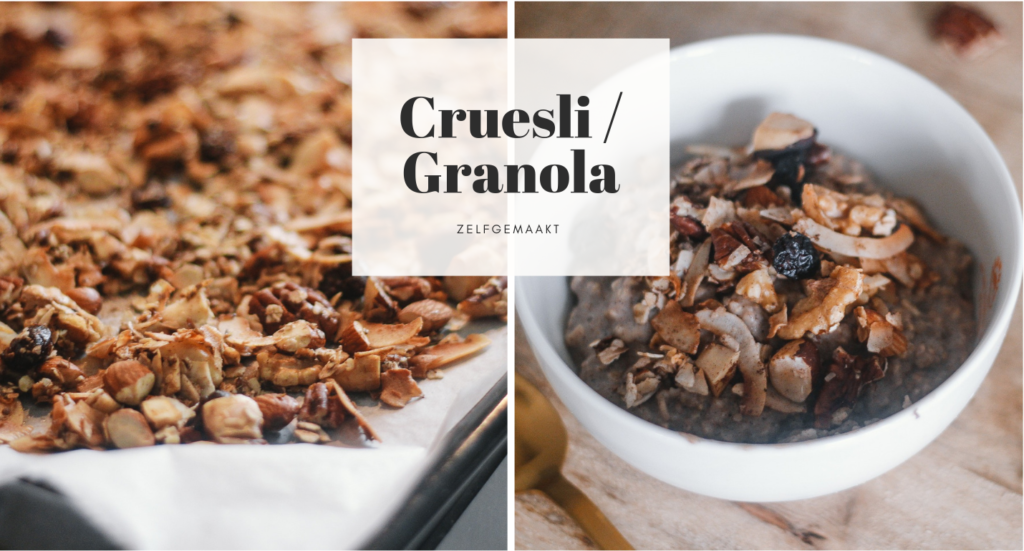 Ik koop nauwelijks nog cruesli of granola in de supermarkt met één belangrijke reden: suiker, suiker en nog meer suiker. Het is ongelooflijk hoeveel suiker er soms in deze pakken wordt gestopt en hoewel er steeds meer varianten komen met minder suiker – maak ik toch graag mijn eigen cruesli. Ik kies precies wat ik erin wil hebben, maak het binnen 15 minuten en mijn huis ruikt vervolgens ook nog eens waanzinnig lekker.
Plus; geen onnodige toevoegingen, geen geraffineerd suiker en precies om deze reden ook een stuk goedkoper dan kopen in de supermarkt. Ik laat je in dit recept zien hoe ik mijn lievelingscruesli maak met opties om het aan te passen zodat jij het naar jouw smaak kunt maken!
Wat heb je nodig voor de basis?
4-5 eetlepels havermout
1 eetlepel lijnzaad
1-2 eetlepels maple syrup of honing
1 eetlepel kokosolie
1-2 theelepels kaneel
Nu heb je een vezelrijke, voedende basis en je kunt er zelfs voor kiezen om geen maple syrup bij te doen als je het helemaal niet gezoet wilt.
Extra's naar smaak:
2-3 eetlepels kokosvlokken
gehakte noten, gemengd
1-2 eetlepels rozijnen en/of cranberry's
De rest is heel simpel en daarom ook zo fijn: Verwarm de oven voor op 180 graden Celsius, gooi alles bij elkaar op een ovenplaat bedekt met een velletje bakpapier, hussel het door elkaar en zorg dat het uiteindelijk uitgespreid op de ovenplaat komt te liggen. Plaats deze in de voorverwarmde oven voor 10-15 minuten en laat hem daarna volledig afkoelen voordat je gaat eten. Als het net uit de oven komt zal het zacht zijn en we willen juist die lekkere crunch! Als het afgekoeld is, dan is het heerlijk knapperig!
Ideaal om je havermout of bakje yoghurt te toppen of.. gewoon uit het vuistje te eten haha. Enjoy!