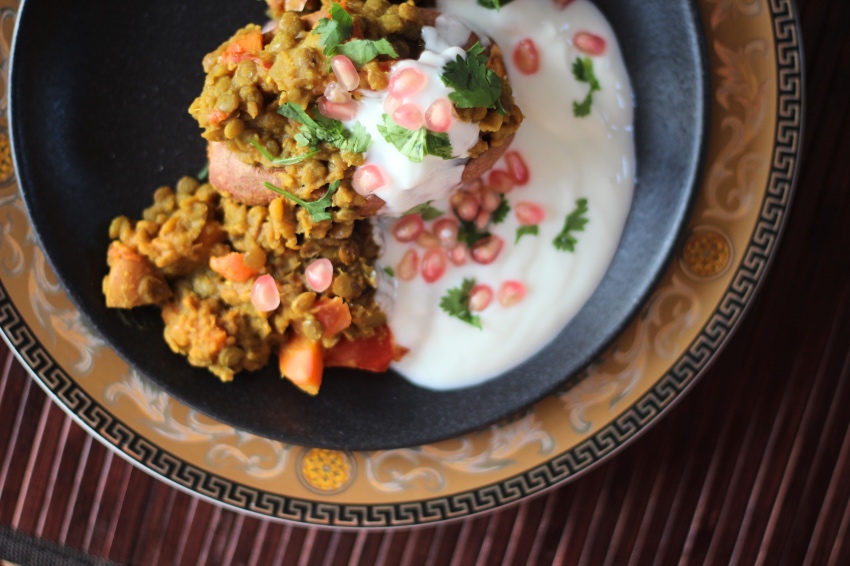 Als je zin hebt in een rijk gerecht bomvol smaak én makkelijk zelf te bereiden, dan moet je dit recept eens proberen! Je tovert je huis om in een Indiaas restaurant met alle heerlijke geuren en eenmaal geproefd; een smaaksensatie! Dit gerecht komt absoluut in mijn favorieten en hopelijk bij jou ook! 
Wat heb je nodig voor ongeveer 4 personen?
4 zoete aardappels (1 per persoon)
3 eetlepels boter of kokosolie
2 uien
3 teentjes knoflook
2 wortels
handje gedroogde abrikozen
200 gram aardappelen
rode of groene linzen, anderhalf kopje
1 tomaat
Indiase kruidenmix, of:

verse gember, geraspt (1 eetlepel)
kardemom (2 theelepels)
chili vlokken (1/2 theelepel)
kurkuma (1 eetlepel)
peper en zout
Voor de topping:
yoghurt
granaatappelpitjes
verse koriander
Verwarm de oven voor op 200 graden Celsius en als deze opgewarmd is, plaats je de 4 zoete aardappelen (met een snee bovenin zodat hij 'open kan vallen') in de oven op een velletje bakpapier. De zoete aardappel heeft, afhankelijk van zijn dikte, ongeveer 40 minuten nodig om helemaal zacht te worden van binnen. Ondertussen ga je de vulling maken.
Verwarm de olie in een pan en bak hier de ui en knoflook in. Vervolgens kunnen de abrikozen (in stukjes gesneden) en kruiden erbij. Als het geheel lekker geurig begint te worden, voeg je er een beetje water aan toe zodat het niet verbrandt. Voeg daarna de wortelen, aardappelen en linzen toe en vul de pan aan met water totdat alles ondergedompeld is.
Breng dit aan de kook en laat het sudderen totdat het ingedikt is. Controleer of de aardappelen en linzen al zacht zijn, zo niet, dan voeg je weer wat water toe en laat je het opnieuw sudderen totdat het een smeuïge massa wordt bomvol structuur en smaak. Als dat zover is, snijd je de tomaat in blokjes en meng je dit door het geheel. Het gerecht is nu klaar om op te dienen met de zoete aardappel!
Plaats de zoete aardappel midden op het bord en zorg dat de opening aan de bovenkant iets uitgerekt wordt zodat er wat vulling in kan. De rest van de vulling plaats je er omheen. Doe wat yoghurt erbij en top het geheel met granataalappelpitjes en verse koriander voor een smaaksensatie! Je gerecht is klaar! Restaurant waardig maar dan vanuit je eigen huis; eetsmakelijk!
Dit recept is geïnspireerd op het recept van Green Kitchen Stories, maar een heel klein beetje anders.