Tijd voor de volgende tip om slank en fit te worden (of blijven) terwijl je daarnaast moet werken. Want wie zegt dat dat niet kan?! Alles kan! Zolang je er moeite voor doet en de juiste keuzes maakt. Vandaag geef ik je tips voor snacks en lunchideëen om vanuit huis mee te nemen naar je werk!
Voorbereiding is alles! Neem elke dag een bakje groente, fruit, mager vlees en een volkoren product mee naar je werk. Dit kun je gemakkelijk meenemen in "meeneembakjes". Verschillende voedingsmiddelen meenemen is ook handig omdat je tijdens de lunch zelf kunt kiezen waar je trek in hebt.
Ik neem elke dag mijn eigen lunch mee naar mijn werk. Ook heb ik standaard een pak milde yoghurt en een pak sojamelk in de koelkast staan op mijn werk. Als het mogelijk is om je eigen spullen in de koelkast op je werk te bewaren dan adviseer ik je om dit te doen! Je kunt er dan een pak yoghurt, kwark, zelfgemaakte dressing, amandel/hazel/soja melk of wat je maar wilt bewaren.
Zo loop ik rond een uur of 10:00 richting de koelkast op het werk en pak ik een bakje yoghurt, een perfecte snack dus!
Wat is nog meer een goede snack om mee te nemen naar je werk?
Een zakje gemengde noten: kant-en-klaar of zelf uitgekozen en in een zakje gedaan. De kant-en-klare zakjes bevatten vaak meer zout. Als je zelf een zakje noten vult, houd dan rekening met de portiegrootte. Een 'handje' vol noten is voldoende.
Een doosje rozijnen: lekker om op te snacken en zoet genoeg om even de lekkere trek weg te nemen.
Gedroogd fruit en gedroogde bessen: als je geen grote fan bent van rozijnen of een beetje variatie wilt in het snacken kunnen gedroogd fruit en gedroogde bessen ideaal zijn.
Volkoren crackers: ideaal voor een beetje hartige trek. Er zijn tegenwoordig allerlei verschillende variaties van volkoren crackers, bijvoorbeeld met noten en zaden erdoor of met sesamzaadjes. Twee tot vier crackers moeten voldoende zijn om de grote trek even weg te nemen.
Ook de lunch neem ik mee in meeneembakjes, deze zijn superhandig!
Je zou misschien eerder op moeten staan om je lunch klaar te maken, maar je kunt er ook voor kiezen om dit de avond ervoor te doen zodat je er niet eens eerder voor hoeft op te staan!
Hieronder mijn bakjes van de afgelopen dagen: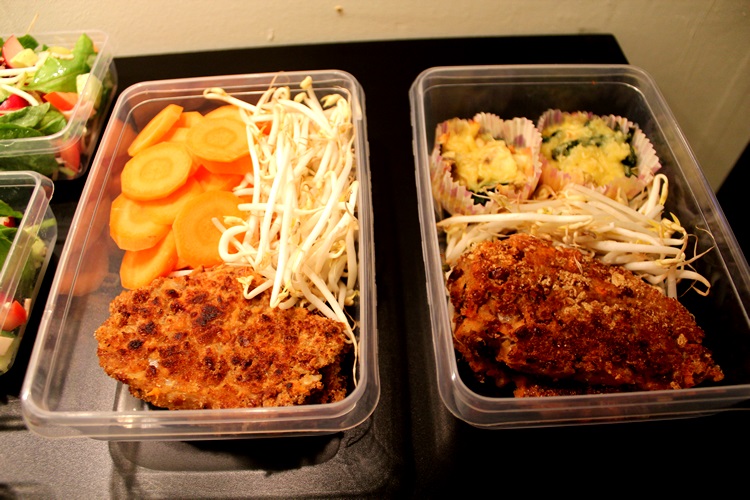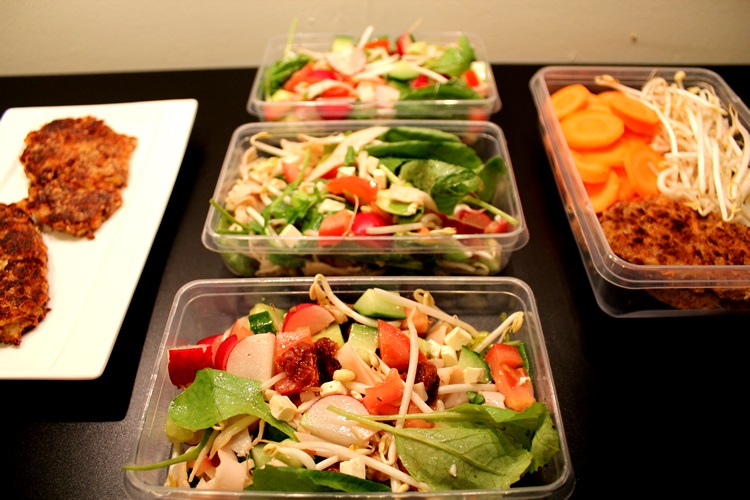 Veggie burgers, salade van taugé, tomaat, zongedroogde tomaat, feta, radijs, radijsbladeren, kipfilet en komkommer.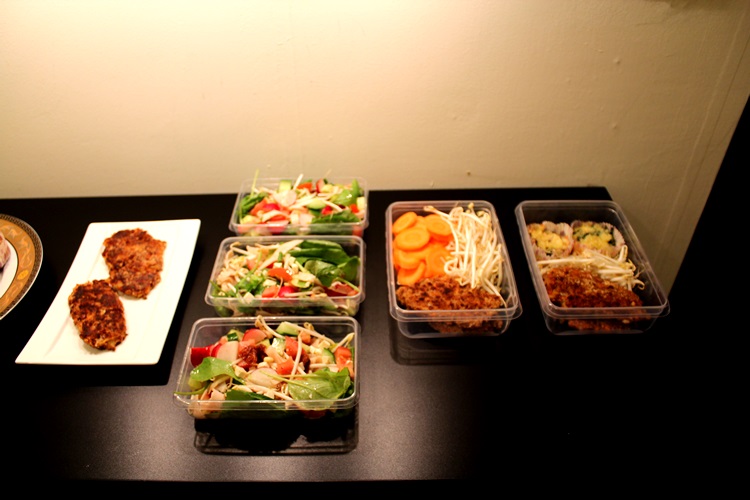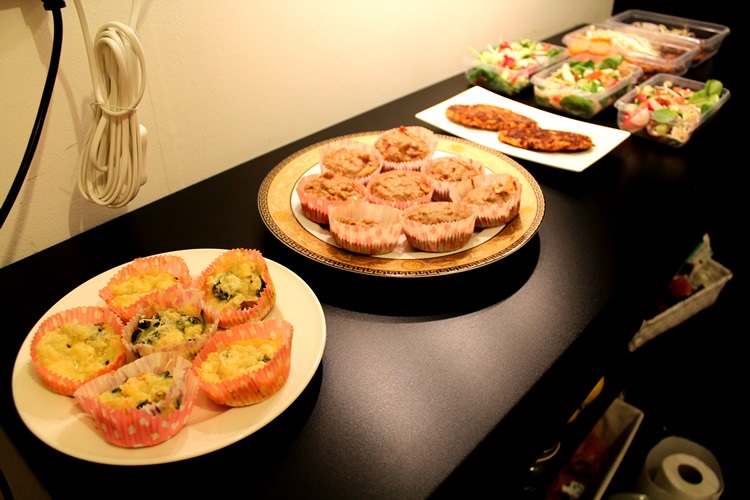 Eimuffins en appelmuffins.
Ik hoop dat je zo wat inspirtatie hebt op gedaan! Het is altijd een soort traktatie als je je eigen lunch lekker hebt klaar gemaakt en je weet dat je 's middags het mag opeten!