Er zijn mensen (onder andere ik zelf) die in de ochtend nauwelijks tijd hebben om te sporten en het daarom liever in de avond doen. Andere hebben de voorkeur om in de avond te sporten. Maar ja, wat moet je dan eten als avondmaaltijd? Je wilt niet met een te vol gevoel gaan sporten en ook weer niet met een lege maag.. Wat nu?
Als je na je avondeten gaat sporten is het verstandiger om je avondmaaltijd te splitsen in twee kleinere maaltijden. Verschillende onderzoeken laten zien dat wanneer je ongeveer een uur voor je workout een koolhydraatrijke maaltijd eet, dit je prestaties tijdens het sporten kan verbeteren. Dit leidt dan weer tot meer calorieën die verbrandt worden en meer spieren die opgebouwd worden!
Na je workout is het belangrijk om wat eiwitten te eten die je een vol gevoel gaan geven de rest van de avond en nacht. Ook is het belangrijk om koolhydraten na je maaltijd te eten omdat er tijdens het sporten je "reserve potje" koolhydraten in je lichaam (glycogeen) een stuk leger is geraakt en deze hervult moet worden. Dit hoeft geen gigantische hoeveelheid te zijn, vaak heb je aan wat groente  voldoende koolhydraten.
Goed, nadat deze twee theorieën zo goed als duidelijk zijn zal ik hieronder een aantal voorbeelden noemen van gesplitste avondmaaltijden voor mensen die in de avonduren sporten:
Pre-workout maaltijd
Kleine pastasalade met groente en eventueel wat kip.
Fruitsalade met bijvoorbeeld appels, druiven en peer
Een banaan met pindakaas voor sommigen is dit een hele normale combinaties, anderen hebben er nooit eerder van gehoord. Ik ben er een hele grote fan van!
Volkoren crackers met jam of appelstroop 
Gekookte of gebakken aardappelen met sperziebonen
Zoete aardappel uit de oven met rauwkost salade
Misschien valt het je op dat er geen of nauwelijks vlees voorkomt  hierboven.  Vlees  (vooral rood vlees) kost heel veel moeite en tijd om te verteren, en die tijd heb je niet wanneer je nog gaat sporten. En nog een belangrijke tip: drink water! Vóór, tijdens en na het sporten!
Post-workout maaltijd
Gegrilde kippenborst met groente zoals doperwten of sperziebonen
Bonensalade van kidneybonen en  kikkererwten met rode ui en feta kaas. (zie recept)
Gehaktballetjes in tomatensaus met rauwkost
Visfilet met rauwkost
Omelet met 2 – 3 eieren, avocado en groente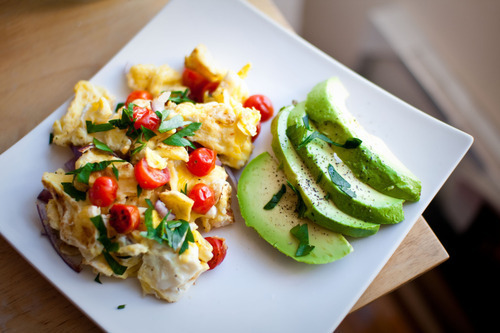 Het komt erop neer dat het belangrijk is dat je de meeste eiwitten pas ná je workout eet. Het liefst met groente erbij en niet met koolhydraten zoals rijst, pasta, aardappelen of fruit. Bij de vertering van eiwitten zijn andere enzymen en spijsverteringssappen nodig. De ph-waarde (zuurgraad) daalt wanneer er eiwitten verteert worden maar bij het verteren van koolhydraten is er juist géén lage zuurgraad nodig. Dus wil je dat je eiwitten goed verteer en optimaal opgenomen kunnen worden? Eet er dan het liefste geen koolhydraten bij. Dit is natuurlijk niet altijd te realiseren, maar pas het af en toe (vooral na het sporten) toe.