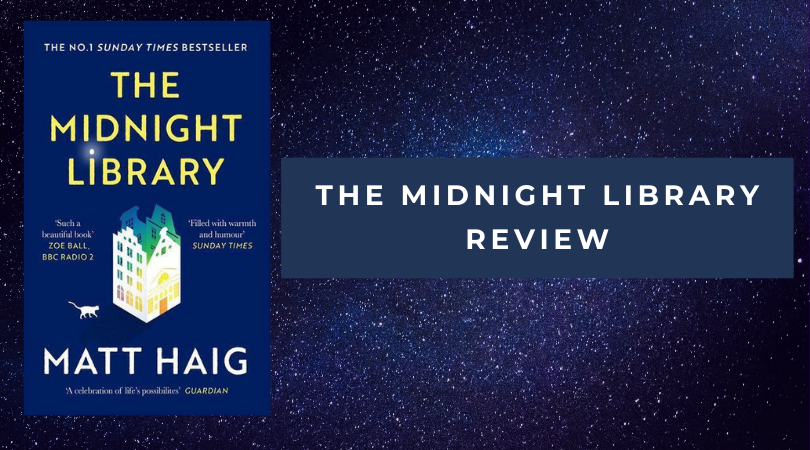 Hoera! Ik heb een boek uit hoor. Dubbel applaus voor mij want het is een fictief boek, wat sowieso al vaak niet mijn aandacht trekt omdat ik altijd iets wil leren van een boek. Natuurlijk kan dat ook met een fictief boek, ik had het alleen nog nooit meegemaakt!
The Midnight Library is uit en ik zal je in een korte review vertellen wat ik ervan vond, zonder spoilers
Nora pleegt zelfmoord en ik wilde het boek alweer wegleggen
In het eerste hoofdstuk kom je er al achter dat Nora een einde gaat maken aan haar leven. Precies niet het onderwerp waar ik over wil lezen. Maar hé, dit was voor de boekenclub, dus ik moest wel doorzetten vond ik.
Maar in plaats van dat Nora dood gaat, komt ze in een soort tussenfase terecht: de bibliotheek (The Midnight Library) waar ze de bibliothecaris, Mrs. Elm,  van vroeger ziet, de vrouw die altijd zo lief voor haar was. Hier krijgt ze een boek overhandigd, een boek met alles waar ze spijt van heeft gehad in haar leven. Ze begint het boek te lezen en ze wordt alleen maar verdrietiger en verdrietiger.
Ze heeft spijt van zo ontzettend veel dingen, daarom heeft ze een eind gemaakt aan haar leven.
Dan vertelt Mrs. Elm Nora dat ze elk ander leven van zichzelf mag uitzoeken om 'te proberen'. Elk leven die een mogelijkheid was geweest voor Nora, als ze een andere keuze had gemaakt – ergens in haar leven.
Dat betekent dat er wel honderden, duizenden mogelijke levens zijn om uit te kiezen.
Oftewel; elke spijtig element uit haar leven, mag ze 'terugdraaien' en zien hoe het leven dan was gelopen.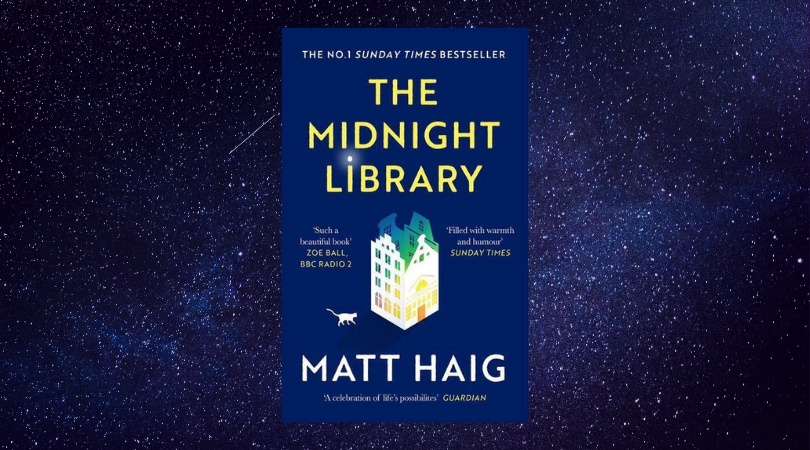 Zo begint ze met het leven waarin ze wél op haar bruiloft verschijnt en met Dan trouwt. Wat ze realiseert in dat leven is ontzettend mooi en waardevol. Ze keert steeds weer terug in de bibliotheek (ik zal niet vertellen waarom), om een nieuw mogelijk leven uit te proberen.
Hoe zou het zijn als ze had doorgezet met zwemmen? Zou ze olympisch kampioen zijn?

Hoe zou het zijn als ze met haar beste vriendin wél naar Australië was vertrokken?

Hoe zou het zijn als ze beter voor haar kat had gezorgd en deze in leven bleef?

Hoe zou het zijn als ze muziek bleef maken en succesvol werd met de band?

Hoe zou het zijn als ze een kind zou hebben? En met wie?
Met elk leven die ze uitprobeert, komt ze achter nieuwe dingen. Over zichzelf, maar ook over de mensen in haar leven. Hoe één keuze van zichzelf ook invloed heeft op anderen hun leven. Hoe sommige mensen gewoon klootzakken zijn, terwijl ze eerst zichzelf de schuld gaf. Etc.
Er zit zo ontzettend veel wijsheid in elk leven wat ook ontzettend toepasbaar is voor de lezer zelf. Je gaat nadenken over je eigen leven, je eigen keuzes, de mensen om je heen en vooral ook: de dingen waar je spijt van hebt. Je gaat ze in een ander daglicht zien.
Eén les blijft terugkeren in het boek en dat is er één die Mrs. Elm blijft zeggen:
"The only way to learn, is to live.."
Een prachtig boek die me veel wijsheid en inzichten heeft gebracht, absoluut een cadeautje om te mogen lezen! 10 punten!