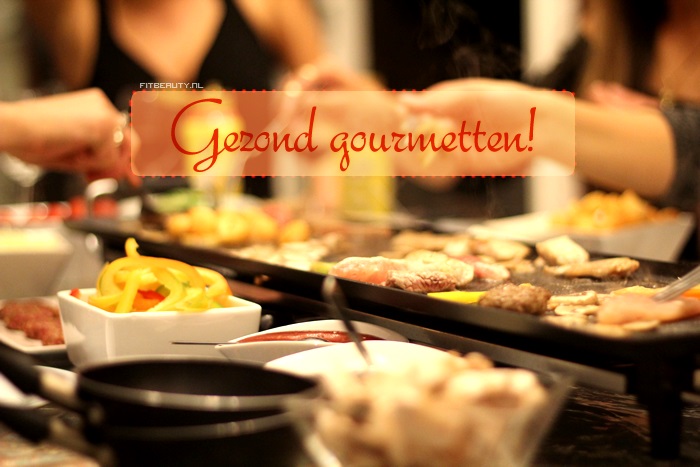 Ik hou van eten, ik hou van gourmetten, ik hou van de feestdagen, maar ik hou NIET van onnodig aankomen! Dus hoe gaan we ervoor zorgen dat eten, gourmetten en de feestdagen hand in hand gaan en het aankomen buitengesloten wordt? Door gefocust te blijven! Ik deel je mijn tips om gezond te gourmetten! 🙂 
Health freak + Gourmetten = Joepie!
Zoals jullie allemaal weten ben ik graag met gezonde voeding bezig, een etentje bij iemand thuis is altijd even slikken. "Oke Teni, hoe lekker het ook gaat zijn, blijf opletten wat je eet!" Maar als we gaan gourmetten ben ik toch altijd opgelucht. Want ik mag helemaal zelf bepalen wat ik eet en hoeveel ik ervan eet en niemand die serieus oplet wat de ander allemaal naar binnen zit te werken, toch?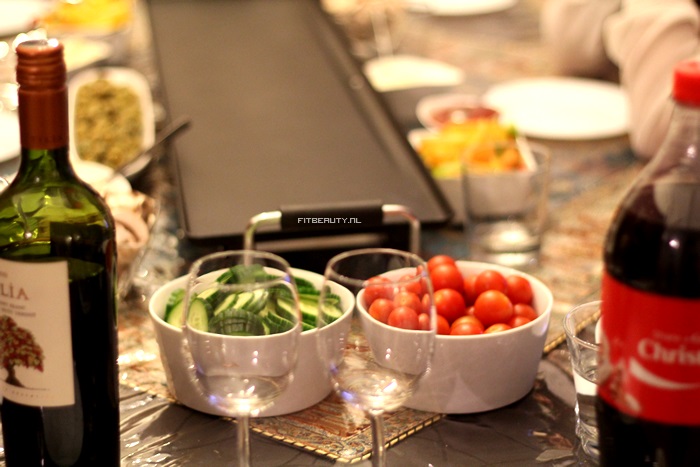 De vrijheid hebben om te eten wat je wilt en hoeveel je wilt kan soms ook tricky zijn als je omringd bent met allerlei ongezonde dingen. Dus hoe kunnen we er nou voor zorgen dat je weg blijft van de ongezonde dingen en lekker los kan gaan met gezond eten tijdens het gourmetten?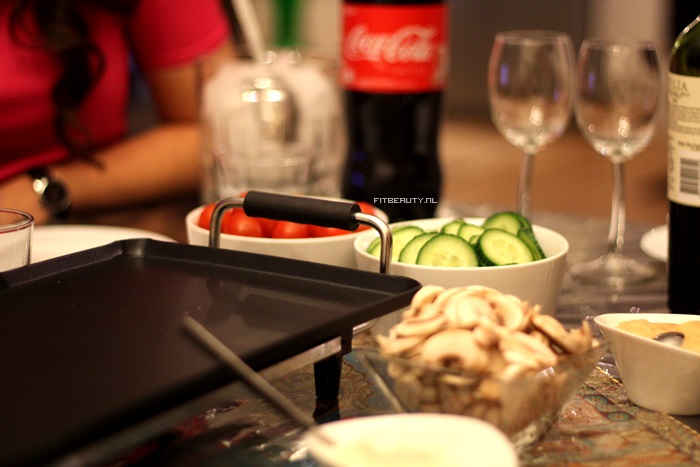 Tip 1: Blijf weg van de sausjes!
Sausjes bevatten onnodig veel calorieën, suiker en vet. Dus probeer ergens te zitten waar er geen sausjes in handbereik zijn. Als je de hele avond alleen al de sausjes weet te vermijden, ben je al een heel end!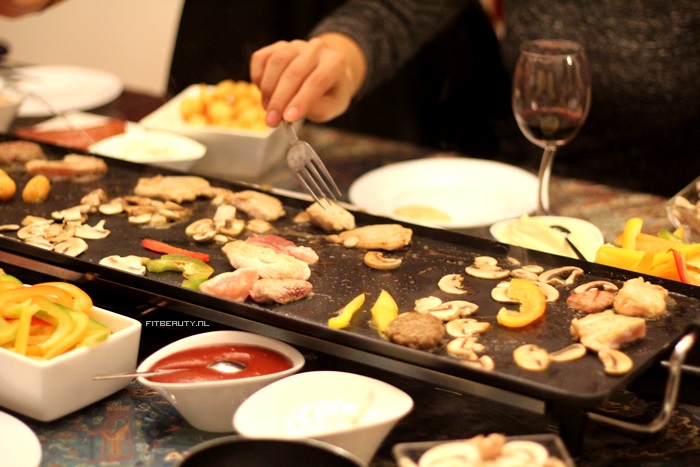 Tip 2: Eet zoveel mogelijk groente
Paprika, champignons, komkommer, tomaatjes en courgette. Eet het allemaal! Bak ze op de gourmetplaat met wat kruiden of eet ze gewoon rauw. Hoe meer je jezelf vult met groente, hoe minder ruimte je hebt voor ongezonde dingen in je maag. Lekker volscheppen met groente dus!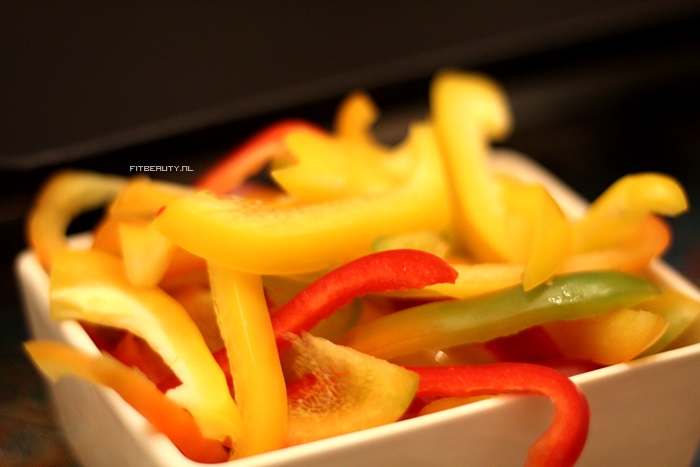 Tip 3: Brood – oh no!
Er is altijd wel brood, met kruidenboter of roomkaas. Blijf daar ook uit de buurt. Brood geeft je ook een opgeblazen gevoel als je het combineert met vlees. Onnodige snelle koolhydraten die je niet lang een vol gevoel geven, niet handig als je omringt bent met zoveel eten.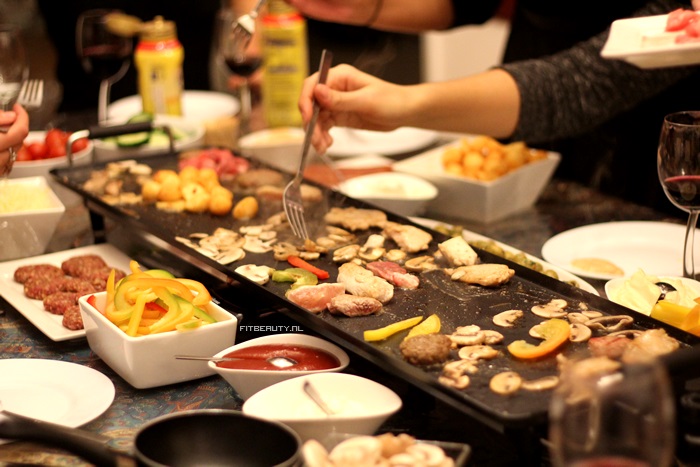 Tip 4: Bakken in olijfolie
Dit heb je niet helemaal zelf in de hand natuurlijk. Maar je kunt de gastvrouw/gastman enkele dagen van te voren misschien op wijzen dat het lekker is om in olijfolie te bakken. Je kunt niet alles in het leven onder controle hebben. Mocht er geen olijfolie aanwezig zijn, no worries!
Tip 5: Kaas en vlees met mate
Kaas en vlees bevatten heel veel eiwitten en nauwelijks koolhydraten. Perfect om je lichaam mee te voeden! Dus eet het vooral en geniet ervan! Je kunt er altijd voor kiezen om wat meer magere vleessoorten te eten zoals kip en vis (bak deze het liefst in een apart pannetje en niet op de plaat, zoals op de foto. De kans op bacteriën door je eten is dan kleiner).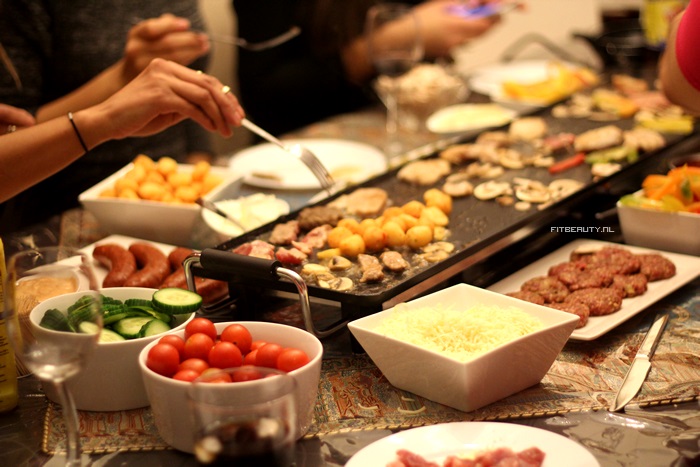 Tip 6: Wijn of water
Wil je wel alcohol drinken? Probeer het dan bij wijn te houden, het liefst zelfs rode wijn. Geen alcohol? Ik weet dat het saai is, maar water is dan de gezondste optie, voor wat "variatie" kun je water met prik nemen. Wat klinkt dat suf en saai zeg! Maar blijf het liefst uit de buurt van frisdranken. Tenzij je er zóveel trek in hebt dat je denkt dat de fles frisdrank je de hele avond blijft aanstaren als je niet een glaasje neemt. Nou, go for it dan. Jezelf belemmeren is ook weer niet de bedoeling!