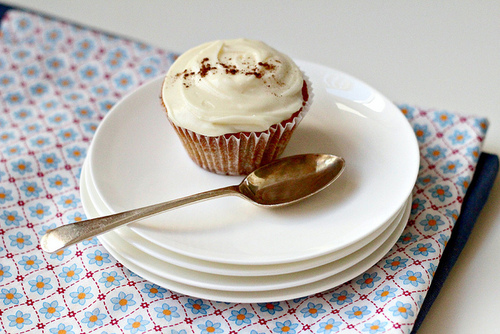 Iedereen die probeert af te vallen weet dat het lastig is. Je moet altijd je focus erbij houden en proberen zoveel mogelijk goede keuzes te maken. Maar wat nou als je echt hard je best doet maar eigenlijk steeds aankomt? Wat gaat er mis? Ik zal een aantal oorzaken beschrijven, misschien herken je er een!
Kunstmatige zoetstoffen in light frisdrank
Light frisdrank heeft 0 calorieën, dus dit zou je mogen drinken als je wilt afvallen, toch? Was het maar zo simpel, uit meerdere onderzoeken komt naar voren dat deze zoetstoffen je lichaam juist aanzetten om vet op te slaan.  Kijk ook even naar: "Cola light net zo slecht voor je als gewone Cola?"
Je ogen laten vertellen wanneer je vol zit, in plaats van je maag
Dit gebeurt heel vaak; je schept je bord vol en begint met eten. Tot je vol zit, toch? Of tot je bord leeg is? Meestal is het het tweede en helaas is dat niet de maatstaf van je maag. Houd dus je buik in de gaten, niet je bord!
Vetvrij gaan eten
Hoooo!! Voor je weer wat uit het schap pakt waar "0% vet!" op staat, stop! Ik zal dit zo vaak herhalen als nodig is, vet is goed, suiker is slecht. Vetvrije producten bevatten vaak veel meer suiker om de smaak te compenseren. In 1 zin: "Suiker zet je lichaam aan om vet op te slaan. Vet doet dit niet!" 
Je voeding niet aanpassen als je bent afgevallen
Ben je in een afvalrace en sta je al een hele lange tijd stil of kom je zelfs aan terwijl je gezond eet? Dan kan het grotendeels te maken hebben met het feit dat je niet je voeding hebt aangepast aan je huidige gewicht. Hoe minder we wegen, hoe minder gewicht we met ons meenemen (trap op en af, sprintje naar de trein, etc.). Dus over het algemeen verbranden we wat minder calorieën dan toen we zwaarder waren. Het is dus belangrijk om je voeding daarop aan te passen!
Teveel verwachten van het sporten
Hoeveel uur per dag eet je? Hoeveel uur per dagen ben je keuzes aan het maken over eten? Hoeveel uur per dag is je lichaam het eten aan het verteren? En hoeveel uur per dag ben je aan het sporten? Precies. Sporten compenseert niet een stuk extra taart. Hier moet je uren voor sporten. Maar onthoud, je sport hopelijk om je spieren te versterken zodat je in rust meer calorieën verbrandt! Je sport niet alleen om de taart of frietjes van gister eraf te verbranden toch?