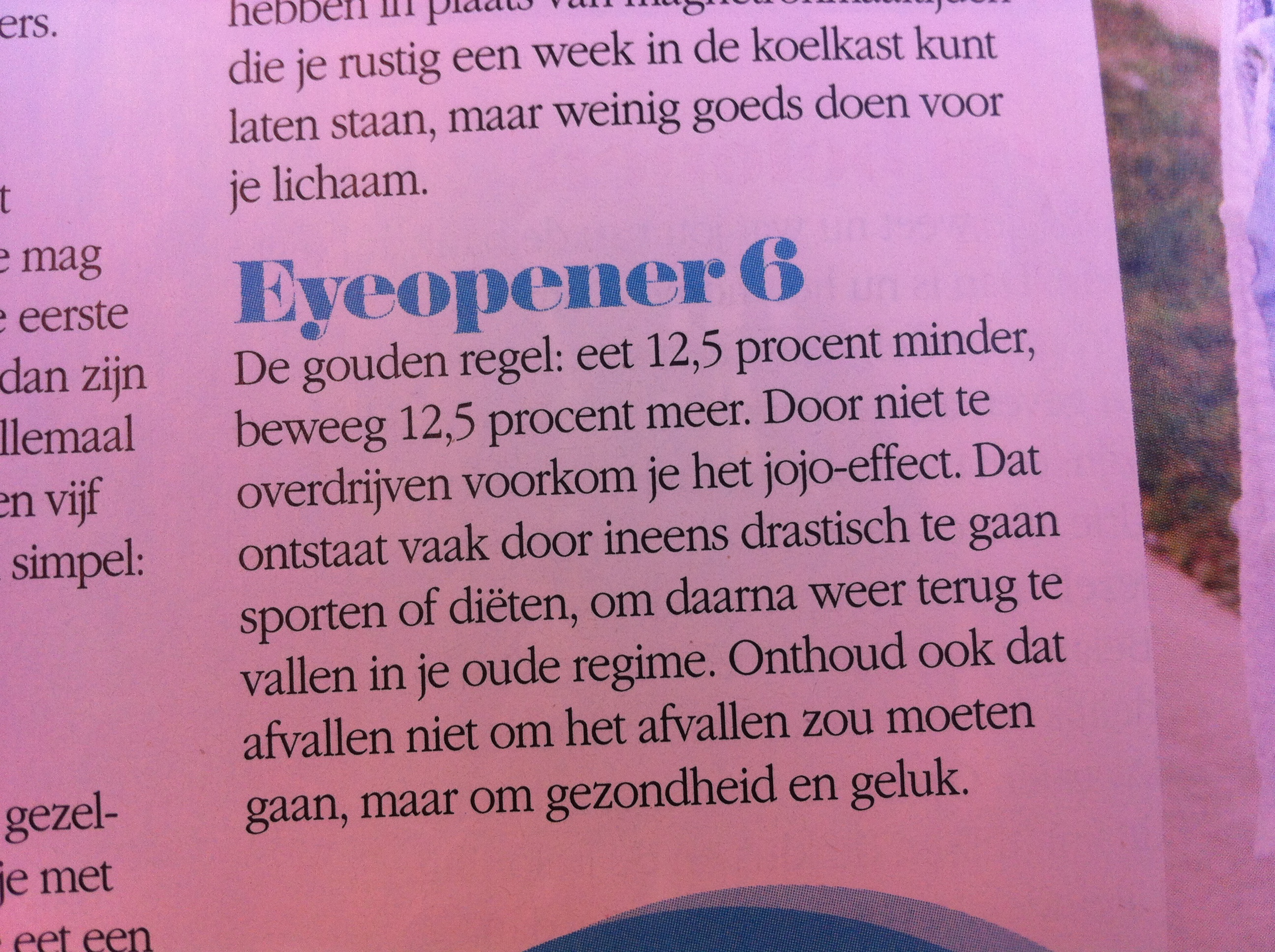 Vanochtend was ik in de trein de Nederlandse Cosmopolitan aan het lezen (juni). En natuurlijk lees ik graag de artikelen over de gezondheid, ze komen met de nieuwste dieettrends (ben ik wel helemaal tegen, maar oke) en allerlei handige tips en trucs. Ik snap het, als je de Cosmo koopt ben je niet in eerste instantie ontzettend nieuwsgierig naar voeding/gezondheid/sporten. Er staan vooral leuke, grappige, interessante weetjes en tips. Maar ik kwam toch iets vreemds tegen dat ik er een foto van moest maken! Ik citeer:
" De gouden regel: eet 12,5 procent minder, beweeg 12,5 procent meer. Door niet te overdrijven voorkom je het jojo-effect"
Weet iemand hoeveel 12,5 procent minder eten is en 12,5 procent meer bewegen? Hoe weet je nou hoeveel eten op je bord 87,5% is van je normale portie is? En hoeveel uur/minuten/seconden is 12,5% van je dag dat je meer moet bewegen?
Over onpraktisch advies gesproken zeg! Ik wist even niet of ik moest huilen of lachen. Heel jammer, want hier kan niemand iets mee. Misschien kan de redactie de tips voor de volgende keer eens uitproberen voor ze het uitgeven. Maar laat ik het artikel positief eindigen; de overige tips waren wél weer handig en leuk om te lezen! Go Cosmo!