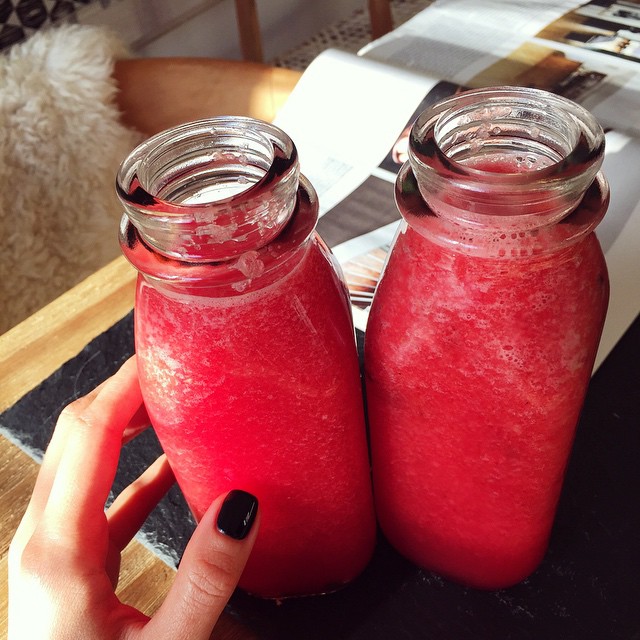 Vruchtensappen, fruitsappen, zelf geperste sappen, "juices" etc. etc. Ik ben er nooit een groot fan van geweest, en dat heeft niet met de smaak te maken, want ze zijn héérlijk! 
Oja, en met vruchtensappen bedoel ik in dit artikel; sappen die alleen maar gemaakt zijn door fruit en water. Dus geen smoothies met yoghurt of (plantaardig) melk, deze hebben namelijk een ander (gunstiger) effect op je suikerspiegel.
Ik eet liever mijn calorieën
Eigenlijk komt dit voort uit mijn studententijd. We leerden over verschillende voedingsmiddelen, het effect op je lijf maar ook de calorische waarde. Heel interessant om te merken wat jouw lichaam nodig heeft aan energie en hoe 'snel' je dit toch echt binnen krijgt (in mijn geval). En dan ga je afwegingen maken, wat is het wel waard en wat niet. Taart? Waard! Glas sinaasappelsap? Zo. Niet. Waard. Voor mij dan. Ik zou daarvoor 2 hele sinaasappels kunnen eten (misschien wel drie) waar ik minstens 10 minuten over doe; schillen en al. Ik krijg daar veel meer voldoening uit dan uit het drinken van een glas die ik bij wijze van binnen 1 minuut op kan hebben. Dus dat is mijn eerste punt; ik eet liever mijn calorieën dan dat ik ze drink. Oja, wijn is het voor mij weer wel waard, haha. Borrelnootjes laat ik vervolgens liever staan 🙂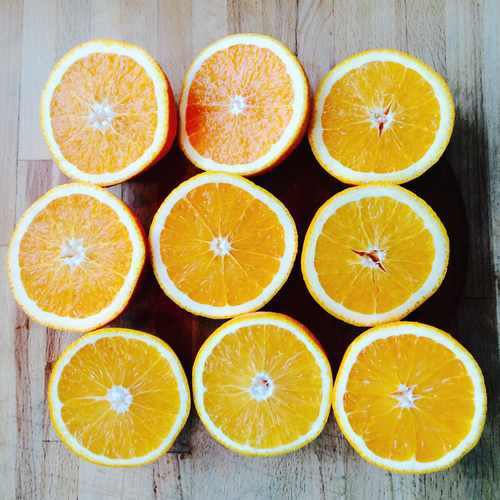 In één keer een flinke slok suiker
Fruit zit bomvol vitamines, mineralen en vezels. Maar fruit bevat ook natuurlijke suikers. Nu ben ik totaal geen tegenstander van natuurlijke suikers, maar er is een verschil in het opeten van je fruit en het opdrinken van je fruit. Dat de sap nu een geconcentreerde hoeveelheid vitamines en mineralen bevat is waar, maar dat betekent ook dat de sap een geconcentreerde hoeveelheid suiker bevat. En doordat het in één keer je lichaam inkomt, schiet je suikerspiegel dus ook in één keer omhoog. Tenminste, als we ervan uit gaan dat alleen een glas vruchtensap drinkt. Lees even hoe verschillende combinaties van macronutriënten verschillende effecten kunnen hebben op je suikerspiegel. Enneh, wist je dat de hoeveelheid suiker in vruchtensap erg in de buurt komt van een glas Coca Cola bijvoorbeeld? (1). 
Maar misschien geniet jij er wel van!
Zoals ik misschien geniet van een groot stuk cheesecake of chocoladetaart; ook met veel suiker! Kun jij misschien wel genieten van een glas vruchtensap, dat nog meer vitamines en mineralen bevat dan mijn stuk taart. Zoals altijd blijft het bij afwegingen maken die voor jou werken en jou gelukkig maken!