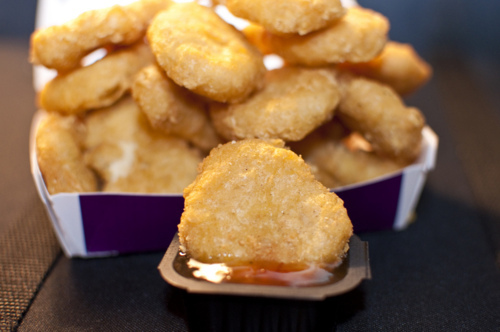 Het frituren van kip kun je eenvoudig zelf doen; stukjes kip dippen in een mixje van ei en daarna lekker in de bloem en specerijen rollen en dan bakken of frituren tot ze lekker knapperig zijn! HO! STOP! Vergeet niet om er een vleugje dimethylpolysiloxan en anti-schuimmiddel gemaakt van silicoon (dat ook gebruikt werd in Silly Putty en cosmetica) toe te voegen!
We gaan nu verder met het recept:
Voeg nu een eetlepel tertiaire buthylhydrochinon (TBHQ) toe. Dit is een chemisch conserveermiddel en is een vorm van butaan.
Één gram TBHQ kan misselijkheid, braken, oorsuizen, delier, een gevoel van verstikking, en instorting veroorzaken. Dit komt uit het woordenboek van Dictionary of Food Additives. VIJF GRAM TBHQ KAN JE ZELFS DODEN.
Kip zei je toch?
We zijn namelijk nog niet klaar: strooi nu dertien andere van mais-afgeleide ingrediënten toe en als laatste nog verpulverde kippenhuid, en je hebt een chicken nugget van de McDonalds!
50% van je chicken nuggets zijn maïs-afgeleide ingrediënten, suikers, rijsmiddelen en andere volledig synthethische ingrediënten.
Als je eens kijkt naar de voedingswaarde van de kip in een fast food restaurant, dan zul je de lijst eerder zien als een enorm woordenboek. Helaas blijft het niet bij ei, meel, kip en olie.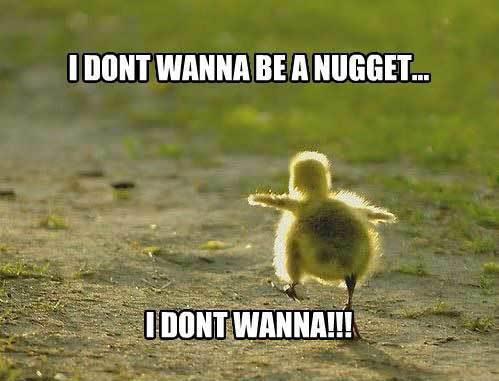 Volledige lijst voor een Chicken McNugget ingrediënt (van McDonald's website):
Wit kipfilet, water, voedsel zetmeel-gemodificeerde, zout, kruiden (autolyzed gistextract, zout, tarwezetmeel, natuurlijk aroma (botanische bron), saffloerolie, dextrose, citroenzuur, rozemarijn), natriumfosfaten, kruiden (koolzaadolie, mono-en diglyceriden, extractieresiduen van rozemarijn). Gehavend en gepaneerd met: water, verrijkte bloem (bloem gebleekte tarwe, niacine, gereduceerd ijzer, thiamine mononitraat, riboflavine, foliumzuur), meel gele maïs, voedsel zetmeel-gemodificeerde, zout, rijsmiddel (zuiveringszout, natriumzuurpyrofosfaat, natrium aluminium fosfaat, monocalciumfosfaat, calciumlactaat), kruiden, tarwezetmeel, wei, maïszetmeel. Bereid in plantaardige olie (koolzaadolie, maïsolie, sojaolie, gehydrogeneerde sojaolie met TBHQ en citroenzuur toegevoegd om de versheid te behouden). Dimethylpolysiloxaan toegevoegd als antischuimmiddel.
Volledige ingrediëntenlijst voor mijn zelfgemaakte kipnugget:
Kip, ei, meel, olijfolie, zout en peper.
Tja.. keuzes..