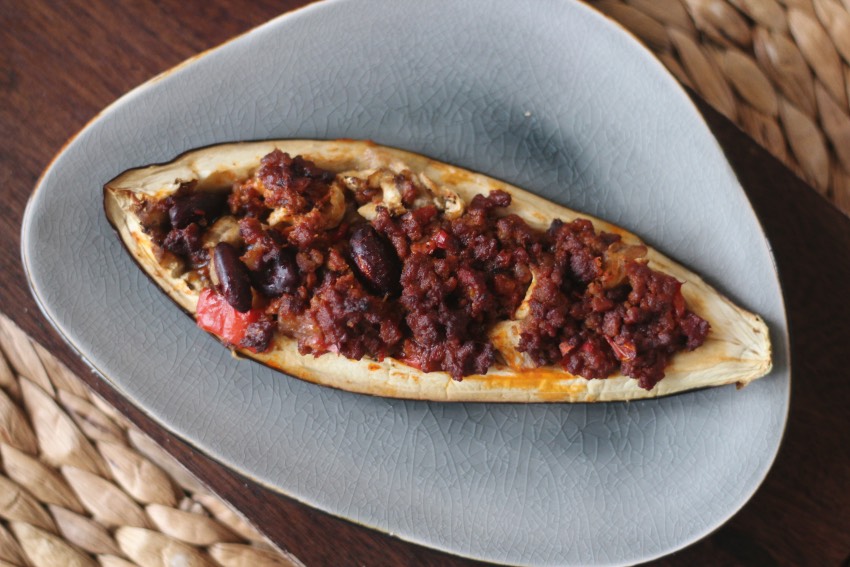 Combineer een heerlijke chili con carne met aubergine uit de oven en je hebt dit recept! Simpel, maar net een tikkeltje specialer om het te serveren in een aubergine 'bootje' als ovengerecht.
Om te smullen dus, enneh.. gooi er gerust lekker wat geraspte kaas overheen voordat je het in de oven plaatst!
Wat heb je nodig voor 2 personen?
500 gram gehakt
1 wortel
1 ui
1 teentje knoflook
1/2 rode paprika
1/2 groene paprika
1 blikje gezeefde tomaten
1 klein blikje tomatenpuree
1 blik kidney bonen
1 kaneelstokje
150 ml rode wijn
komijnpoeder
knoflookpoeder
paprikapoeder
peper, zout
olie om in te bakken
1 aubergine
Chili Con Carne
Verhit wat olie in een hoge pan en doe hier de gesneden ui en knoflook in tot het glazig (en vooral lekker geurig) begint te worden. Voeg vervolgens het gehakt toe én alle kruiden (komijn-, knoflook, paprikapoeder) en bak dit mee totdat het niet meer rood is. Voeg de kruiden naar eigen smaak toe,
Ik gebruik vrij weinig zout; 1/4 theelepel, 2-3 theelepels komijnpoeder, 1-2 theelepels paprikapoeder, 1/2 theelepel knoflookpoeder, 1/4 theelepel peper.
Snijd de paprika's in kleine reepjes, de wortel in plakjes en voeg deze toe aan de pan. Wanneer ook de paprika en wortel een paar minuten mee hebben gebakken voeg je het blikje gezeefde tomaten toe (je kunt de tomaten die uit dit blikje komen ook even in 4-en snijden, maar het hoeft niet!) samen met het kleine blikje tomatenpuree. Als dit goed opgelost is voeg je eventueel wat water toe zodat het geheel nét onder water staat.
Doe de rode wijn erbij, meng het er lekker door en plaats het kaneelstokje in het midden van de pan zodat het zijn geur en smaak kan verspreiden. Zet het vuur laag en de deksel op de pan. Laat dit zo'n 15 minuten sudderen. Houd de pan in de gaten zodat het niet overloopt!
Verwarm de oven vast voor op 180 graden Celsius
Na 15 minuten kun je de deksel van de pan halen en nog even 10-15 minuten op een wat hoger vuur koken zodat het geheel wat indikt. Bepaal zelf hoe 'dik' of 'vloeibaar' je je chili con carne wilt hebben door water toe te voegen of het van het vuur af te halen. Voeg als laatste de uitgelekte kidney bonen toe, deze hoeven maar een minuutje in het geheel gemengd te worden zodat ze even warm zijn, gaar zijn ze namelijk al!
Je hebt nu al een heerlijke maaltijd! Maar ga je een stapje verder? Snijd dan de aubergine in 2-en of 4-en (ik heb beide voorbeelden voor je), hol hem wat uit met een vork of lepel en doe de chili con carne in de holtes van de aubergine. Je kunt ook stukjes van wat je hebt uitgehold erbij doen zodat de aubergine smaak ook gemengd wordt met de chili con carne.
Rasp er eventueel wat kaas op, druppel er wat olie overheen en plaats het in de voorverwarmde oven voor zo'n 15-20 minuten.
En dan is het tijd voor maar één ding: SMULLEN!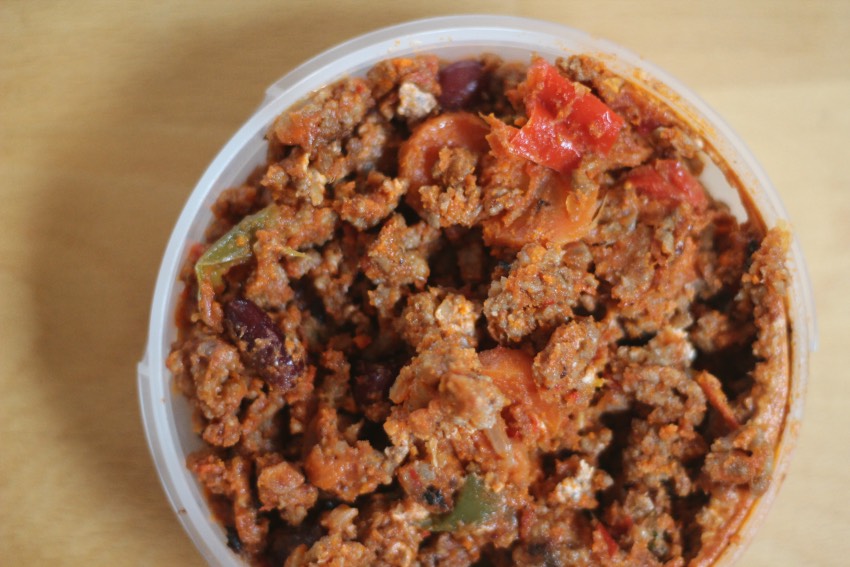 Ik heb hier de chili con carne van de avond ervoor gebruikt!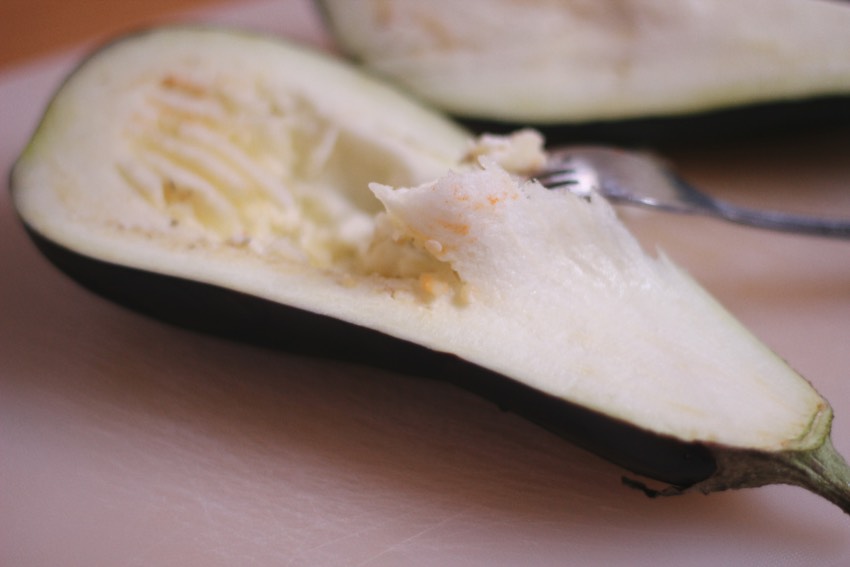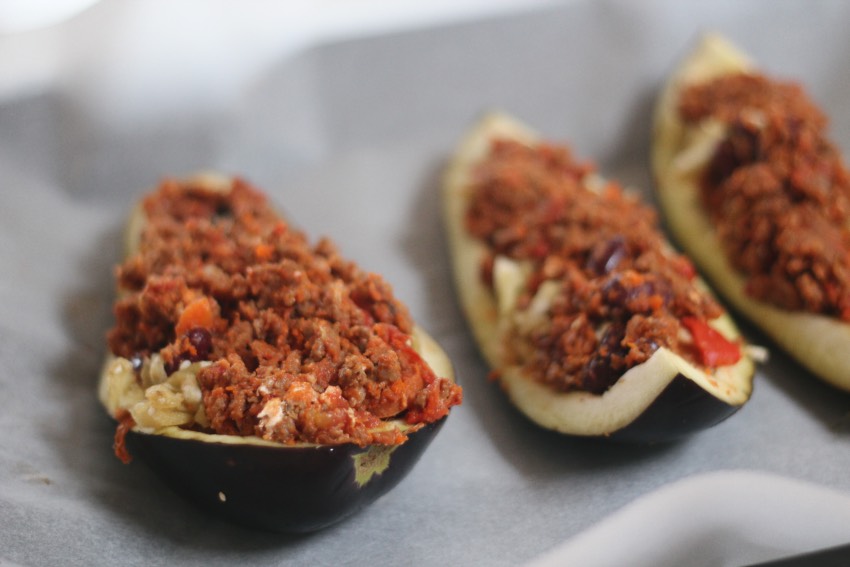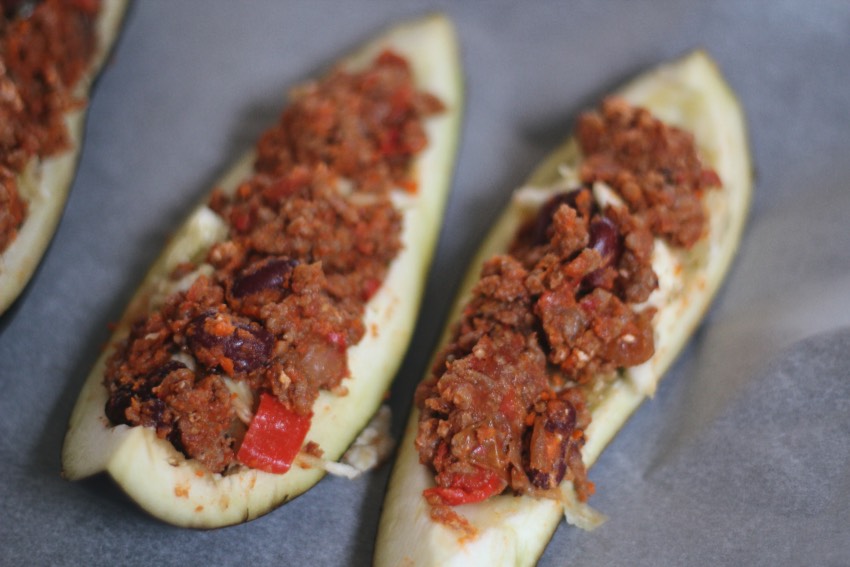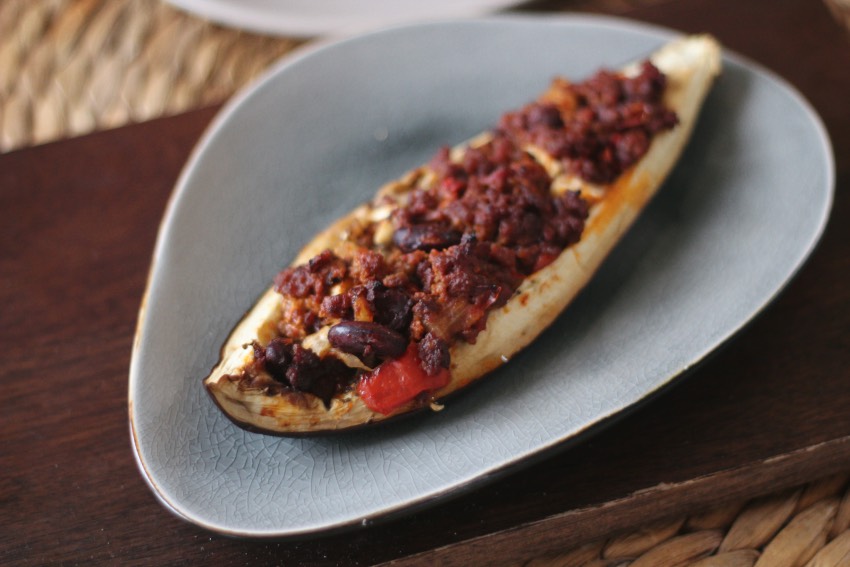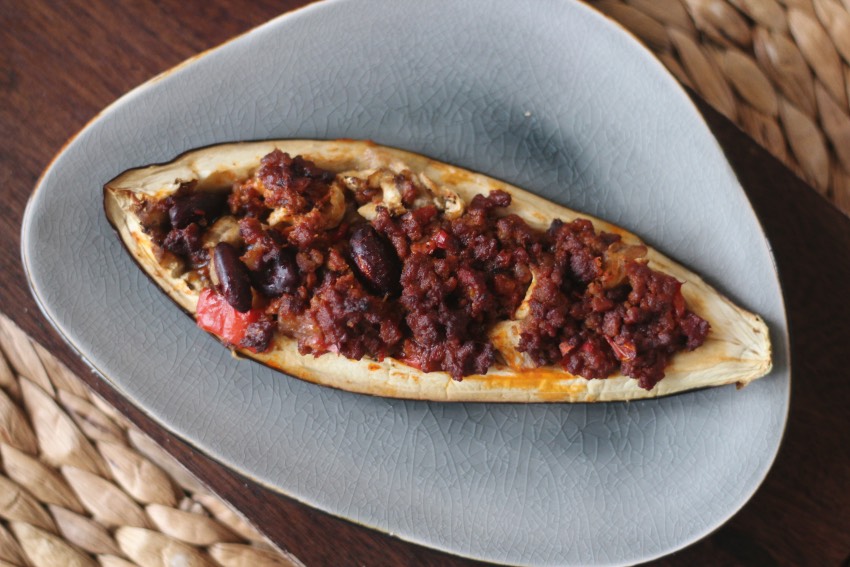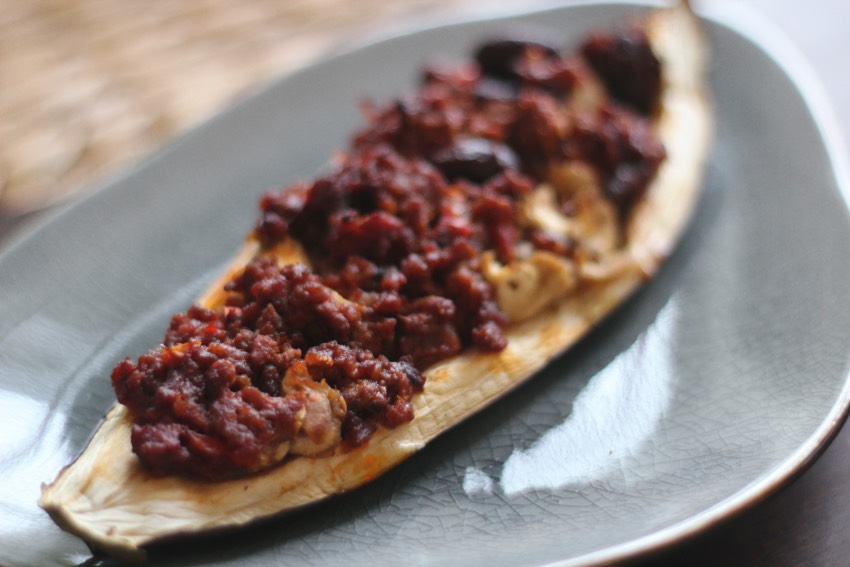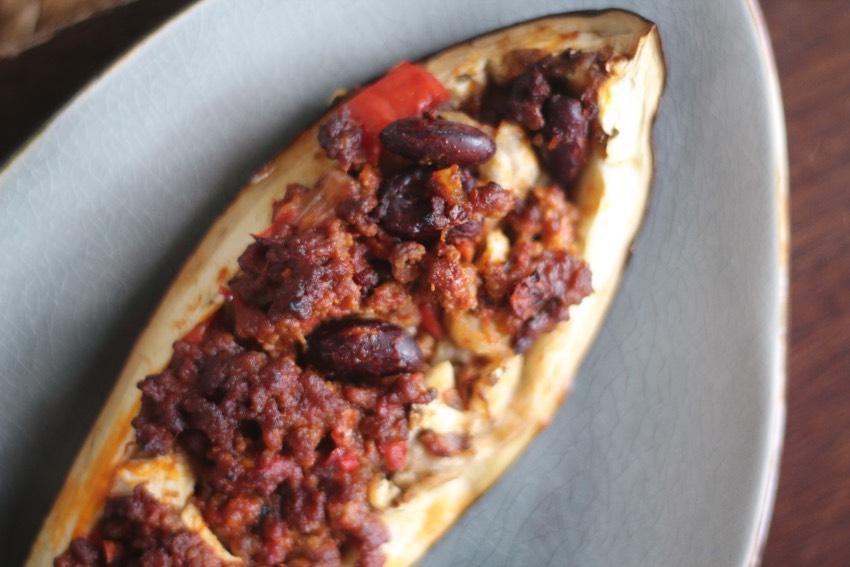 BewarenBewaren
BewarenBewaren