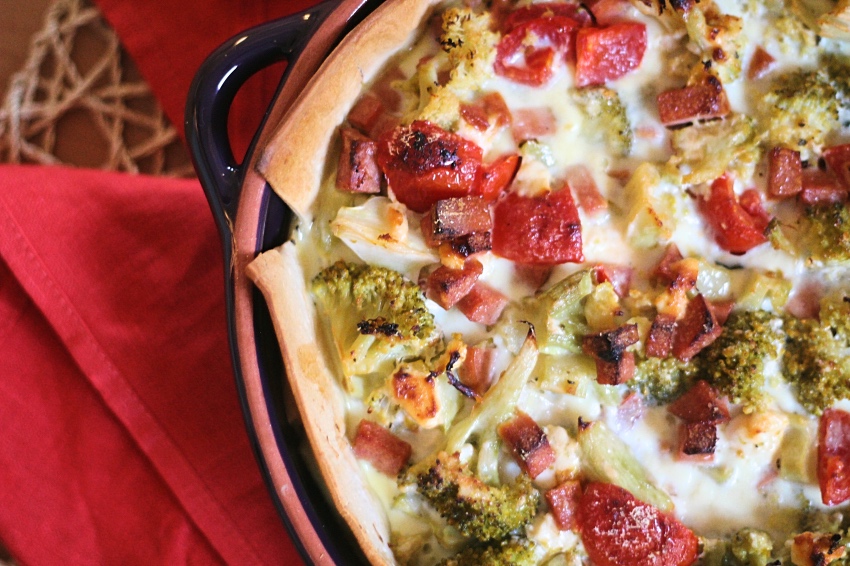 Vroeger, toen ik nog zeeën vrije tijd had, nam ik ruim de tijd om maaltijden te bereiden. Tegenwoordig? Not so much. En zolang er een gezonde balans zit in de maaltijden die ik eet, vind ik het prima om af en toe "lui" te zijn en een beetje hulp te krijgen van een pakketje. Ik bedoel geen zakjes kruidenmix met zooi, maar bijvoorbeeld bij het maken van de bodem van een pizza, quiche of taart. Zo ook vandaag bij het bereiden van een heerlijke quiche! Wat ik voor de bodem heb gebruikt?
Plakjes hartige taart deeg, jep! Ook omdat ik deze al een hele tijd in mijn vriezer had liggen en het tijd werd ze te gebruiken! Dus, wat heb je nodig voor dit recept? (voor ongeveer 4 personen):
Ovenschaal +/- 22 cm (mag ook groter, je past gewoon de plakjes deeg aan tot hij bedekt is)
Pakjes hartige taart deeg (ik heb die van

Koopmans

gebruikt)
120 ml (plantaardige) melk
3 eieren
Vulling:
Broccoli, gestoomd/gekookt (200 gram ongeveer)
Geitenkaas (150 gram)
Cherry tomaten (5-10)
Kipworst (200 gram)
Parmezaanse kaas
Peper, zout, oregano
*Eigenlijk zijn alle 'vulling' ingrediënten optioneel, ook de hoeveelheid kun je helemaal aanpassen naar eigen wens. Je kunt er ook bijvoorbeeld zongedroogde tomaten doorheen doen, of ham! Wat jij maar wilt.
Verwarm de oven voor op 180 graden Celsius.
Leg de hoeveelheid plakjes hartige taartdeeg die je nodig hebt op het aanrecht om te laten ontdooien. Als deze soepel beginnen te worden, kun je je ovenschaal bedekken met het deeg. Let op dat je ook de zijkanten omhoog meepakt zodat de quiche een mooie korst rondom het geheel krijgt.
Kook of stoom de broccoli die je in stukjes hebt gesneden. Dit duurt meestal zo'n 10 minuten.
Doe de eieren, melk en kruiden bij elkaar in een schaaltje en meng dit met een vork door. Vervolgens kun je de broccoli en alle andere ingrediënten die in stukjes zijn gesneden (behalve de parmezaanse kaas) in de ovenschaal doen (die al bedekt is met het deeg!), giet het ei-melk mengsel eroverheen en zorg dat het goed gemengd is met de vulling. Rasp er lekker wat parmezaanse kaas overheen en plaats de schaal in de oven voor zo'n 30 – 45 minuten, afhankelijk van je oven!
Wanneer de quiche stevig begint te worden en de bovenkant er niet meer 'nat' uit ziet, is hij klaar! Eetsmakelijk!