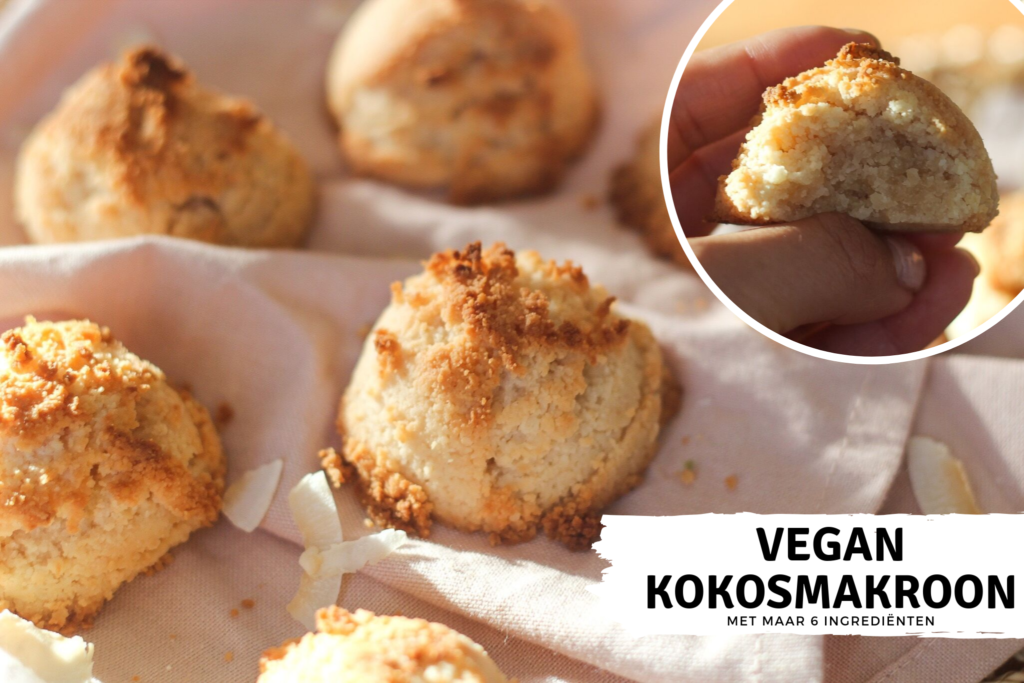 Kokosmakronen lijken altijd een hit te zijn als je ze serveert bij de koffie of thee – vooral als ze zelf gemaakt zijn. Ik had me er nooit eerder aan gewaagd om ze zelf te maken, maar besloot op de zondagmiddag er tijd voor te nemen en ze direct vegan en 'Teni-proof' te maken. Ik zal je eerlijk verklappen dat de eerste drie pogingen flink waren mislukt. Bij de vierde poging had ik niet meer zoveel kokos over, maar de makronen lukten wél!
HOERA! Hopelijk helpt dit recept je om ze in één keer goed te maken.
Wat heb je nodig voor 6 vegan kokosmakronen?
150 gram kokos
1 eetlepel maple syrup (ahornsiroop)
1 eetlepel kokosolie
1 eetlepel aquafaba (vocht uit een blik kikkererwten)
1 eetlepel maizena
1/2 theelepel vanille extract
Voor dit recept heb je een keukenmachine nodig.
Verwarm de oven voor op 190 graden Celsius. Doe de kokos in de keukenmachine en mix het geheel totdat de kokos versnipperd en plakkerig is geworden. Voeg alle overige ingrediënten toe en mix het geheel een minuut op de hoogste stand.
Bedek een bakplaat met een velletje bakpapier en schep met een ijsschep (of een lepel) 6 bolletjes op de bakplaat. Plaats dit voor 12-13 minuten in de voorverwarmde oven of tot de bovenkant goudbruin begint te kleuren. Let goed op, kokos kan héél snel bruin worden van het ene op het andere moment. Als de kokosmakronen uit de oven zijn is het het beste als je ze volledig laat afkoelen voor je ze gaat opeten (of überhaupt verplaatsen) omdat ze geneigd zijn uit elkaar te vallen. Pas wanneer ze afgekoeld zijn (en de kokosolie hard is geworden) kun je ze gemakkelijk van de bakplaat afhalen en eten. Wat zeg ik: verslinden!
Enjoy!