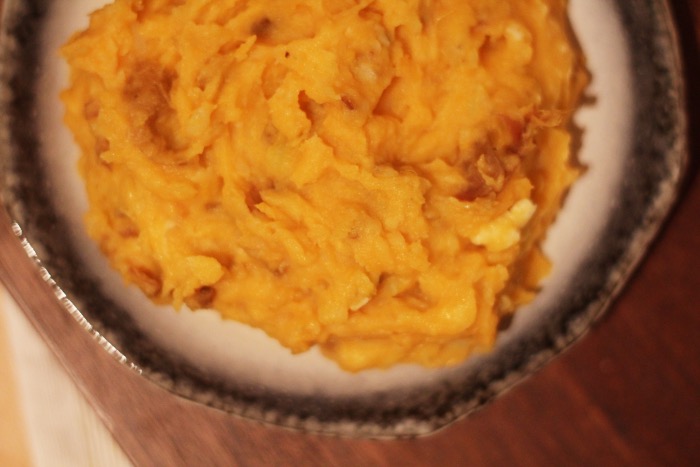 Ik ben gek op stamppot. En net als met allerlei gerechten waar ik gek op ben, kijk ik elke keer weer of ik er net wat aan kan veranderen in de hoop een tweede variant van het gerecht "uit te vinden" die ik zelf lekker vind. Dat is gelukt met deze zoete aardappel stamppot met kaas! Het geheim zit hem in de combinatie van de zoetheid van de zoete aardappel met het zoute van de kaas. En omdat ik een zachte kaas wilde, heb ik een mildere variant van de camembert gebruikt: cremeux heet het. Je kunt het vervangen door elke soort kaas die je wilt. 
Wat heb je nodig voor 2 grote eters?
1 grote zoete aardappel (200-300 gram)
4 kleine gewone aardappelen (200 – 300 gram)
4 eetlepels (plantaardige) melk
1/2 eetlepel boter/kokosvet
Kaas naar smaak en keuze (ik heb 50 gram camembert cremeux gebruikt, van de lidl)
Peper en zout naar smaak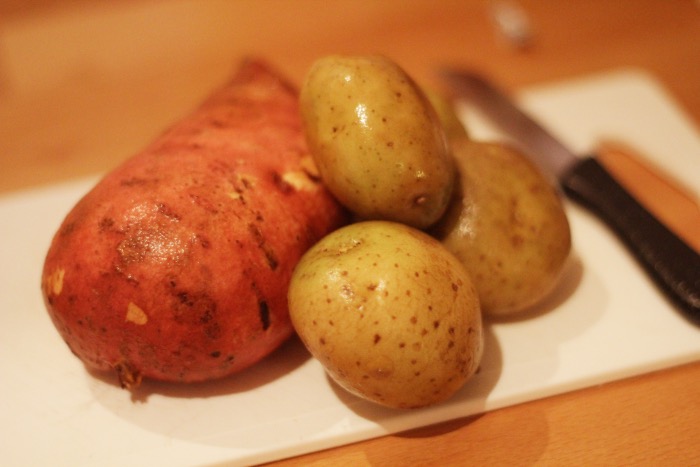 Voor een zachte stamppot adviseer ik je de aardappelen te schillen. Voor een luie kok, adviseer ik je ze niet te schillen. Ehm, ik heb ze dus niet geschild aangezien ik daar echt geen zin in had en de schil prima kan hebben.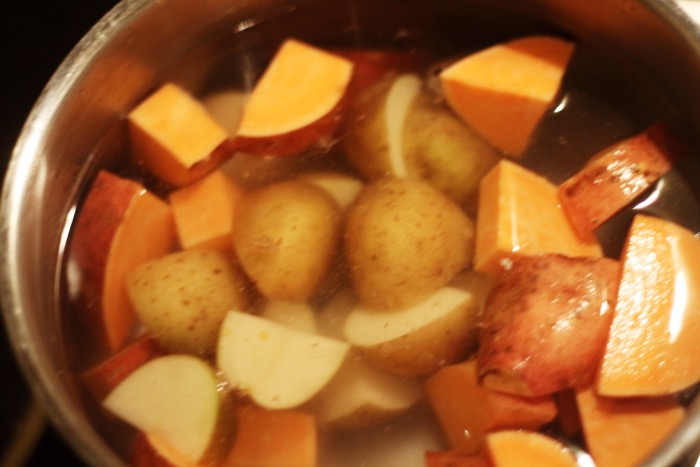 Snijd de aardappelen in blokjes en doe ze in een pan met water, zorg dat ze ondergedompeld zijn. Breng het water aan de kook.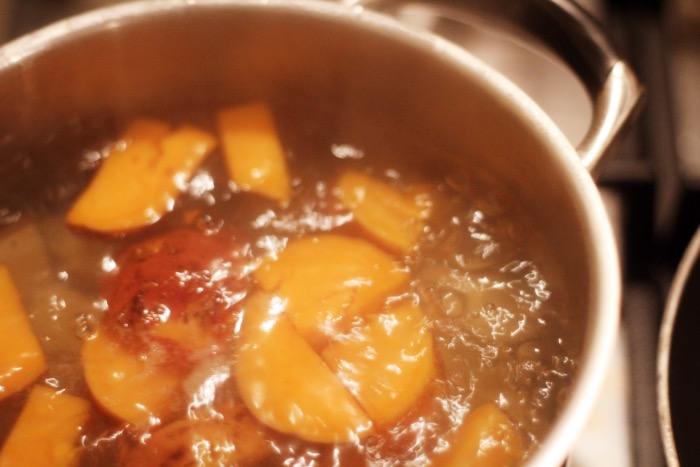 Als het water kookt, zet je het vuur laag met de deksel erop. Je kunt de deksel er ook een beetje schuin opzetten zodat er wat stoom kan ontsnappen. Ik heb dit zo'n 25 minuten op het vuur gelaten.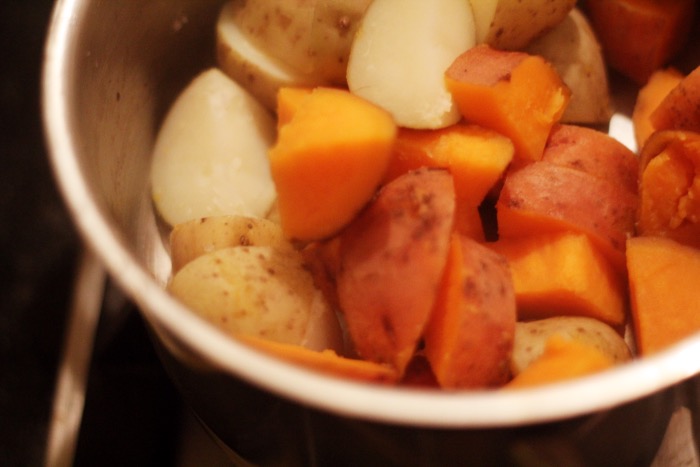 Als de aardappelen goed zacht zijn en bijna uit elkaar vallen, giet je ze af en plaats je ze terug in de pan. Met een beetje boter of kokosvet op de bodem zodat ze niet gaan plakken laat ik dit ook nog zo'n 5 minuten op een laag vuurtje staan met de deksel er helemaal op.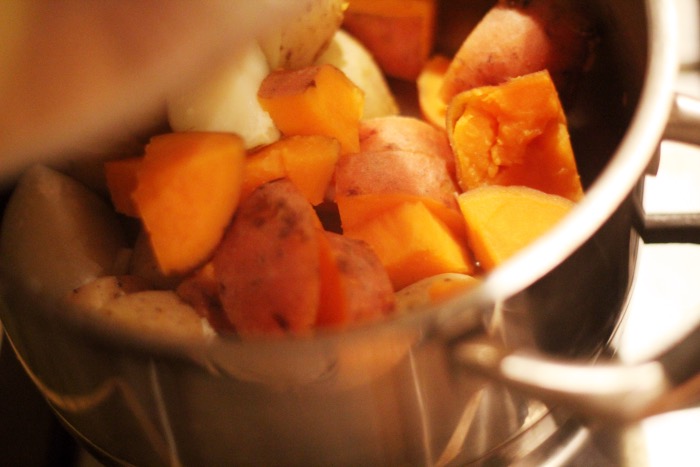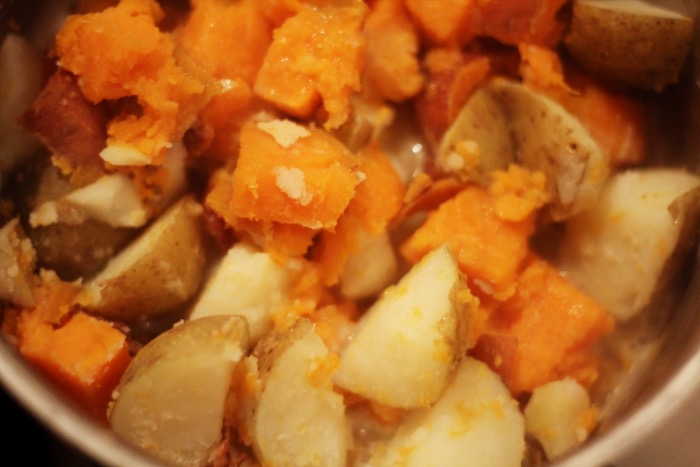 Tijd om te stampen! En ook niets anders dan stampen. Géén keukenmachine of staafmixer gebruiken want dan krijg je een soep. Je maakt de zetmeel verbindingen namelijk stuk waardoor het minder een structuur krijgt maar meer een te gladde massa wordt, dat is zonde.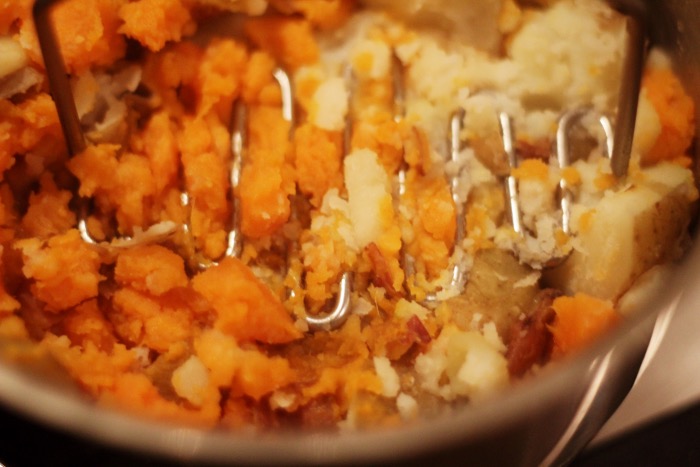 Voeg de melk toe en ga rustig aan de gang met stampen (wel het vuur uit zetten he!).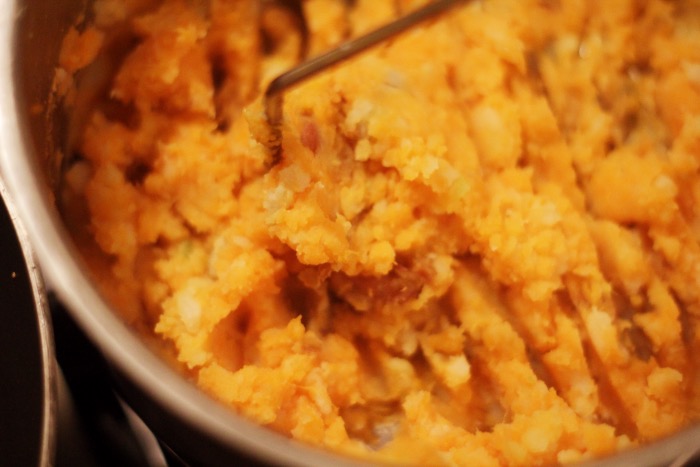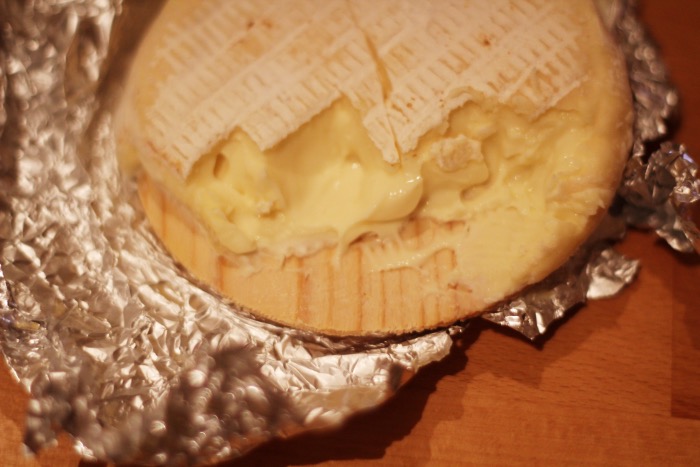 Hmmm, tijd om de kaas toe te voegen.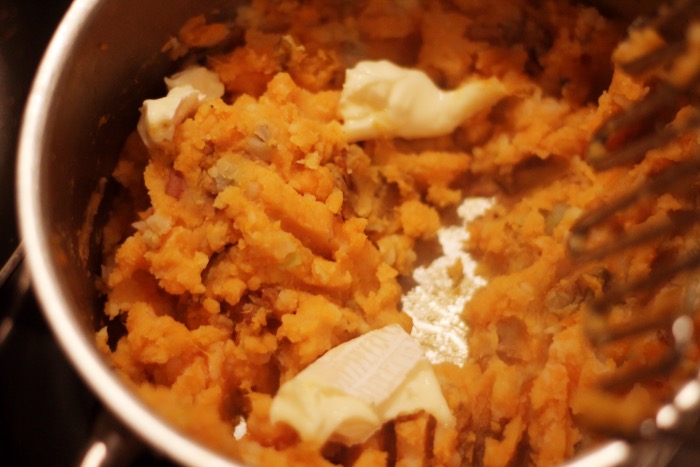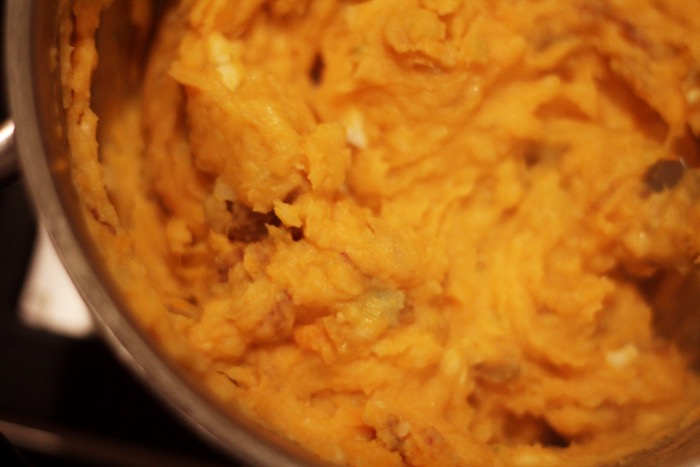 Je zult zien dat de kaas direct begint te smelten, je kunt dan het beste met een vork de kaas erdoor roeren.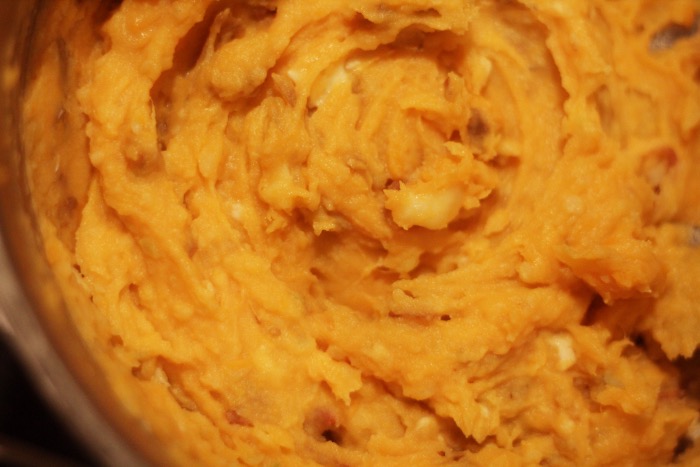 Ohhh ik proef het gewoon door het scherm, het zoete in combinatie met het zoute is echt perfect.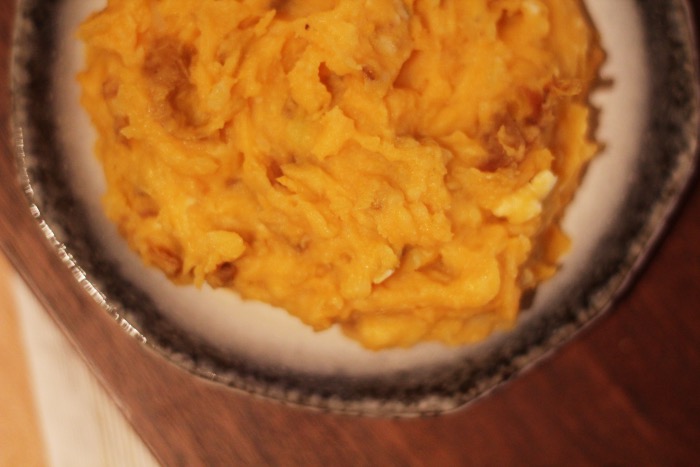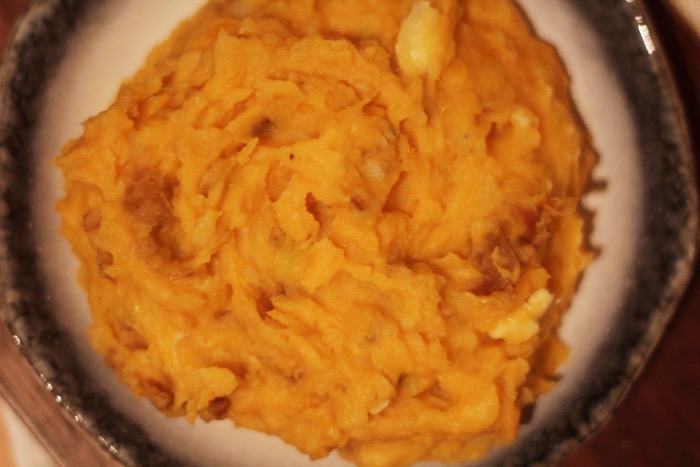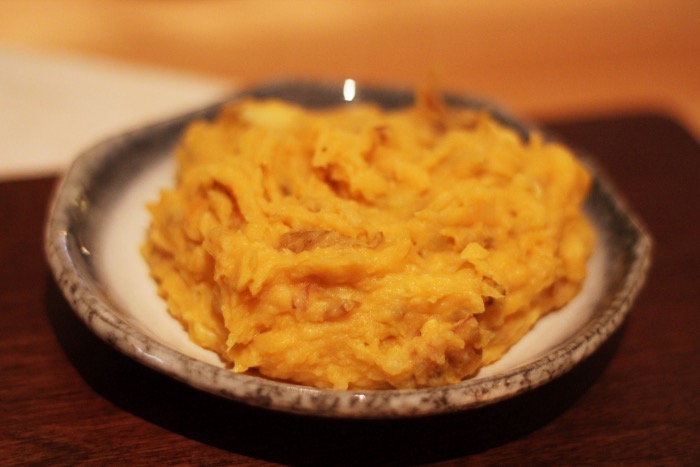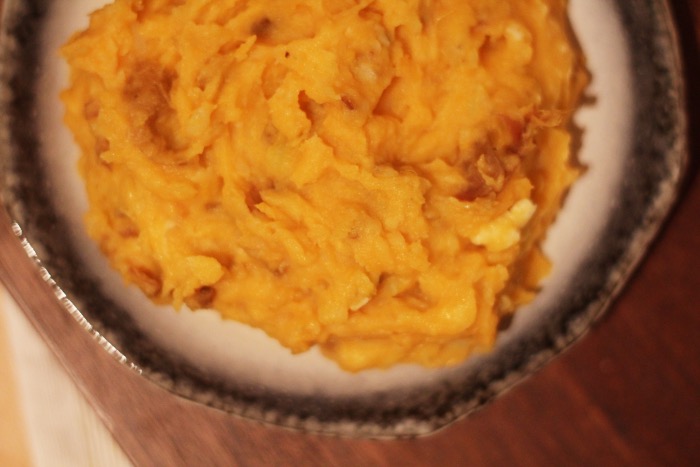 Smakelijk!