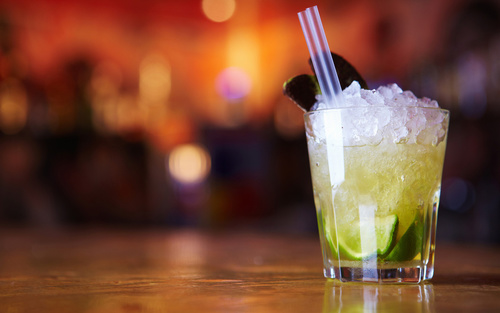 Ik ben veel buiten de deur de laatste tijd, etentjes, drankjes, gezellig bij vrienden thuis. Hartstikke leuk natuurlijk! Maar jullie weten precies wat er dan door mijn hoofd gaat he? "Hellup! Ik moet wel gezond blijven eten en niet teveel drinken!" Zoiets, haha. Vroeger zou ik nog wat feestjes en etentjes afzeggen om niet de mist in te gaan met ongezond eten en alcohol.. Voor vele die mijn blog lezen is dit herkenbaar en begrijpelijk. Maar voor nóg meer andere mensen is dit te bizar voor woorden. Ik hang er een beetje tussen in, ik wil niet de leuke momenten uit het leven missen, want gaat het niet voornamelijk om herinneringen maken? Maar ik wil me ook goed voelen in mijn lijf en energiek zijn! Dus moet er een balans zijn. Ik ben even "op onderzoek" uit gegaan naar de beste manieren om lekker uit te gaan en tóch fit te kunnen blijven en afvallen! 
 Cocktails
Een klein lijstje samengesteld met enkele bekende cocktails en de bijbehorende calorieën. Dit komt uit een eerder artikel, maar leek me toch handig om te laten zien!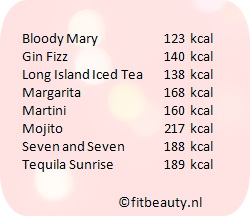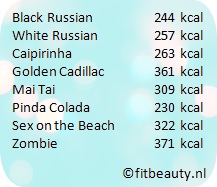 Ik heb onderscheid gemaakt vanaf ongeveer 200 calorieën per cocktail. Zoals je ziet, aan de blauwe kolom, kunnen cocktails best hoog oplopen! Een Zombie met 371 calorieën, wauw! Dat is ongeveer mijn ontbijt 🙂
Likeuren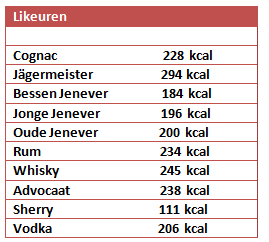 Deze berekeningen zijn op basis van 100 ml. Sherry, Jenever en Vodka komen er prima uit! Dat is mooi, want ik ben wel van de vodka (oeps, mag ik dat wel zeggen).
Bier en wijn
Ook op basis van 100 ml. Pilsjes komen er mooi uit, bedenk wel dat een pilsje vaak 200 ml is en een wijnglas ongeveer 150 ml.
Uit eten
De strategie is om te bedenken hoe het eten is klaargemaakt en wat erbij zit. En niet zozeer welk voedsel het precies is. Lees goed de beschrijvingen om een idee te krijgen hoe en met wat het voedsel is bereid.
Blijf uit de buurt van de volgende woorden:
Gefrituurd
Crispy
Crunchy
Beboterd
Creamy
Cheesy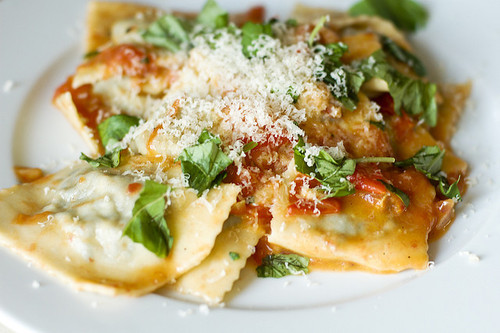 Kies iets in deze richting:
Gekookt
Gebakken
Gegrild
Gestoomd
Au Jus
Florentine (betekent meestal met spinazie)
Primavera (betekent meestal met groente)
Als iets met jus of een zware saus (mayonaise, aioli, romige sauzen) wordt geserveerd, vraag dan of ze de saus weg willen laten. Hetzelfde geldt voor dressings en boter. Of vraag of het apart geserveerd kan worden (dus niet allemaal op jouw bord) zodat je wat meer controle kan hebben over de porties die je eet.
Zie je ergens op het menu fruit of groente staan? Bestel ze! (Zolang ze niet vol met extra vet en suiker zitten).
Dit is een goede manier om vezels, vitaminen en mineralen binnen te krijgen.
[bron]