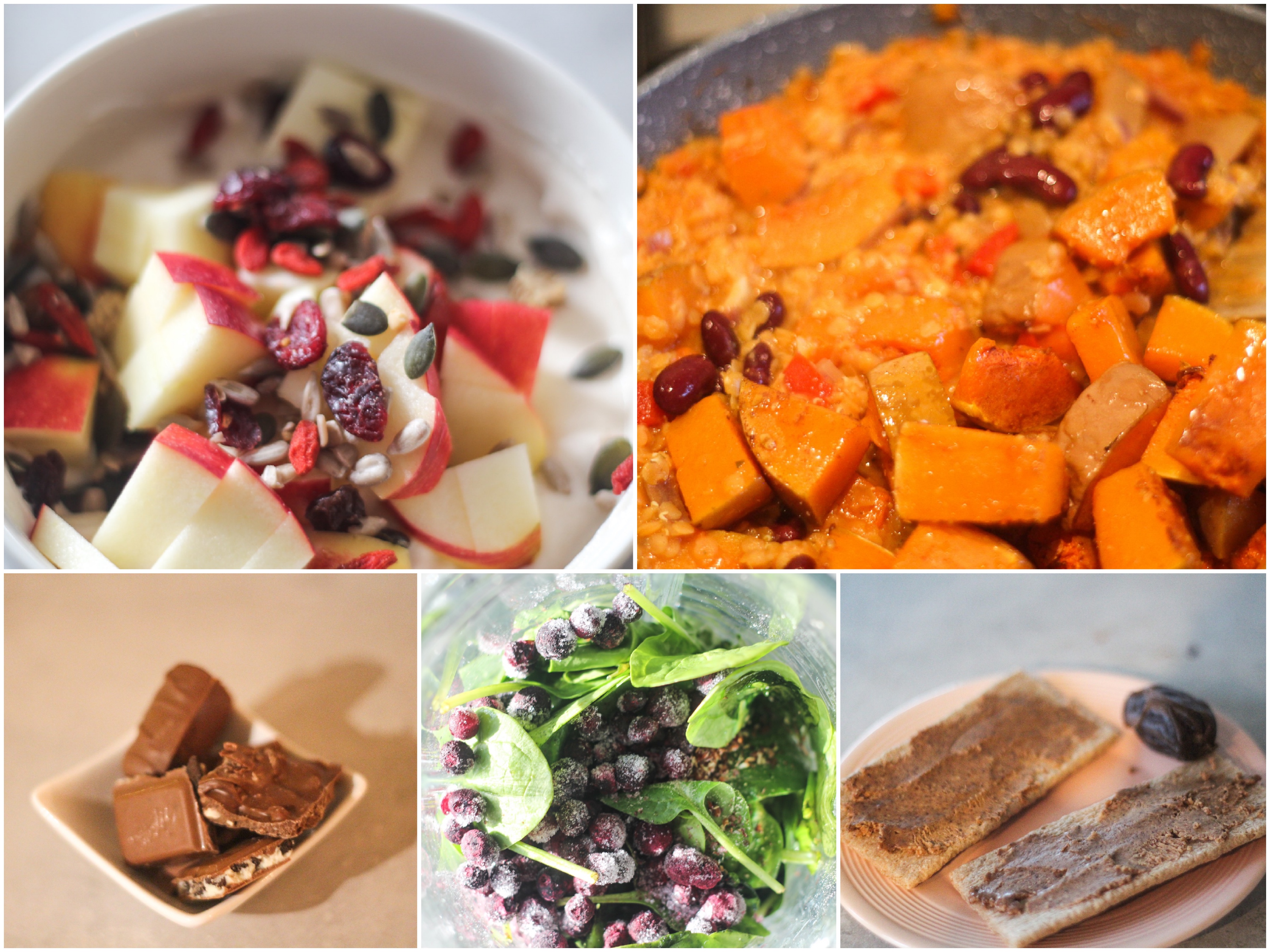 Wat is een week zonder een voedingsdagboek, niet waar? Sinds de afgelopen weken de kilo's er duidelijk af zijn gegaan en er heel veel vragen komen op Instagram over wat ik eet – kan ik niet anders dan 'gewoon' zeggen; kijk maar naar mijn voedingsdagboekjes als je er ideetjes uit wilt halen. Ik eet eigenlijk niet héél anders dan voorheen, maar wat bewuster en kleinere porties. Niet meer onnozel gesnack tussen allerlei activiteiten door omdat ik me verveel of werk wil uitstellen, dat is onder andere een manier van 'bewuster kiezen' voor mij.
Goed, lang genoeg intro, op naar het voedingsdagboek!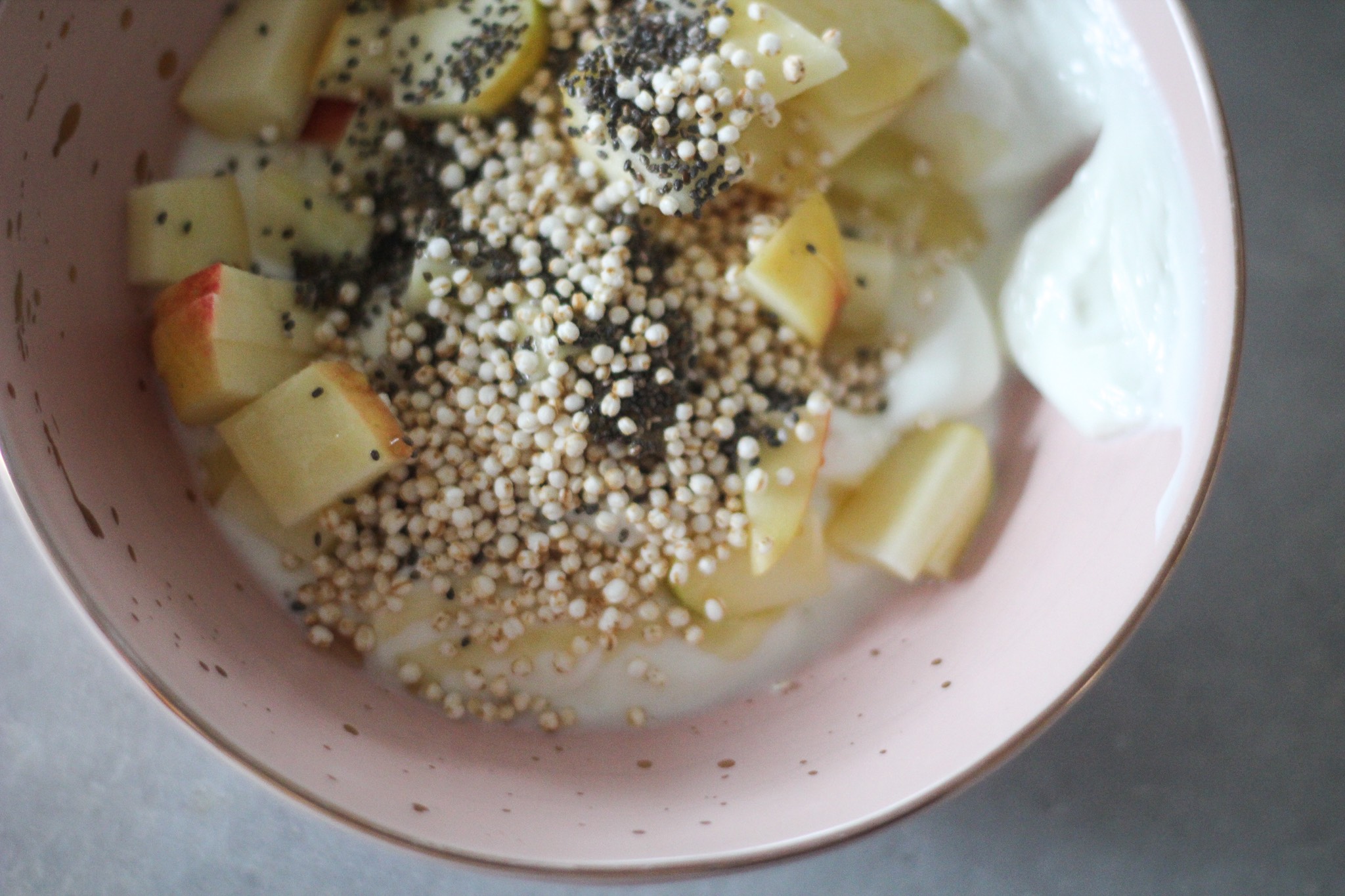 Ontbijtje met magere kwark, appel, honing, chia zaad en quinoa puffs.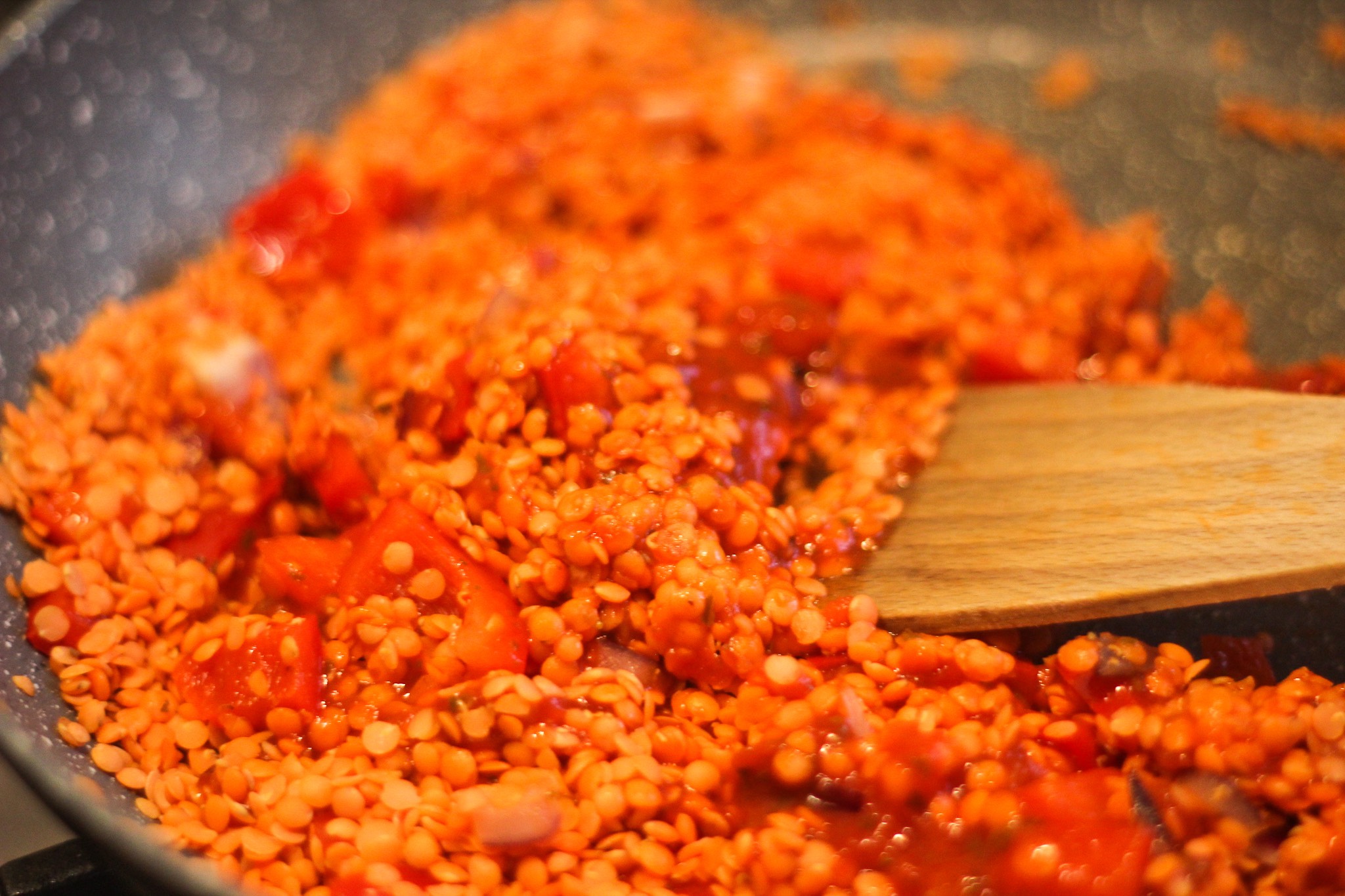 Eén van mijn favoriete 'snelle' gerechten: rode linzencurry. Deze keer maakte ik het met onder andere rode paprika, tomatenpuree, pompoen uit de oven en kidney bonen.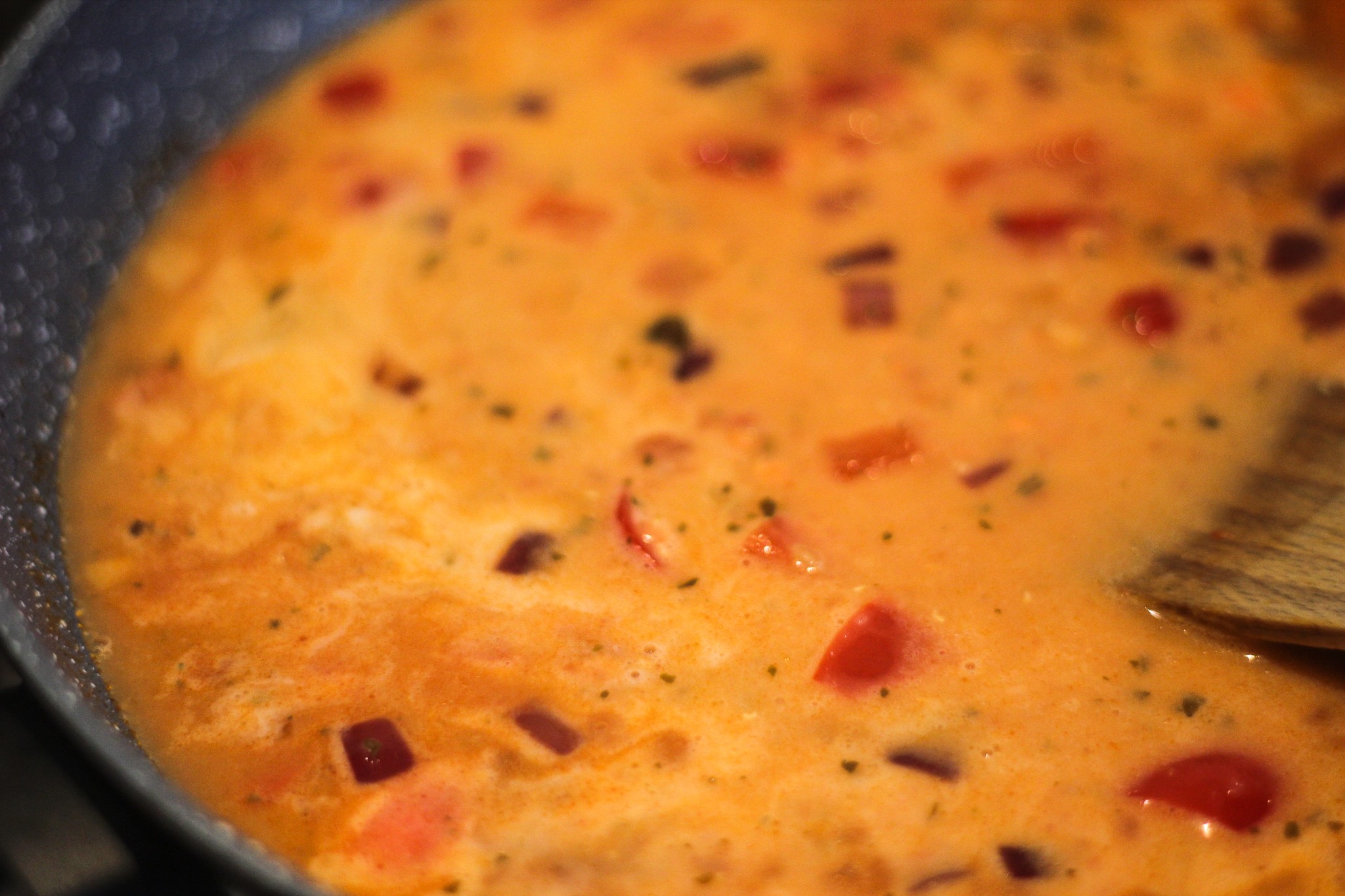 Kokosmelk en een blokje bouillon erbij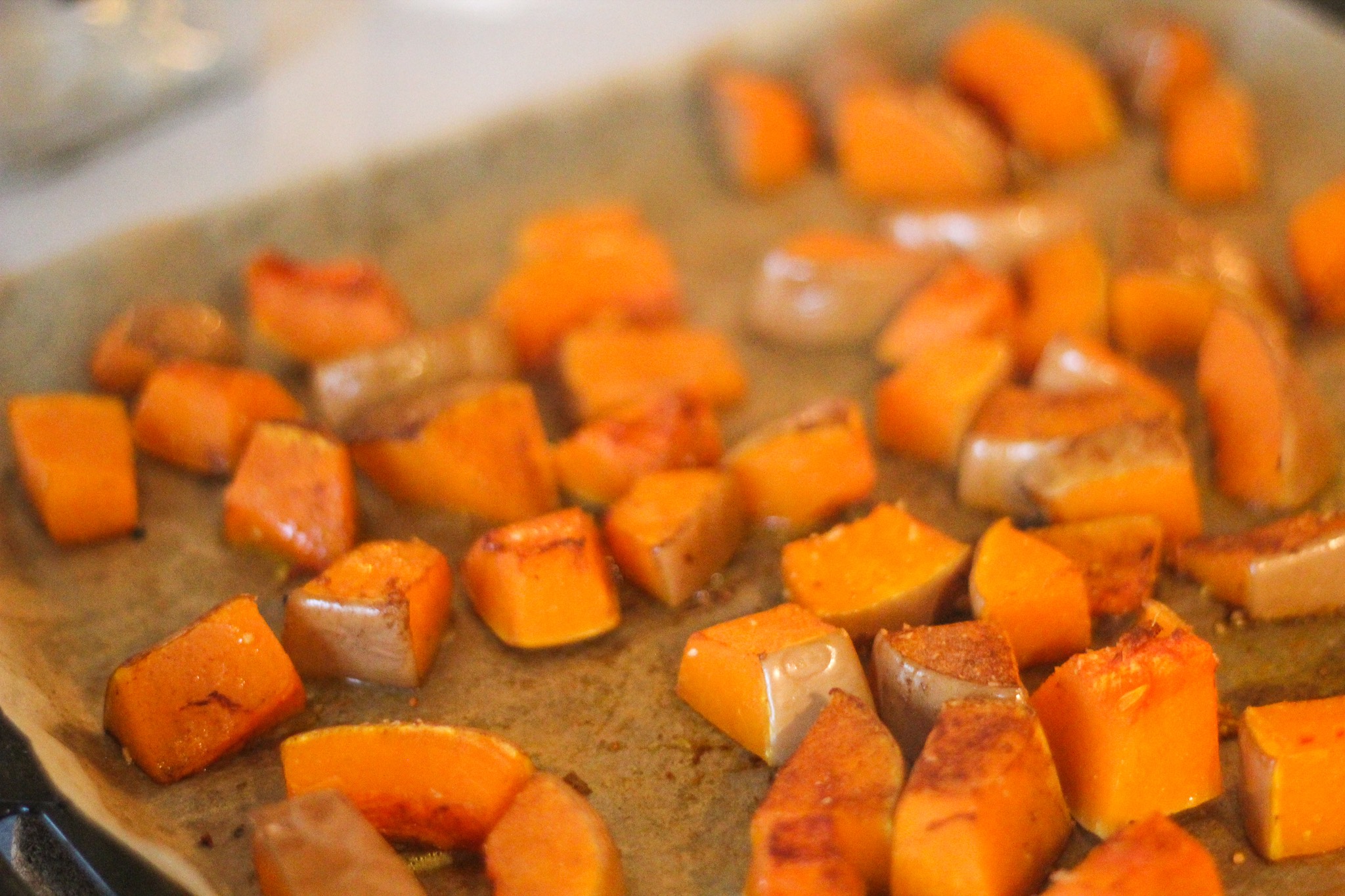 Hmmm, pompoen uit de oven! Een deel ging in de curry en een deel in een bakje voor de volgende dag.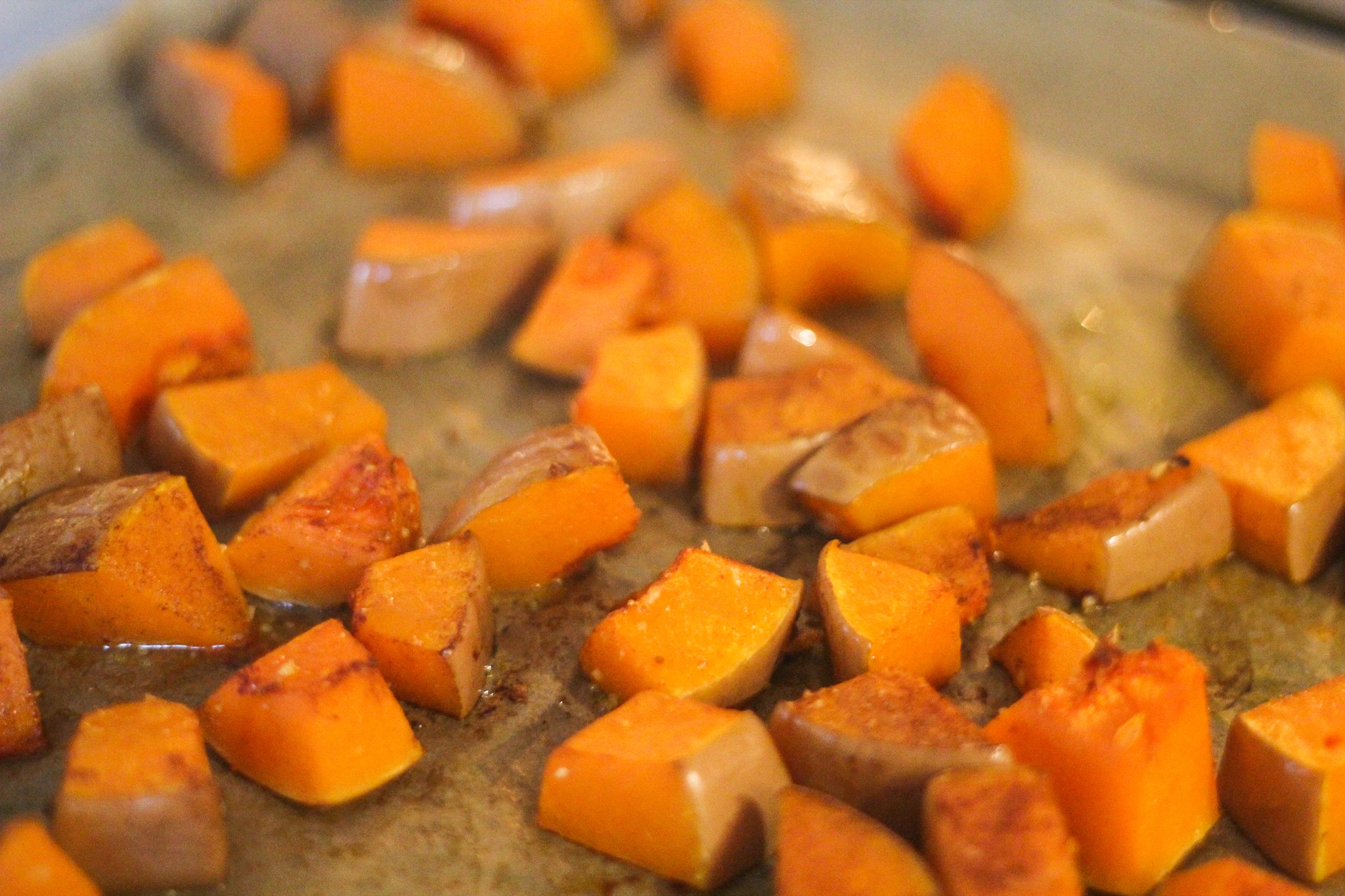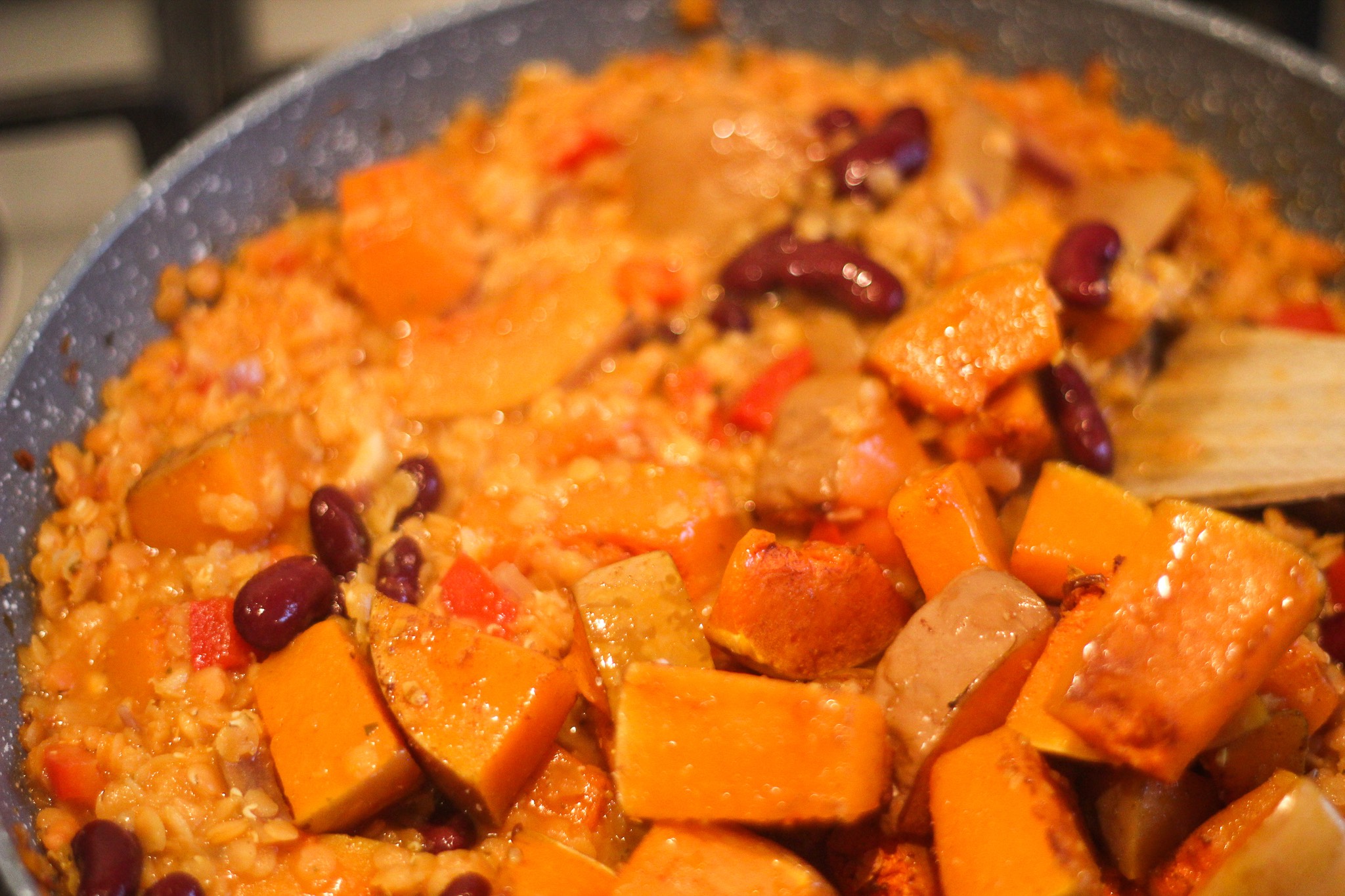 Het was een rijkgevuld gerecht zoals je kunt zien. Ik heb een paar soortgelijke recepte voor je als je dit graag eens na wilt maken, deze kun je hier vinden: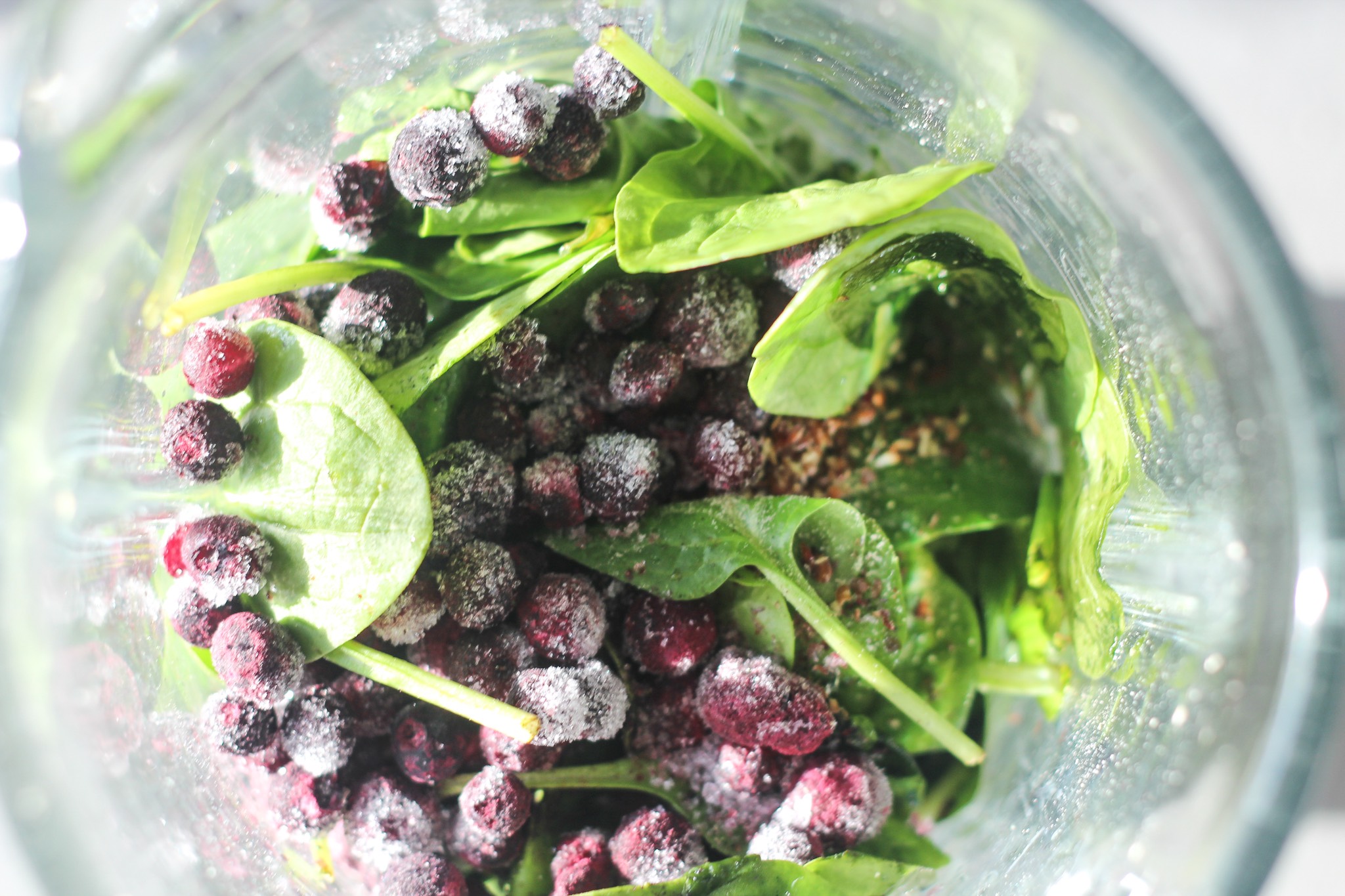 Smoothie met spinazie, lijnzaad, havermelk, vegan eiwitpoeder en diepvries blauwe bessen.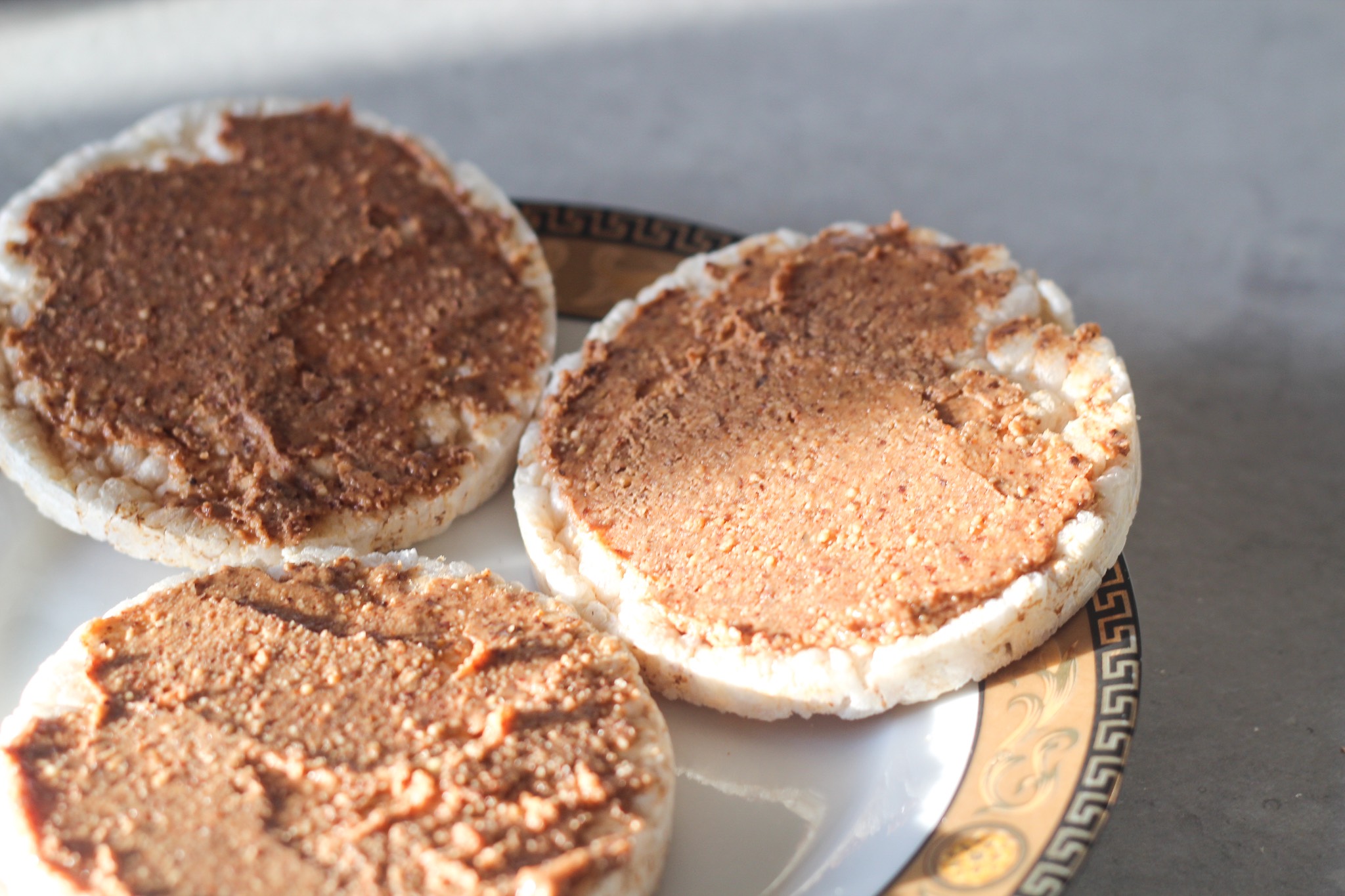 Rijstwafels met amandelpasta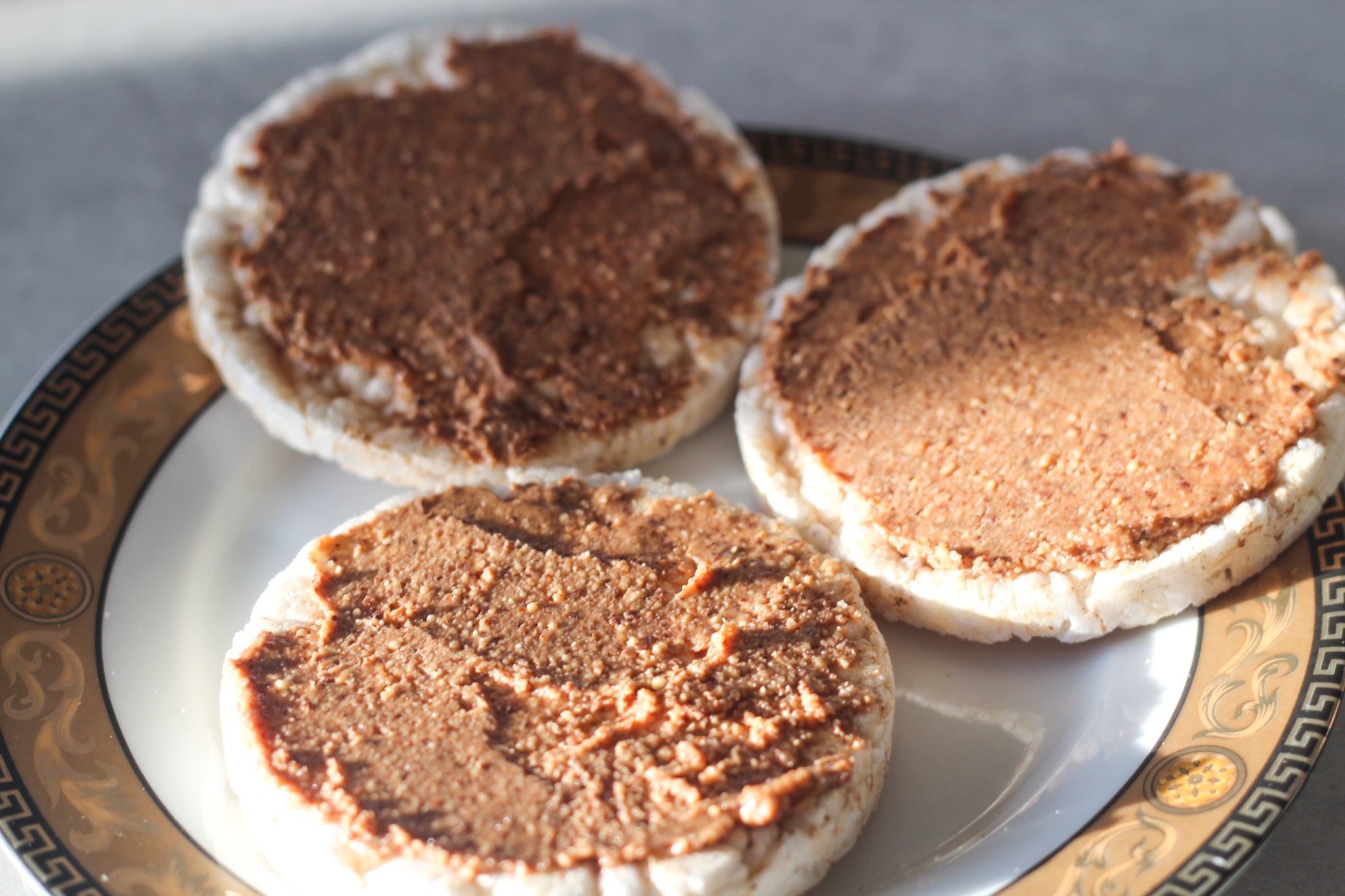 Het was een mooie ochtend zoals je misschien kunt zien.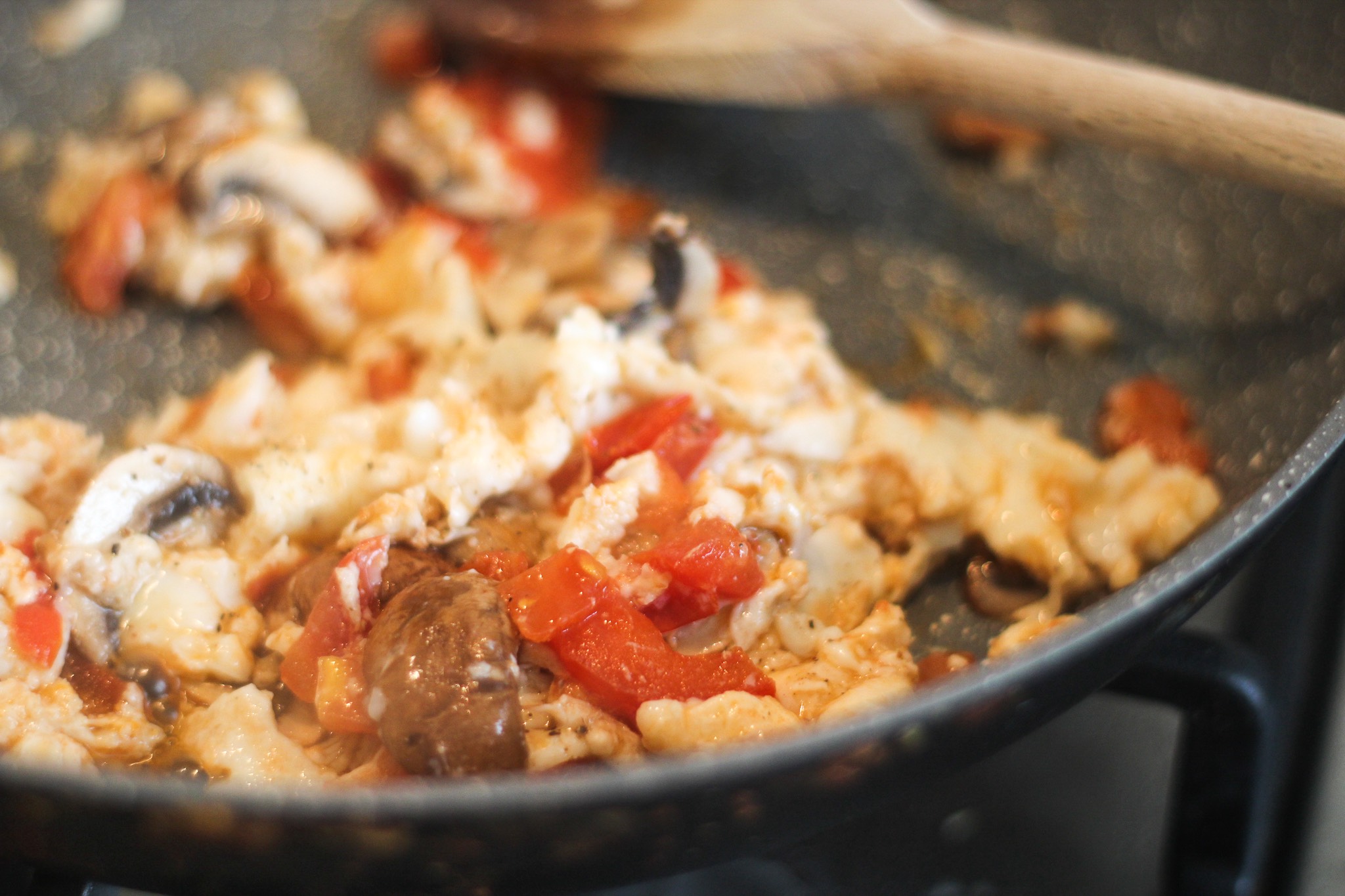 Omelet met champignons, tomaat en eiwit.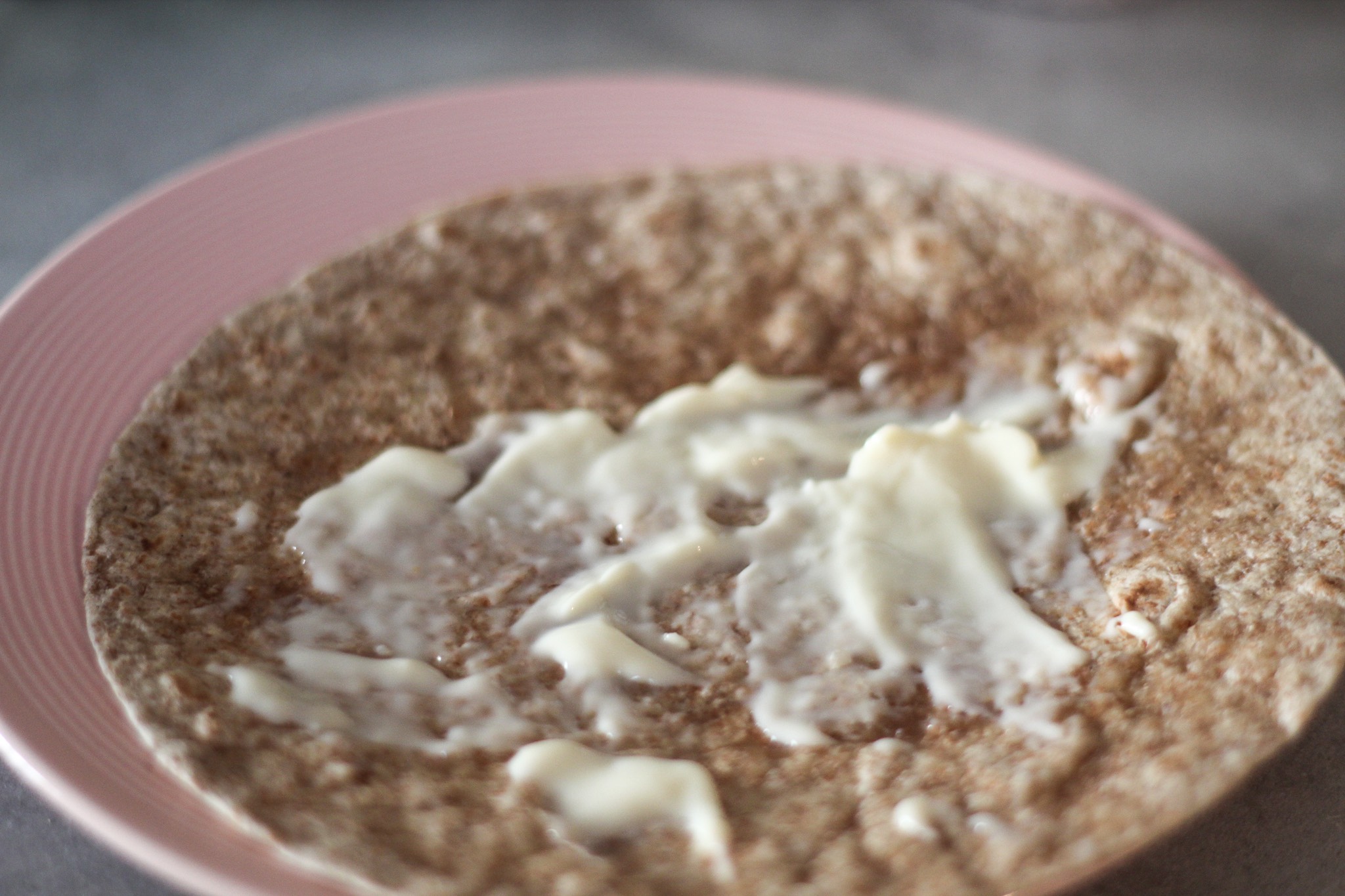 Op een volkoren wrap besmeerd met smeerkaas.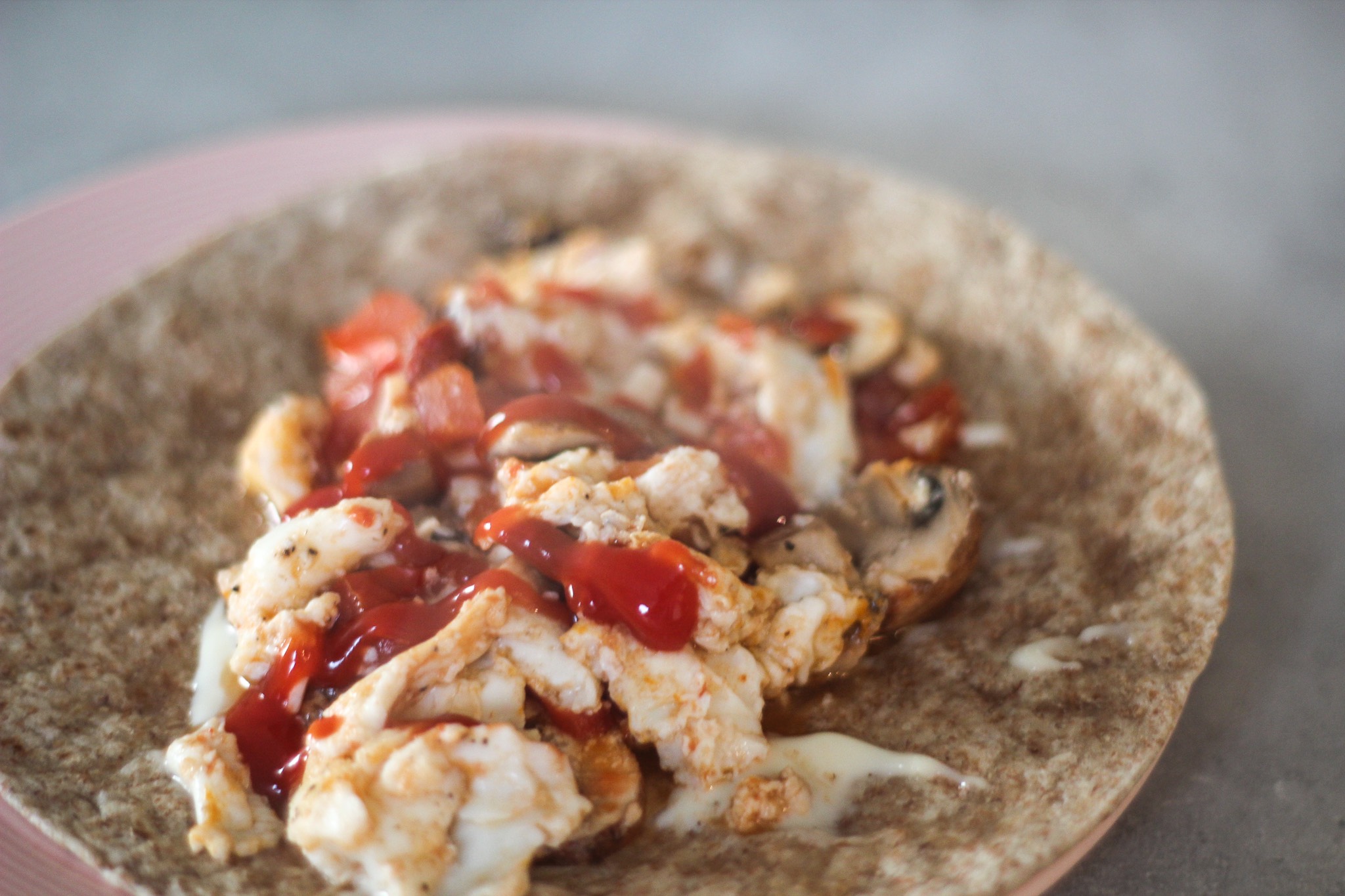 Daar gaat nog wat ketchup overheen en klaar. Ik vind dit ZO lekker.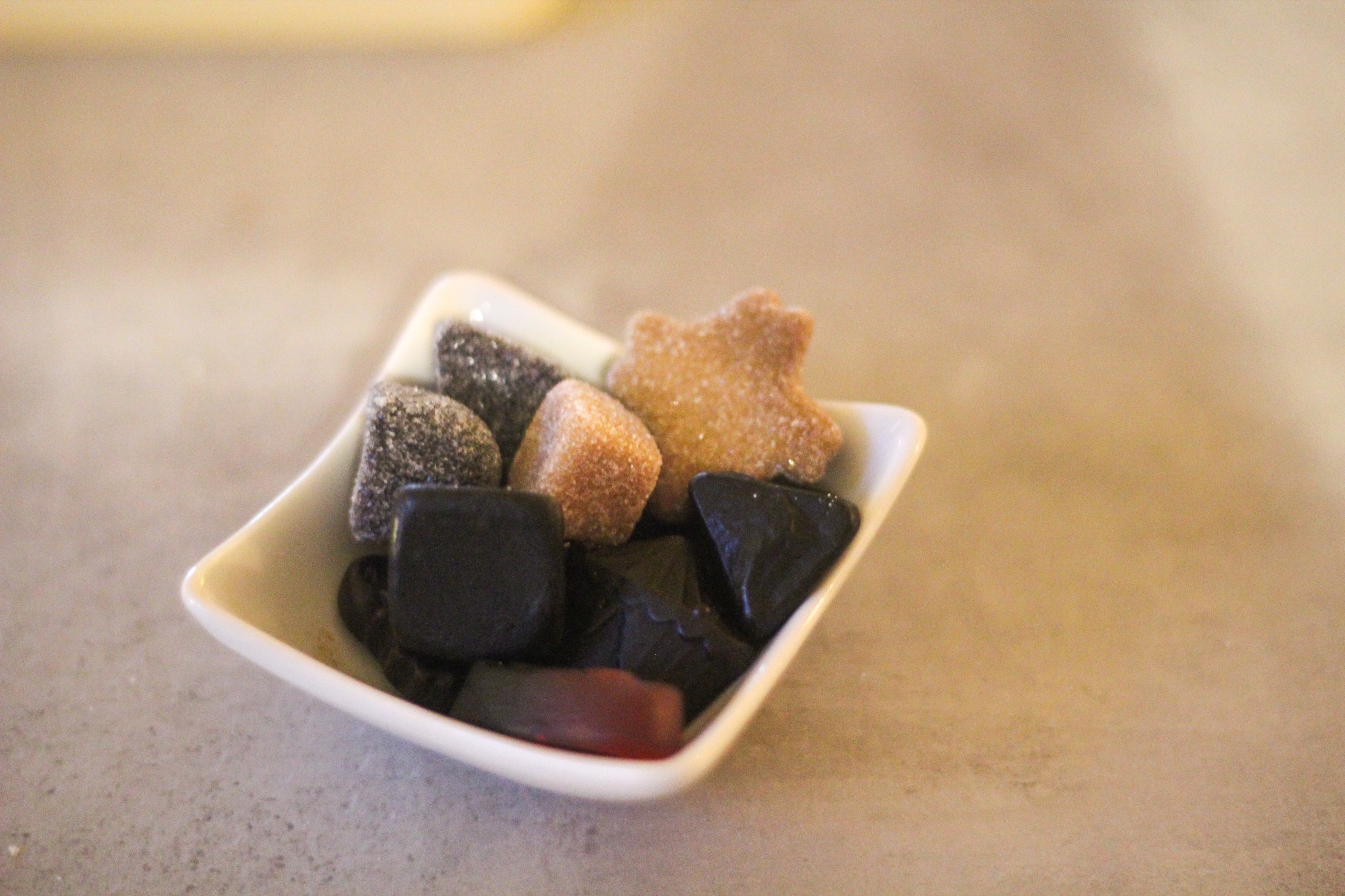 Dropjes in de avond op de bank.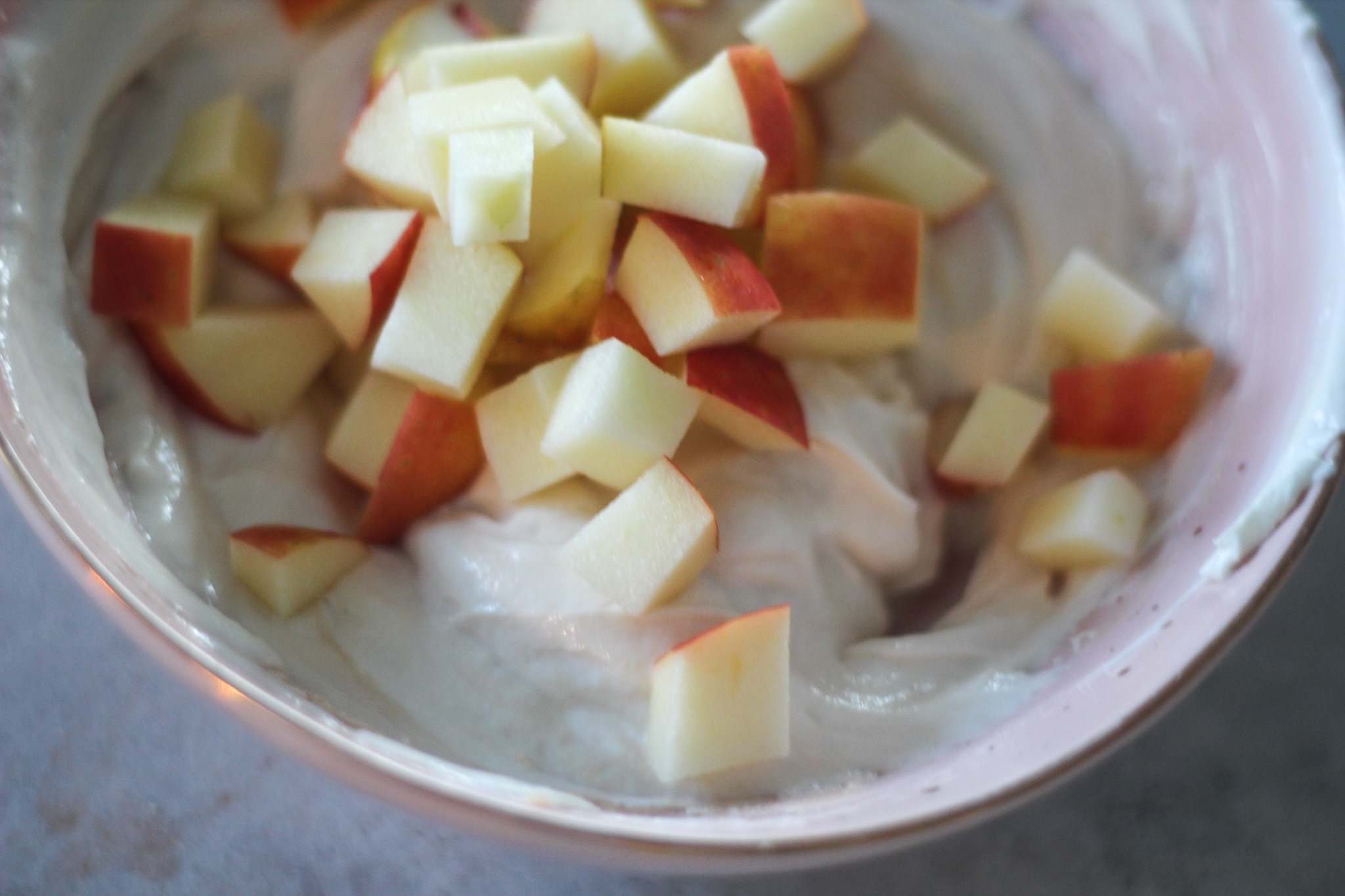 Magere kwark met appel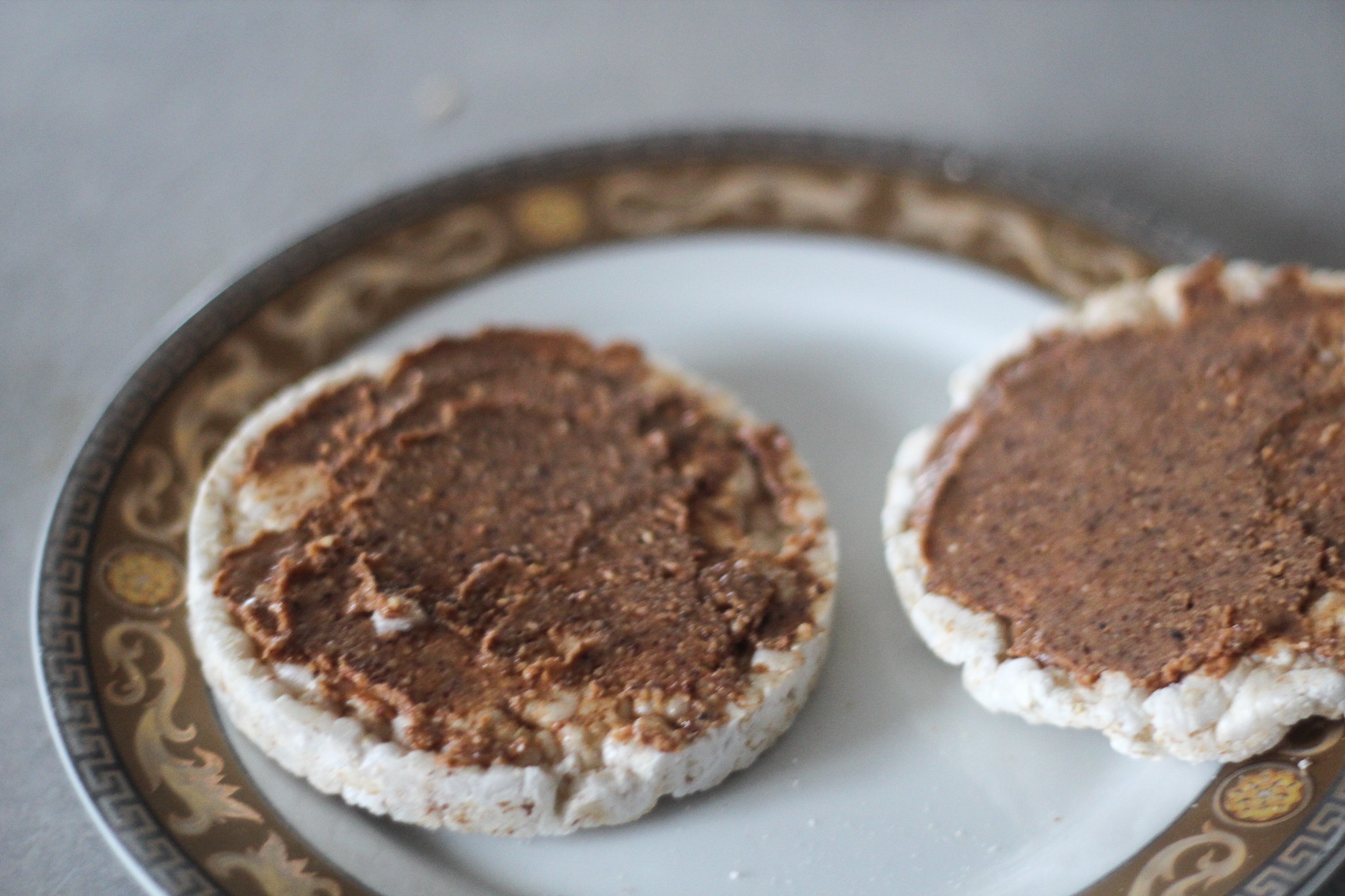 Daar zijn ze weer: rijstwafels met amandelpasta.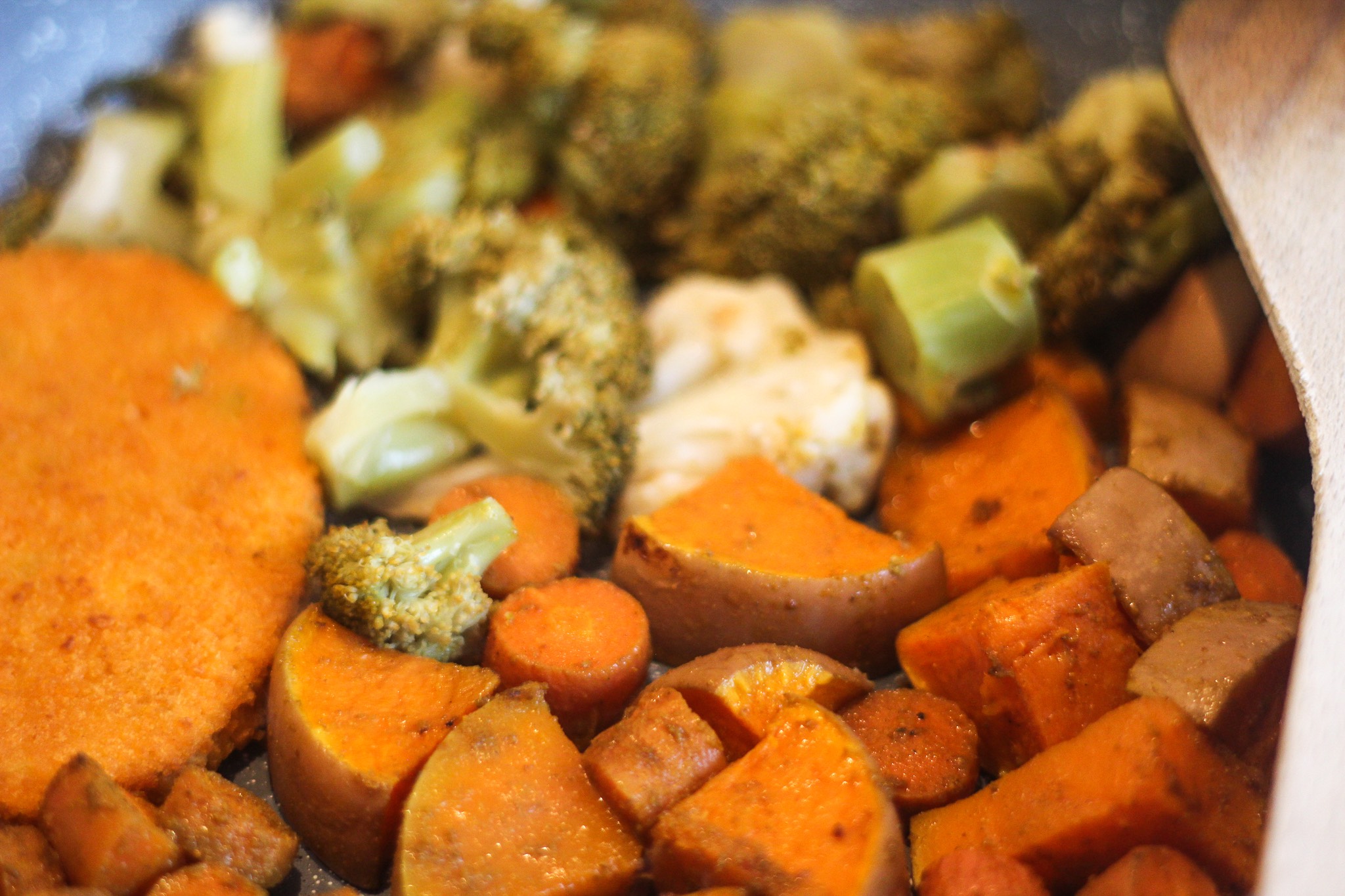 Pompoen uit de oven van twee dagen ervoor met wortel, bloemkool en broccoli uit de oven erbij gedaan.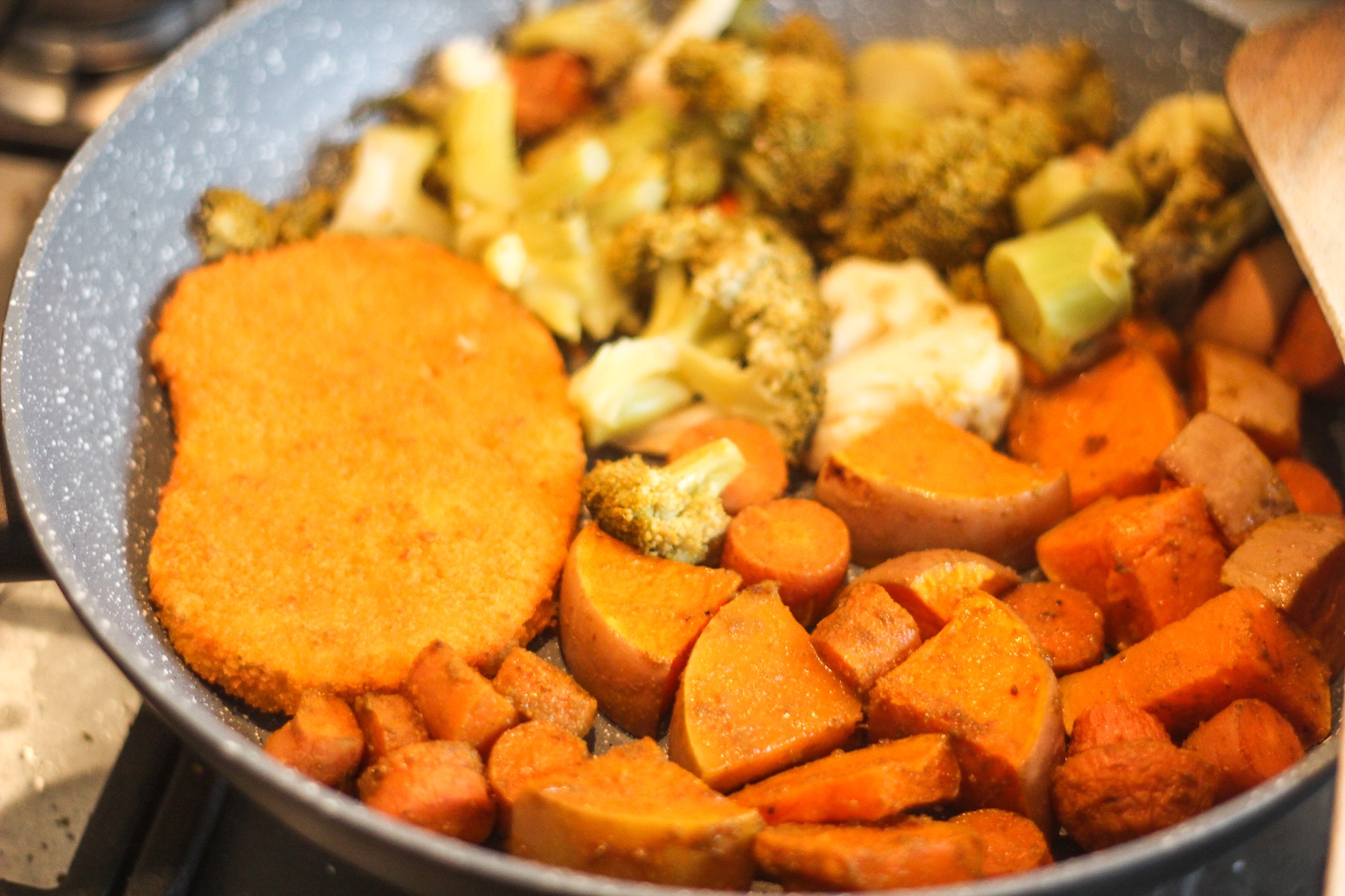 + een vegetarische schnitzel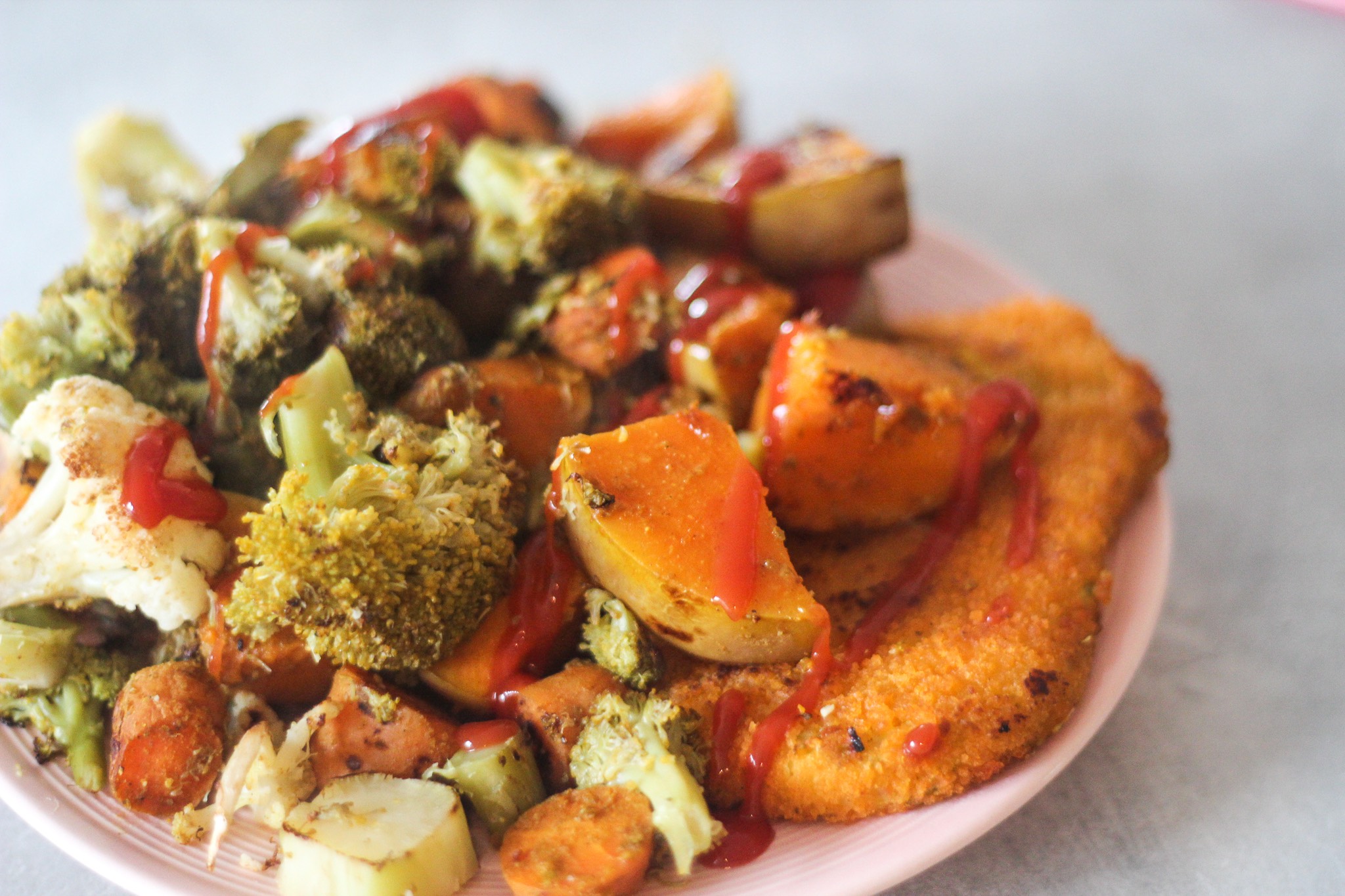 Ik ben ketchup fan, zoals je ziet.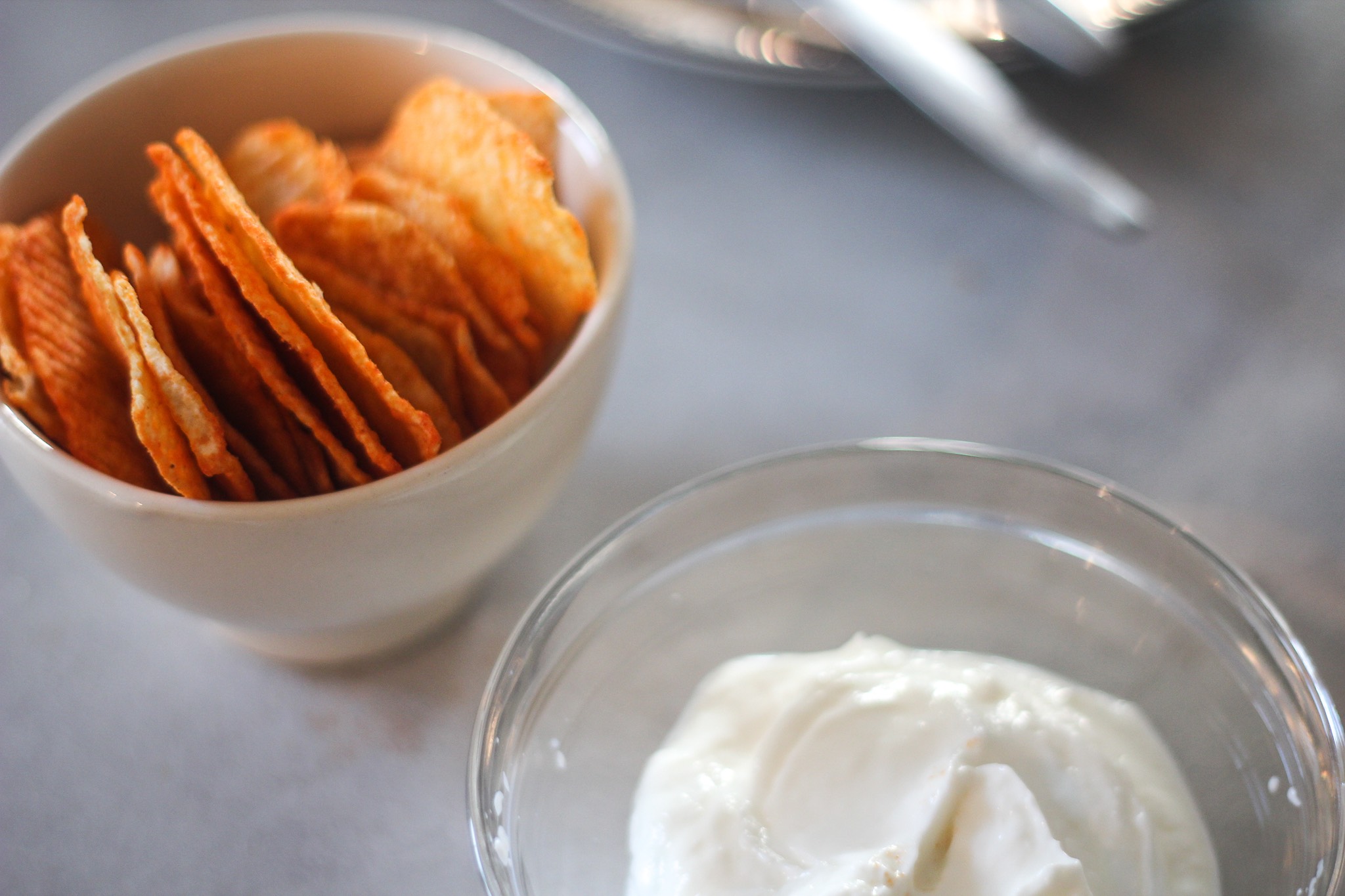 Tijd voor chips met yoghurt! Dit bakje werd trouwens nog 3 x opnieuw gevuld, even in alle eerlijkheid 😉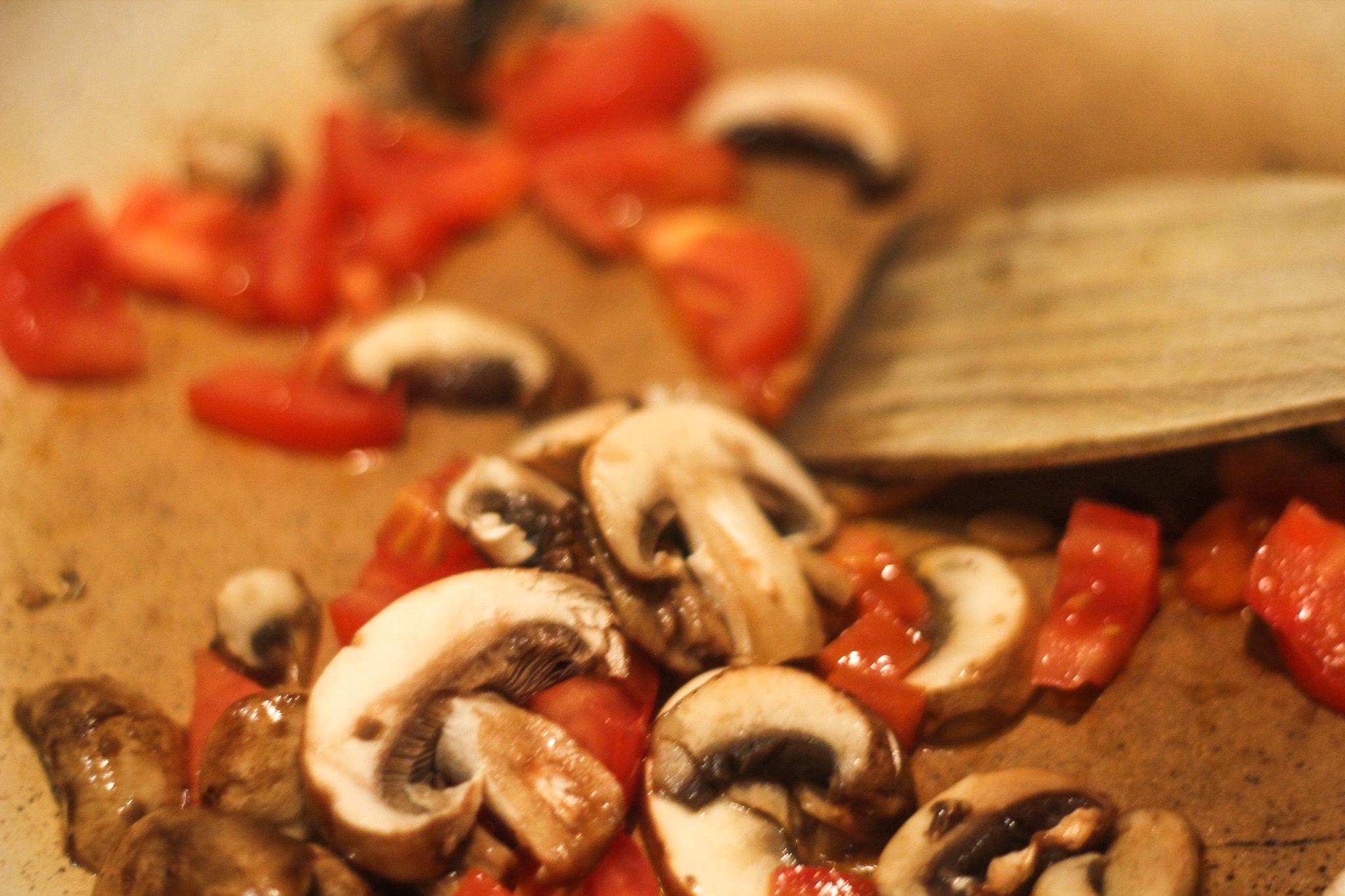 Ik vond de omelet wrap zo lekker dat ik het in de avond ook wilde eten. Alleen waren de wraps op, dus werd het gewoon de omelet.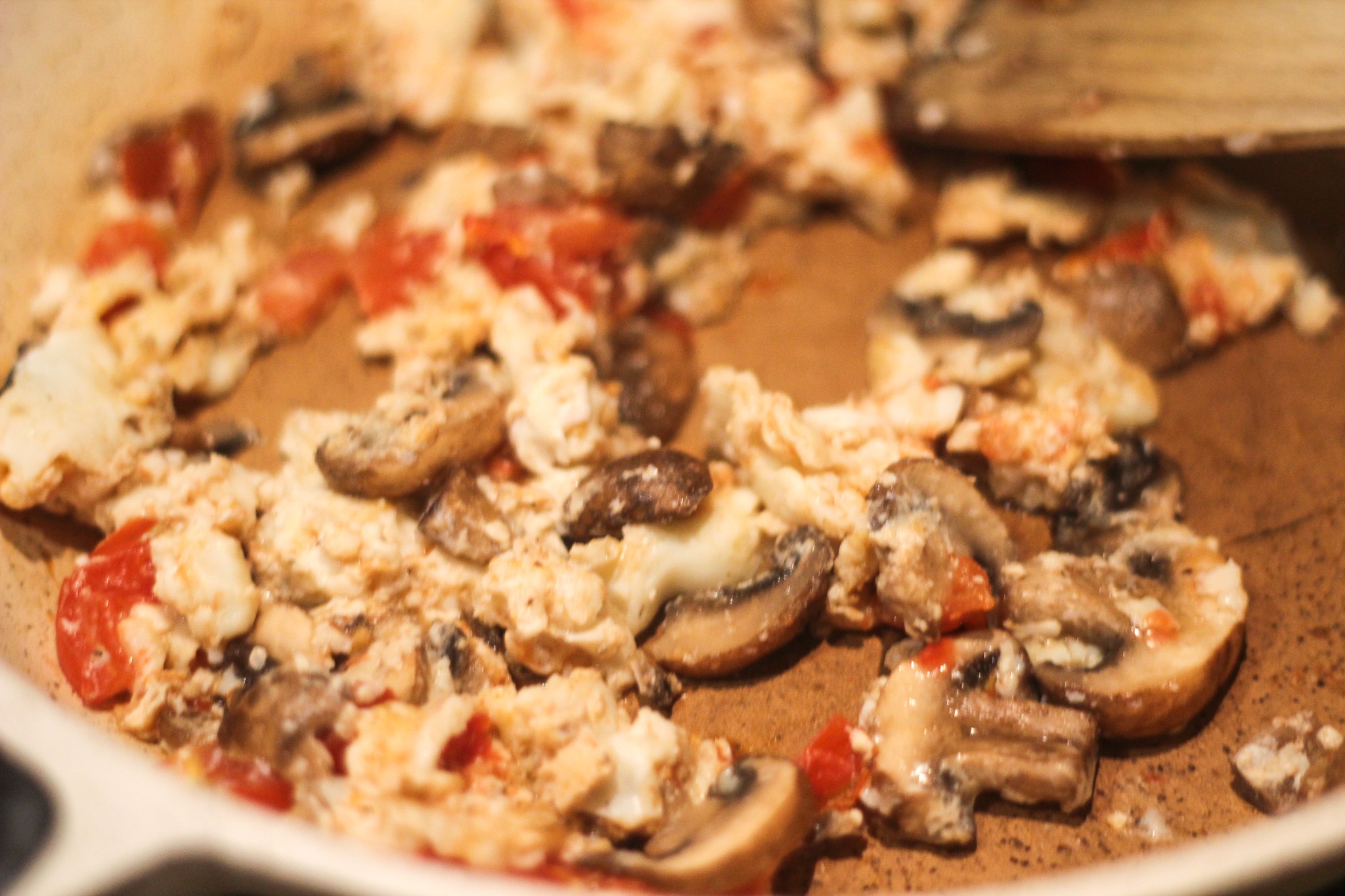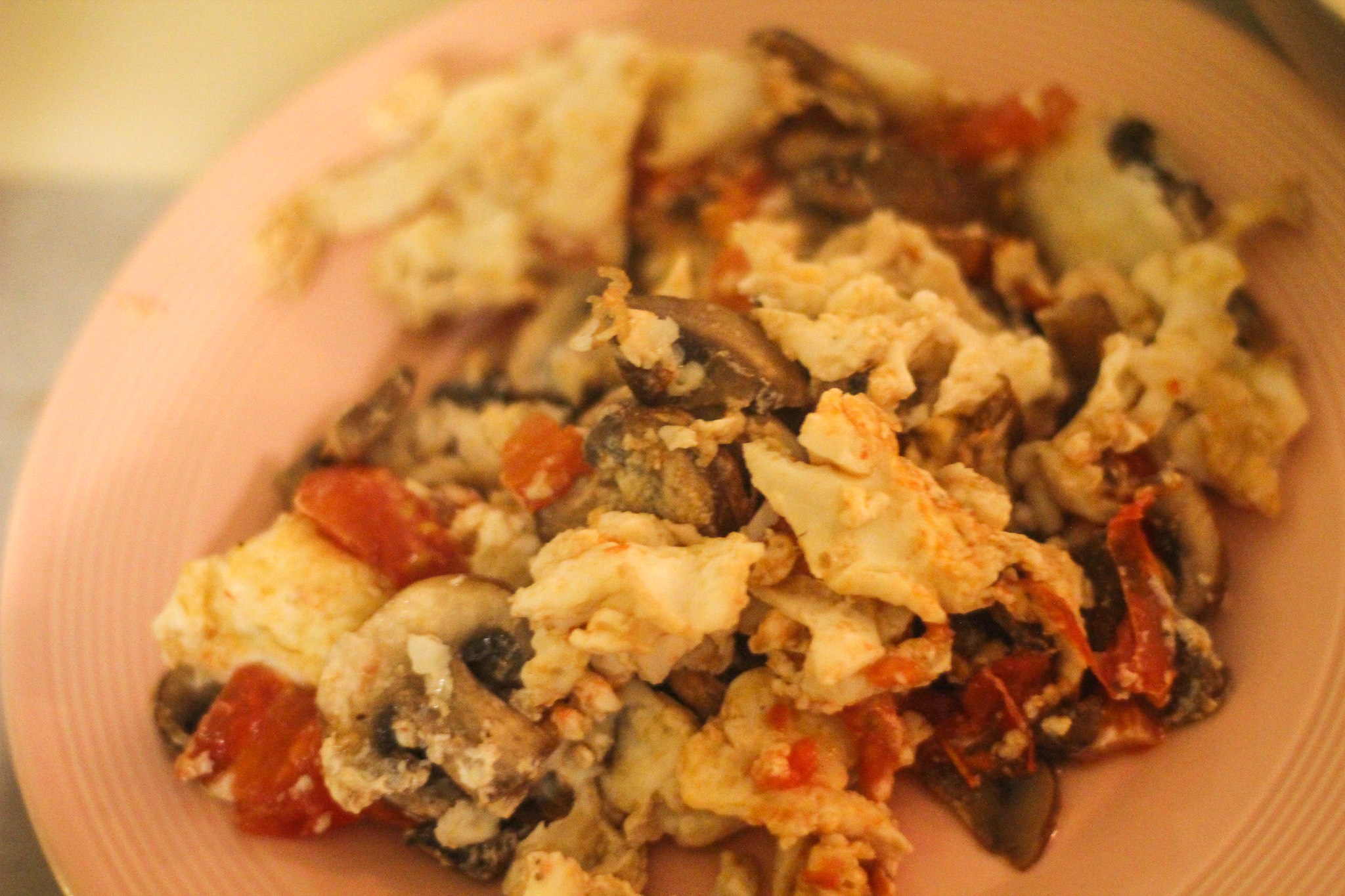 Helemaal prima.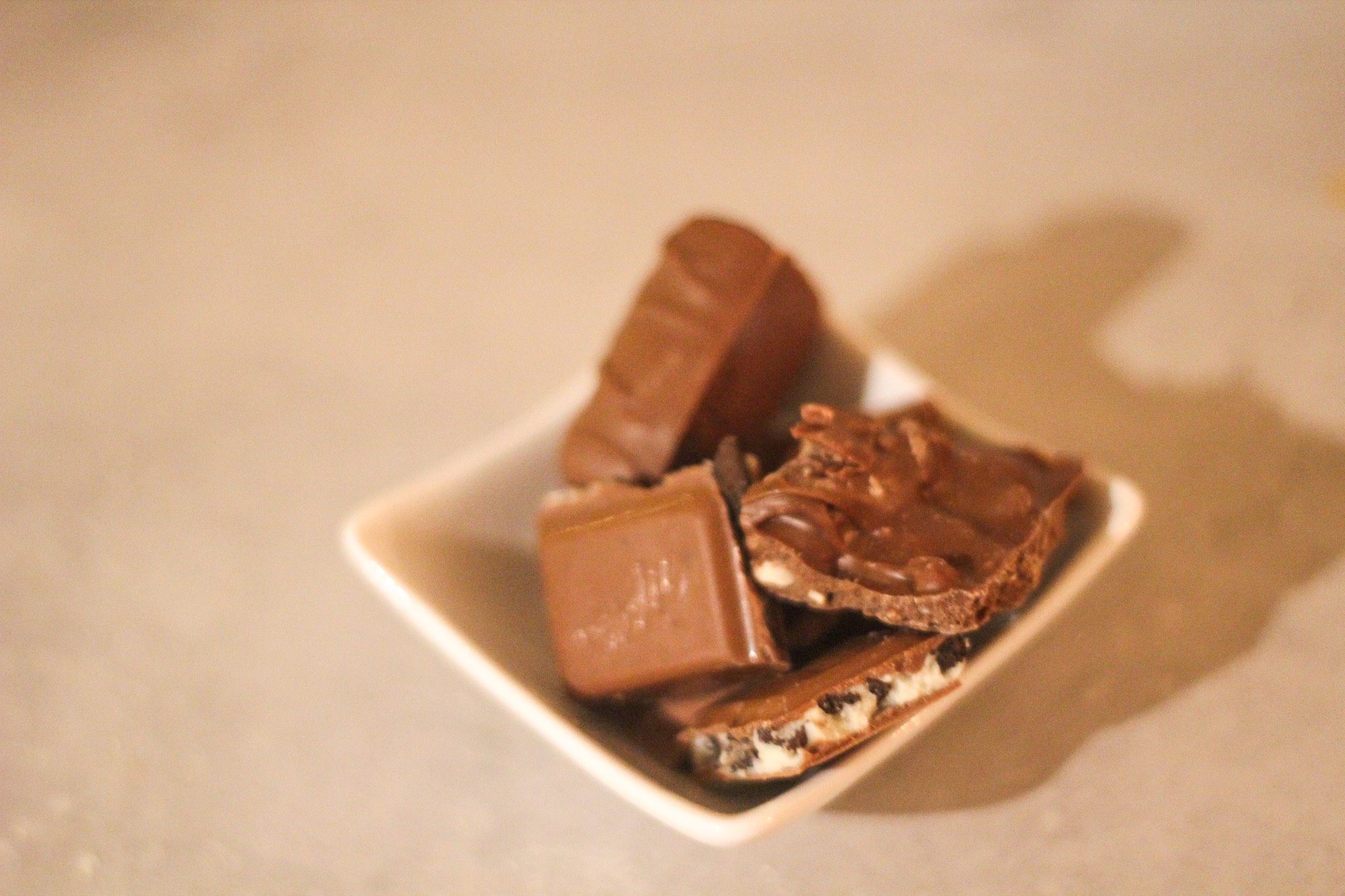 Een bonbon, milka oreo en nog een ander stuk chocolade waar noten en vruchten in verwerkt zijn. Dit met een kop thee 's avonds op de bank is echt genieten.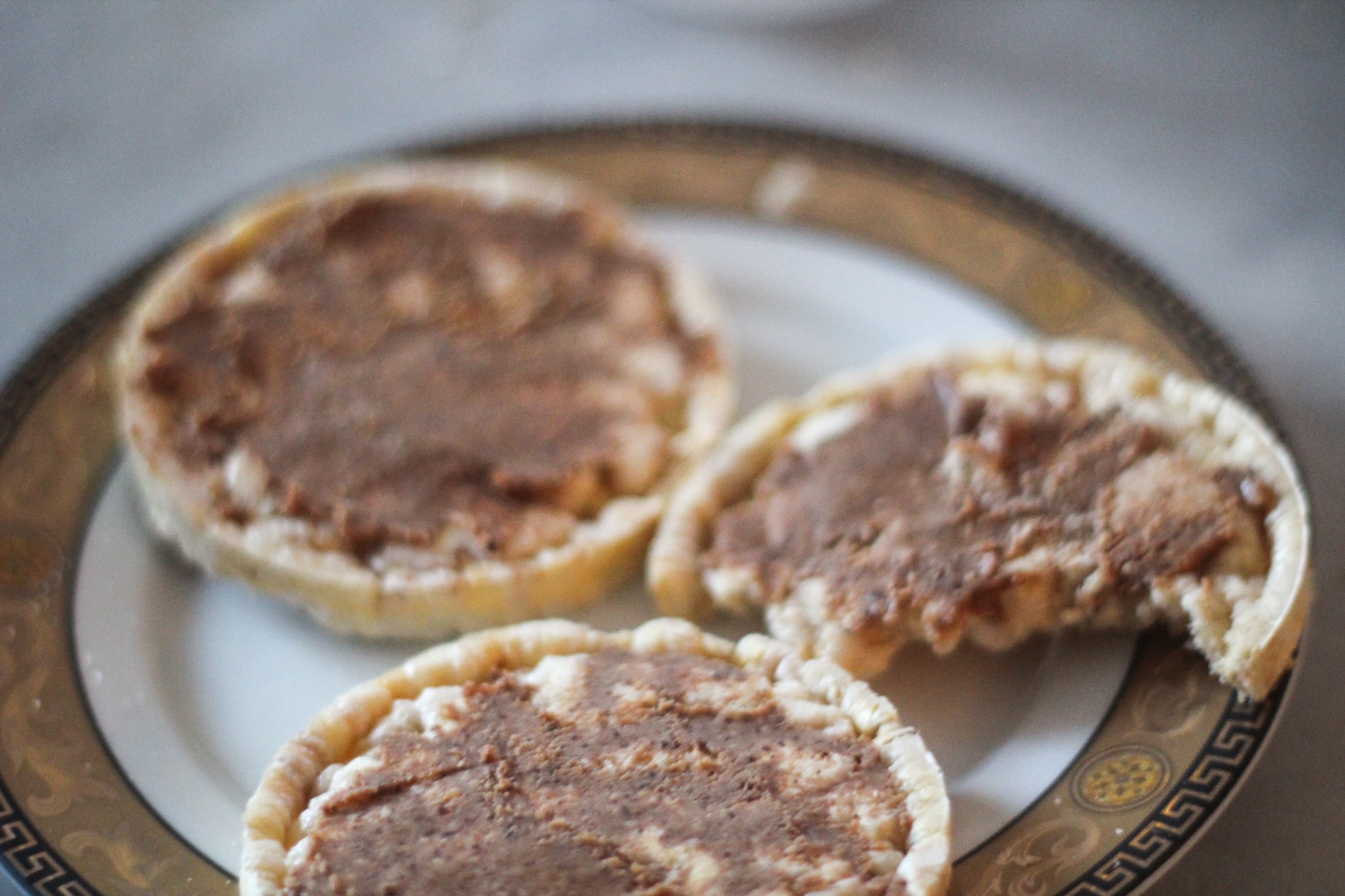 Oeps, al een paar happen genomen voor de foto werd gemaakt: maïswafels met amandelpasta.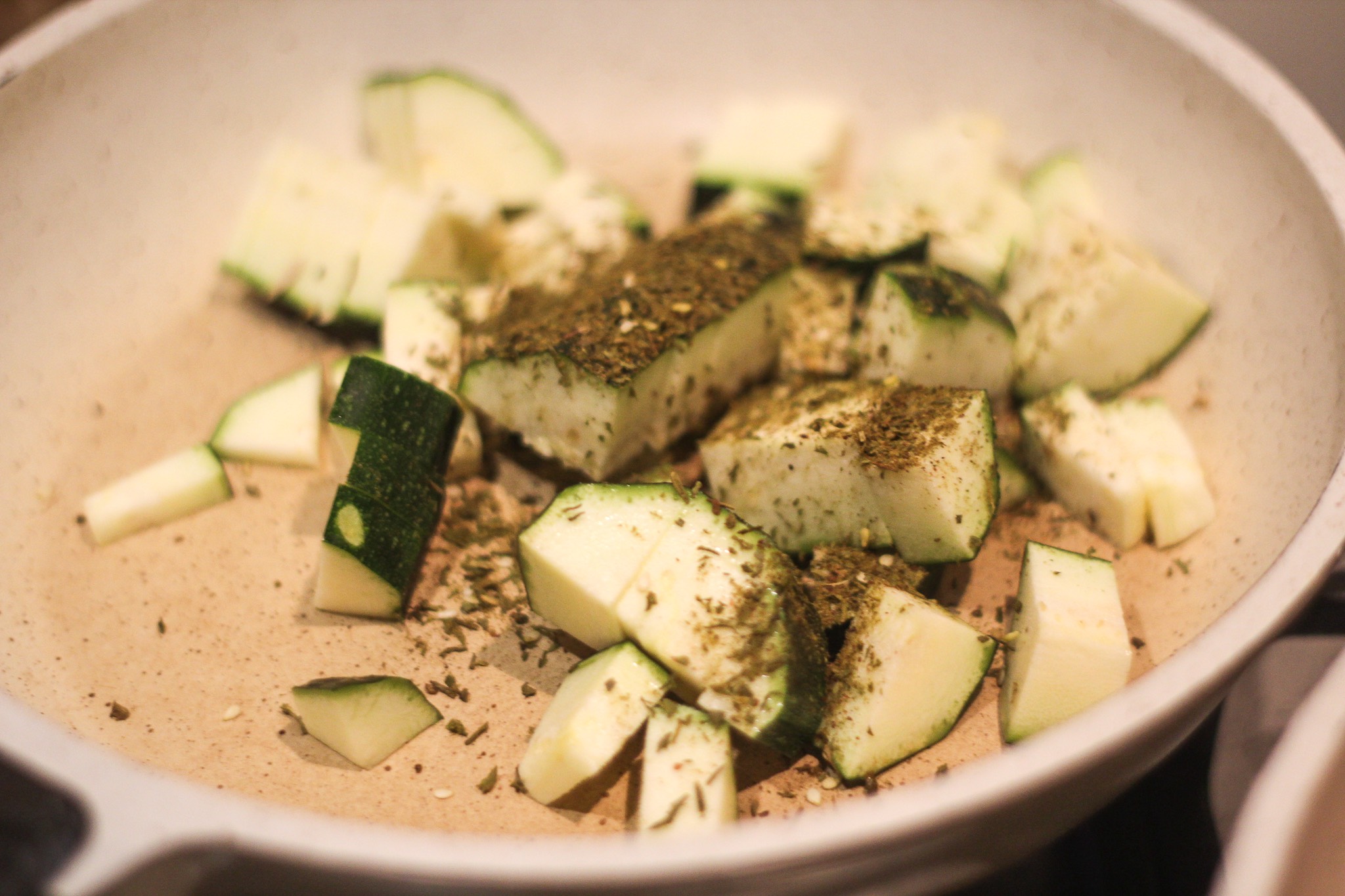 Courgette met wat olie en zataar kruiden. Hier ging op een gegeven moment spinazie bij.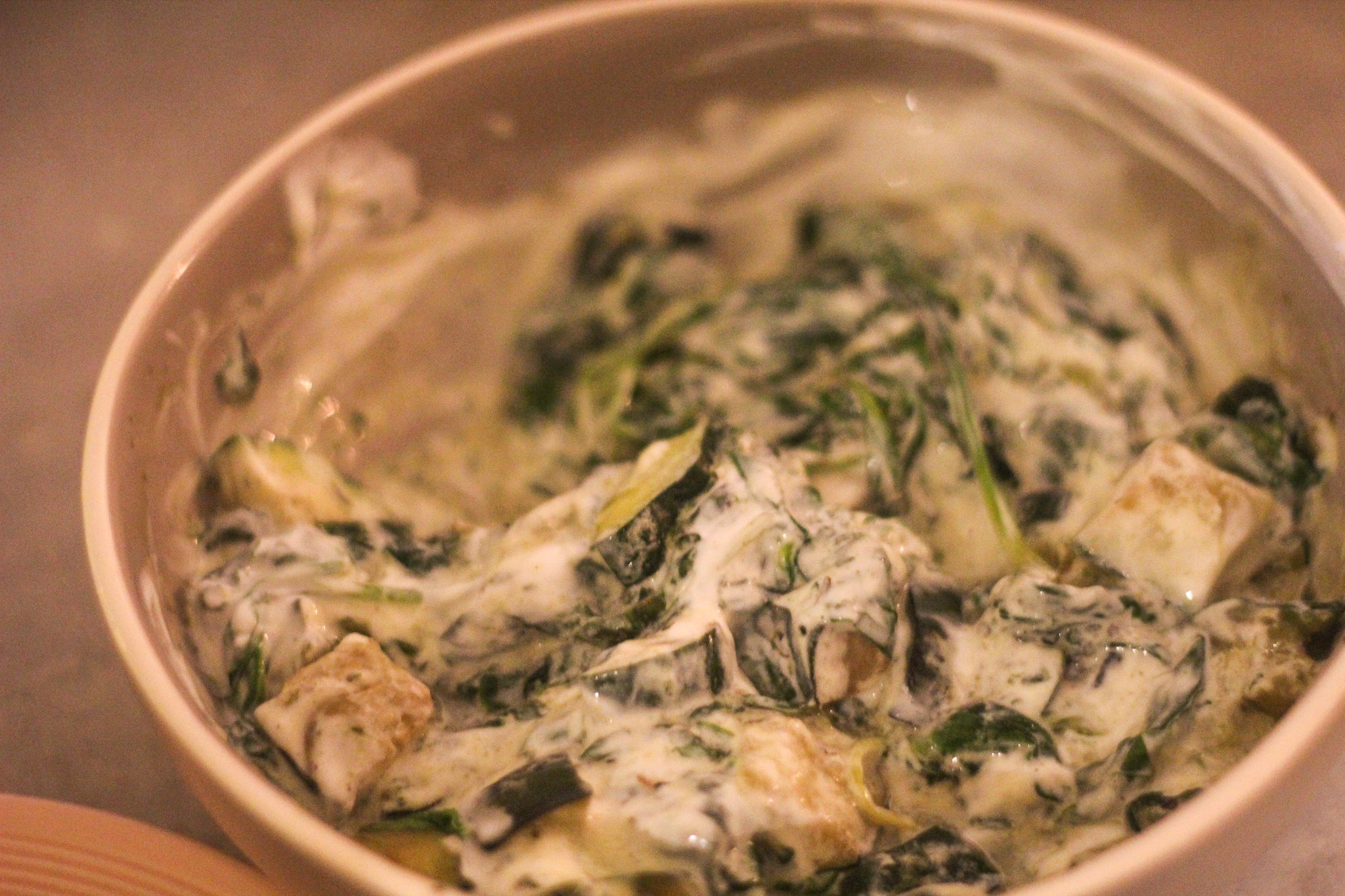 Dit met yoghurt of kwark, citroen, peper en zout – klaar!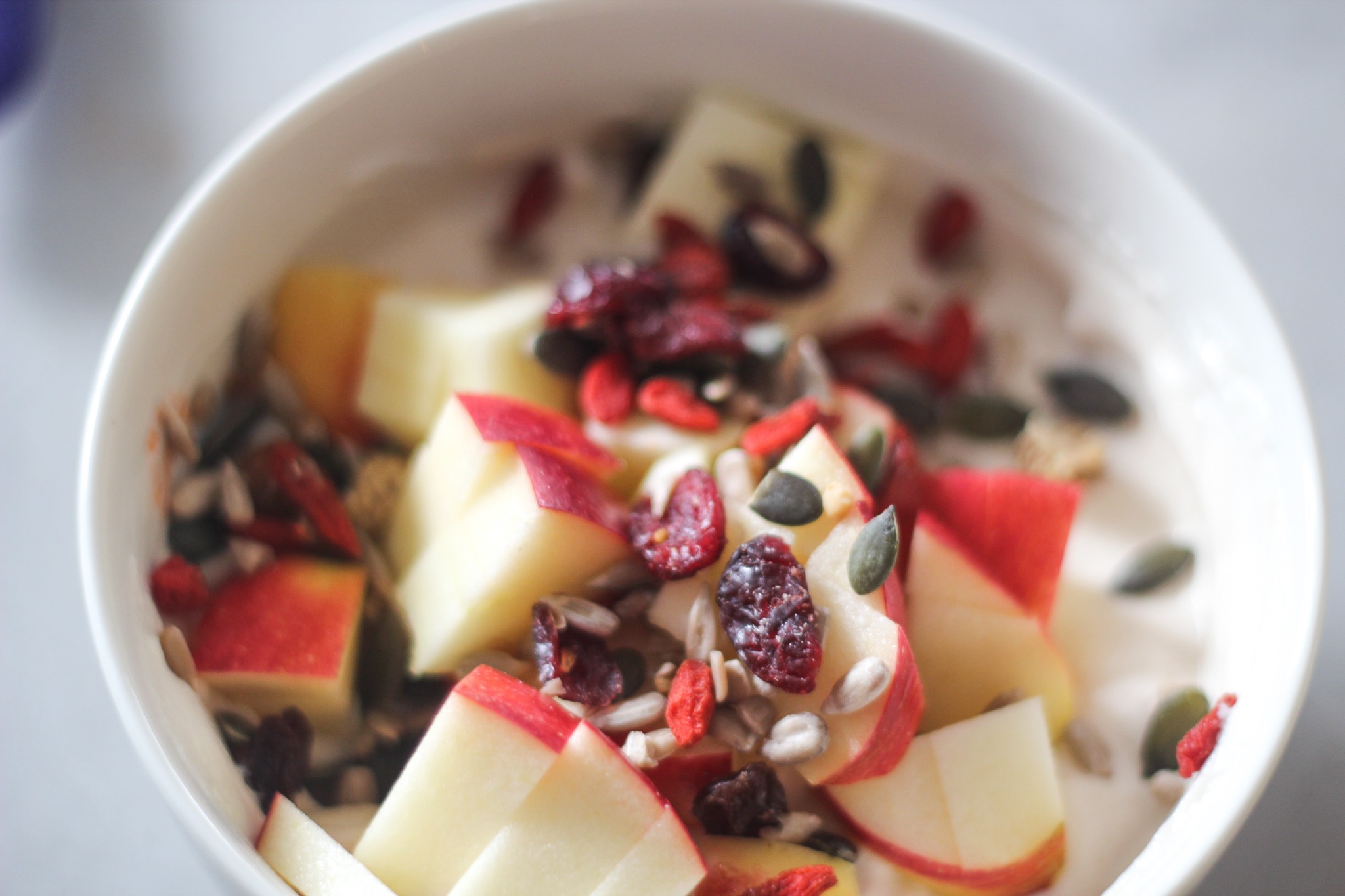 Magere kwark met appel en een pitten&zaden mix van de Lidl.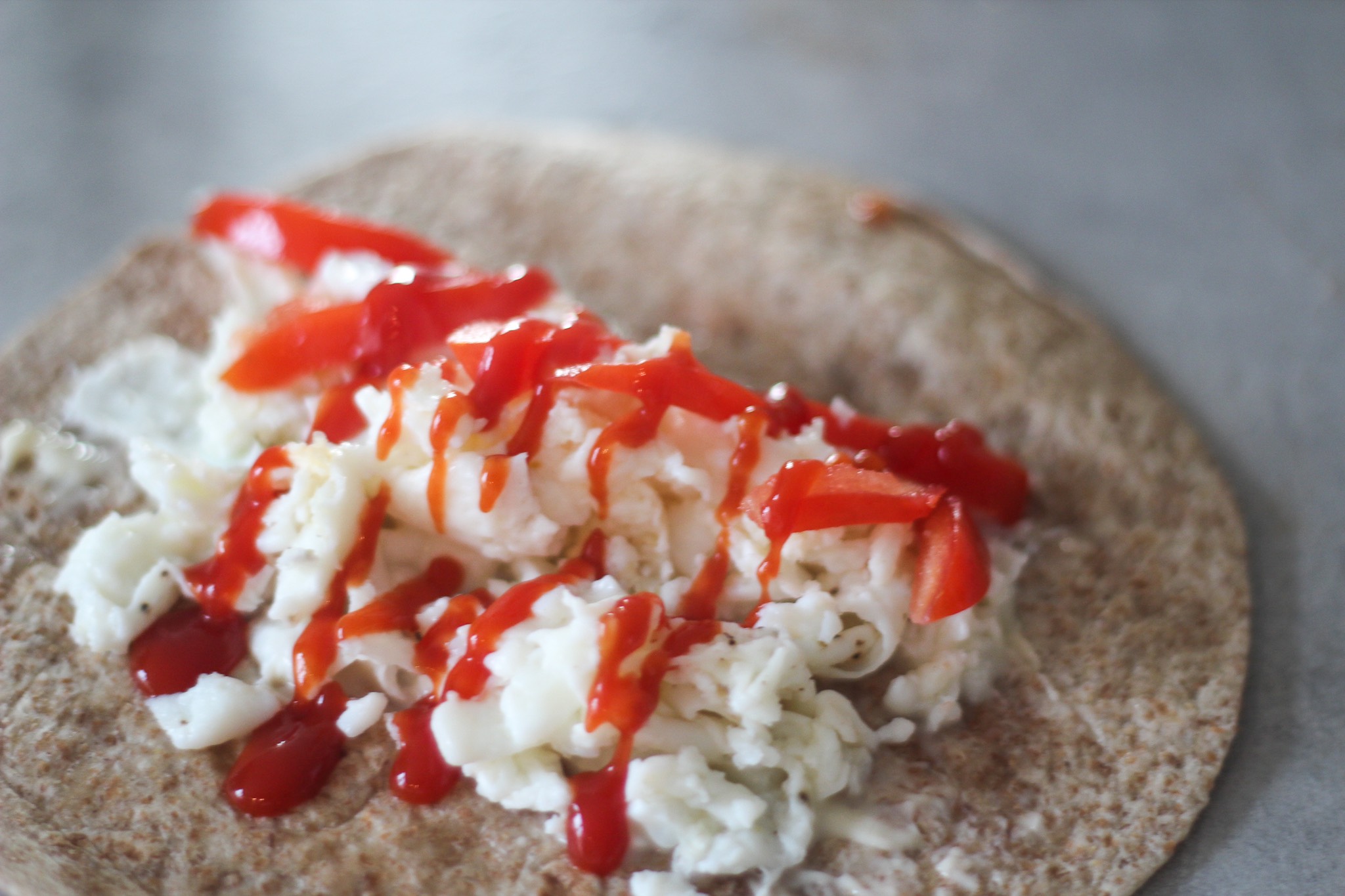 Deze keer waren de ingrediënten van de omelet op, behalve de eieren. Eiwit met tomaat en ketchup in een volkoren wrap met smeerkaas. Wat ik met het eigeel doe? Ik maak er ijs van!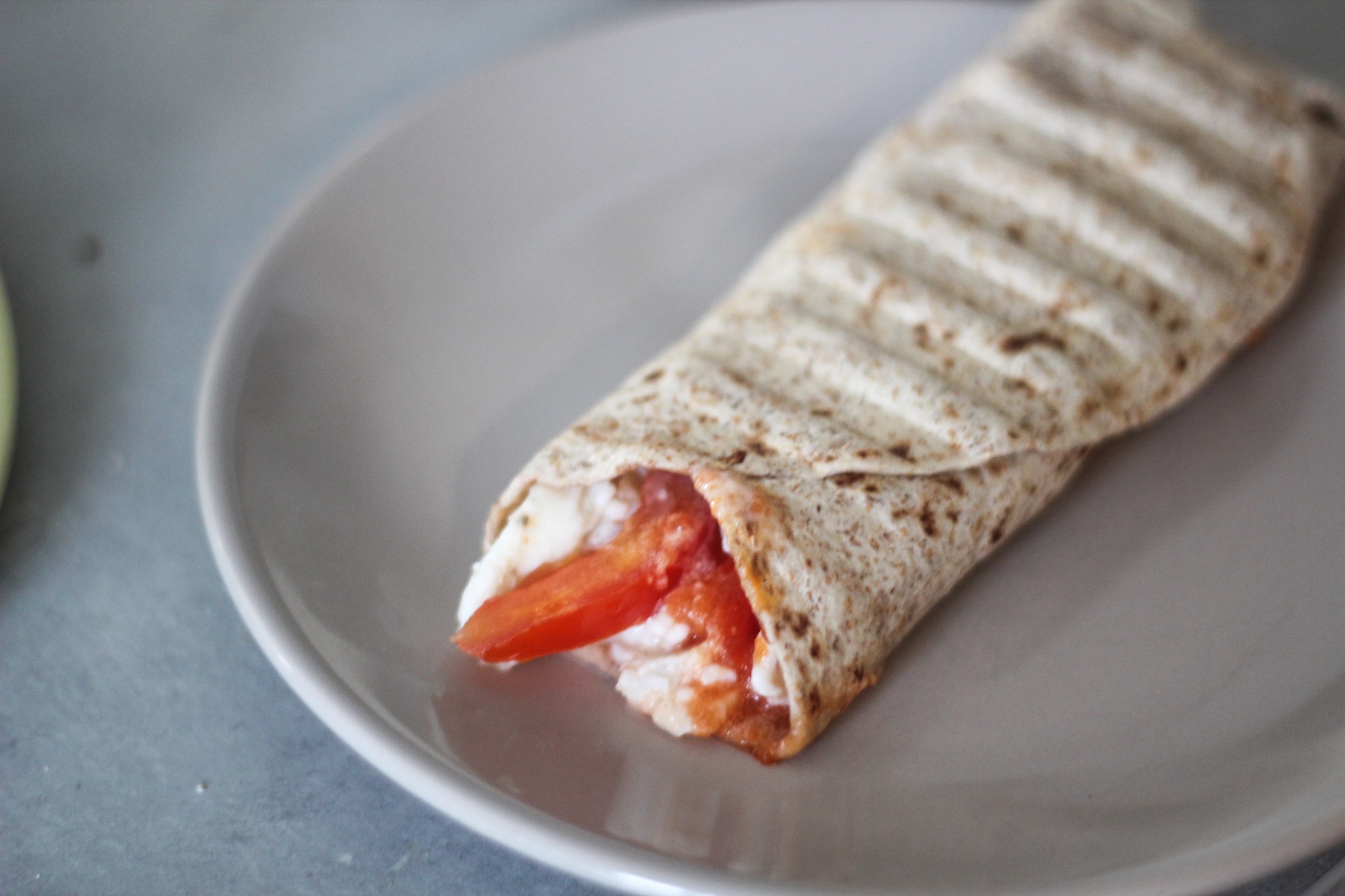 Dit even een paar minuten op de grill en klaar.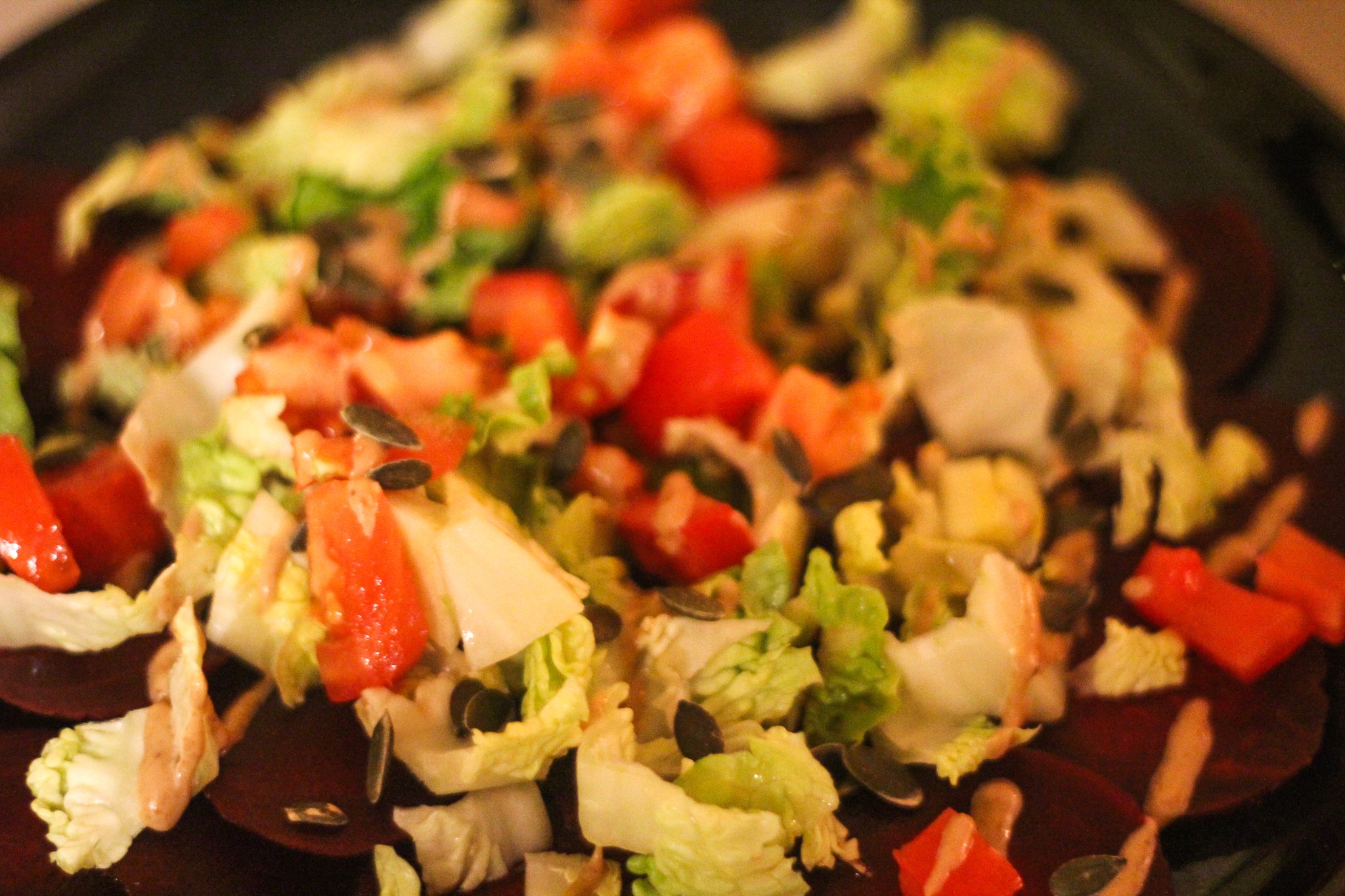 Een soort geïmproviseerde bieten carpaccio met little gem, tomaat, sesam dressing en pompoenpitten.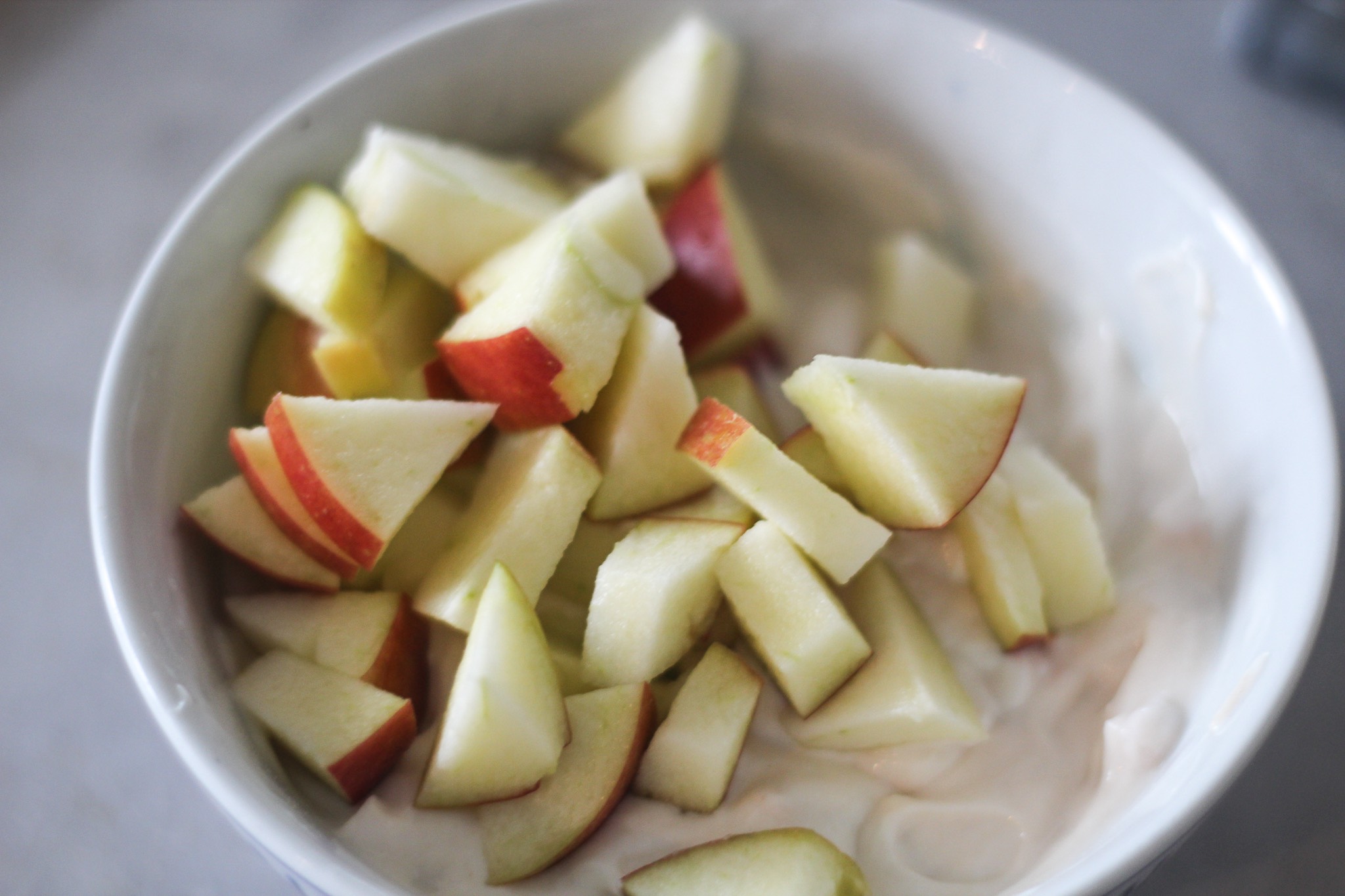 Magere kwark met vanille eiwitpoeder (vegan) en appel.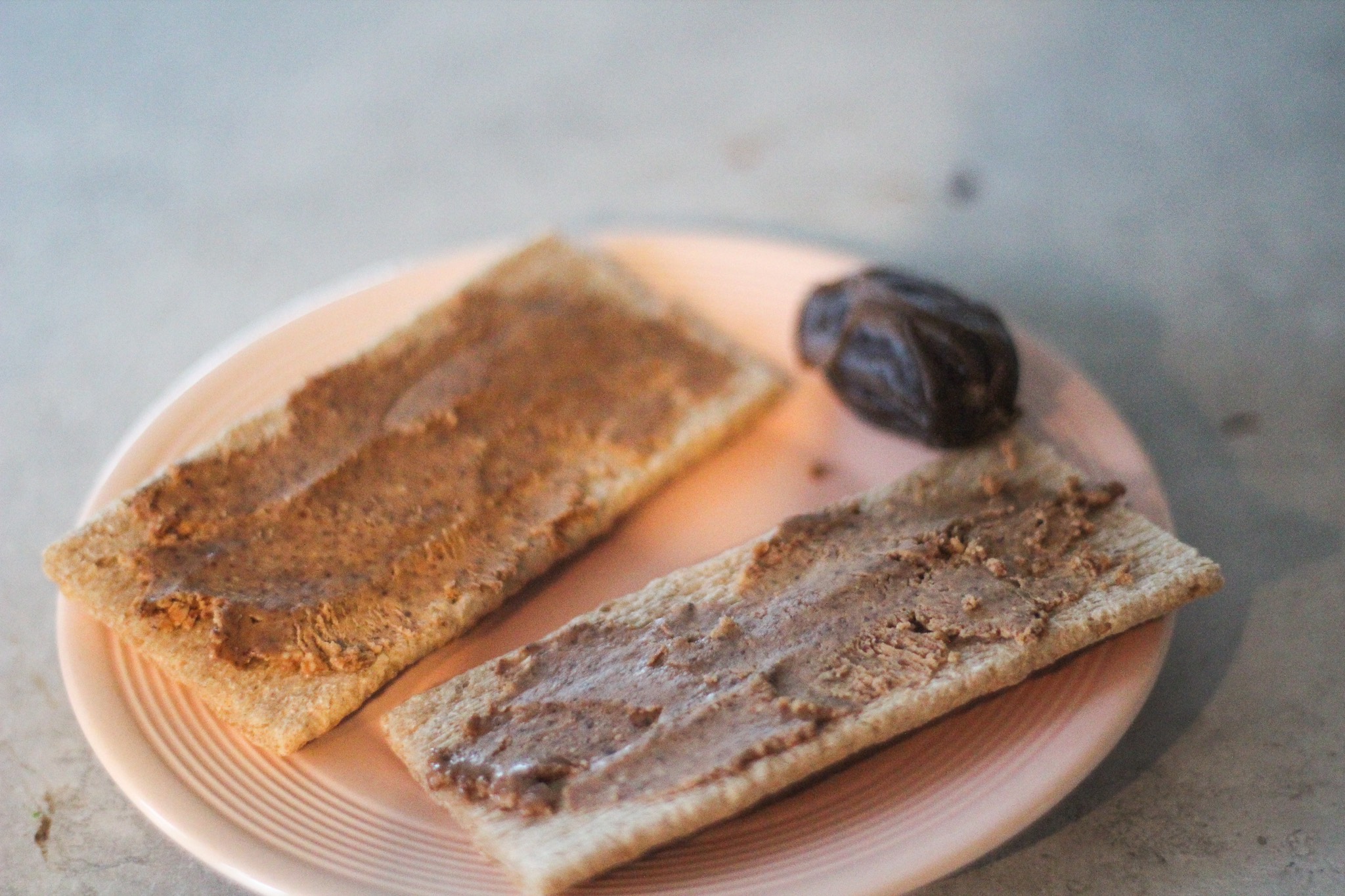 Twee crackers met amandelpasta en een dadel voordat ik ga sporten.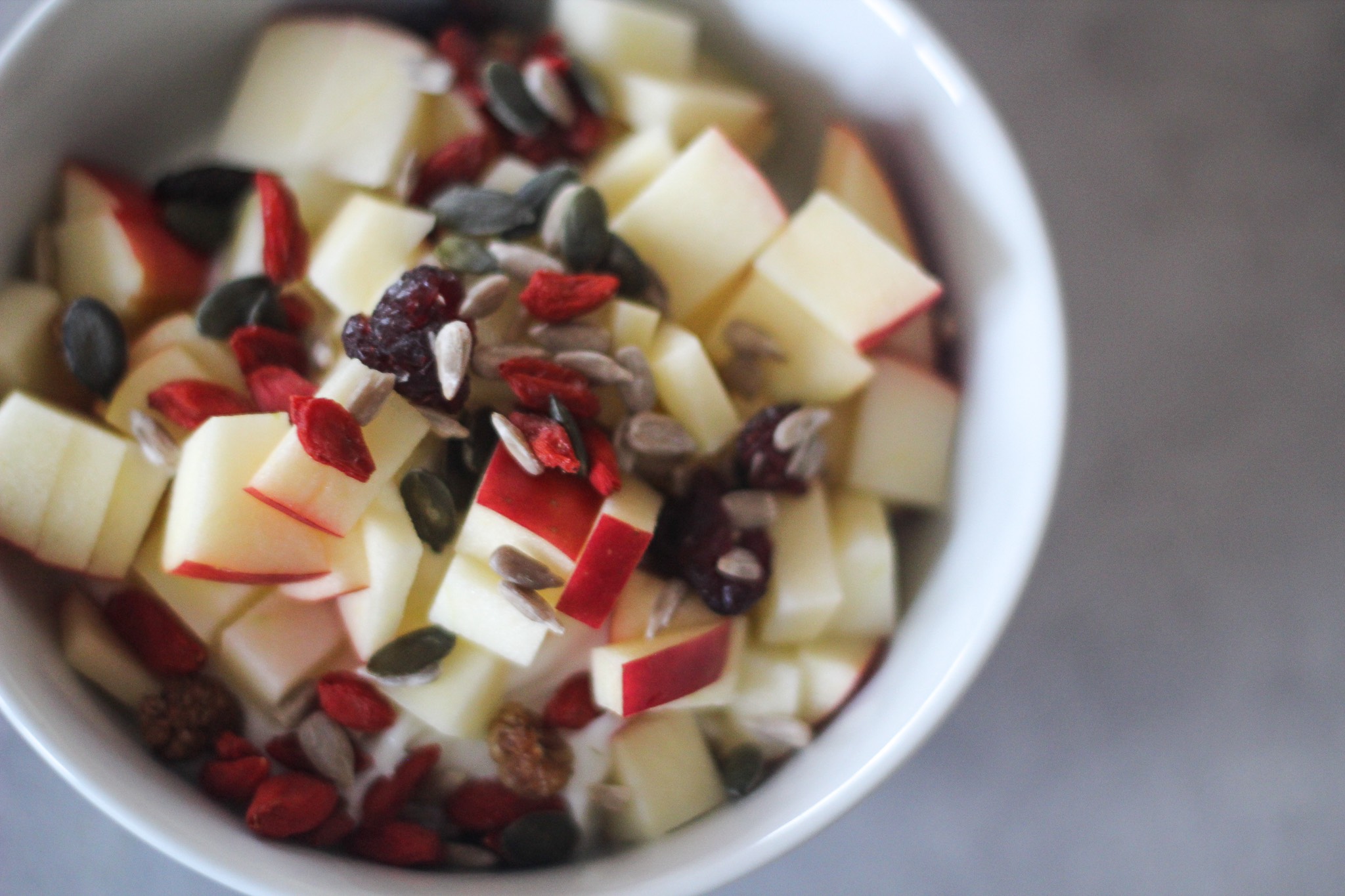 En we sluiten af met een go-to maaltijd: magere kwark met appel en pitten&zaden.
Zo, dat was het dan weer! Ik denk dat ik nu weer de keuken in duik voor een omelet wrap 🙂
Vragen? Laat het gerust achter in de comments!