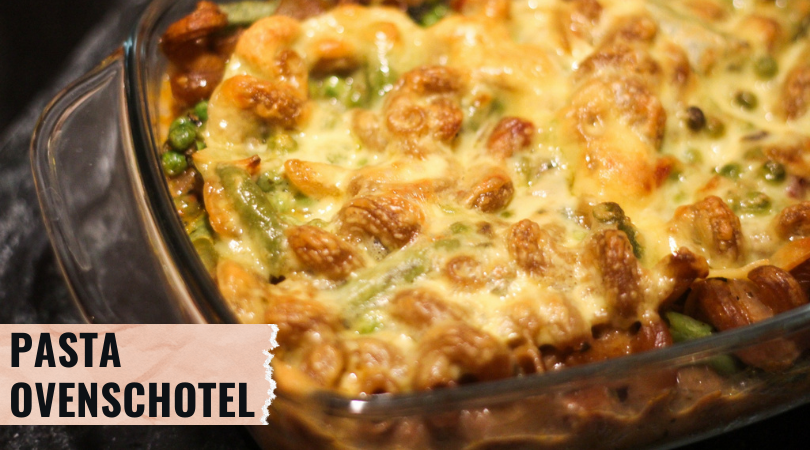 Dit recept is bedoeld voor de dagen dat je écht even niet weet wat je moet klaarmaken, je denkt dat je niks in huis hebt (maar eigenlijk wat losse ingrediënten hebt) maar nog wel voedend wilt eten! Deze pasta ovenschotel heb je binnen een handomdraai op tafel.
Kijk in de koelkast, de voorraadkast en de vriezer. Gebruik alle soorten diepvriesgroente die je hebt, pak wat volkoren pasta, misschien bonen of peulvruchten uit blik, zongedroogde tomaten, overgebleven rode wijn, blokje bouillon, ui, knoflook, kaas (zelfs plakken!), amandelmelk, olie en laten we van start gaan!
Ik heb gebruikt:
Diepvriesgroente: doperwten en sperziebonen, 200 gram
Ui, 1 stuk
Zongedroogde tomaten uit pot, 6-8 stuks, in stukjes gesneden
Cherry tomaten, 200 gram, in vieren gesneden
Volkoren pasta, 150 gram
Verse basilicum, handje, beetje gesneden of gescheurd
Scheutje ketjap, 1 eetlepel
Amandelmelk, 200 ml
Plakken belegen kaas, 3-4 plakken
Peper, zout, gedroogde oregano, gedroogde basilicum
Blokje bouillon, 1/4 blokje
Olijfolie
Verwarm de oven voor op 200 graden Celsius. Zet een pannetje met water op het vuur en begin alvast met het koken van de pasta. Verhit wat olie in een pan en bak hierin de ui tot hij glazig is geworden en bak daarna nog even de gedroogde kruiden mee. Voeg de zongedroogde tomaat en diepvriesgroente toe, als deze al aardig ontdooid zijn kunnen de cherry tomaten en verse basilicum bij. Roer het lekker goed door.
Doe vervolgens het blokje bouillon en amandelmelk erbij. Als de pasta gekookt is kan deze er ook bij. Roer het lekker goed door en leg wat gescheurde plakken kaas erbovenop tot ze smelten. Roer ze er dan door.
Verplaats alles uit de pan naar een ovenschaal(tje) en leg daar nog twee plakken kaas op. Zet dit voor 15 minuten in de voorverwarmde oven en klaar! ENJOY!
En even eerlijk he: alles met kaas is toch gewoon lekker? 😉
Dit recept is bedoeld je te inspireren 'wat te maken' van de random dingen die je in huis hebt. Daarom ben ik zo'n fan van diepvriesgroente, zolang dat in huis is kan ik altijd wel iets voedzaams maken. De volkoren pasta is ook top om extra vezels binnen te krijgen. Als je zelf nog wat bonen of peulvruchten hebt kunnen die er ook heerlijk door! Met een mixje van tomatenpuree, kokosmelk, bouillon, rode wijn en ketjap maak je de meest waanzinnige smaakvolle saus voor pasta of curry's. Experimenteer erop los!