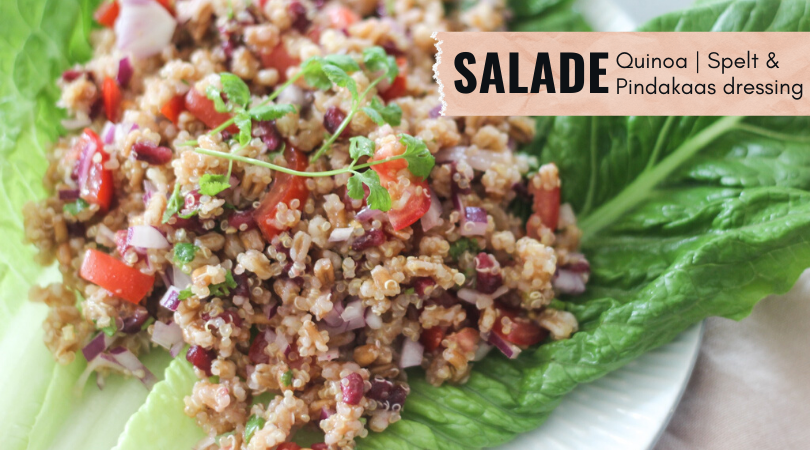 Een voedende salade bomvol eiwitten, vezels, vitamines en mineralen die ook nog eens heerlijk is – wat wil je nog meer? Deze salade kan warm maar vooral ook koud gegeten te worden en dient zich heel goed om meegenomen te worden omdat het niet drapperig wordt.
Dan heb ik het nog niet eens gehad over de hemelse pindakaasdressing! Genoeg gezegd, op naar het recept!
Wat heb je nodig voor 3-4 personen?
80 gram ongekookte quinoa
50 gram ongekookte spelt (of parelcouscous, of zilvervliesrijst of een ander graan)
1/4 blokje groente- of kippenbouillon
1 citroen, uitgeperst
1 eetlepel pindakaas
1-2 eetlepels maple syrup of honing
2 eetlepels granaatappelpitjes (mag ook bevroren zijn)
1 eetlepel fijngehakte verse koriander
1/2 rode ui, fijngehakt
4 cherry tomaten, in stukjes gesneden
Kook de quinoa en de spelt samen in een pan volgens de verpakking (afgietmethode of opneemmethode) met de bouillon.
Maak de dressing: Meng de citroensap, pindakaas en maple syrup in een kommetje.
Als de quinoa en spelt gekookt zijn, verplaats je deze naar een kom en voeg je de dressing toe.
Dan is het enkel een kwestie van de overige ingrediënten toevoegen, mengen en klaar is je salade!
Je kunt het serveren op wat grote romaine bladeren of wat sla fijnhakken en eronder plaatsen zodat er wat meer crunch en groente doorheen komt.
Enjoy!