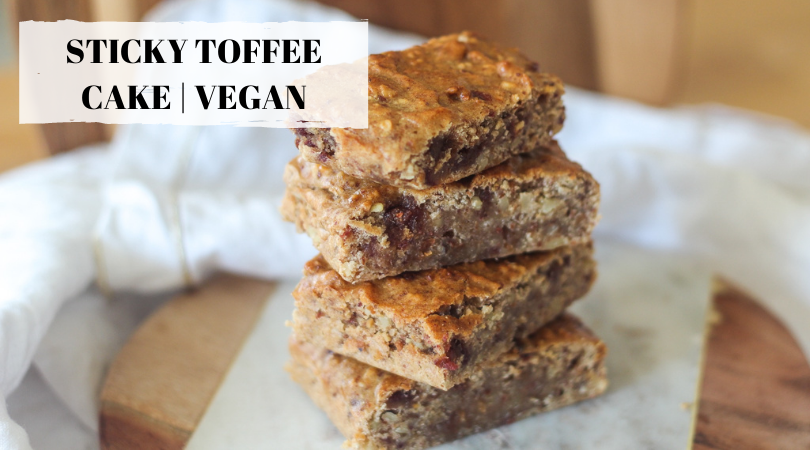 Zin in wat lekkers voor bij de koffie of thee maar wel met wat meer vitamines, mineralen, eiwitten en vezels? Dan ben je hier aan het juiste adres! Deze Vegan Sticky Toffee Cake is heerlijk smeuïg, zoet en voedend – je zou het prima als ontbijt kunnen eten!
Voor de echte zoetekauw die graag wat gezonder eet!
Wat heb je nodig voor 5-6 porties?
6 medjool dadels (ontpit)
100 ml plantaardige melk
100 gram gemengde noten (gemalen in de keukenmachine)
100 ml ahornsiroop (maple syrup)
100 gram (volkoren) tarwebloem
1/2 theelepel bakpoeder
Verwarm de oven voor op 190 graden Celsius. Doe de dadels in de keukenmachine en pulse tot het een gladde massa is geworden. Doe er eventueel een beetje plantaardige melk bij om het makkelijker te mixen.
Doe de rest van de ingrediënten in een grote kom, voeg de dadelpasta toe en mix dit met een vork stevig door tot alles goed met elkaar gemengd is.
Plaats een velletje bakpapier in een cakeblik en verplaats het mengsel hier naartoe. Zorg dat het mengsel gelijk verdeeld is in het cakeblik (wacht even hoor, is het het cakeblik of de cakeblik?).
Zet dit in de voorverwarmde oven voor 35 tot 40 minuten, afhankelijk van hoe sterk jouw oven is. Als je er met een vork in prikt en deze er schoon uit komt, dan is je cake klaar! Let wel, het is de bedoeling dat het een plakkerige cake is, dus de vork hoeft niet brandschoon uit de cake te komen. Er zitten verder ook geen eieren of iets dergelijks in, dus ziek zul je er niet van worden 😉 (niet door een eventueel rauw ei in ieder geval).
Laat de cake vervolgens even 10 minuten afkoelen en snijd hem dan aan. Hij hoort dus smeuïg en plakkerig te zijn met een kleine crunch door de noten! Enjoy!