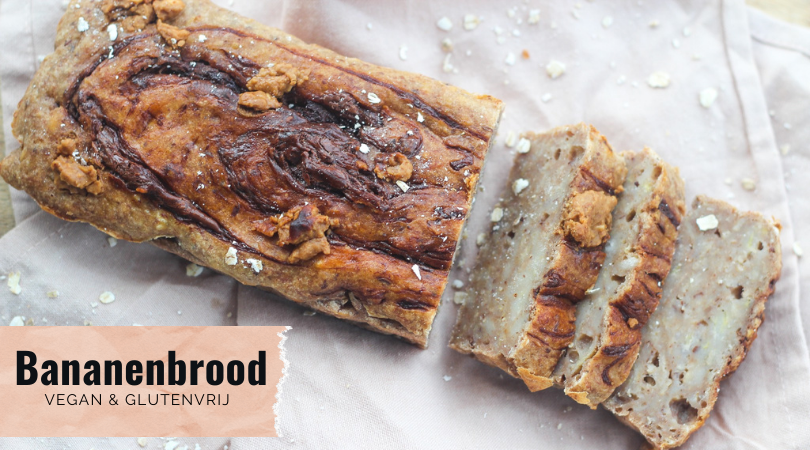 Mocht je het gemist hebben; van de week had ik maar liefst 23 bananen in huis en die moesten opgemaakt worden.
Er zijn wat bananen weggegeven en in de vriezer gestopt, maar het kón niet anders dan dat ik er ook bananenbrood mee zou maken. Daar is dit recept uit ontstaan, een bananenbrood die vegan én glutenvrij is en zonder geraffineerd suiker. Ook wel even handig om te melden!
Let wel, dit bananenbrood is lekker smeuïg van binnen. Wil je dat hij minder smeuïg is? Zet hem dan nog 20-30 minuten langer in de oven!
Wat heb je nodig?
3 bananen, geprakt
3 eetlepels gesmolten kokosvet
1 theelepel vanille extract
1 eetlepel lijnzaad + 2,5 eetlepel water in een kommetje 10 minuten laten rusten (dit is je ei-vervanger)
4 theelepels bakpoeder
snufje zout
3-5 eetlepels maple syrup (ahornsiroop)
180 ml plantaardige melk
155 gram glutenvrije meel/bloem (ik gebruik die van Schär, zie foto)
50 gram havermout
1-2 theelepels kaneel of andere herfstkruiden
Extra's
1-2 eetlepels pindakaas
1-2 eetlepels (vegan) Nutella
noten en zaden
Verwarm de oven voor op 170 graden Celsius.
Doe alle natte ingrediënten bij elkaar in een grote kom (banaan, kokosolie, vanille extract, maple syrup, plantaardige melk, lijnzaad) en meng dit goed door met een vork.
Voeg de glutenvrije meel en havermout en zout toe en meng dit ook door met een vork. Als het mengsel te dik is kun je er wat plantaardige melk bij doen. Als het te vloeibaar is kun je er wat havermout of meel bij doen.
Voeg als laatste de kaneel (of herfstkruiden) toe naar smaak. Ik hou van lekker veel! Zoals je op de foto ziet heb ik 'pumpkin spice' kruiden uit Amerika. Ik heb ook de achterkant gefotografeerd zodat je weet wat erin zit als je dit ook wilt. Absoluut een aanrader!
Doe een velletje bakpapier in een cakeblik, maak dit tijdelijk vast met een elastiekje en giet hier het mengsel in.
Je kunt altijd nog wat noten en zaden toevoegen naar smaak. Of zoals ik heb gedaan: Nutella en pindakaas! Let wel, met niet-vegan-Nutella is je bananenbrood niet meer vegan natuurlijk. Daarom zijn deze extra's ook optioneel.
Vergeet niet het elastiekje van het cakeblik af te halen voordat je hem in de voorverwarmde oven plaatst! Laat je bananenbrood zo'n 60-65 minuten gaar worden in de oven.
Check om de 20 minuten even of alles goed gaat in de oven. Bepaal na 65 minuten of je de cake wat droger wilt of smeuïg zoals bij mij op de foto en besluit aan de hand daarvan om hem nog 20+ minuten in de oven te plaatsen.
En daarna is het een kwestie van: GENIETEN!