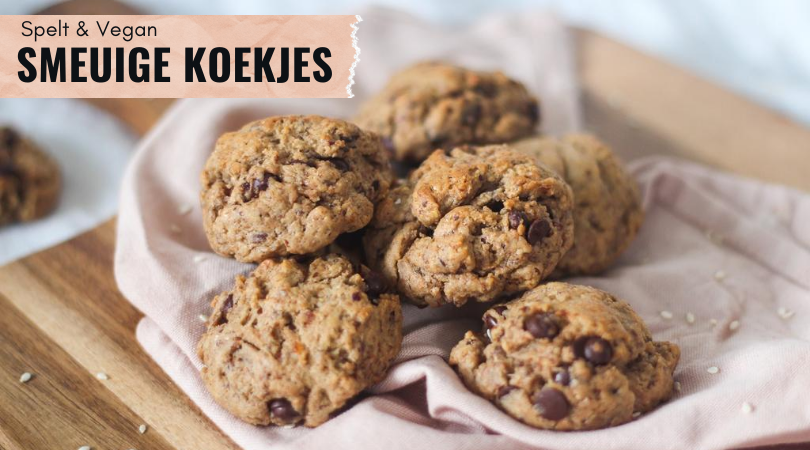 Er zijn nooit genoeg koekjesrecepten als je het mij vraagt, dus vandaag komt er met heel veel plezier een nieuwe bij de collectie: chocolade spelt koekjes die helemaal vegan zijn en niet te vergeten: heerlijk smeuïg!
Kom maar door zou ik zeggen!
Wat heb je nodig?
225 gram (volkoren) speltmeel
1,5 theelepel bakpoeder
0,5 theelepel zout
100 gram vegan boter of kokosvet (voor niet vegans: gebruik gewone boter)
5 eetlepels gebroken lijnzaad
75 gram pindakaas of tahini
100 gram rietsuiker of kokosbloesemsuiker
75 gram medjool dadels, in water geweekt
60 gram chocolade
Optioneel om de koekjes in te rollen:
Bereidingswijze:
Doe de lijnzaad in een schaaltje met 5 eetlepels water en laat dit 10 minuten staan. Dit is je ei-vervanger.
Meng je speltmeel, bakpoeder en zout in een kom met een vork.
Doe de boter, pindakaas, rietsuiker en medjool dadels (haal ze uit het water) in een keukenmachine en mix het geheel tot het een luchtige gladde massa is geworden.
Doe je lijnzaadmengsel erbij en mix het nogmaals goed door.
Verplaats alles uit de keukenmachine naar een grote kom en voeg hier het mengsel van de droge ingrediënten (spelt, bakpoeder, zout) aan toe. Meng dit met een vork, spatel of een machine voor deeg en beslag tot er een koekjesdeeg ontstaat.
Zet dit in de koelkast voor minimaal 1 uur zodat het makkelijker om te vormen is tot koekjes zonder te smelten. Vooral wanneer je kokosvet hebt gebruikt.
Na een uur:
Verwarm je oven voor op 190 graden Celsius
Gebruik een lepel of een ijsschep om ballen uit het deeg te maken en verplaats deze naar de ovenplaat bedekt met een velletje bakpapier.
Duw de koekjes een beetje plat als je wilt, hier krijgen ze van die mooie 'deuken' van als ze de oven uit komen.
Plaats de ovenplaat voor 11 minuten in de voorverwarmde oven.
Laat de koekjes even 15 minuten afkoelen en genieten maar!