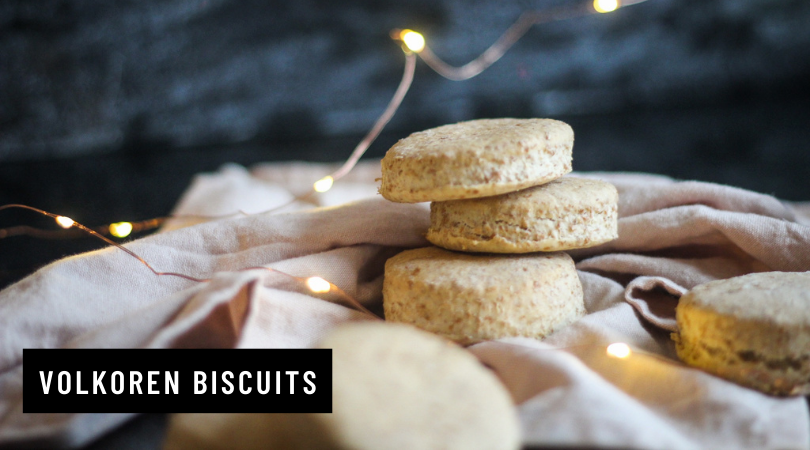 Deze simpele volkoren biscuits zullen je huis heerlijk laten ruiken. Maar dat is natuurlijk niet zo belangrijk, hoe ze smaken doet er meer toe!
Romig, knapperig en vooral zo zoet als jij het wilt. Je kunt voor een neutrale variant gaan die je achteraf kunt beleggen met wat hartigs, maar je kunt ook voor een zoete variant gaan om bij de koffie of thee te eten.
Met volkoren meel krijgen we toch weer wat extra vezels binnen en zeg ik: een Fitbeauty proof recept!
Wat heb je nodig voor zo'n 12 biscuits?
360 gram volkoren tarwemeel
85 gram boter op kamertemperatuur, in blokjes gesneden
1 theelepel zout
1 eetlepel bakpoeder
100-200 ml plantaardige melk
1-4 eetlepels suiker: afhankelijk van jouw voorkeur. Laat dit weg als je neutrale biscuits wilt.
Verwarm de oven voor op 180 graden Celsius
Voeg alles behalve de boter en melk bij elkaar in een kom, meng dit met een vork. Doe de boter erbij en mix dit met een keukenmachine, je handen, een vork of een mixer tot er een structuur als broodkruimels ontstaat. Blijf mixen en voeg de melk in etappes toe zodat het deeg begint te vormen. Doe dit in etappes zodat het niet te nat wordt.
Als het deeg goed samen begint te komen is het tijd om het te vormen. Doe wat bloem op het aanrecht en rol het deeg uit tot een rechthoek. Vouw het deeg 3 keer op (van links naar het midden en van rechts naar het midden). Rol het deeg opnieuw uit tot hij ongeveer 1 cm dik is. Pak een klein glas en snijd rondjes uit het deeg.
Alles wat over is kun je gewoon weer uitrollen en opnieuw vormen.
Leg een velletje bakpapier op de ovenplaat en leg hier de biscuits op. Zet dit op de kop (vergeten op de foto) in de voorverwarmde oven voor 20 – 40 minuten tot de bovenkant een beetje begint te kleuren. Aangezien het volkoren biscuits zijn zul je geen goudbruine bovenkant krijgen – want de kleur van de meel is al bruiner van zichzelf.
Haal ze uit de oven en laat ze goed afkoelen. Daarna kun je er lekker van smullen! Beleg de biscuits met jam, opgeklopt room, kaas, nutella, pindakaas, wat jij maar wilt! Of eet ze zonder beleg! Enjoy :)n