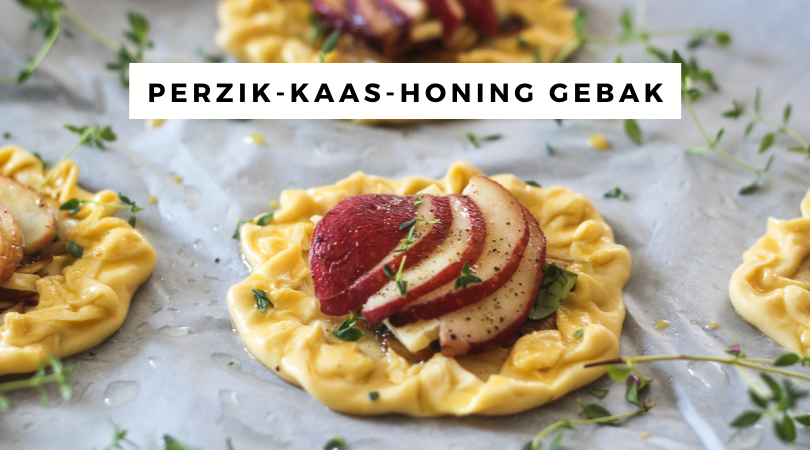 Een perfect recept om van te voren te maken voor als je visite krijgt, om mee te nemen ergens naartoe of gewoon lekker voor jezelf. Het ziet er prachtig uit en is tegelijkertijd een smaakbom voor je papillen.
De zachte perzik gecombineerd met zoute kaas en (zoete) honing smelt op je tong. Met dan nog de 'crunch' van het bladerdeeg. Hmm!
Wat heb je nodig voor 6 gebakjes?
3-4 perziken, in schijfjes gesneden
3 uien, gesnipperd
1 eetlepel appelazijn
6 plakjes diepvries bladerdeeg, ontdooid (even los van elkaar neerleggen om te ontdooien)
200 gram kaas: brie, feta of een andere kaas naar smaak
6 theelepels honing (voor elk gebakje 1 theelepel)
6-10 takjes verse tijm
peper en zout naar smaak
2-3 eetlepels olijfolie
Verwarm de oven voor op 200 graden Celsius.
Verhit de olijfolie in een pan en bak hierin de ui tot hij helemaal gekarameliseerd is. Voeg nadat de ui glazig is geworden 1-2 eetlepels water toe om de pan van wat meer vocht te voorzien waardoor de ui niet gaat plakken.
Bedek een ovenplaat met een velletje bakpapier en leg hier de bladerdeeg vellen naast elkaar op. Begin met een laagje gekarameliseerde ui, gevolgd door kaas getopt met honing.
Leg daarbovenop de schijfjes perzik en eindig met een snufje peper en zout.
Vouw de uiteinden van de vellen bladerdeeg naar binnen op een leuke manier zoals jij dat wilt. Je kunt ze ook in het geheel omvouwen en met een vork platdrukken waardoor de vork afdrukken zichtbaar worden: ziet er ook leuk uit!
Als alle bladerdeeg vellen zo zijn bedekt, kun je de verse tijm over het geheel laten vallen. Wat takjes, wat blaadjes, probeer het tussen je vingers te rollen voor je het laat vallen zodat er al wat aroma vrijkomt.
Zet de ovenplaat in de voorverwarmde oven voor 15-25 minuten (afhankelijk van je oven) en laat ze daarna even rustig afkoelen voor je ze gaat serveren. Je kunt ook na het afkoelen wat takjes tijm over het geheel verdelen zodat het groene van de tijm ook een verse look geeft aan de gebakjes!
Geniet van deze heerlijke smaaksensatie!