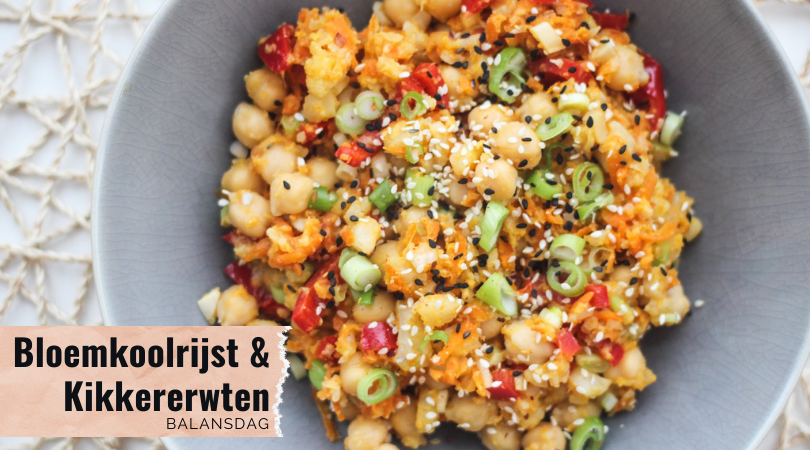 Een heerlijk gerecht dat warm of koud gegeten kan worden bomvol groente en perfect voor een eventuele balansdag. De bloemkoolrijst is een basis bij mij thuis, maar gecombineerd met de dressing die ik voor je heb in dit recept wordt het echt een waanzinnig lekker gerecht!
Op naar het recept.
Wat heb je nodig voor 2 personen?
100 gram wortel, geraspt
200 gram bloemkoolrijst (vers of uit de diepvries)
1 zoete punt paprika of rode paprika, in stukjes gehakt
2 teentjes knoflook, fijngehakt
5 lenteui, in ringen fijngehakt
200 gram kikkererwten, uit blik of pot (uitgelekt)
1 eetlepel sesamolie of olijfolie
sesamzaad ter garnering, wit en/of zwart
chili vlokken ter garnering
Dressing:
2 theelepels miso pasta
1 eetlepel water
3-5 theelepels maple syrup
2 theelepels sesamolie
1 limoen, sap
1 teentje knoflook
2 cm verse gember
1 theelepel wijnazijn
Doe alle ingrediënten van de dressing bij elkaar in de keukenmachine en blend het geheel tot een gladde massa.
Verhit wat olie in een koekenpan en bak hierin de knoflook 1 minuut. Voeg vervolgens de bloemkoolrijst toe en bak deze 4-5 minuten.
Doe de wortel en paprika erbij, bak deze een paar minuten mee
Voeg de dressing toe aan het geheel, meng het goed door en laat het geheel opwarmen op een laag vuur
Voeg de uitgelekte kikkererwten en lenteui toe – laat een klein beetje lenteui achterwege ter garnering aan het eind
Zorg dat het geheel opgewarmd is en dan is het tijd om op te scheppen!
Garneer je bord met sesamzaad, chilivlokken en/of lenteui en smullen maar!
Super voedend, rijk aan vitamines en mineralen en ook nog eens perfect om extra te maken om de volgende dag als lunch koud op te eten. Enjoy!