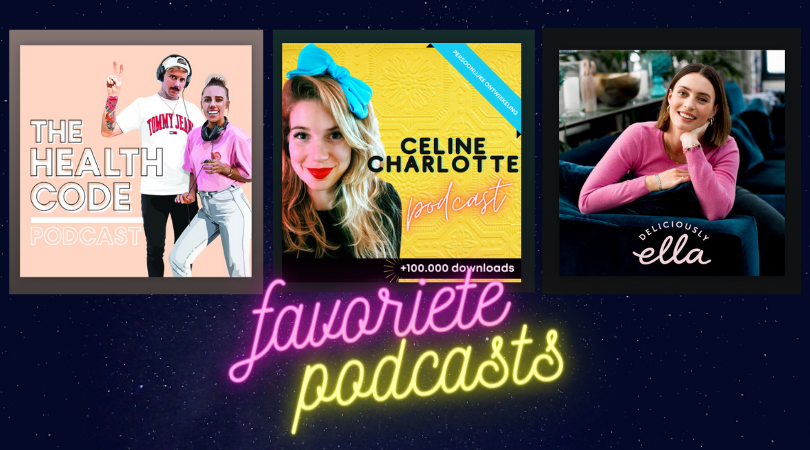 Ik luister elke dag naar minstens één podcast en sta vaak te popelen om deze met mijn vrienden en familie te delen. Soms post ik het op Instagram story en aan de hand daarvan komen er genoeg vragen of ik al eens heb geschreven over mijn favoriete podcasts.
Dat doe ik vandaag! Dit zijn mijn favoriete podcasts, met afleveringen van dit moment. Een verzameling van mijn lievelingspodcasts van de afgelopen 3 maanden.
Deliciously Ella | Seizoen 5 aflevering 23 | The Flaws of Perfectionism
In deze podcast spreekt Ella Dr. Thomas Curran over perfectionisme. Wat ik een héél boeiend stuk vond, was toen er een gesproken werd over de onderzoeken die gedaan zijn rondom perfectionisme. Hierdoor zie je in dat mensen die perfectionistisch zijn vaak na één keer falen niet meer opnieuw proberen. En dat dát je eigenlijk weerhoudt van heel veel moois in het leven aangezien je voor de dingen die je wilt bereiken vaak consistent moet zijn en blijven proberen.
Dit kun je doortrekken op heel veel vlakken in het leven waaronder ook het afvallen. Perfectionistische mensen hebben vaak de alles of niets mentaliteit en willen niet één fout begaan en het opnieuw proberen. Ze hebben het gevoel dat ze gefaald hebben en zullen het dan compleet opgeven.
Een hele interessante podcast waardoor je gaat inzien dat perfectionistisch zijn geen stiekem goede eigenschap is maar het je juist heel erg tegen houdt in het leven.
Celine Charlotte | Introvert zijn, en hoe dat alles veranderde
Voor iedereen die graag eens een Nederlandse podcast tip wil van mij: de podcast van Celine Charlotte. Sowieso zou ik je willen adviseren haar Instagram te volgen als je geïnteresseerd bent in zelfontwikkeling, want ze legt alles heel goed uit en laat tegelijkertijd haar menselijke kant zien.
Ze is voor mij een enorme inspiratie op business vlak omdat ze zo vertrouwt op haar intuïtie en keihard werkt. In deze podcast vertelt ze over het zijn van een introvert en hoe ze daarmee omgaat. Welke grenzen ze stelt en hoe ze op een speelse er iets moois van maakt.
Zo pakt ze op een feestje af en toe even 15 minuten voor zichzelf buiten of op de trap. Of neemt ze vaak een kaasplankje mee als ze bij iemand gaat eten zodat ze niet chagrijnig wordt van de honger als de ander nog moet koken en het duurt heel lang. Zo weten haar vrienden en vriendinnen dat ze graag spontaan afspreekt of iets van te voren afspreekt en dan op de dag zelf nog even appt hoe ze zich voelt. Dit soort dingen zijn belangrijk om te communiceren met de mensen waar je van houdt omdat je anders meegesleurd wordt in een extraverte wereld en dat maakt je als introvert moe en op.
Het zal heus niet allemaal op één manier gaan, er is altijd een nuance en dat weten de mensen waar je van houdt heus wel. Ik kreeg laatst comments dat ik wel heel streng was met dit soort eisen en dat dat soms wel te ver gaat. Maar dat zijn geen vrienden van mij, die commenten 😉 Mijn vrienden weten heel goed hoe de balans is en sinds we eerlijk naar elkaar zijn kunnen we optimaal van elkaars vriendschap genieten; de ene keer op een extraverte wijze en de andere keer op een introverte wijze. Prachtig!
The Health Code | TRUE STORY: Transforming your own HEALTH & GUT!
De podcast van Sarah's Day en Kurt (haar vriend) vind ik heel leuk! Je moet er soms tegen kunnen dat ze lachen, gieren, brullen en allerlei zijweggetjes inslaan. Maar al met al leer ik er altijd weer iets van. Deze podcast is niet goed te beluisteren op een speaker (bijv. in de auto) maar wel goed met oortjes in of een koptelefoon op. Er is iets geks aan de hand met de audio waardoor je het gelach héél hard hoort en de man die ze te gast hebben, Caleb, heel zachtjes.
Ik waarschuw je maar alvast voordat je met volle hoop de podcast in gaat en vervolgens je irriteert aan het geluid.
Hoe dan ook, in deze podcast spreken ze co-founder van het merk Tropeaka: een merk dat onder andere plantaardig eiwitpoeder verkoopt dat is ontstaan doordat Caleb in zijn jonge jaren met veel gezondheidsklachten rondliep waar artsen niet zoveel mee konden. Hij heeft met voeding zijn hele gezondheid omgegooid en is op zoek gegaan naar betaalbare gezonde voeding aangezien hij in die tijd ontzettend veel geld uitgaf aan allerlei biologische winkels. Hierdoor is Tropeaka ontstaan. Een interessante, grappige en enorm leerzame podcast!
Zo, en nu ga ik weer even duiken in een nieuwe podcast "How I built this" van Guy Raz. Ik houd jullie op de hoogte na een paar maanden voor een nieuwe verzameling!