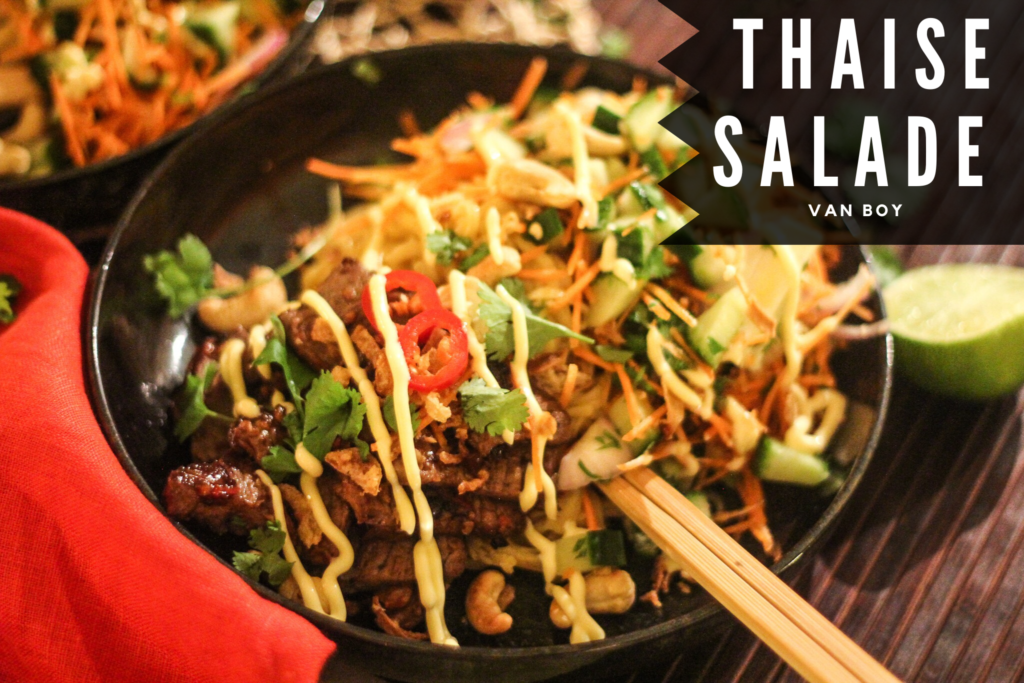 Het werd na drie jaar toch echt tijd dat er een receptje van Boy online zou komen! Ik durfde het al bijna niet op Instagram Story te posten omdat ik áltijd de vraag krijg naar "een recept?" bij het posten van een food-foto. Dit is dus het recept van Boy, vegan voor mij en met biefstuk voor de vleeseter!
Wat heb je nodig voor 2 porties?
noodles, 50 gram droog (wij hebben Soba Noodles gebruikt)
sjalotjes, 2
gember, 5 cm
knoflook, 4 teentjes
chilipeper, 1/2
lenteui, 3 stengels
komkommer, 2/3
winterpeen, 100 gram
limoengras, 2 stengels
koriander, 2 handjes
cashewnoten, 2 handjes
limoen, 1
gebakken uitjes, klein handje
Japanse mayonaise, als garnering en beetje smaak
sesamolie, 1 eetlepel
Vlees/veganistisch:
biefstuk, 90 gram voor alles-eters

1 eetlepel oestersaus en 1/2 theelepel light sojasaus, snufje peper en zout om op smaak te brengen

portobello champignons, 2 voor vegan

1 eetlepel chilisaus en 1/2 theelepel hoisin saus om op smaak te brengen
Het zijn aardig wat ingrediënten maar absoluut de heerlijke (en gezonde) smaakmakers van deze salade!
Snijd alles vast voor:
gember snijden
1/2 sjalotje fijn snijden
1/2 sjalotje in ringetjes snijden
winterpeen, julienne snijden
knoflook, fijn snijden
lenteui, in ringetjes snijden
1/2 koriander, fijn snijden
komkommer, zaadlijsten eruit en in blokjes snijden
chilipeper, fijn gesneden
Biefstuk in reepjes van 1/2 cm gesneden
Portobello in blokjes gesneden
Zet alles alvast klaar want zodra de pan verhit is gaat het allemaal snel achter elkaar erin. Zie de foto om een idee te krijgen hoe alles erbij staat voordat je aan de slag gaat.
2. Doe de komkommer, wortel, gesneden koriander en ringetjes sjalot in een grote kom, pers de halve limoen hierboven uit en meng dit door elkaar.
3. Breng een pan water aan de kook en doe hier de noodles in, meestal heb je maar kort nodig (zie de verpakking van de noodles die je gebruikt voor de bereidingswijze). Laat ze vervolgens uitlekken en ga door met de rest van het recept:
4. Verwarm de cashewnoten in een klein pannetje boven het vuur tot ze een beetje een goudbruine kleur krijgen. Haal ze van het vuur en laat ze afkoelen.
5. Verhit wat sesamolie in een koekenpan en bak hier de knoflook, gember, fijn gesneden sjalot en chili in voor 1 minuut (op een hoog vuur). Doe vervolgens de biefstuk en/of portobello samen met de bijbehorende saus erbij en bak deze 3 minuten mee.
6. Je kunt nu je bord opbouwen! Of je het nu allemaal lekker door elkaar wilt husselen of naast elkaar wilt leggen op je bord: ga je gang! Wij hebben alles naast elkaar gelegd., besprenkel nog een beetje limoen over het bord. Garneer je bord vervolgens met koriander, gebakken uitjes, cashewnoten en de Japanse mayonaise en je heerlijke Thaise salade is klaar!
7. Enjoy!
Ehh ja, Japanse mayo en Thaise salade haha 😉