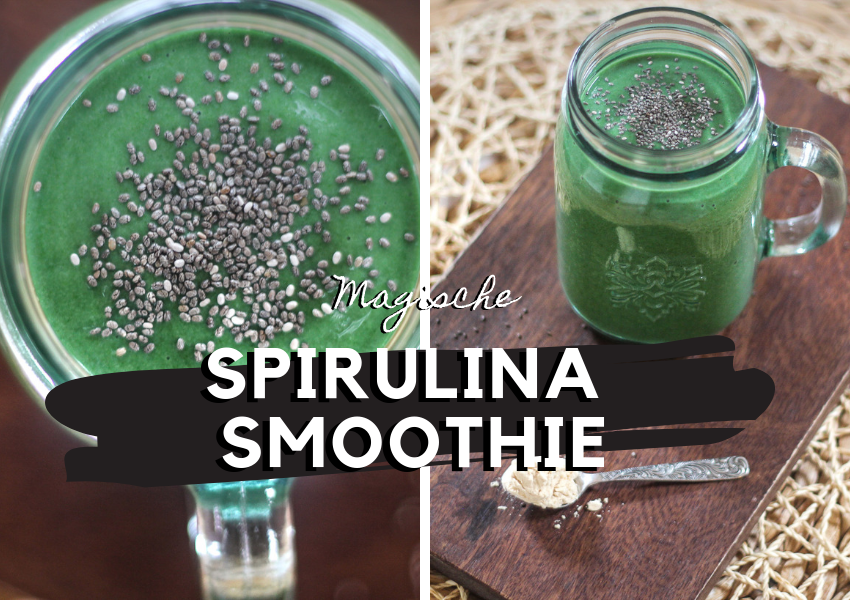 Je leest het goed inderdaad, magisch. Een magische smoothie. Wat moet je daar nou weer van verwachten?
Nou, een smoothie die op zoveel vlakken goed is voor je lijf zonder dat je er teveel moeite voor hoeft te doen. En je hoeft je geen zorgen te maken om de smaak, door de balans in ingrediënten is hij heerlijk romig en zoet! Ik denk dat ik mijn nieuwe ochtendsnack voor de lente en zomer heb gevonden!
Jullie vroegen na mijn artikel over spirulina naar manieren om het te verwerken in voedsel – dit is er alvast één! En dit recept is niet enkel een recept, maar ook een stukje wetenschappelijke info over alle ingrediënten – zodat je begrijpt waarom het zo magisch is!
Wat heb je nodig voor 1 magische smoothie?
120 gram diepvries spinazie of boerenkool
100 gram diepvries bloemkool
1/2 banaan uit de vriezer (60 gram ongeveer)
1 theelepel spirulina poeder
20 gram plantaardige vanille eiwitpoeder (optioneel)
260 ml plantaardige melk (bijvoorbeeld amandelmelk)
1 theelepel chiazaad
Laat de spinazie en bloemkool even 15 minuten ontdooien voor je de smoothie gaat maken. Zo blijft je blender heel 😉
Doe vervolgens alle ingrediënten behalve het chiazaad in de blender en blenden maar! Voeg als het nodig is wat water of plantaardige melk toe om het minder dik te maken of beter te laten blenden. Wat jij maar wilt!
Als de smoothie klaar is en je hebt hem overgegoten in een mooi groot glas (of mason jar, lekker hipster) doe je de chiazaadjes bovenop – deze kun je door je smoothie roeren. Op deze manier blijven de chiazaadjes niet vastplakken in je blender!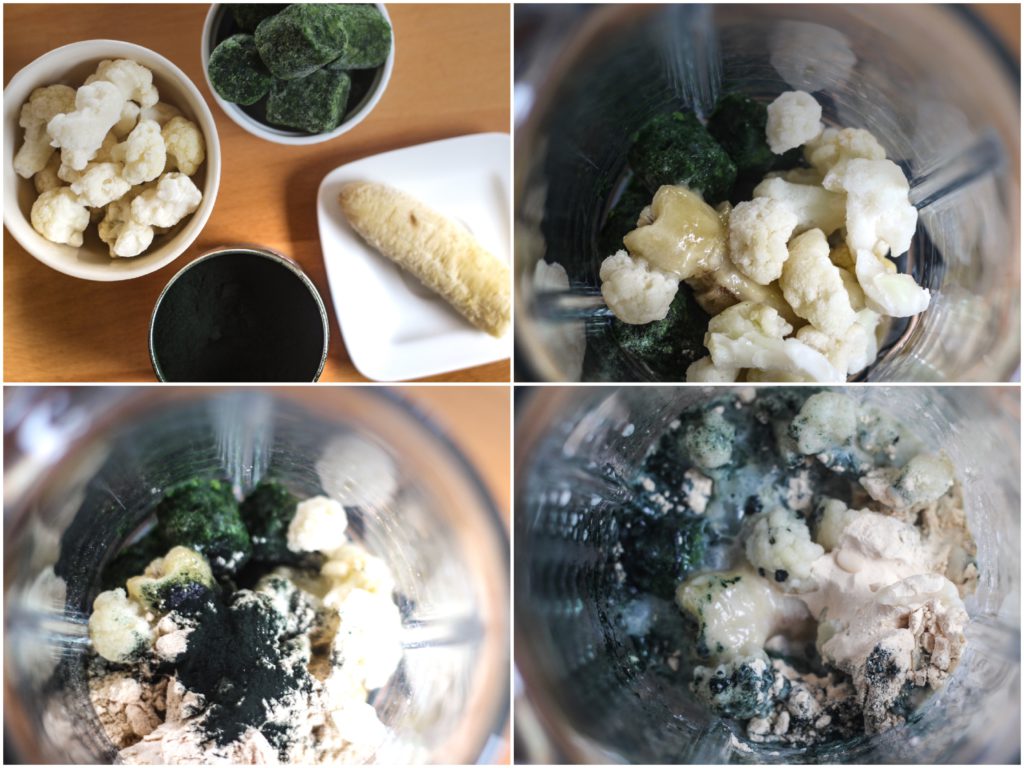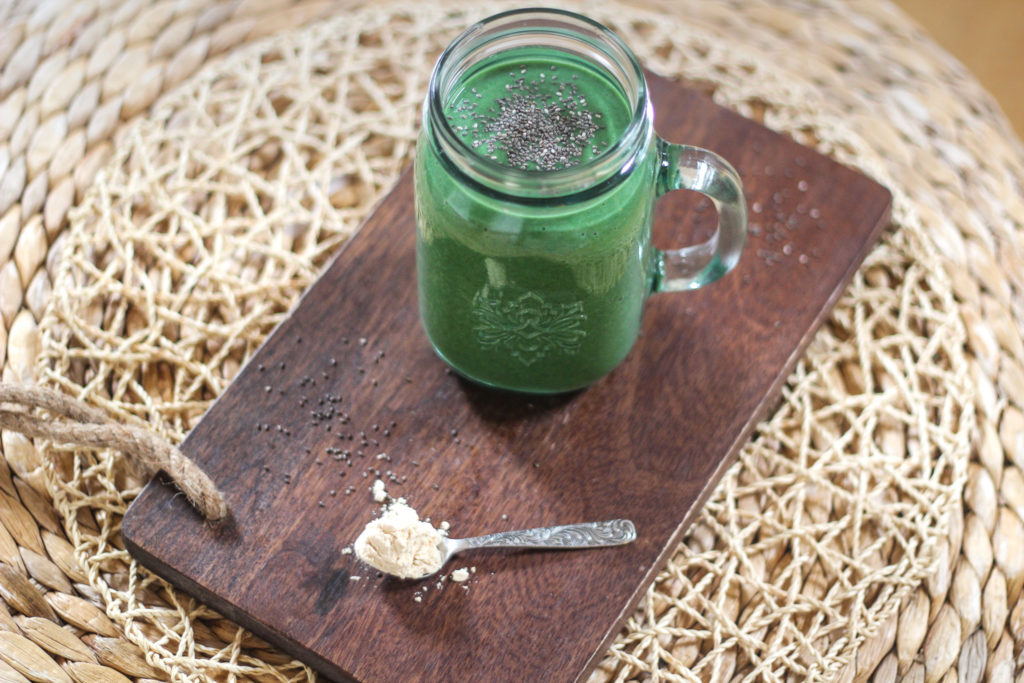 Waarom is deze smoothie zo magisch dan?
Alle ingrediënten zijn zo puur mogelijk. Het eiwitpoeder is het enige dat enigszins 'bewerkt' is – mijn advies is om voor een variant te gaan die gemaakt is van erwten en/of pompoen eiwit en slechts een paar toevoegingen heeft voor de smaak. Het liefst geen suiker maar een natuurlijke zoetstof, bijvoorbeeld stevia.
De spinazie geeft je ontzettend veel goeds, zoals;
Vezels
Vitamine A
Vitamine C: een krachtige

antioxidant

dat je huid en immuunsysteem gezond houdt
Vitamine K1: essentieel bij het stollen van je bloed (dit is iets anders dan het vormen van bloedstolsels)
Foliumzuur (vitamine B9): essentieel voor de normale celfunctie en weefselgroei – ook erg belangrijk voor zwangere vrouwen
IJzer:  helpt bij het creëeren van hemoglobine – brengt zuurstof naar je cellen
Calcium:  belangrijk voor je botten, zenuwstelsel, hart en spieren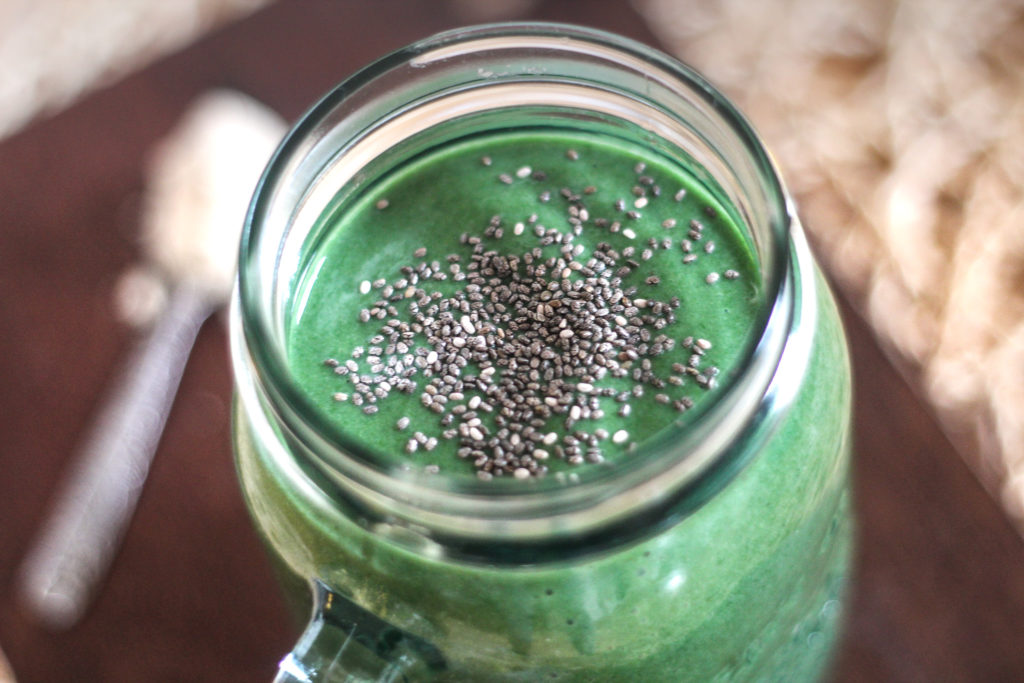 De bloemkool geeft het een romige textuur zonder de smaak te verpesten – zorg er dus voor dat het diepvriesbloemkool is. Wanneer je verse bloemkool hebt, dan zul je de smaak wél terugproeven in je smoothie. Waarom bloemkool zo goed is. 100-120 gram levert;
Vezels: 3 gram
Vitamine C: 77% van ADH (Aanbevolen Dagelijkse Hoeveelheid)
Vitamine K: 20% van ADH
Vitamine B6: 11% van ADH
Foliumzuur: 14% van ADH
Pantotheenzuur: 7% van ADH
Kalium: 9% van ADH
Mangaan: 8% van ADH
Magnesium: 4% van ADH
Fosfor: 4% van ADH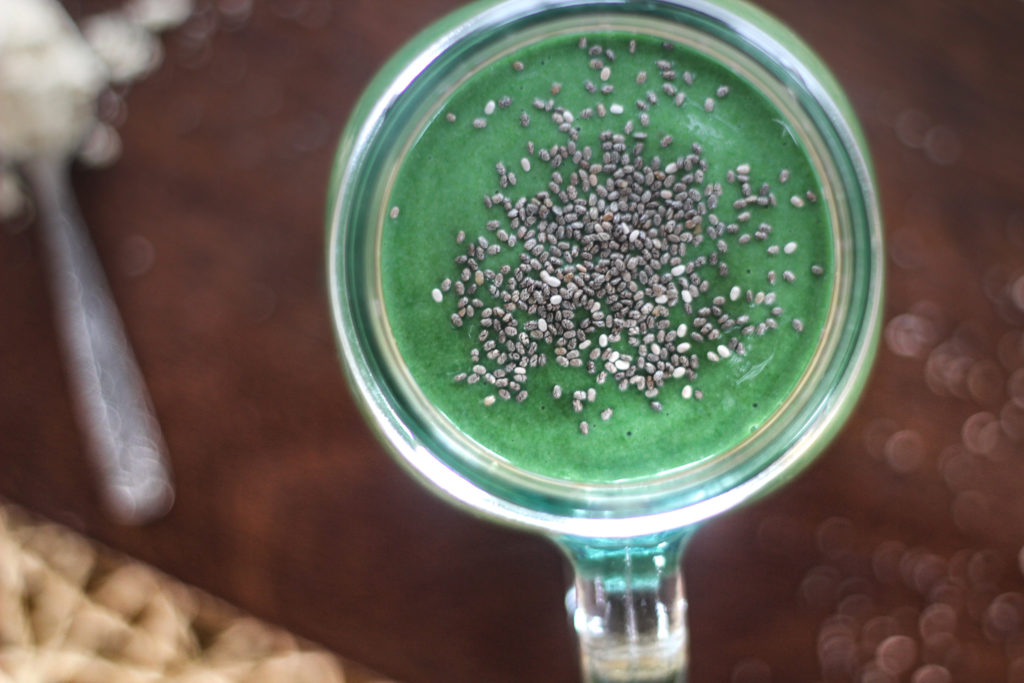 Waarom eiwitten zo goed voor je zijn;
En mocht je benieuwd zijn naar waarom bananen, spirulina, en chiazaad zo goed zijn? Check dan de onderstaande linkjes – je zult denk ik gauw genoeg begrijpen waarom ik deze smoothie magisch vind!
Ik zeg CHEERS! Op een heerlijke smoothie en op onze gezondheid!