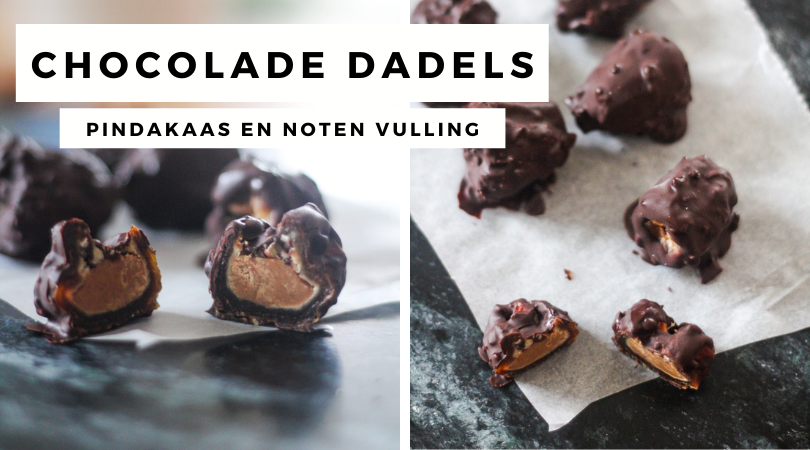 Deze snack is hemels. Ik zeg het je; heeeemels!! Niet alleen ziet het er fantastisch uit, maar het smaakt ook nog eens super.
Erg vullend om precies de juiste redenen: de voedingswaarde ervan is hoog. Heel anders dan wanneer je een aantal snoepjes eet voor dezelfde hoeveelheid calorieën bijvoorbeeld. Van deze snack zit je echt vol en heb je je lichaam gevoed. Van een handje snoepjes (waar op zijn tijd niks mis mee is) schiet je suikerspiegel omhoog zonder dat je lichaam gevoed wordt waardoor je kort daarna weer trek krijgt maar je ook suf voelt.
Anyway, voor alles is een plek en vandaag is die plek voor deze chocolade dadels met pindakaas en noten vulling!
Wat heb je nodig?
10 medjool dadels, ontpit door een snee erin te maken
1 reep chocolade (mag puur, mag melk, wat jij wilt)
pindakaas (hoeveelheid is afhankelijk van hoeveel jij wilt vullen en hoe groot je dadels zijn)
gemengde noten, fijngehakt
Smelt de chocolade in een schaaltje in de magnetron. Heb een bakplaat, bord of iets anders wat in de vriezer kan klaarliggen met een velletje bakpapier erop. Hier aan de dadels op zodat het geen kliederboel wordt.
Vul met een theelepel 3/4 van een dadel en duw daar een beetje fijngehakte noten bovenop (duw het in de pindakaas zodat het blijft plakken). Duw zachtjes de dadel dicht en leg het op een theelepel waarmee je het door de gesmolten chocolade laat gaan.
Je kunt de dadel er voorzichtig gewoon in laten vallen en een beetje omrollen met de theelepel totdat alle kanten bedekt zijn. Vis de dadel eruit met de theelepel en leg hem op het bakpapier. Herhaal dit met zoveel dadels als je wilt of tot zover je vriezer gevuld kan worden en plaats vervolgens de dadels in de vriezer voor minstens 1 uur.
Daarna kun je er al van smullen! Laat de dadels die je niet meteen opeet in de vriezer liggen zodat je de rest van de week een lekkere snack klaar hebt liggen in de vriezer! De dadels zijn 1-3 weken te bewaren in de vriezer!