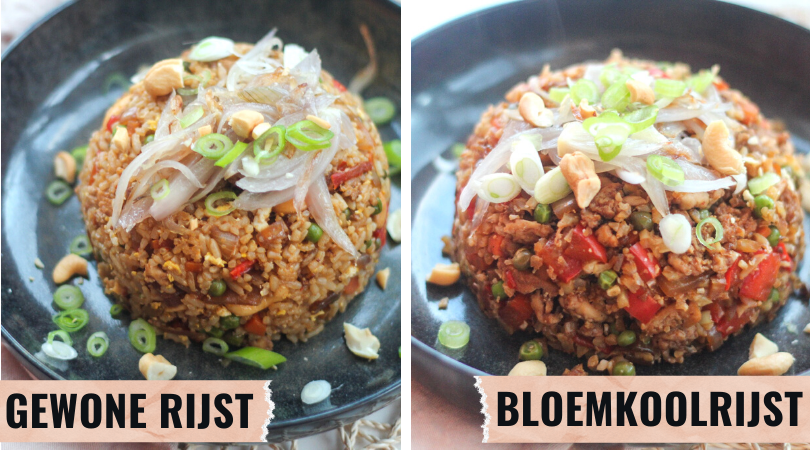 Een heerlijke nasi met een twist: vegan én met de optie voor bloemkoolrijst. Oftewel; goed voor de aarde en voor ieder zijn/haar wensen.
Je hoeft niet in te leveren op smaak, let meer op!
Wat heb je nodig voor 2 porties?
2 sjalotten, gesneden
1 gele ui, gesneden
2-3 eetlepels olijfolie
1 rode paprika, in stukjes gesneden
65 gram diepvries doperwten
70 gram wortel, in stukjes gesneden
175 gram vega kipstukjes
20 gram sambal
40 gram ketjap manis
1 lenteui, gesneden
handje cashewnoten, gehakt
150 gram rijst (1 portie)
150 gram bloemkoolrijst (1 portie)
Als je een portie met gewone rijst maakt, kook deze dan volgens de verpakking. Maak je een portie moet bloemkoolrijst, dan hoef je deze nog niet te bereiden, dit komt later in het recept. Let op: de porties rijst zijn voor 1 persoon, de rest van het recept is voor 2 personen.
Ik heb 1 portie rijst en 1 portie bloemkoolrijst gebruikt voor het gehele recept voor 2 personen.
Doe 1-2 eetlepels olijfolie in een wok en bak hierin de sjalotten tot ze lekker glazig en zacht zijn. Haal ze uit de wok en laat ze rusten op een bordje (eventueel met een velletje keukenpapier om extra olie op te nemen).
Bak de wortel in de wok voor 3-4 minuten met wat extra olijfolie, voeg de ketjap manis en sambal toe en bak dit 1 minuut mee. Voeg vervolgens de doperwten, wortel en gele ui toe en bak dit 4-5 minute mee. Voeg de vega kip toe en bak deze ook een paar minuten mee tot alles lekker bedekt is met de saus.
Voeg nu de rijst of bloemkoolrijst toe aan het geheel of verdeel het over twee pannen: één voor de gewone rijst en één voor de bloemkoolrijst. Meng dit goed met elkaar en dan is het tijd om het op te dienen.
Doe de nasi in een rond schaaltje, druk het plat en kieper het voorzichtig om in een bord om op te dienen. Dit hoeft natuurlijk niet, maar ziet er wel leuk uit!
Garneer het met de gebakken sjalotjes, lenteui en gehakte cashewnoten.
En genieten maar!