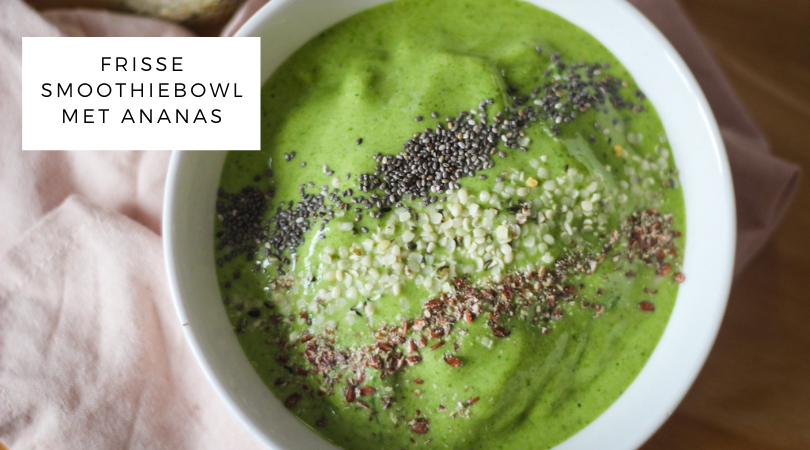 Fris, fruitig, gezond en heerlijk als het buiten weer wat warmer begint te worden; Smoothiebowls! Vandaag een frisse smoothiebowl met Ananas. En ja, hij is groen want er zit stiekem spinazie in verstopt. Maar ik beloof het je dat je het niet proeft! Alleen maar extra voedingsstoffen 😉
Wat heb je nodig voor 1 smoothiebowl?
100 gram diepvries ananas
20 gram (vegan)

eiwitpoeder

(vanille smaak)
40 gram spinazie
120 ml plantaardige melk
Eventueel nog wat ijsklontjes voor een dikkere textuur
Topping opties:
chiazaad, lijnzaad, hennepzaad, cacao nibs, etc.
Je hebt voor dit recept een blender of een keukenmachine nodig. Doe de ananas onderop, dan de eiwitpoeder, spinazie en melk. Naar mijn ervaring zorgt dit voor de meest gladde consistentie zonder dat er stukjes in zitten of eiwitpoeder aan de randen blijft plakken.
Als je geen smoothiebowl maar een smoothie wilt, voeg je er gewoon wat water of plantaardige melk aan toe om het vloeibaarder te maken!
Flink blenden totdat je een gladde massa hebt en vervolgens overgieten in een kom. Doe je toppings erop en genieten maar!